I've been an Inter TV cameraman for 25 years. Over these years, I've lived in Borodianka, which is some 30 miles away from Kyiv. On March 2, I left my home for the simple reason of Borodianka having been destroyed, and it was just impossible to stay there any longer: there was no electricity, no water, no gas, and Kadyrov's people were roaming the streets.
Right now my family and I are in the Vinnytsia region, near the town of Nemyriv. You can feel the tension of the situation in our country here as well, but at least there is no constant shelling, as it is in Borodianka. People from big cities go to the western part of Ukraine, to villages in order to survive. Locals there are hosting refugees and are trying to help them as much as possible. But the Kyiv region, especially villages and small towns–Borodianka, Bucha, Irpin, Hostomel–have pretty much been leveled. The road to Kyiv goes through these towns, so columns of Russian tanks, APCs, and Grads went through those towns.
«Two tanks, turrets turned left and right, driving through and shooting at the houses»
On the night of February 24, I was at home. In the morning I left for work in Kyiv. I drove for 4 hours because of huge traffic jams, people were fleeing Kyiv to go to the western Ukraine, and queues of cars lined up at the gas stations. I came to work, did what I had to do, and decided to stay overnight so that I would not be stuck in a traffic jam again in the morning. But on the morning of February 25, Russian tank columns started moving through the Ivankiv region, not far from the Chernobyl nuclear power plant.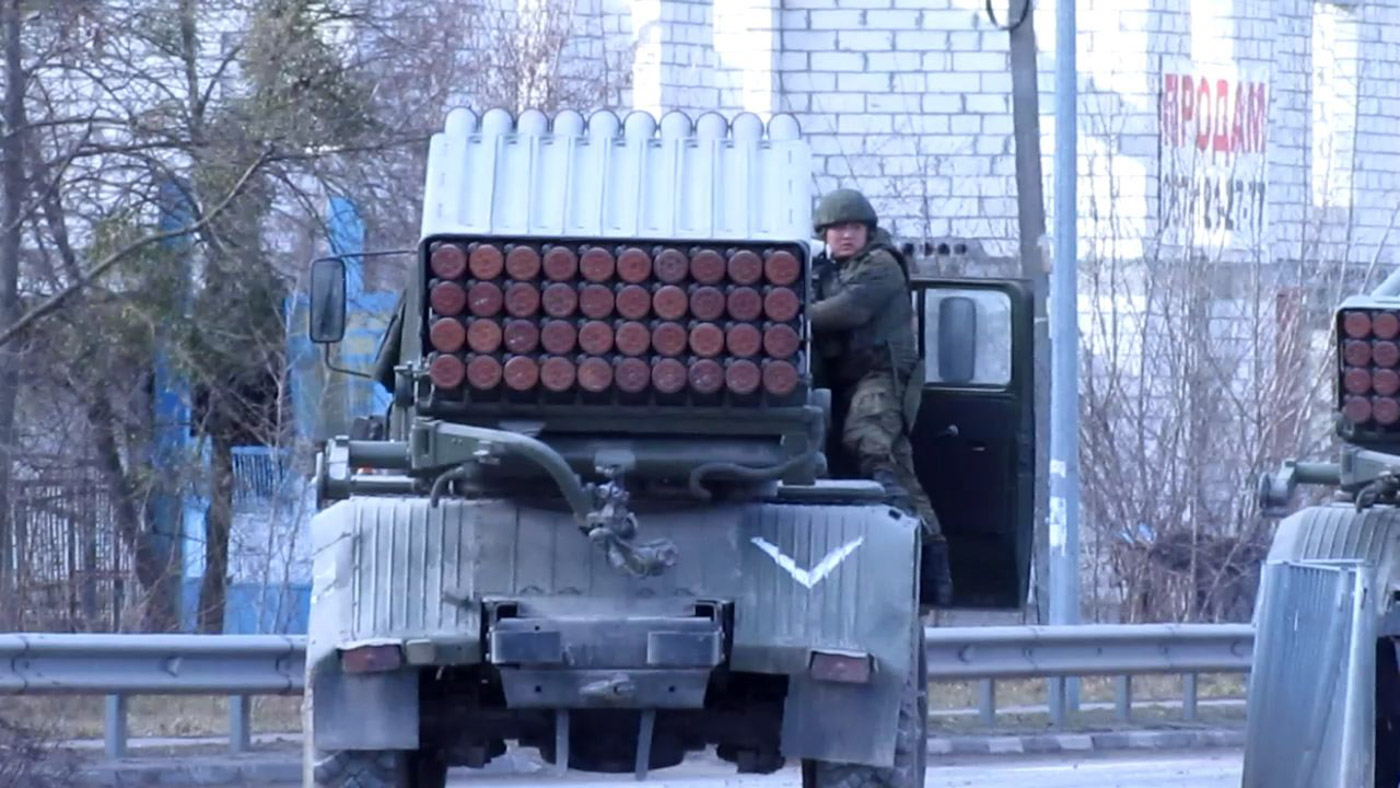 I realized that I had to go to Borodianka to be with my family so that we could think of some further moves. It took me a while to get out of Kyiv, the traffic was still wild. By the middle of the day I finally made it to Borodianka, went to the draft board. Although I haven't served in the army before, I wanted to take up arms. But they ran out of weapons because there were too many people who wanted them. That's when I realised that if I can't help Ukraine by fighting I will film everything and show the whole world what is really happening here.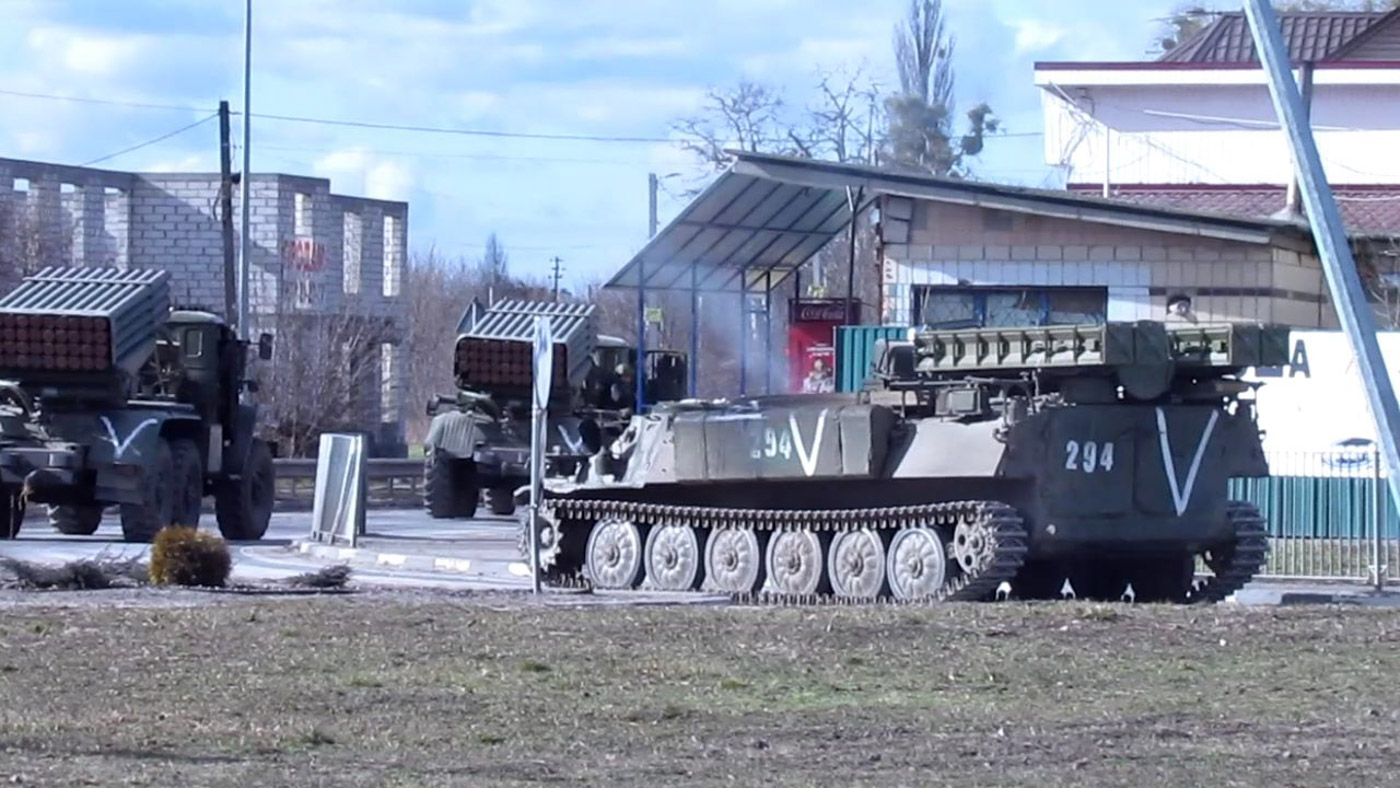 On February 27, the first tank column approached Borodyanka, coming from Ivankovo, Belarus. These were Russian troops, they looked like Buryats. I filmed them from the window, I have a great zoom lens, so you can see their faces. They had the letter V painted on their tanks. Afterwards our people said that those who entered from Belarus had a V sign, and those from Russia had a Z sign.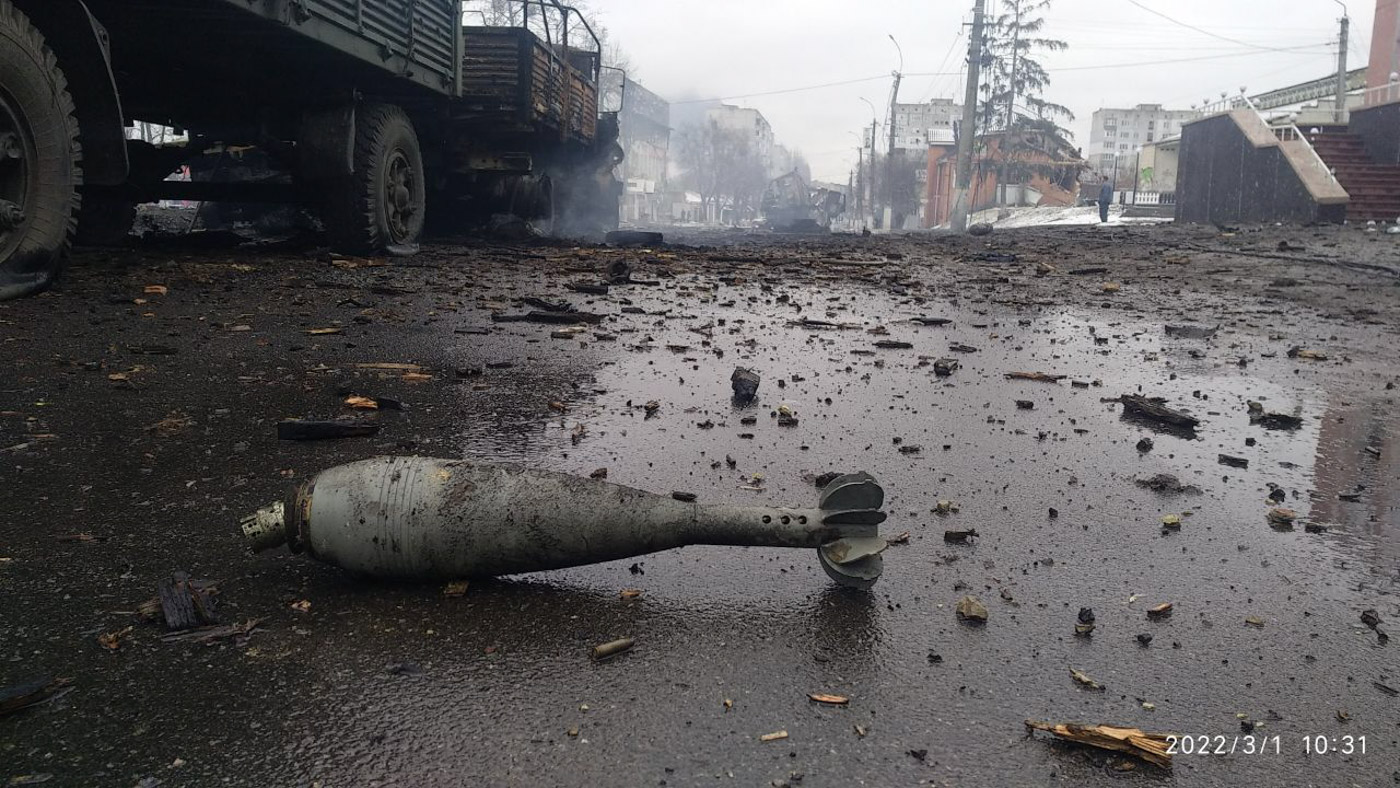 This first column could not pass through Borodianka, our guys (territorial defence or the Armed forces) barricaded the central street with tires and set them on fire. It all went up in flames, and the invading column was forced to turn to the ring road. I filmed all of it and sent it to various TV channels in Canada, America, Greece, and, of course, to different Ukrainian media. On February 28, a new Russian convoy passed directly through Borodianka, along the main street.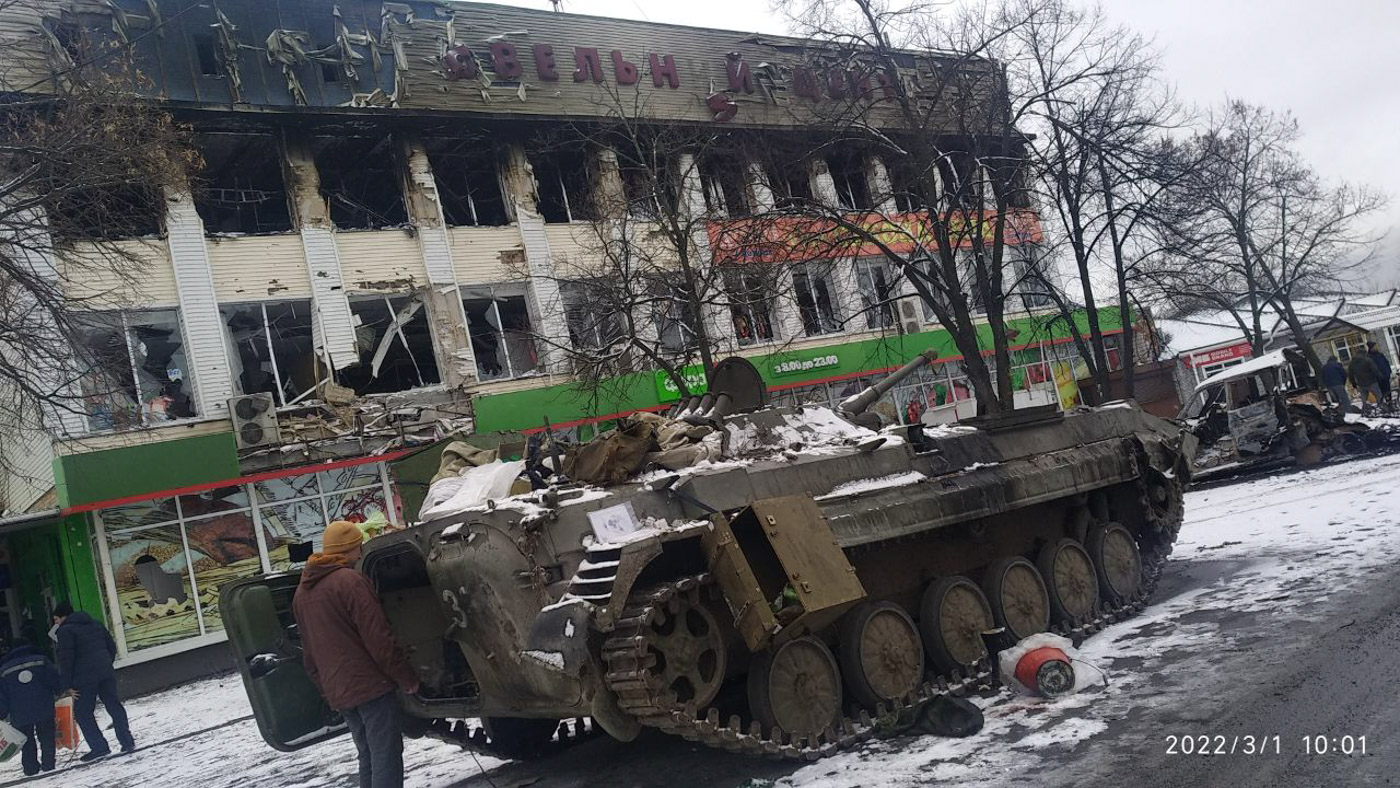 At that time I went to my house, I have an apartment on the fourth floor on Tsentralnaya Street. I caught sight of that column, cautiously put my camera out the window, and started filming. And it was at that moment that one of the tanks fired at my apartment block and hit one of the entrances. Shattered glass fell down over my head. I thought it was better to stay for the night. I locked myself in the bathroom and waited for these tank columns to pass.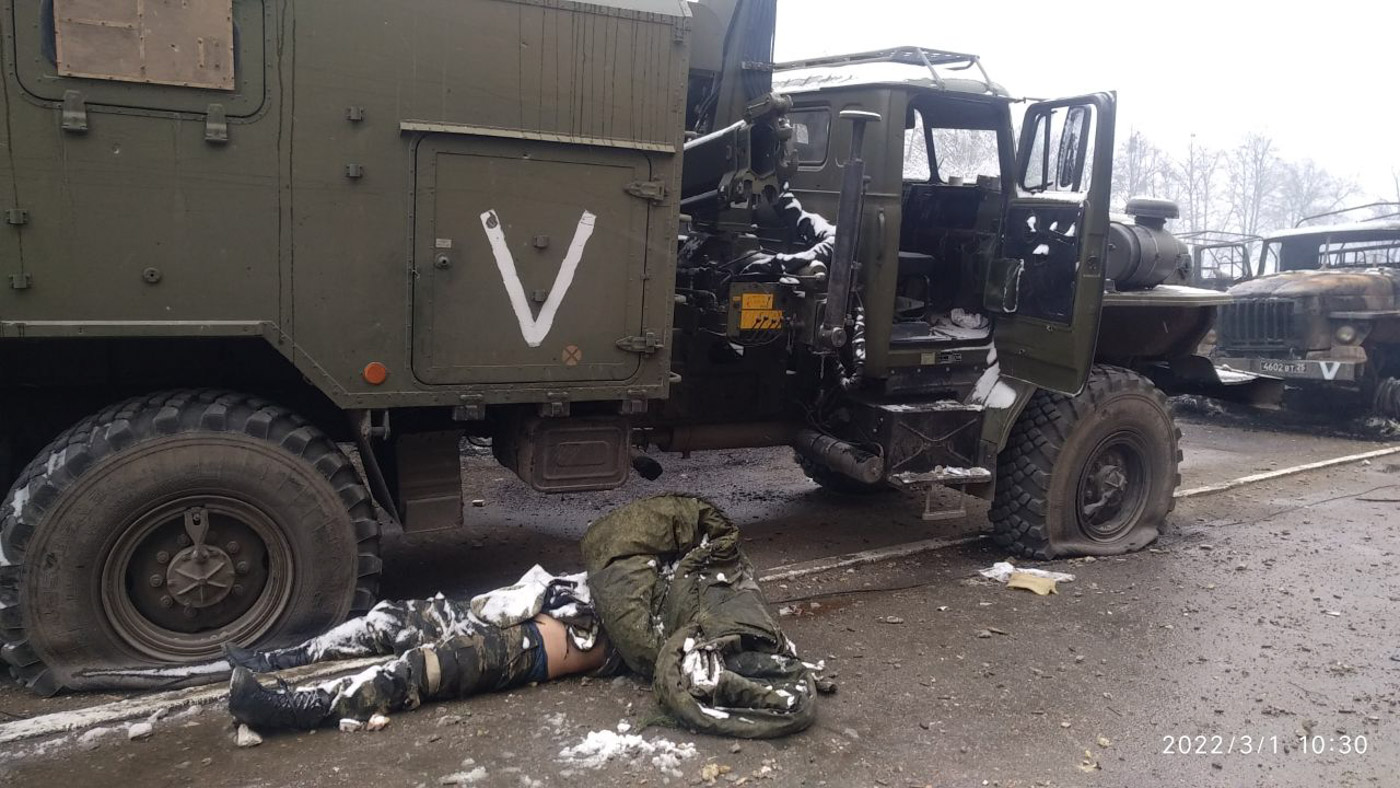 That's how they moved: two tanks, turrets turned left and right, driving through and shooting at the houses, at the level of 6th or 8th floor. They were just demolishing our town. No fire coming out of these blocks. Of course, in the first days of this war our forces fought back all right, lots of Russian APCs were destroyed and abandoned in the streets. I don't know who exactly did the fighting, the territorial defense or the Armed forces, but they at least were shelling in the streets, not at the buildings.
"We fell to the floor and prayed"
I was alone in the apartment. On February 27, my family left the apartment block to stay at our friends' house. Here's Borodianka town plan: there's this central Tsentralnaya street with its five- and nine-story apartment blocks, and the smaller streets with detached houses are branching out. This is where my wife and son moved, to our friends' place. My parents also live in a detached house, my sister left her apartment and went to stay with them with her husband and two children. It was clear that the column might shoot at the apartment buildings on Tsentralnaya street, so everyone tried to leave and go somewhere else.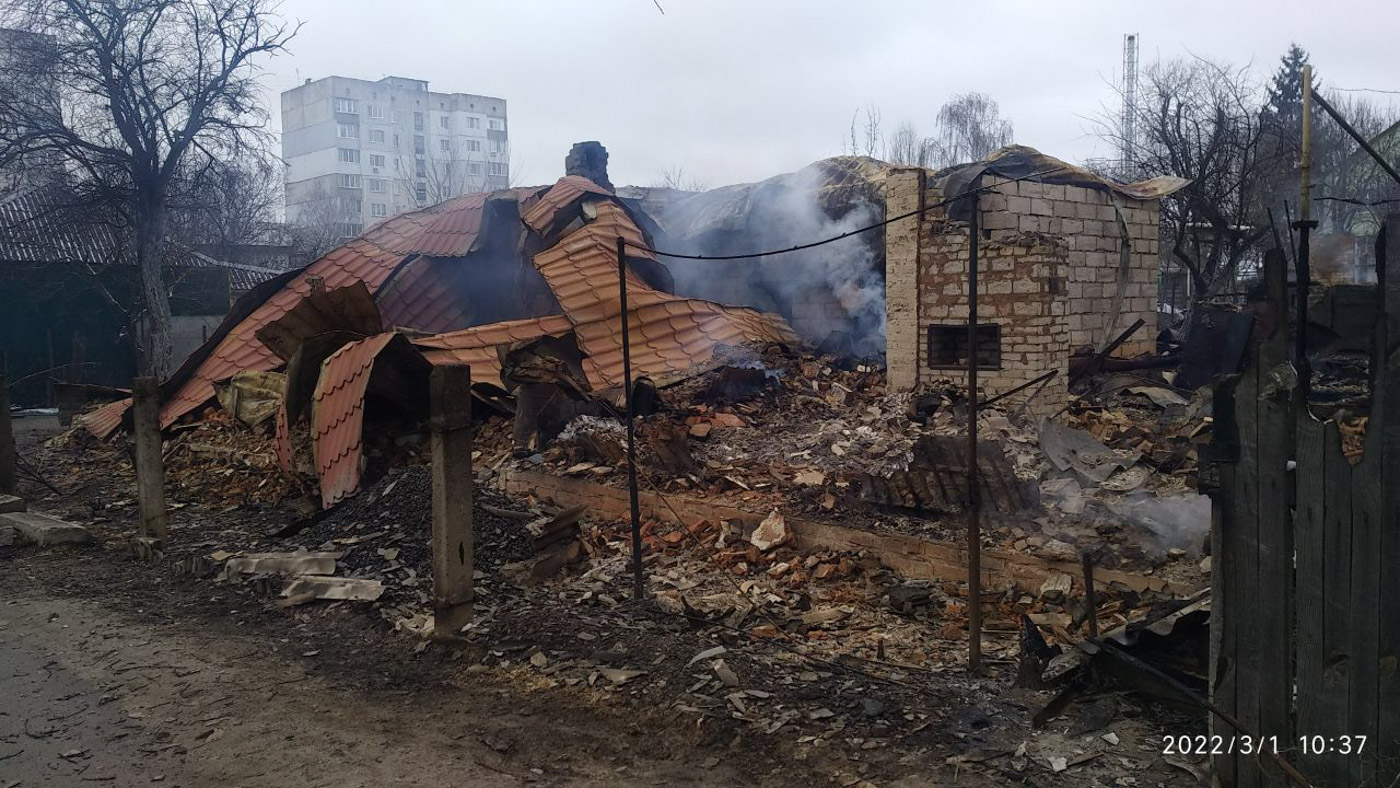 I spent the night of March 1 in the bathroom of my apartment. It was dangerous to go out, I heard explosions, and I heard heavy military equipment moving. They were shooting and firing all night long.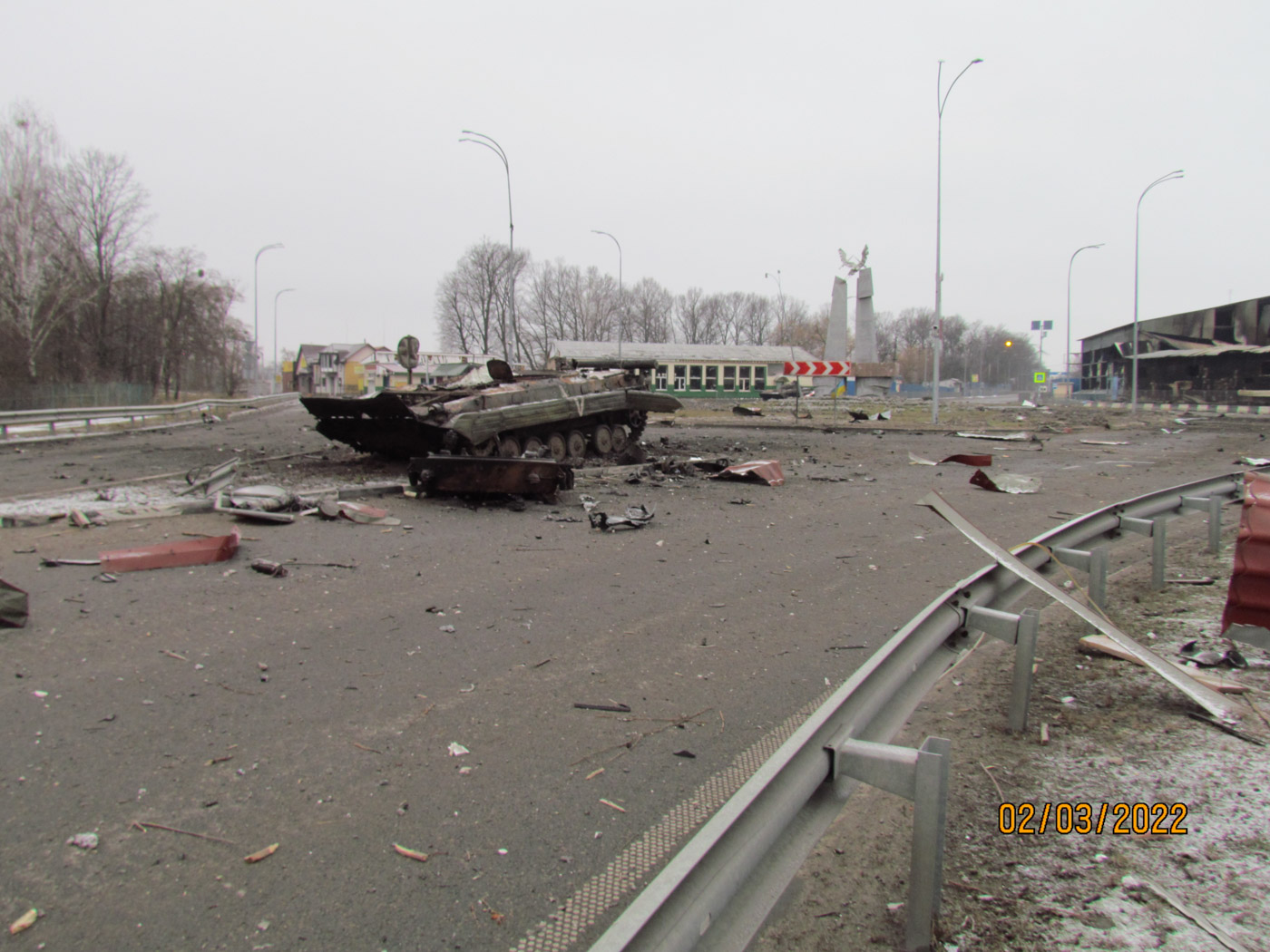 On March 1, I went out and looked at Borodianka: it was total destruction. I filmed it and sent it out, and from March 1 I was with my family at our friends' house. On March 2, around lunchtime, the columns of Russian military equipment were there again. That morning, I went outside to film, walked to the district that we call the Circle where the main road forks into several smaller ones in the directions of Makariv, Kyiv, and Kovel. My daughter lived there, by the Circle.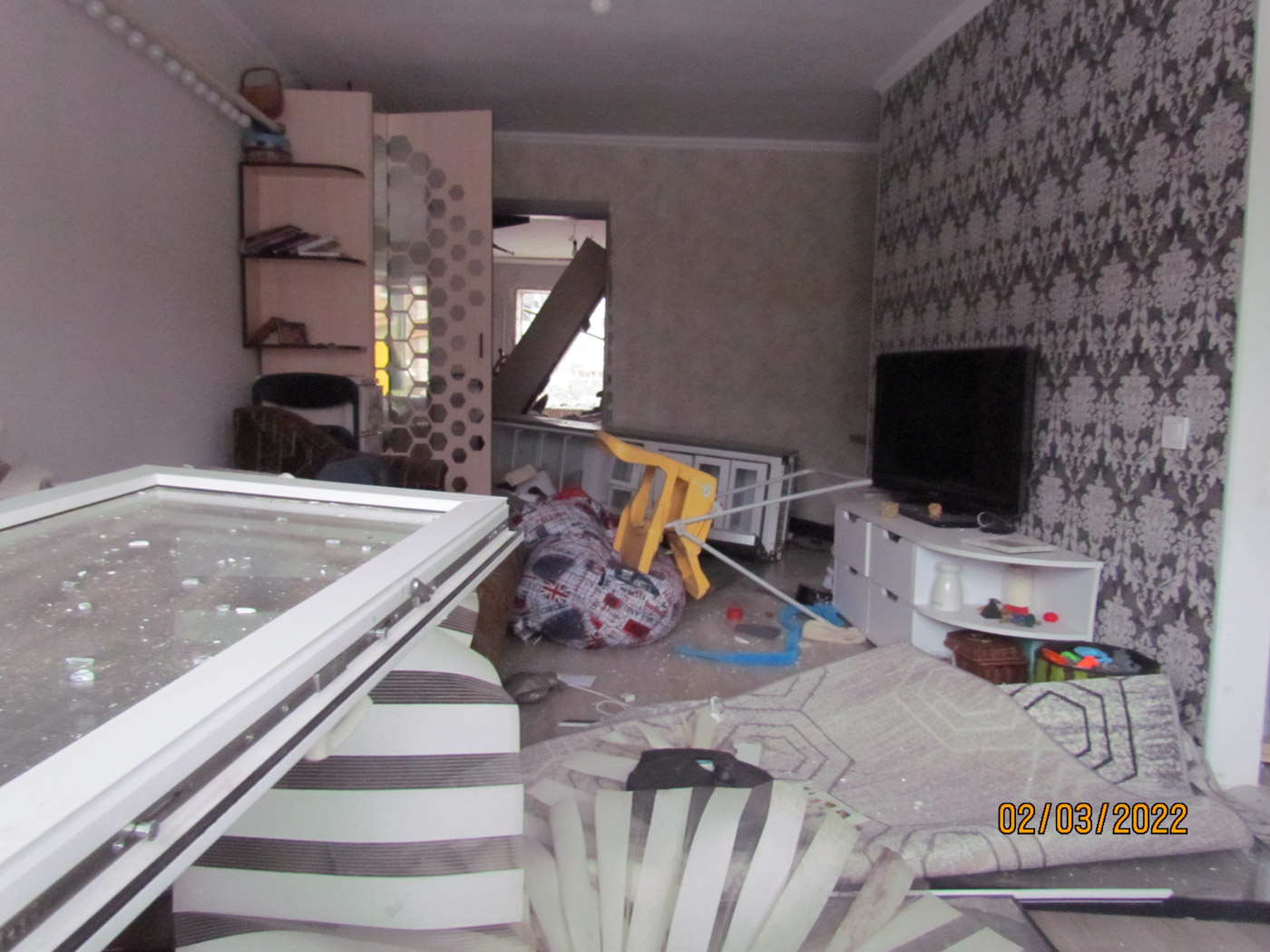 What I saw was horrible, the Circle was in ruins after the air strikes. It's good that my daughter and my grandson moved to this detached house, they simply don't have an apartment anymore. There was also a lot of Russian equipment lined up. I filmed everything and headed home, where my wife was waiting for me. Later that day, the columns were going through Borodianka again. And in the evening we heard the sound of an airplane, we all fell to the floor, the windows were knocked out by shock waves. There were three airstrikes, one after another. Each time we fell to the floor and prayed.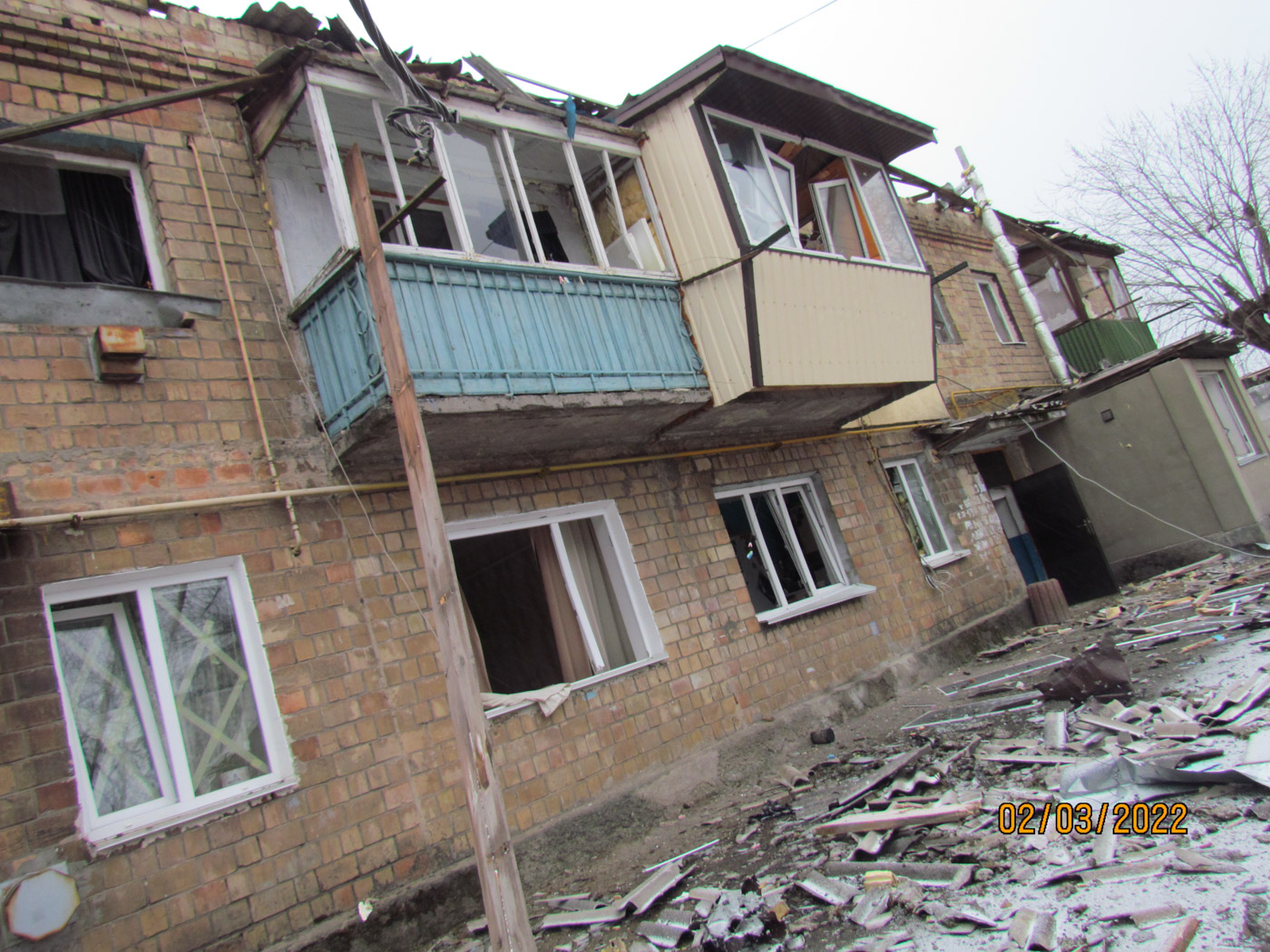 Then I decided to move my family out. Before leaving, I had a chance to see Tsentralnaya Street one last time: destroyed nine-story apartment blocks, Kadyrov's people walking among the rubble, shooting videos for TikTok. That's how they report to their higher-ups, I guess. Kadyrov's troops followed the first three Russian columns. These columns passed our town and went further: the bridges in Irpin and Bucha were blown up by our army, and the Russian columns probably had to get to the Zhytomyr highway, and the only way they had was going through Borodianka in the direction of Makariv. Approaching Makariv, they were hit by our army, the fighting there was fierce, and very audible.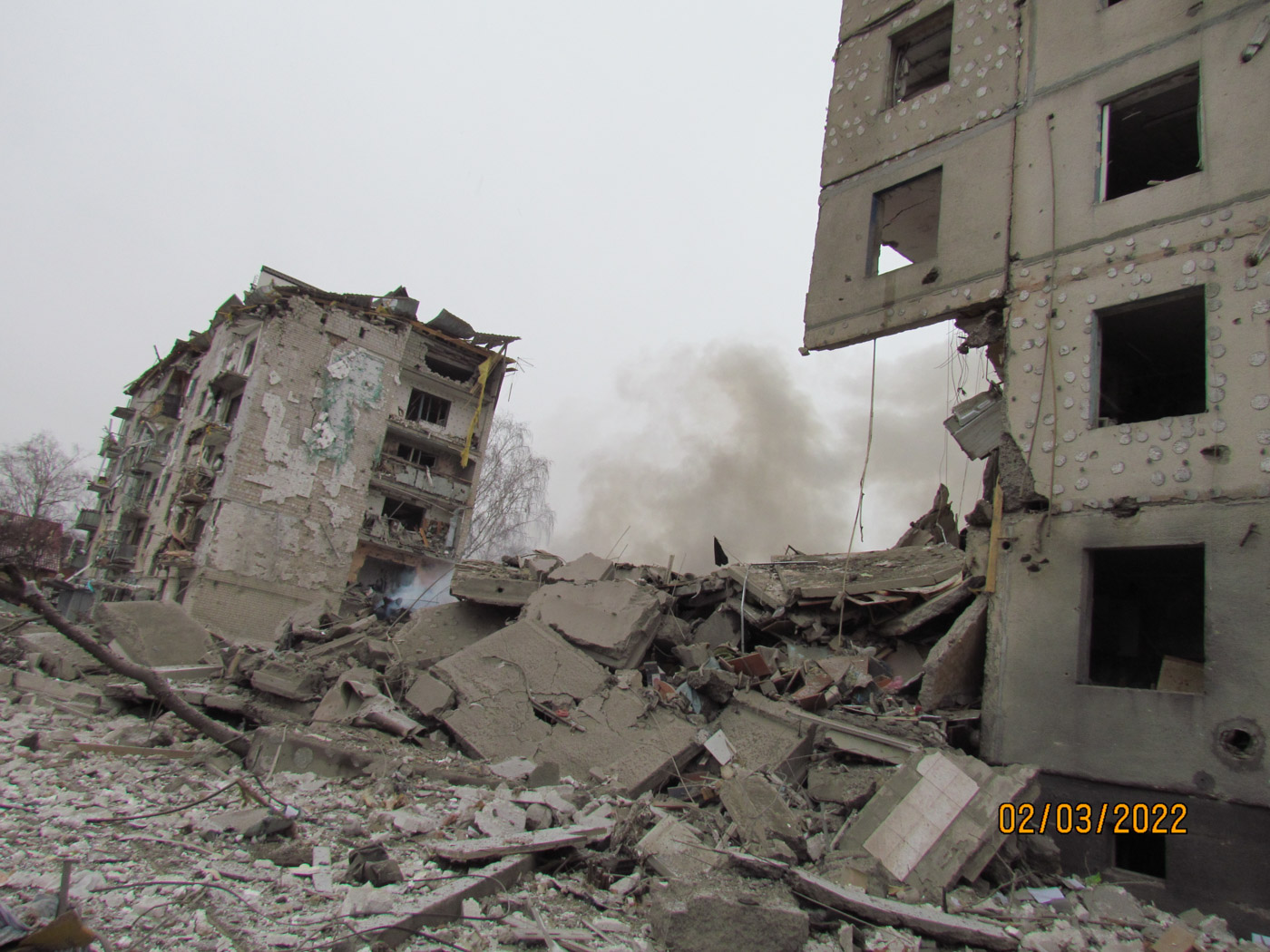 Kadyrov's people stayed in Borodianka as occupying troops. There is a a care house for elderly and disabled people, and for 10 days Kadyrovtsy did not let evacuate some 500 people. They would not allow a humanitarian convoy to pick those people up. Only recently they've been evacuated.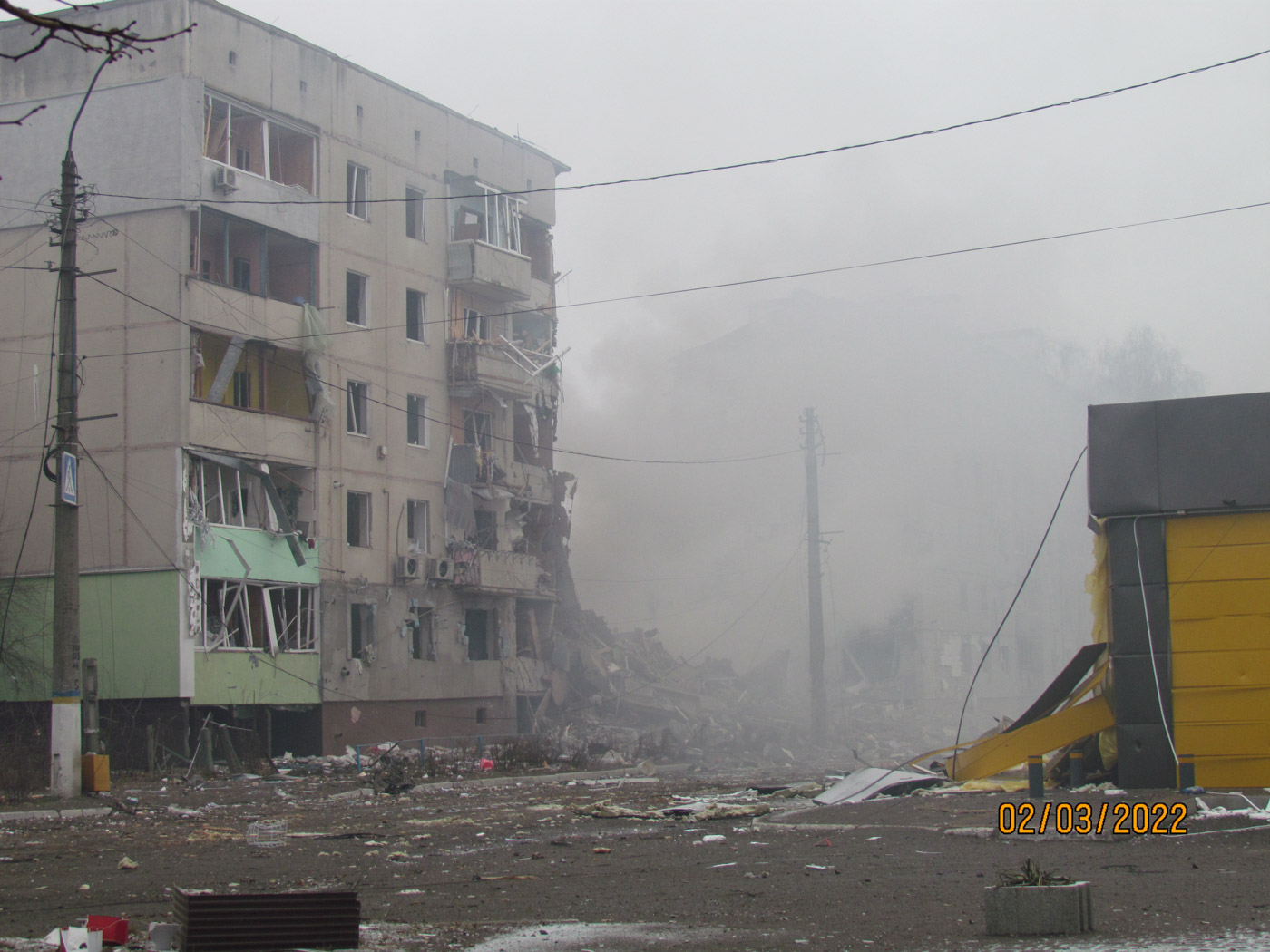 I think, some people definitely died in Borodianka, but I don't know the exact number. Underneath those destroyed high-rise buildings at Tsentralnaya Street, there were basements that people were using as bomb shelters. I don't know how many of those survived. We have a Borodianka chat group, and a lot of people are still trying to find their relatives and loved ones. Many have left, many have been missing.
"I don't have a house now. Will you build me a new one?"


We left quickly. My mom and my sister with her husband and their two children left on March 1. I was sure that my father joined them. On March 2, we left in two cars: my wife and I, our son and daughter, my grandson Yegor, my daughter's husband, my wife's mother and brother, and our friends whose house we have lived in since February 27.
We got to Piskivka, I started calling my mother and sister, but I couldn't get through to them. It was clear that they were somewhere on the road, but there was no connection. My kum called from Borodianka and said: "I see your father here in the yard." It turned out that my father did not want to leave with his sister, he just didn't want to leave his house. The good thing is that I managed to persuade my kum to evacuate my father. We all met close to Vinnytsia where our relatives live, they got us all settled in different houses. My father was staying with me.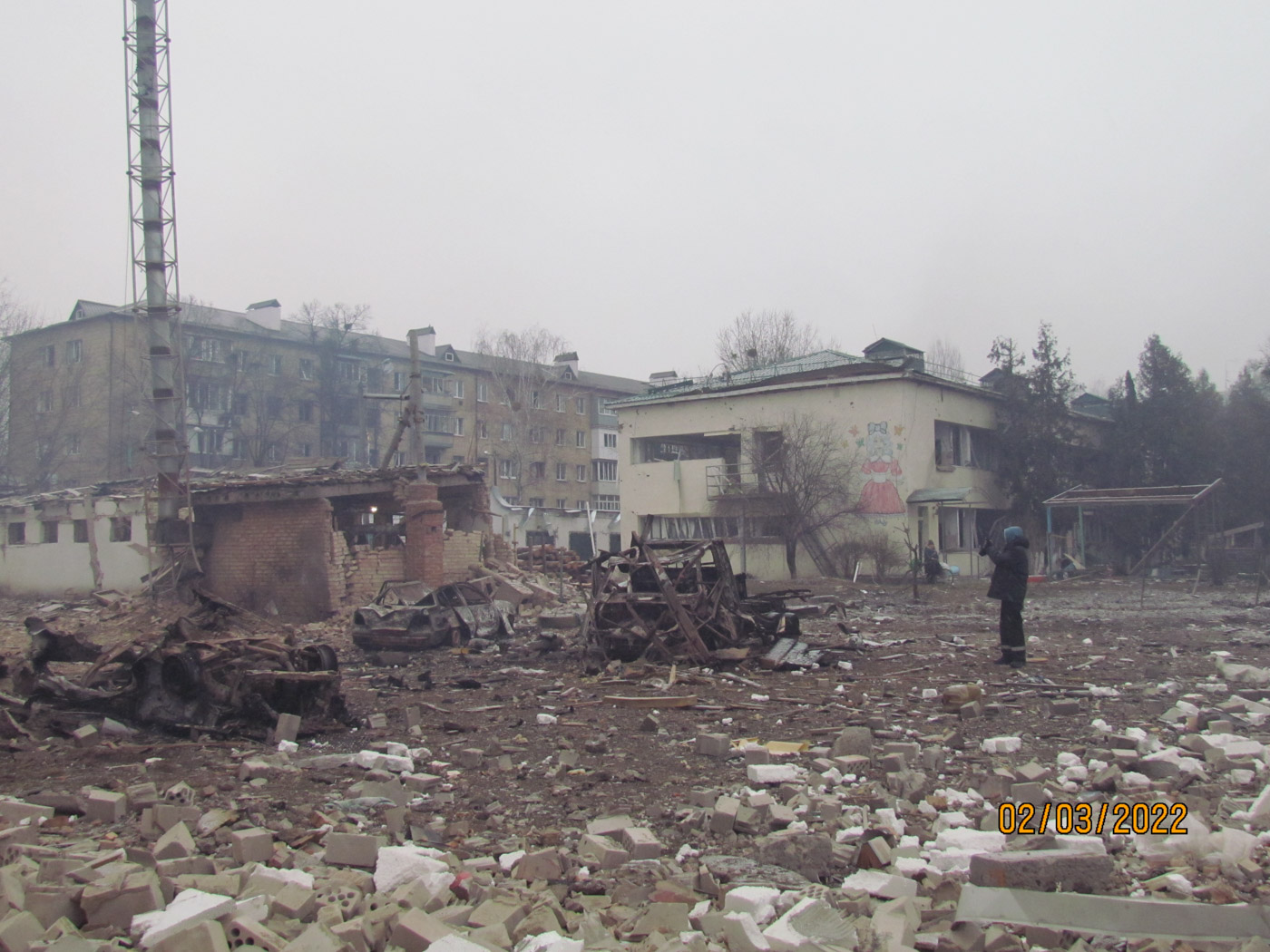 I had no time to process everything while organizing the evacuation of our family, but during the road trip I was struck when my grandson Yegor said: "Grandpa, did you know that a rocket hit and destroyed my house? I don't have a house anymore. Will you build me a new one?" It was the hardest moment, to realise that a four-year-old child understands everything so clearly.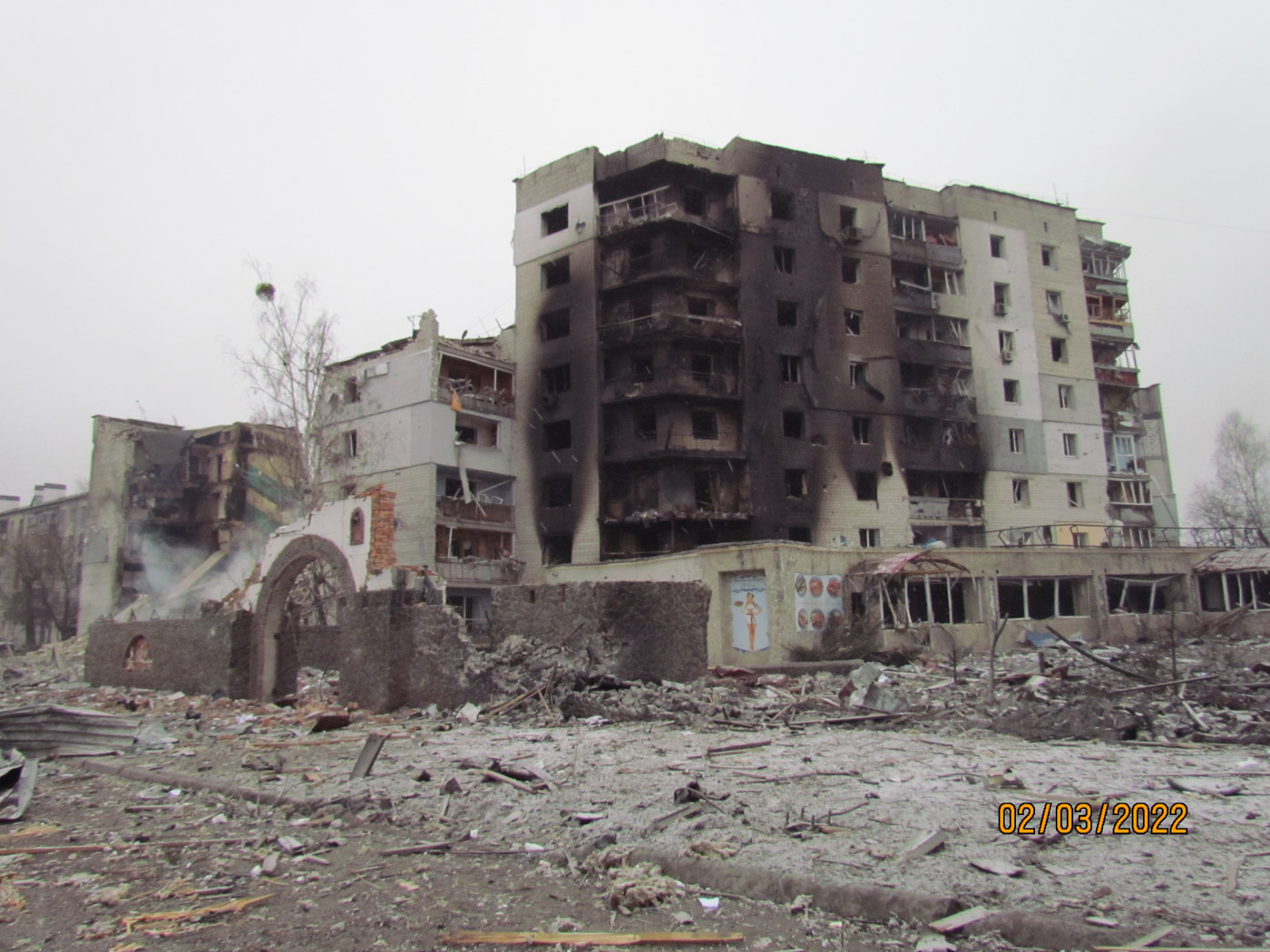 People are leaving the Vinnytsia region [for Poland]. Volunteers help them. There are volunteers making runs along the Lviv-Odessa highway, carrying humanitarian cargo to Odessa, and taking locals out. My daughter and Yegor left for Lviv planning to get across the border with Poland. This is a difficult decision, but we don't know how things will develop in the Vinnytsia region. Recently, a TV tower was damaged by a rocket. There is no signal here now, everyone gets news from the internet. There were explosions in Vinnytsia, eight rockets hit the airport. So far, people are not leaving the villages, but my friends from Vinnytsia are leaving the city.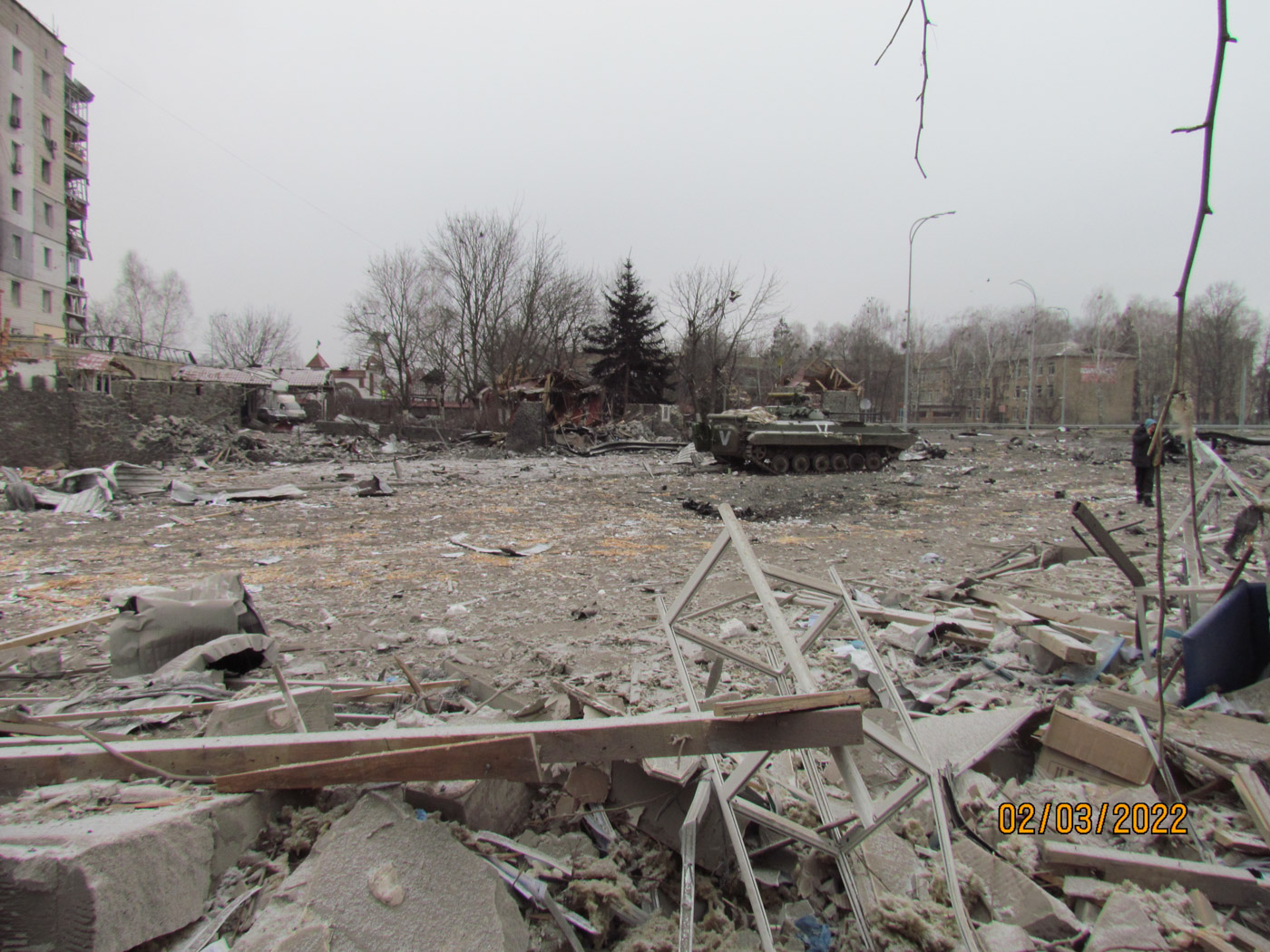 Here, we are like one big family. People bring us eggs, milk, potatoes. Whatever they can. We have a highway nearby, there are lots of cars. At first I got scared of the sounds: whenever someone slammed the door, I'd rush to the ground. But now it's fine, warm attitudes are very helpful and therapeutic.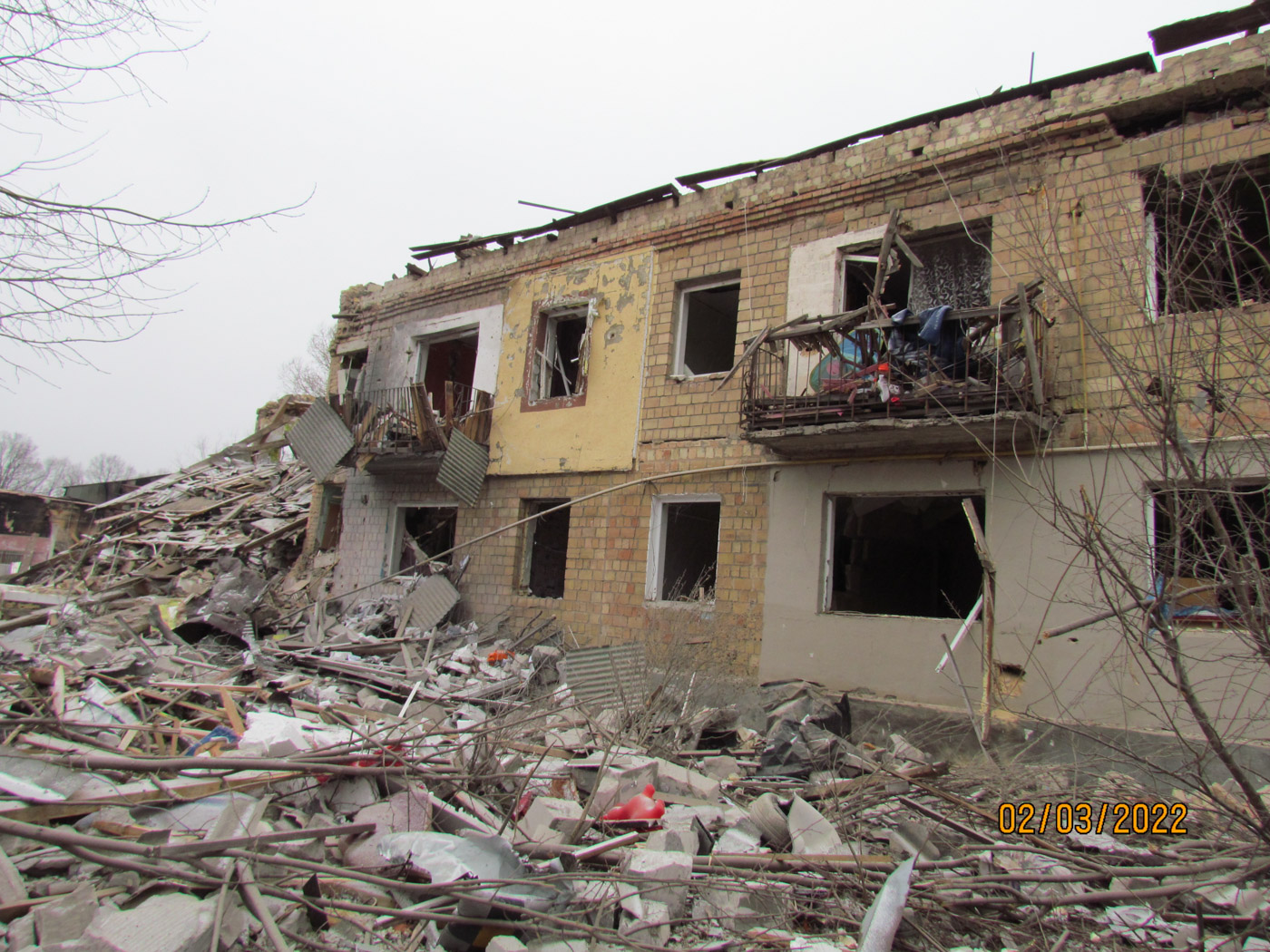 I spoke with the mayor of Nemirov, and humanitarian aid is being delivered there, food and medicine. They are preparing for more people to come, because the flow of refugees does not stop.
"Only a few love the world in themselves"
I now hate everything that is Russian. But I respect those Russians who now support us and help my country survive and win this war.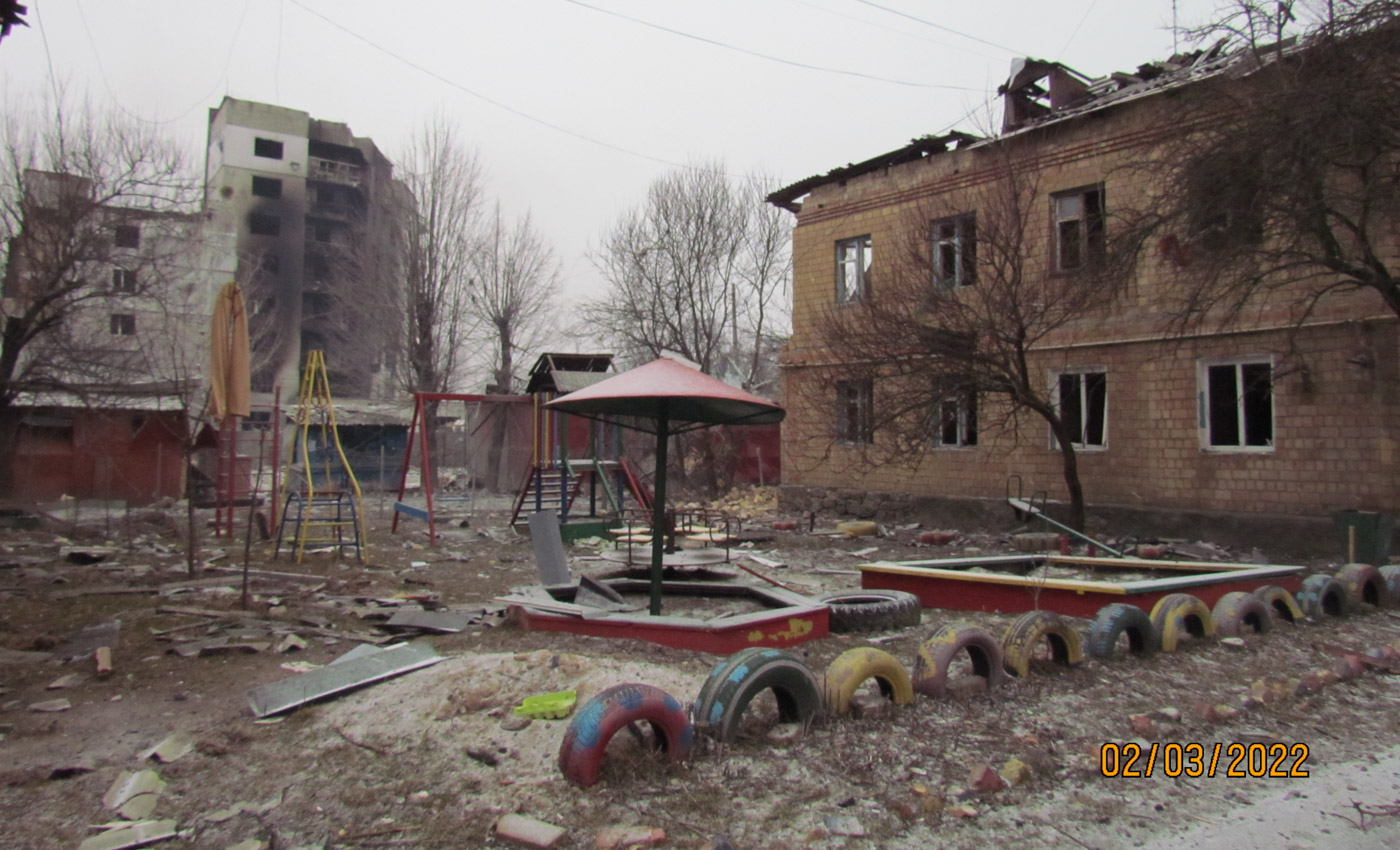 My cousin lives in Russia. When it all started, I sent her a photo of Borodianka. And she didn't say a word. And only on Forgiveness Sunday she sent me some generic image saying "Forgive me if I have wronged you in any way." And that's it. 
You know what they say about art: love art in yourself, and not yourself in art. Perhaps the Russian people lack this idea, and the only thing they love in this world is themselves. Only a few love the world in themselves.
As for us, we will rebuild our Ukraine. Vsyo bude Ukraina.
Editor: Yegor Skovoroda
Translation: Mariya Kholina