In April, blogger Anton Motolko posted a video of Russian soldiers who were sending packages of equipment and goods via the CDEK branch in Mazyr, Belarus. Mediazona then put together a map of shipments from Mazyr, and found another location where there had been an unusual influx of soldiers: Novozybkov, in Bryansk region of Russia.
Following that publication, Mediazona compiled an expanded list of towns to monitor that included all the branches of CDEK near the borders with Ukraine. We put together a new map of shipments and analysed several dozen hours of footage from the security camera in Valuyki in Russian Belgorod Oblast. 
How we got our data
CDEK offers its customers an online parcel tracking service, and for each order number the company's website shows a detailed route from the drop-off point to the parcel's destination. This information is anonymised, the service does not provide any sender details and shows only the recipient's initials. Although the weight of the parcel is not displayed on the website, it is accessible if you look at the webpage source code. 
The largest order we found weighed 381 kilograms; it was sent from the border town of Rylsk in Kursk region to the suburbs of Ekaterinburg.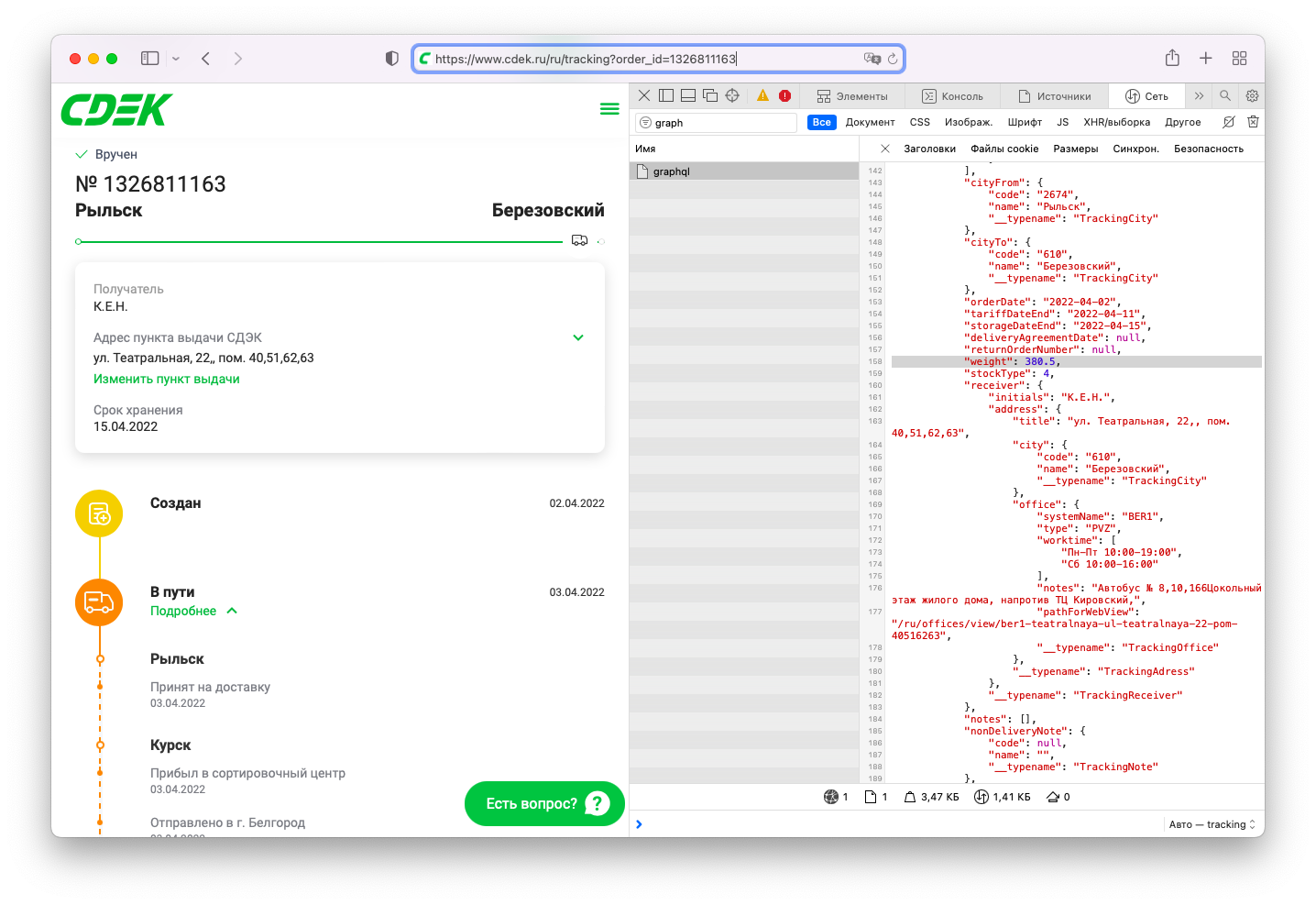 While processing each order, CDEK allocates it an individual number in a unified system. The numbering is sequential: a new number is given to the first order in the queue from any CDEK branch. The sequential issuing of numbers is also confirmed by the total number of orders – CDEK claims that they handle around 300,000 shipments per day. If you go through the numbers and keep track of the changes in shipment dates, you can pinpoint the first and last packages sent on a given day.
Sifting through the numbers in order, we collected data on all CDEK shipments since February 21, 2022. The percentage of missing or unfulfilled shipments is 1.75%.
Our calculations only count orders that had been accepted for dispatch at the time of our data collection, i.e. orders registered but not yet handed over to CDEK were excluded from the total weight calculation.
How we looked for suspect parcels
We chose 46 CDEK branches located near the border with Ukraine in Belarus, Russia and Crimea. In order to trace major delivery routes, we checked for destinations with more than two large shipments incoming in one day from packing stations near the border. As a result, we compiled a list of 60 suspect postal destinations. 
We intentionally did not investigate parcels sent to Moscow and St. Petersburg due to high level of postal traffic with these cities from all branches. We also excluded parcels sent to neighbouring regions, and those to Crimea.
Suspect packages were found at 13 CDEK branches located near the border: in Armiansk and Dzhankoi in Crimea, in Pokrovskoe of Rostov region, in Boguchar and Rossosh in Voronezh region, in Valuiki in Belgorod region, in Zheleznogorsk and Rylsk in Kursk region, in Klimovo, Klintsy, Novozybkov and Unecha in Bryansk region and in Mazyr, Belarus.
If we try and match those locations to major prongs of the Russian assault in Ukraine, Valuiki would coincide with the offensive on Kharkiv, Klintsy, Novozybkov and Mazyr to Kyiv-Chernihiv, Rylsk to Sumy, Dzhankoi and Armiansk to Kherson-Melitopol.
The average weight of the packages received at a destination is a clear indicator of whether said destination is suspect. The graph below shows all the cities that have received a total of more than a tonne worth of packages from these CDEK near-border branches since the end of February. When sorted by total weight, Moscow places first. But the average weight of a package headed for Moscow isn't much, which means a lot of lightweight goods are being sent to the capital. At the same time, the infamous town of Rubtsovsk sticks out like a sore thumb, having received more than two tonnes of packages from the border. Their average weight is eight times more than that of Moscow. Yurga, Chebarkul, Miass and other towns are likewise conspicuous, having received many tonnes worth of packages.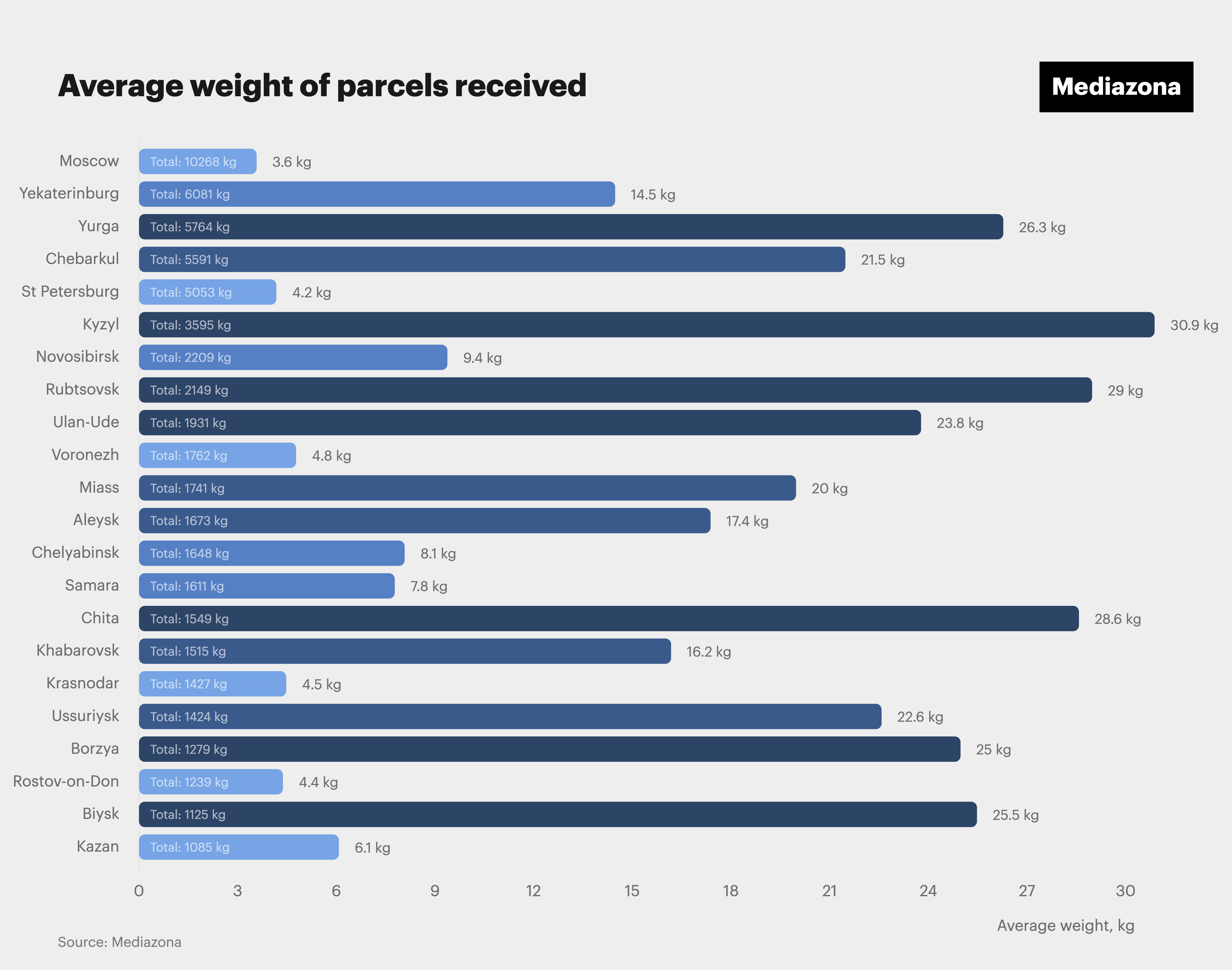 Who is sending these suspect packages?
On March 29, the Ukrainian authorities said that some Russian troops had withdrawn from Kyiv region. On April 7, the Pentagon confirmed that the Russian army had completely withdrawn from the northern regions of Ukraine.
While the withdrawal took place, the volume of suspect shipments from border towns gradually increased. While on March 26 it stood at 336 kg, just three days later, on March 29 it exceeded a tonne, and on April 2 it reached 2,5 tonnes.
It reached its peak on April 4, at nearly four tonnes. After a brief dip, the total weight of suspect shipments rose to three tonnes in exactly one week, and then began to fall.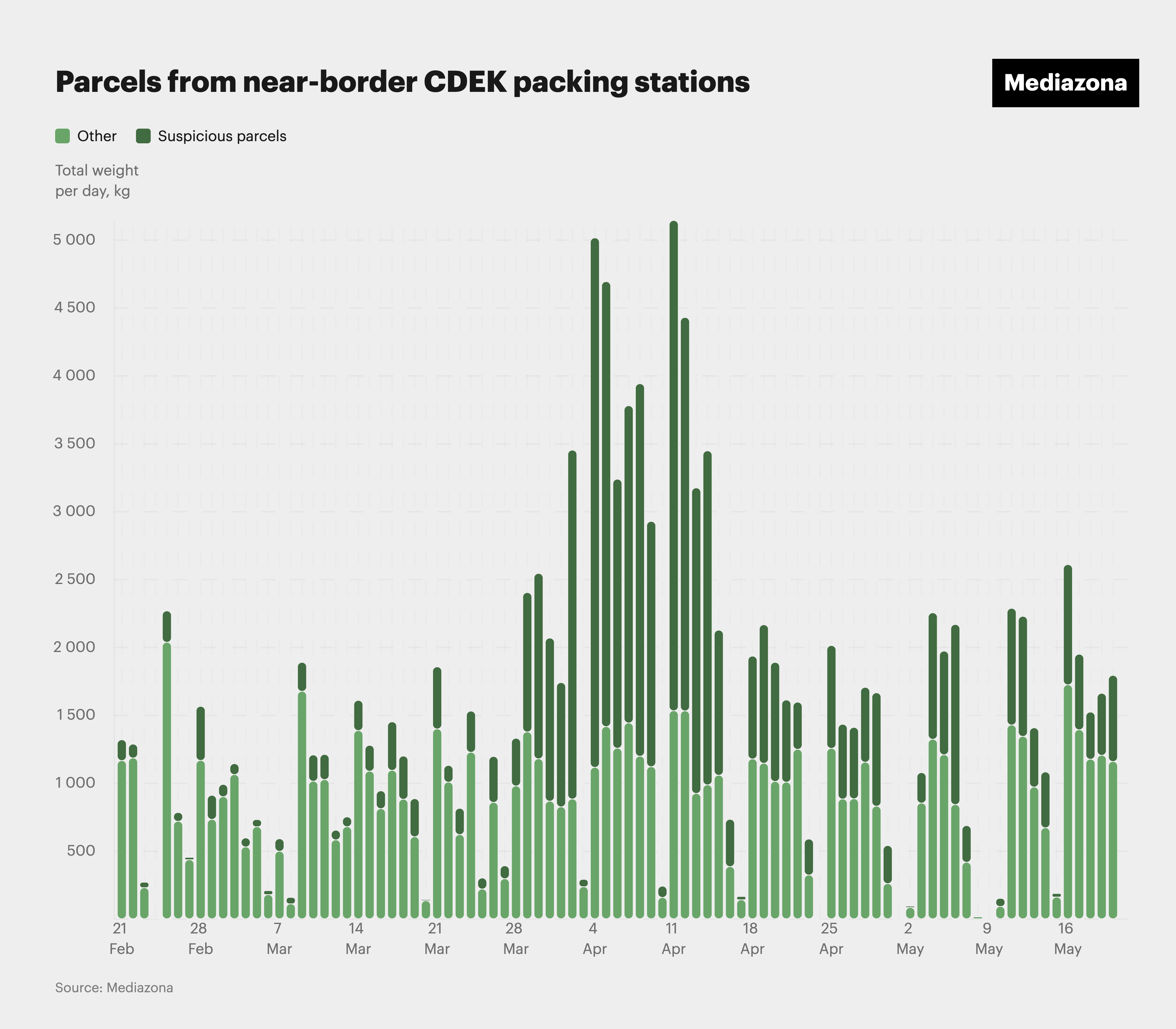 According to our data, almost 13,5 tonnes of suspicious cargo were shipped from the town of Valuiki between February 21 and May 15. The town is located some 30 kilometres from the Ukrainian border and 20 kilometres from the self-proclaimed Luhansk People's Republic.
Around that time, over 13 tonnes worth of goods were shipped from Klintsy, a town 60 kilometres from the Ukrainian border. 
From the now well-known town of Novozybkov, more than seven tonnes of suspicious goods were shipped.
And in fourth place is the Belarusian town of Mazyr, where the military shipments were originally spotted, with four and a half tonnes. Rossosh, Dzhankoy and Rylsk come next. 
Cross-checking
In order to prove that such a large volume of shipments isn't simply an indication of stable social ties between towns on the border and those in Siberia, we checked how many shipments were headed in the opposite direction. About 5,8 tonnes of packages arrived at Yurga from the border, while only 51 kilogrammes were sent in return. The town of Chebarkul, to which more than 5,5 tonnes were shipped, sent less than ten kilogrammes to the border over the entire three months. From Kyzyl, not a single package was shipped to the border.
This kind of cross-checking works even for major cities with over a million inhabitants. Yekaterinburg received 6 tonnes from the border, sending back just over 2,5 tonnes. Novosibirsk received 2,2 tonnes, but sent but a little under 1.5 tonnes. 
The destinations in the lead
From February 21 to May 15, Moscow and Yekaterinburg received the most shipments from border cities: 10,3 and 6 tonnes respectively. Many shipments were also sent to St. Petersburg.
In the lead among the "suspect" cities was Yurga, a city in the north-west of Kemerovo region. More than 5,5 tonnes were shipped from near-border towns to this place with a population of only 80,000 people.
The explanation is possibly obvious: three major military units are stationed in Yurga: the 106th Separate Logistics Brigade, the 74th Separate Guards Motorised Rifle Brigade of the Order of Suvorov Zvenigorod-Berlin and the 120th Artillery Brigade. 
Following the withdrawal of Russian troops from Kyiv region, Volodymyr Zelenskiy's advisor, Oleksiy Arestovych, published a list of units stationed in Bucha, Hostomel and Irpin – the 74th Motorized Rifle Brigade from Yurga among them. In the early days of the war a prisoner from this unit was named online.
According to our investigation, at least 27 soldiers from Yurga have been killed in action.
The city of Chebarkul in Chelyabinsk region comes in second place in terms of total weight of shipments received. Two tank regiments, the 6th and 239th, are stationed there. In March, we learnt of the death of Colonel Alexander Zakharov, commander of the 6th tank regiment. According to our data, 27 servicemen from this city were killed in Ukraine.
A total of 114 suspect packages weighing more than 3,5 tonnes were sent to Kyzyl, the capital of Tyva. The 55th Independent Motorized Rifle Brigade is stationed in Kyzyl. Mediazona confirmed the deaths of 11 servicemen from this city.
Other suspect cities include Novosibirsk, Miass, and Ulan-Ude.
Rubtsovsk, which was supposed to receive the most shipments (two-thirds of them failed to reach their destination) from Mazyr on the 1st and 2nd of April, received relatively few parcels — 72 items weighing around two tonnes during the period of monitoring.
How "Orlan" became the prey
Many CDEK packing stations are monitored around the clock. Having noted the unusual number of shipments from Valuiki, Mediazona has been recording goings-on there since April 20. Every day, men in uniform entered the station, wrapped military rucksacks in clingfilm and left them at the front desk. In most cases, it wasn't possible to identify what the soldiers were sending.
At 5.18pm on April 29, an officer — judging by his epaulettes, a captain – entered the CDEK branch. He was dragging a heavy box across the floor. Two female employees went out to see what the soldiers had brought this time. The officer opened the box: it contained a winged device that looked like Orlan, a Russian military drone.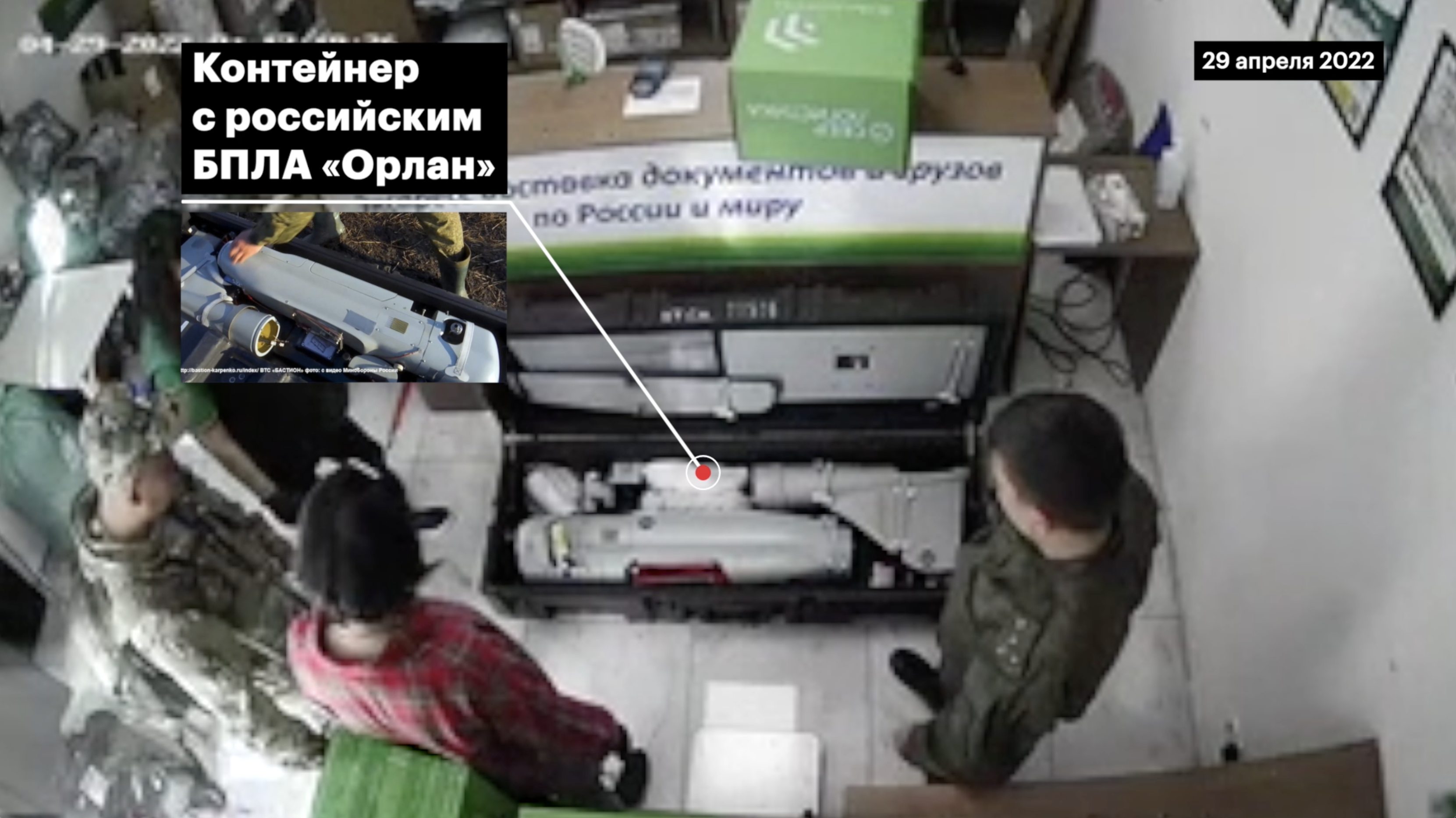 After a short argument — as far as we can tell from their spirited gesticulation — the women left to register the shipment. The drone was weighed and measured with a tape measure. In the meantime, other customers were free to enter the office. After five minutes of fiddling with the device, the captain, along with another officer, carried the box to the back of the office.
Mediazona was not able to trace Orlan drone to its destination. On that day, shipments heavier than 10 kilograms from Valuiki were sent to Bataisk, Berdsk, Vyborg, Zelenogorsk, Kyzyl, Moscow, Murmansk, Novosibirsk, Ulan-Ude, Ussuriysk and Khabarovsk. No parcels with matching dimensions were visible in the footage from those branches.
In addition, Mediazona witnessed people in military uniform at the CDEK point in Valuiki shipping trainers, tyres, a microphone, a TV, sausages, canned food, a guitar, a tent and much more. You can see selected highlights in the video below. 
CDEK has not yet responded to Mediazona's request for comment.
Editor: Dmitry Treschchanin
Translation: Lily Samarine and Sergey Golubev