"Defendant Griner, do you have difficulties standing up?"
"So I would see you, I have to bend my neck. I promise I won't move, I'll be still."
With these words, the interrogation of Brittney Griner began in Khimki City Court. She asked Judge Anna Sotnikova to let her out of the caged dock to testify. The two-metre-tall basketball player, even sitting, can barely fit into the cage in the corner of a tiny courtroom, and she is supposed to speak standing up.
All other participants in the trial also have to work in a small space: the seats of lawyers and the prosecutor are shifted close, so that in fact they are sitting at the same table opposite each other. On two benches in the hall there is just enough space for two representatives from the US Embassy, ​​a translator and four journalists.
There was very little information about the Griner case from the very beginning, even her detention on 17th February, which became known only on 5th March. When the trial finally began on 1st July, dozens of foreign and Russian journalists were greeted with the announcement that Griner's defense team did not want the press in the courtroom. After the press' outrage at this, the judge agreed to let in four or five journalists.
Only by the fifth session did the court allocate a separate room for everyone else—they played the audio broadcast of the trial, and then only with poor sound so that it was not possible to make everything out. It was Griner's request that video footage from the trial not be released.
The position of the basketball player herself regarding the charges for the possession and smuggling of drugs also remained unclear until the last moment. Only at the second court session on 7th July did she briefly say for the first time: "I would like to plead guilty on the charges." Griner's interrogation was repeatedly postponed at the request of her lawyers, who said they needed more time to prepare. At a session on 27th July, the defense brought another interpreter, young and tanned, who usually translates the answer "Yes" as "Affirmative."
Judge Sotnikova refused to let Griner out of the dock cage during the interrogation, but did allow her to sit back on the bench.
Basically, you're guilty
In court, Griner said that on 17th February she flew to Russia after a ten-day holiday at home in Phoenix, Arizona, to continue the season for the basketball club UMMC (Yekaterinburg). She had flown this twelve-hour flight many times, with a change in New York. She would routinely go through passport control at Moscow's Sheremetyevo Airport at noon to wait for the next flight in three hours to Yekaterinburg. This time, the long flight was especially difficult for her, Griner recalled, because just before the holiday she had been ill with coronavirus.
Lawyer Maria Blagovolina asked her to dwell on this point:
"So why did you decide to return? Was it impossible to take at least another week to rest?"
"No. It's the most important part of the season after the break, it's play-offs. The whole season we've worked, my team has worked hard, to get to a good position. There was nothing that was gonna change that for me. I'm coming back."
"Which team are you talking about?"
"Yekaterinburg UMMC, best team in Russia, in your league."
At the entrance to the customs control zone, Griner met a security dog handler, but the sniffer dog did not detect anything on the basketball player. In her seven years of flying to Russia, Griner says she has never seen so many customs officers on duty at the same time. First, she was asked to put her backpack and suitcase on the scanner, and then open the bags and show their contents. Customs officer Liliya Belobrova previously told the court that she had already seen suspicious vape cartridges on the scanner. Then the drug control officer asked Griner to open the bag, took out the cartridges, sniffed them, and took the basketball player's passport.
Griner recalled that at first she had to use Google Translate on her phone to understand what was written in the documents. Then the customs officers called in an interpreter.
"There was a lady that was there that they said was an interpreter. But it was more just her telling me 'surname, sign'. Short words. She didn't explain the contents of the paper. I didn't know exactly what I was signing."
"Did this woman translate your rights to you, if they were voiced by a customs officer?"
"No. My rights were never read to me. No one explained any of it to me."
To detain Griner and seize her cartridges, the officers called Tatyana Kuznetsova, employee of the luggage search desk, as an interpreter. Previously, Kuznetsova worked as a flight attendant for Transaero and studied English only at the institute where she studied as an accountant. According to Kuznetsova, neither before nor since this incident, she has never been an interpreter in legal proceedings. Answering the prosecutor's questions, she said that she had translated all the documents for "Citizen Greener."
"Did US Citizen Griner understand you?"
"Yes, I asked: 'Do you understand me?' [She replied:] 'Yes, I understand you.'"
Kuznetsova readily recalled, as Griner explained, that the confiscated cartridges were packed and sealed. And how the customs officers offered to issue any other prohibited substances - the American did not have them. About the contents of the documents, the airport employee said: "Yes, it was indicated, which rights and which article." Kuznetsova could not recall any other details about what it was that she translated to Griner about her rights, referring to the fact that six months had passed since then.
Another employee of the arrivals hall, Daria Gavrilova, who witnessed the seizure of the cartridges, constantly repeated in court that she did not know English and did not remember the details. Only one of the lawyer's questions she answered readily.
"Do you remember asking an interpreter to translate the rights of a person subject to inspection?"
"Yes."
"Yes? Do you remember any of these rights?"
"I can't tell you exactly now, because it was a long time ago. I confirm all previous statements. I don't remember the details."
"Do you remember if she asked if she was accused of something?"
"I do not know and do not understand English, I cannot answer this question for you."
"There was a translator. You must have heard the Russian version."
"I don't know English, so I can't tell you."
No better was a later interpreter who, together with the investigator, came to the basketball player in the pre-trial detention centre in Iksha. "I remember one time him receiving a stack of papers that he was supposed to translate to me. And he looked at them for a brief moment and his exact words were: 'Basically, you're guilty'," Griner recalled.
At the same time, even during the customs inspection, Griner was able to call not only her wife Cherelle Griner and her agent, but also the team interpreter. Lawyer Alexander Boikov arrived at Sheremetyevo at 19:00, seven hours after Griner landed and went to customs — but the lawyer was only allowed to see her at 03:00. A day and a half later, the basketball player was brought to Khimki City Court and put under arrest.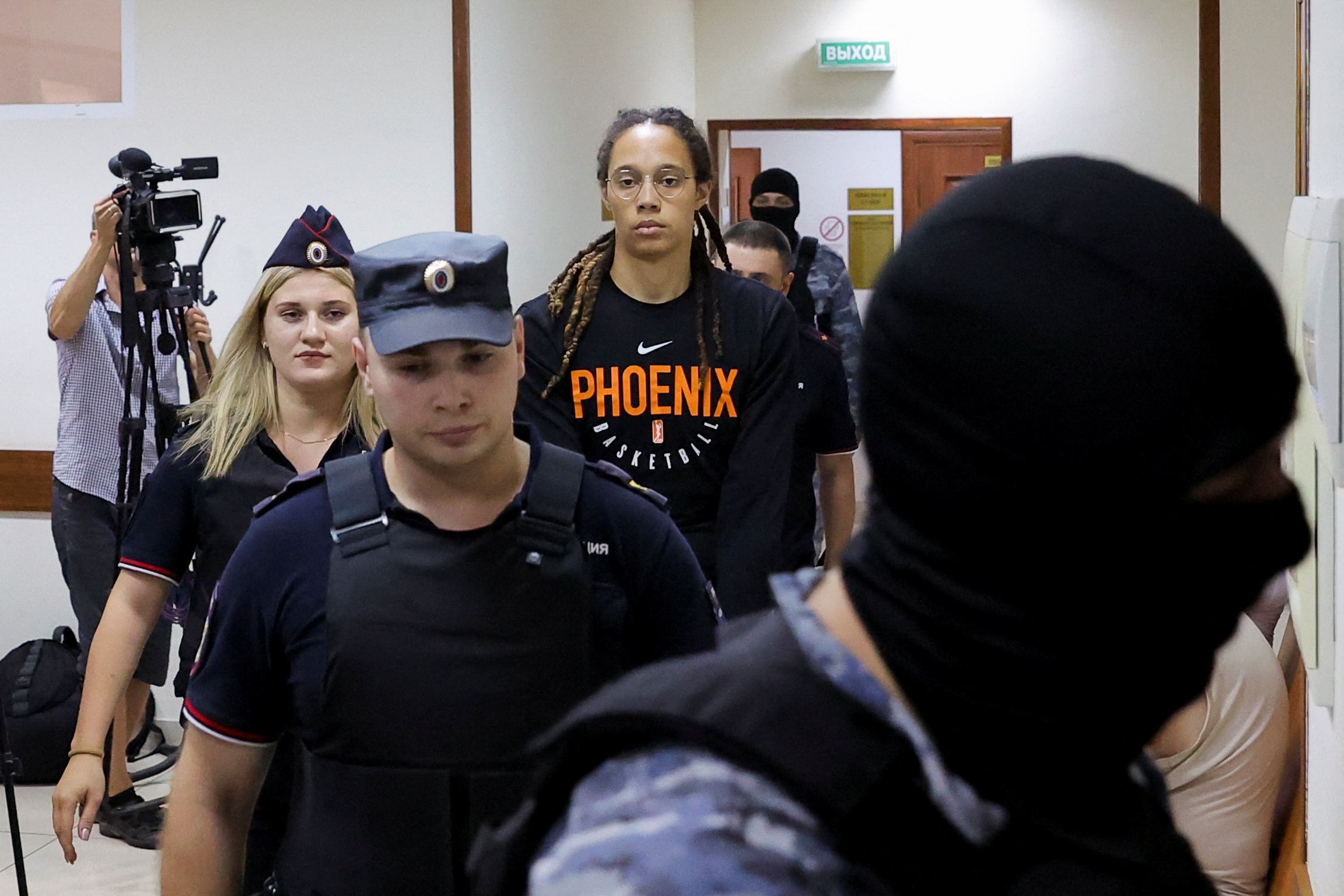 In comes Viktor Bout
When asked by prosecutor Nikolay Vlasenko about whether she admits her guilt in the crime, Griner replied that she did not want to violate Russian laws and did not know at all that the cartridges were in her bag. She was prescribed medical marijuana by a doctor in Arizona to relieve pain: she has had numerous injuries during her long basketball career and even spent four months in a wheelchair. She decided to use marijuana because, unlike conventional painkillers, it has no side effects.
Moreover, she could use medical marijuana only in between competitions, as she was constantly tested for doping in Russia, the USA and in any other countries where she competed. A positive result would mean the disqualification of not only Griner herself, but possibly the entire team. A drug test, carried out after the detention of the basketball player, turned out to be negative.
"I was the one that packed my bag, explained Griner. "The conditions, stress. I've waited until the last minute, because the whole time I was at home I was trying to recover from COVID. And just the stress of wear and tear of the season plus the long flight, being jet-lagged." She took full responsibility for what happened.
The prosecutor was not satisfied with this:
"The question was a little different. Does she admit guilt?"
"I understand my charges and I understand what you're saying. I do plead guilty because of the actions that have happened, but I, again, did not intend to do this. I did not intend to smuggle or bring any substance into Russia."
Griner also drew particular attention to the fact that medical marijuana is unlikely to be used for recreational purposes. According to her, in its medical form, compared to conventional marijuana, there is a higher concentration of cannabidiol (CBD), a chemical compound that is believed to be responsible for reducing pain. Prosecutor Vlasenko objected to this:
"Do you know how medical cannabis differs from non-medical cannabis in terms of THC concentration?"
"I'm not a forensics expert."
Griner's lawyers also hinted in court that the basketball player's inattention could be related to post-COVID syndrome, which reduces brain function. The judge did not take into consideration the relevant conclusions of the chief freelance neurologist of the Ministry of Health, but prosecutor Vlasenko asked to confirm with documented evidence that Griner was ill with anything.
During a break in the interrogation, Griner told US Deputy Chief of Mission, Elizabeth Rood, that she was reading the fantasy Shadow and Bone in the detention centre and that after her release she would have to catch up on a lot of missed TV series.
On the evening of the interrogation, CNN reported that the US authorities offered Russia to exchange Brittney Griner and her compatriot Paul Whelan, convicted in Moscow on espionage charges, for Russian Viktor Bout, who is serving a twenty-five-year sentence in a US prison on charges of arms trafficking. Two days later, Moscow responded to this information with a call to "return to a professional dialogue, without throwing in speculative information, in the tradition of 'quiet diplomacy'."
At the hearing on 4th August, the prosecutor requested that Griner was sentenced to 9.5 years in prison. The decision is to follow soon.
Editor: Egor Skovoroda
Translation: Ivan Ignatiev
Updated August 4, 17:00 Moscow time. Griner's final statement added.
Updated August 4, 18:23 Moscow time. Updated with the verdict.