"They held machine guns to me and my child." Kupiansk-Vuzlovyi village
Kupiansk-Vuzlovyi is a major railway junction connected with Kharkiv and other cities of the region. For six months, the Russian army controlled the village. From the very first days, according to local resident Yulia Petrova, whose story was published by Meduza, the Russian military behaved "like masters of the land": they robbed shops, beat citizens, took property from apartments and cars.
"From the first days they began to take away peoples' businesses. In the bazaars, in the markets they took control of kiosks. When they went 'shopping', you couldn't raise an eye to them. They took what they wanted from the shelves. And if you dared to contradict them, or just catch them in a bad mood, you were beaten, taken na podvaly," Petrova said.
The screams of prisoners could be heard from these basements, the woman says. And once, according to Petrova, fishermen found a corpse in the Oskol river with a bag on its head and its hands tied up.
The military also searched Petrova's house. They checked mobile phones, looked for Ukrainian symbols. "They put machine guns to me and to the child. Reloaded them. Shouted, 'We're going to shoot your child now! Come on, where are your flags, where is your insignia, bitch, you're for Ukraine, you don't like us Russians, do you? Don't you hate us?' And I'm silent. I was so scared. I couldn't say a word. They searched, searched, and then said, 'We'll be back.' And they left," the woman recalled.
Many of her acquaintances who did not hide their support for Ukraine disappeared, Petrova says. Eventually, she managed to leave for Ukraine-controlled territory, but that was not easy—the Russian military reluctantly released refugees. "Friends told me they couldn't even bribe their way out—everything probably depends on the shift [at the checkpoint]. But we paid to get through. They took off all the gold we had, they even took a child's gold chain with a cross, only returned our rainy day savings, $400," says Petrova.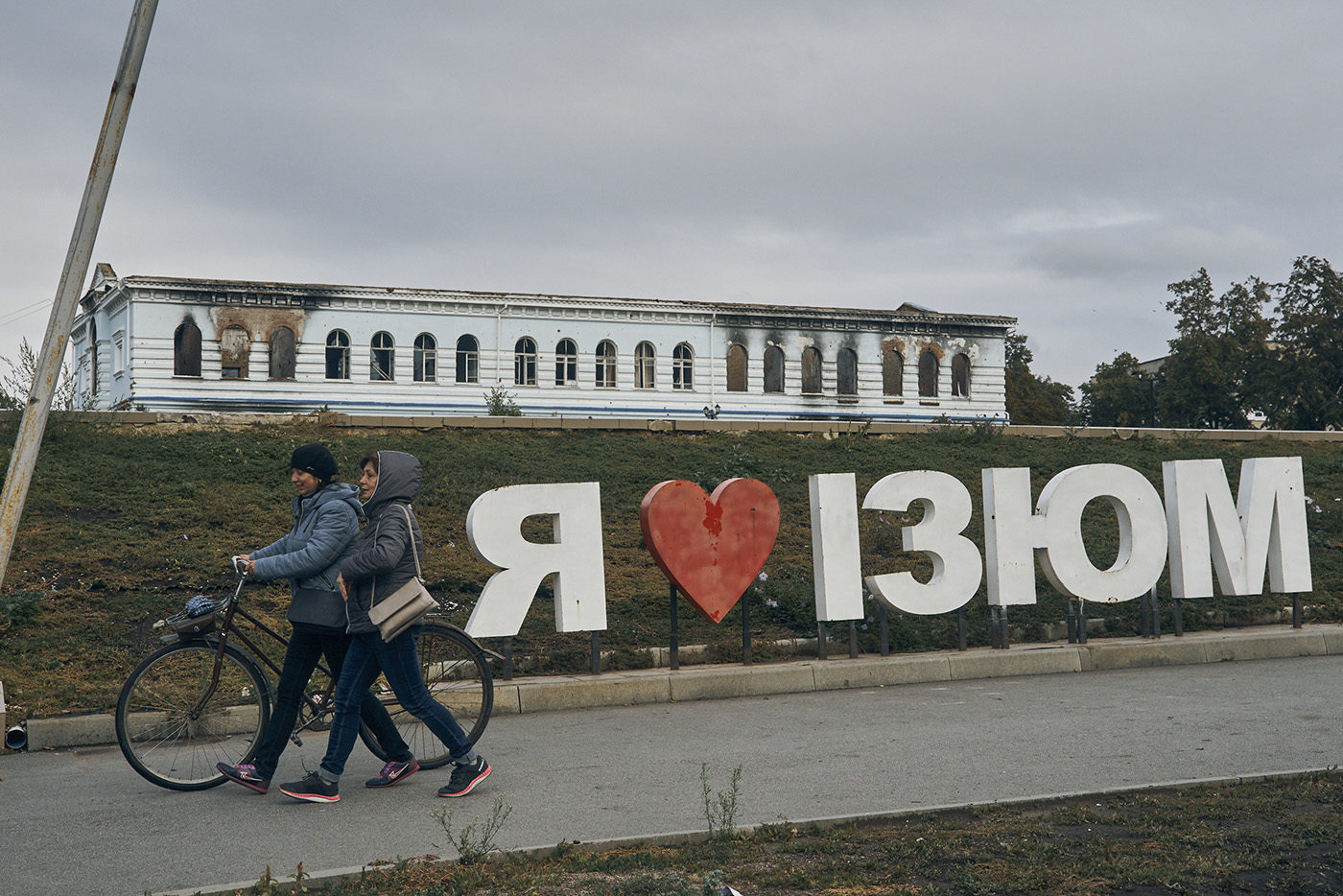 "People survived thanks to reserves of food and water under the rubble." Izium in ruins and killings in Hrakove
The city of Izium, fiercely contested in March, was eventually captured by the Russian army in early April. The local city council claims that during the six months of occupation, about a thousand people became victims of military aggression. "We are talking about direct losses from military operations, as well as people who did not have time to receive proper medical care." According to their estimates, 80 percent of the city's infrastructure has been destroyed. "Both residential blocks and high-rise apartment buildings suffered. Now, on the eve of winter, a number of measures must be taken to ensure the ability to live in the city when central heating becomes necessary," said local deputy Maksym Strelnyk.
The scope of destruction was also reported on by the Ukrainian media outlet Strana. Once the Ukrainian military recaptured the city, their journalist was able to talk to its residents. One of them said that Russian soldiers fired tanks at a residential building in early March, after seeing a Ukrainian soldier enter it. There were people in the basement at that time, the man recalls. The civilians hiding from the shelling were covered with brick debris, and the Russians began clearing the rubble only a month later. "People survived thanks to reserves of food and water, but in the end not everyone got out alive from under the rubble," the newspaper writes.
Deutsche Welle also recently reported on the effects of Russian presence in the Kharkiv region. "Soldiers came to my house. They were from Donetsk or Luhansk [People's Republics], I'm not really sure. I didn't ask. They came, threatening us at gunpoint. There were two people already dead, two young guys," says one of the report's survivors, a resident of Hrakove, a local village.
As the office of the Ukrainian Prosecutor General's office reported, one of the local residents (apparently, the same person whose story was recorded by Deutsche Welle) was forced to dig graves to bury the dead.
"It wasn't life, but misery." Basements of Verbivka village
The village of Verbivka lies next to Balakliya, a larger city abandoned by Russian troops a week ago as a result of the Ukrainian Armed Forces' successful counteroffensive in the Kharkiv region.
According to local residents, who were interviewed by the journalists at Hromadske, their only source of food for six months was a backyard garden, since they could not receive their pension payments as usual.
"Life was very hard for us. Everyone here worked under fire in their gardens. We've been told our women act like kamikaze picking up potatoes under fire not to die of hunger," the publication quotes from 62-year-old Verbivka resident Olga.
Nadezhda Vasilyevna, who is 70 years old, said that the residents of Verbivka often had to sleep in basements because of shelling: "For six months we slept in basements, not taking our clothes off, in sweaters and jackets, because of prilety. It wasn't life, but misery."
Russian soldiers came to the home of one of the residents and her husband, suspecting them of hiding weapons. "They were on duty at my house," the woman recalled. "You go home and show them your passport," she recalls, outraged. "What kind of life is this?"
Kidnappings also occurred in the village. According to 67-year-old Vasily, one day Russian soldiers put a bag on his head and took him away in an unknown direction—all because the suspected that his son-in-law was helping the Ukrainian military. A day later he was released, but while in captivity Vasily was neither fed nor allowed to use the toilet.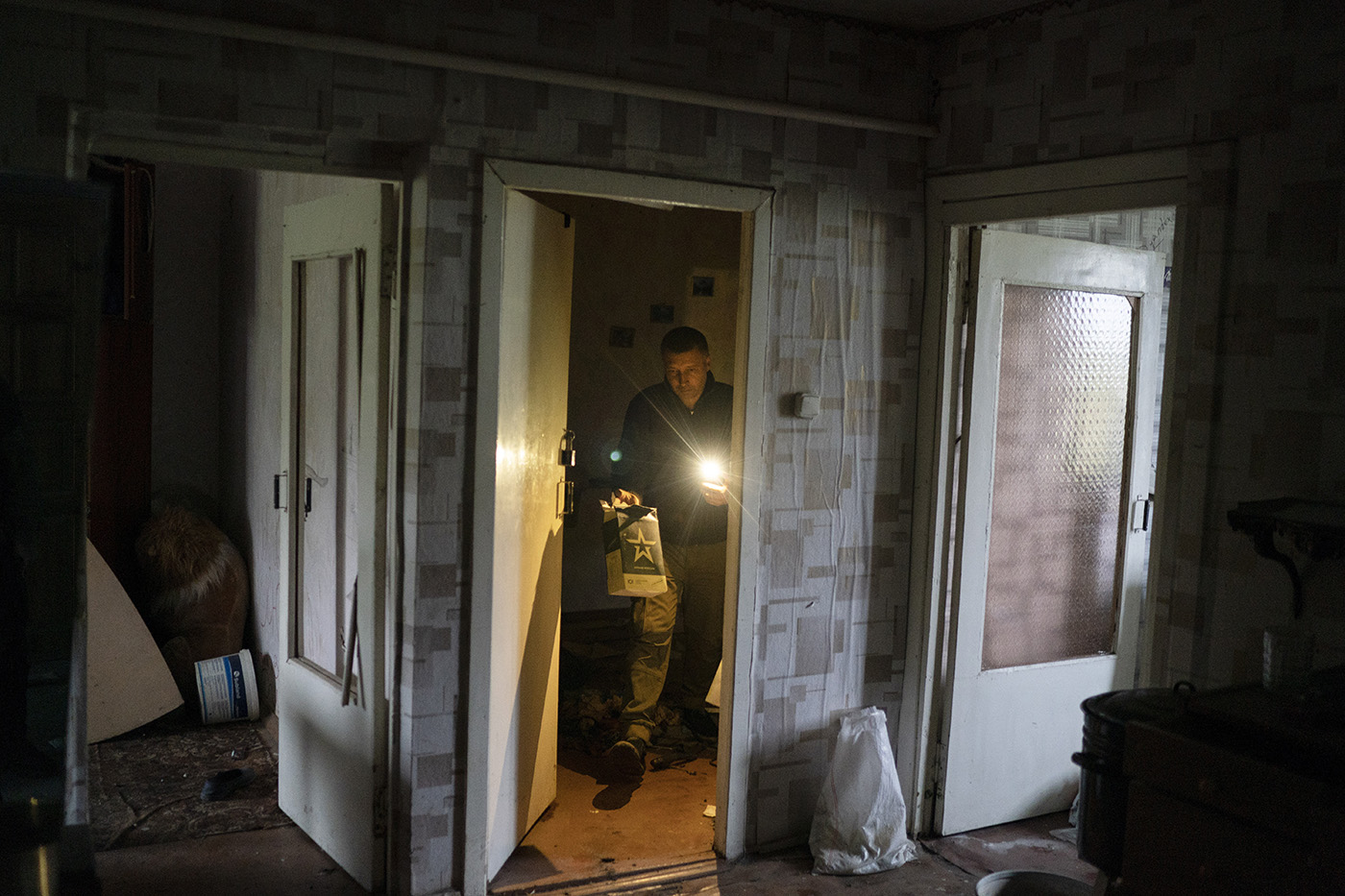 "I want to ask Putin—why did he shoot my son?" Prison and torture in Balakliya
In Balakliya, another city recaptured from the Russian troops in the Kharkiv region, residents claim that there was a prison where detainees were tortured.
"At any point during the occupation, the Russians held at least 40 people captive, and fed them plain porridge twice a day," says Sergey Bolvinov, head of the investigative department of the Kharkiv regional police. "They were searching, with the help of local collaborators, for those who served or had relatives participating the ATO." According to him, one of the prisoners spent 46 days in prison after the Russians found a photo of his brother in a Ukrainian military uniform.
The BBC reported an account of one local resident named Artem with descriptions of torture. He said that along with fellow Ukrainians he was held for 40 days in the local police building, and the soldiers intentionally didn't turn the noisy ventilation system on, so that prisoners could hear the screams of others who were being tortured.
Artem says that he was detained after the Russian military found a photo of his brother, a serviceman in the Ukrainian Armed Forces, in military uniform. When he was in captivity, he was tortured with electric shocks. "They made me hold two wires. There was an electric generator. The faster it went, the higher the voltage. They said, 'if you let it go, you are finished'. Then they started asking questions. They said I was lying, and they started spinning it harder and the voltage increased," Artem recalls.
According to the Ukrainian police, the occupying forces held up to eight people in cells built for two. Hromadske has also written about torture and prison.
The publication describes a meeting with a local resident named Valentina. Her 49-year-old son Vasily was, by all indications, killed by the Russian military before their retreat. The woman said that Vasily left the house in the evening, nothing out of the ordinary, promising that he would return by curfew. But he never came home. Valentina searched for him all night, and the next morning she was called up to identify her son's body.
"When I arrived and saw this terrible scene, I screamed so loud you could hear in all of Balakliya. I thought the sky would burst. Why? I want to ask Putin—why did he shoot my son? I can't walk these days, I'm dying on my feet. And no one will return my son to me," says Valentina.
Journalists learned from eyewitnesses that the car that Vasily and his friend were driving was shot at by assault rifles.
Translation: Jack McClelland