Izium. Graveyard, torture, and death under the rubble
On the way to Izium there is a village called Schastlivoye ('Happy') and another one called Vesyeloye ('Jolly'), with checkpoints left by the Russian army decorated with the letters Z and the abbreviations LPR, DPR (for Luhansk and Donetsk People's Republics) and even KNR at times (for the Kharkiv People's Republic which was never declared). On the road there is a detached tank barrel with the 'Wagner' sign, as well as some damaged armoured personnel carriers.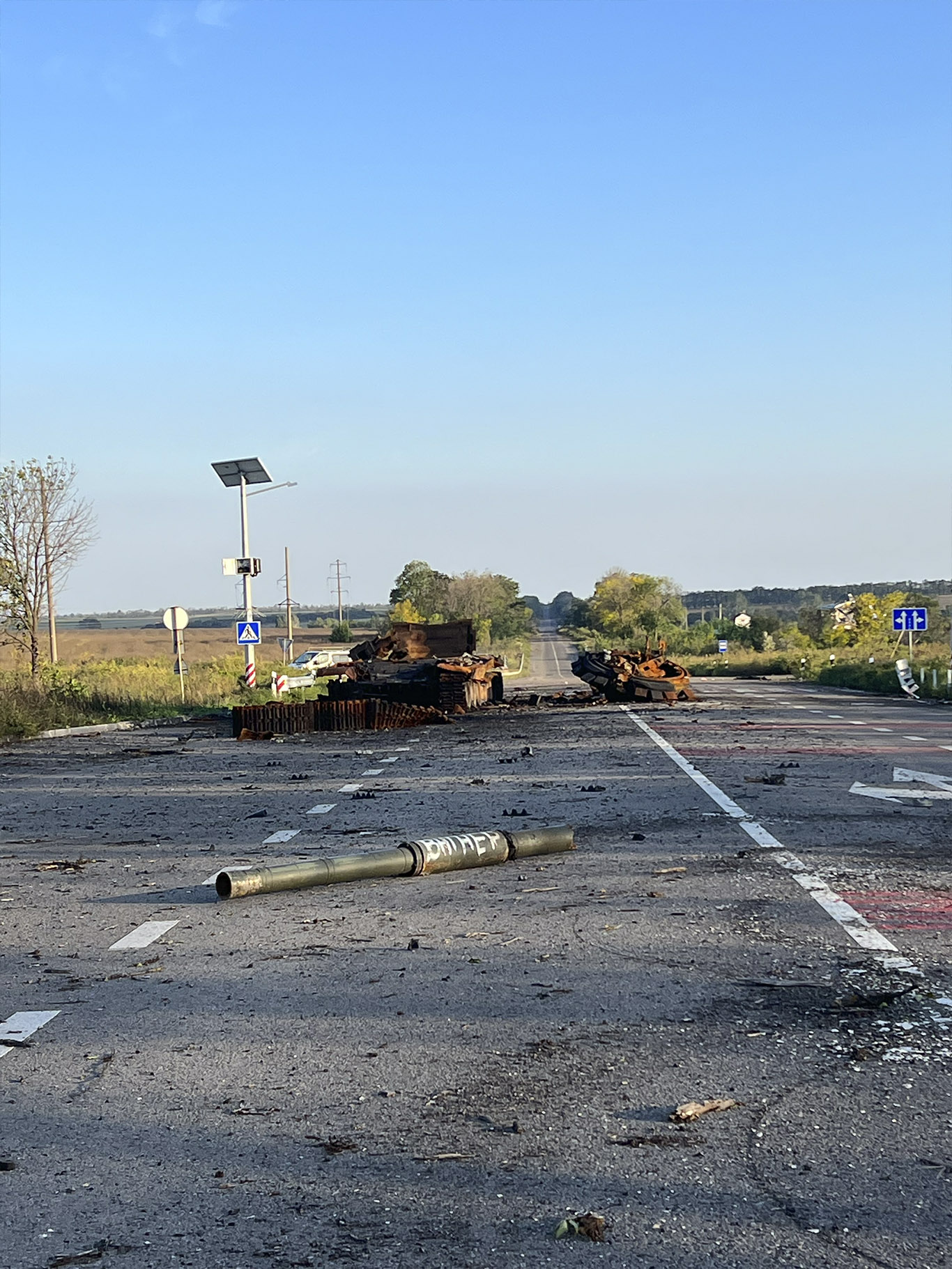 The town where 50,000 people lived before the Russian invasion is practically destroyed. Ukrainian officials say that this is 'Bucha and Irpin multiplied by three', that 80% of the buildings are damaged—and it sounds true. For more than a month Izium was under siege, continuously shelled by the Russian army throughout March, and then captured by April. By the end of spring, Izium turned into the logistical center for the attacking army. 
One of the bloodiest episodes of the siege happened on 9 March: a missile hit a five-storey building in a residential area, killing around 50 people. But not everyone died instantly. A resident of the building remembers how a fifty-year-old woman stayed under the rubble for several days — her arm was crushed by a slab. He brought her water and food every day and she was asking him to cut off her arm. But he did not have the right tools or experience to do it.
"We were visiting her down in the basement for five days," he said. "Her name was Larisa. She goes: 'Cut off my arm,' and I'm like: 'How? I'm not a doctor.' And that concrete slab between the floors was impossible to lift. And then one morning I went down and that was it, she was gone. I just closed her eyes."
Technical equipment—and with it, the possibility to sort through the rubble—has only become available now that Ukrainian forces have returned. The State Emergency Service of Ukraine is working on the ground and they expect to find more bodies in Izium. Minesweepers are also here, checking the grass in areas around what used to be buildings. They have expanded their work around the whole town, and it is not recommended now for civilians to walk past tarmacked areas since there might be mines and boobytraps. At least six people were killed in landmine blasts in the Kharkiv region.
Locals are using bicycles and scooters to get around town. They light up and wave to journalists and soldiers, but not everyone is ready to talk about the last six months: some say it's because they spent all this time under the Russian military—and what if they come back?
A few days ago, the President of Ukraine Volodymyr Zelensky arrived in Izium and, together with members of the Ukrainian army who liberated the town, raised the national flag in the central square. Now locals meet here in groups. After a while they start to tell stories of the last six months.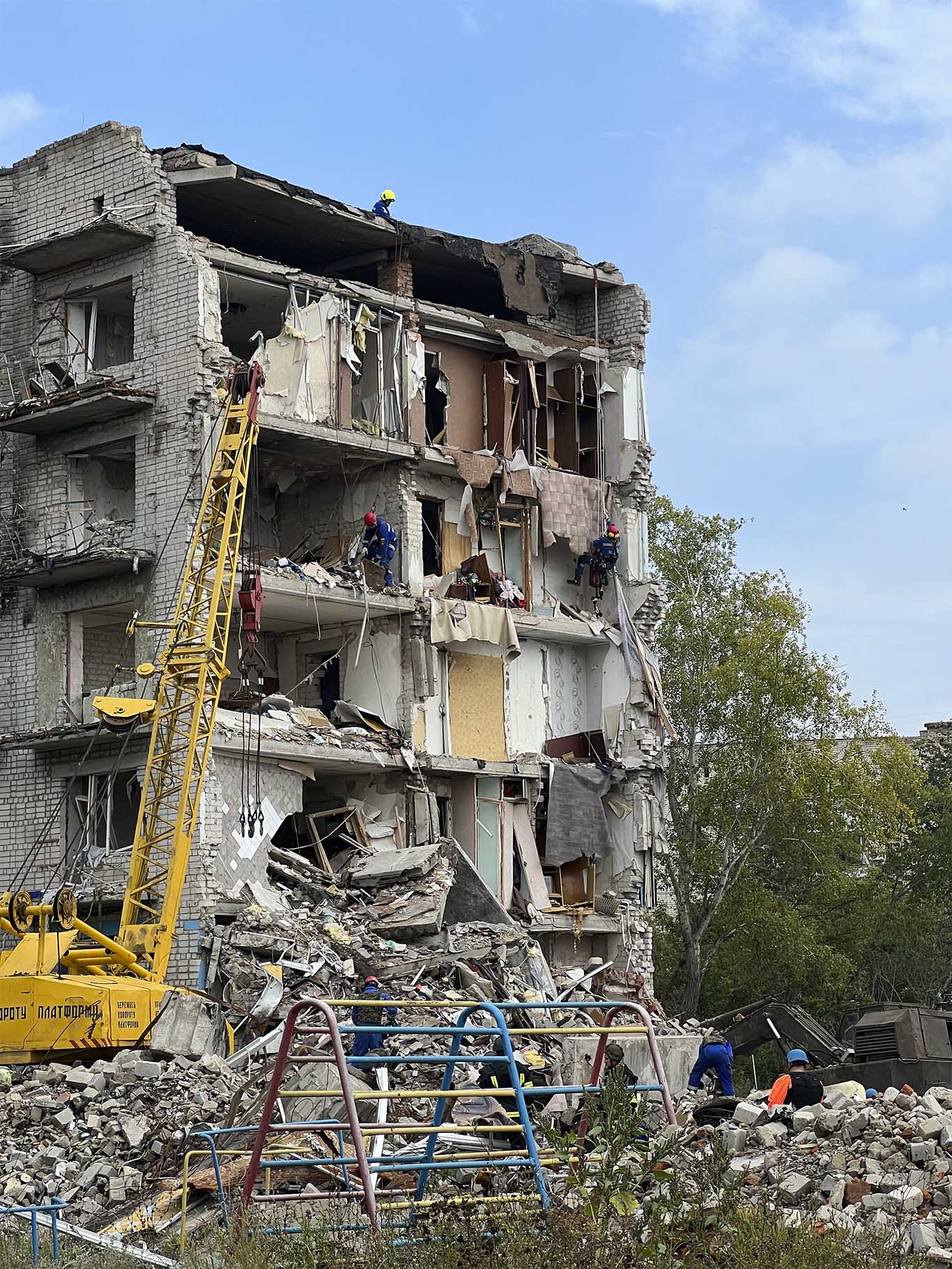 "Looting was bad," says a woman who seems to be around 65 years old. "They were even taking pillows and some parts of the sofas to their APCs. We were scared to leave the house, one mop-up after another. They searched us four times. They liberated us from electricity, gas, water, telephone, our entire civilization."
Her friend adds: "There was some humanitarian aid, over six months it summed up to one month of my pension. I'd give it back to him if that swine would give me back what he took from me!"
A man called Roman enters the conversation: "One of the Russian soldiers called his mother from Frunze street: 'Ma, people are so rich here, they all have brick houses and they have everything. Gas, water, fridges in every house.' I heard her reply: 'Take everything, my boy!'"
A bit further away is a woman with a shopping trolley bag. When asked what the soldiers' behavior was like, she started crying: "I can't say that they were cruel, but they drank and surrounded themselves with women. Like they were on vacation or something. As long as they don't touch us, I'm OK."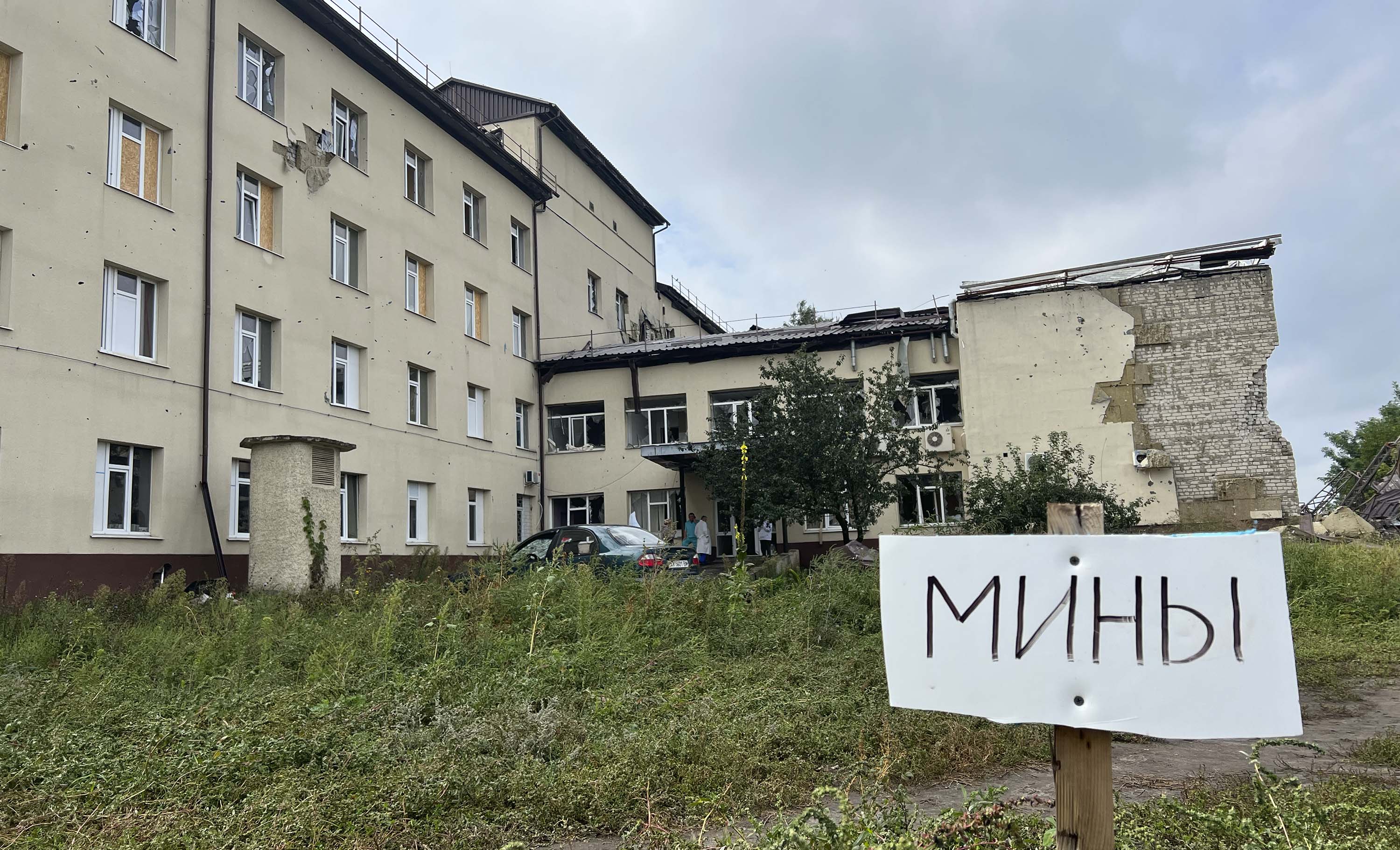 The central town hospital in Izium has been operating all this time. Trauma surgeon Yuri Kuznetsov says over these six months they had around 400 patients. The Russian army deployed their own military hospital, too. Izium doctors say that Russian doctors even helped them, especially with medication. "Doctors are doctors. They supplied us with medicines and sometimes took patients with diseases we couldn't handle ourselves," says Kuznetsov. The most difficult thing, he says, was to evacuate patients to the basement during shelling. The hospital building itself also suffered, part of it was destroyed.
After the Russian army arrived, they made a special prison in the local police station for those who were arrested. They tortured them there as well. One of the locals, Maksim, who spent a whole week there, told the Ukrainian Telegraph newspaper that Russian soldiers retreated from Izium so quickly that they even left their torture equipment: "I found a camera there and their kit for torturing. The Russians left everything—handcuffs, special batons, a barbed axe handle to rupture skin. I wasn't beaten with batons but others say they were hit on their heels. I also saw a kind of phone that produced electric current."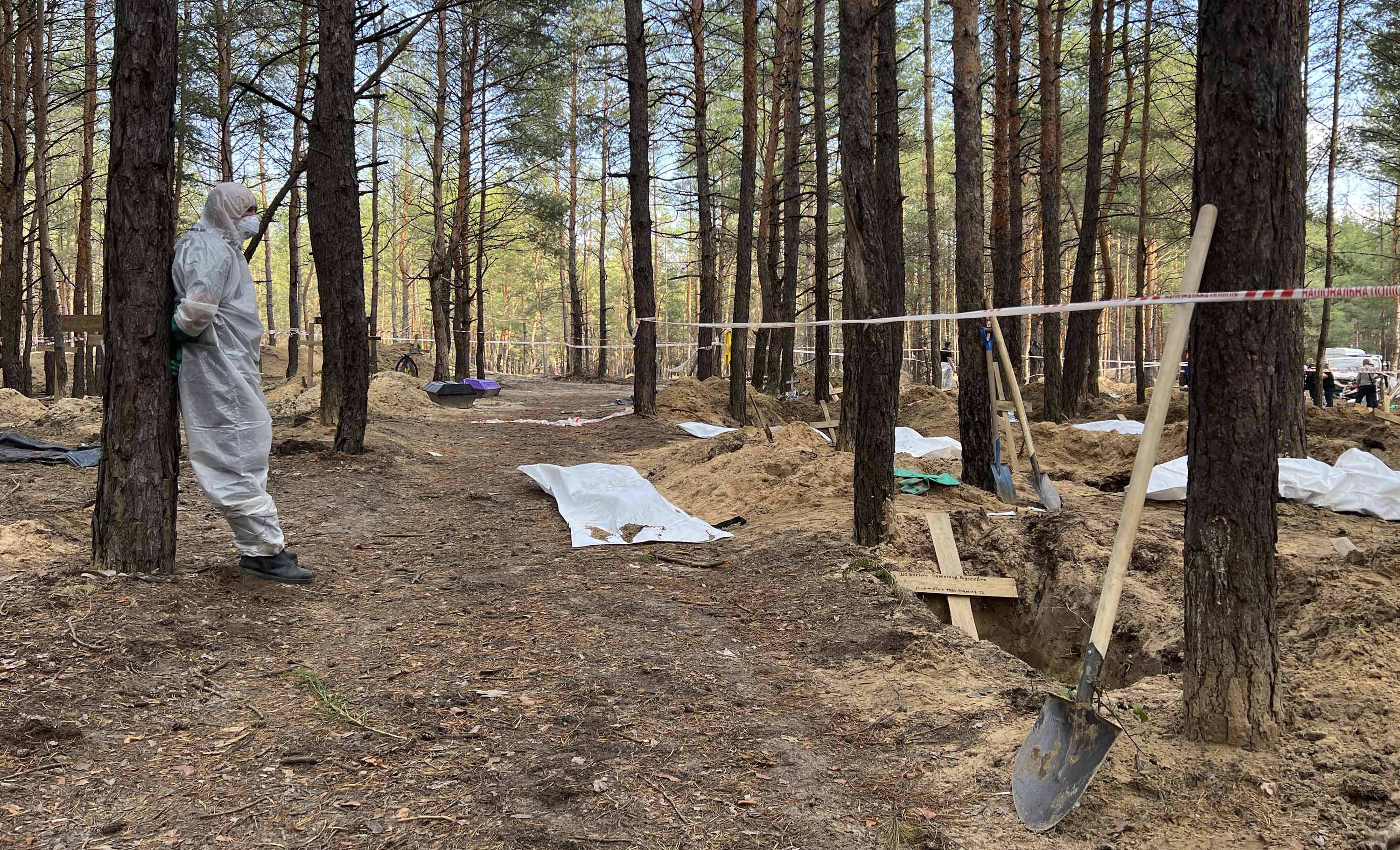 The main shock for Ukraine and the rest of the world is the mass grave discovered in Izium. 445 bodies of civilians and 18 bodies of Ukrainian soldiers were found in the forest. Each had a cross with their names and dates of birth and death, but some only had a number given during the burial.
Both locals and undertakers, who were still operating in some way during the siege and occupation, buried those who died here. Most of the graves appeared in March and April. Standing at the burial ground, the head of the Kharkiv regional army administration Oleh Synyehubov says that most of the bodies have signs of murder by shooting or some other means. Exhumation of such a large number of bodies is a very complicated and not a quick ordeal. Dozens of criminologists, prosecutors, and policemen are working on the site. Dozens of bodies are unearthed every day, at this rate it will take one to two weeks to finish the process.
Some of the discovered bodies have their hands tied, these people were probably executed. While the graves are dug up and decomposed bodies are taken out there are constant sounds of explosions: de-mining experts are working around the graves in the forest. Next to the graves are trenches where Russian soldiers used to hide. Empty ration packs bearing Russian army insignia are scattered on the ground.
Kupiansk. Screaming in the police basement
Kupiansk, a city of around 30,000 before the war, is another important strategic point: the Russian army was supplying divisions in the Kharkiv region and partially the Donbas through the local railway. Unlike Izium, which was besieged for over a month, Kupiansk was occupied immediately on 24 February. To get Izium back, the Ukrainian army had to free Kupiansk first. And when this happened, on 8 September, the success of the counterattack became only a matter of time. As it turned out, a matter of days: Russian soldiers were rushing to leave the territories that they had occupied for six months.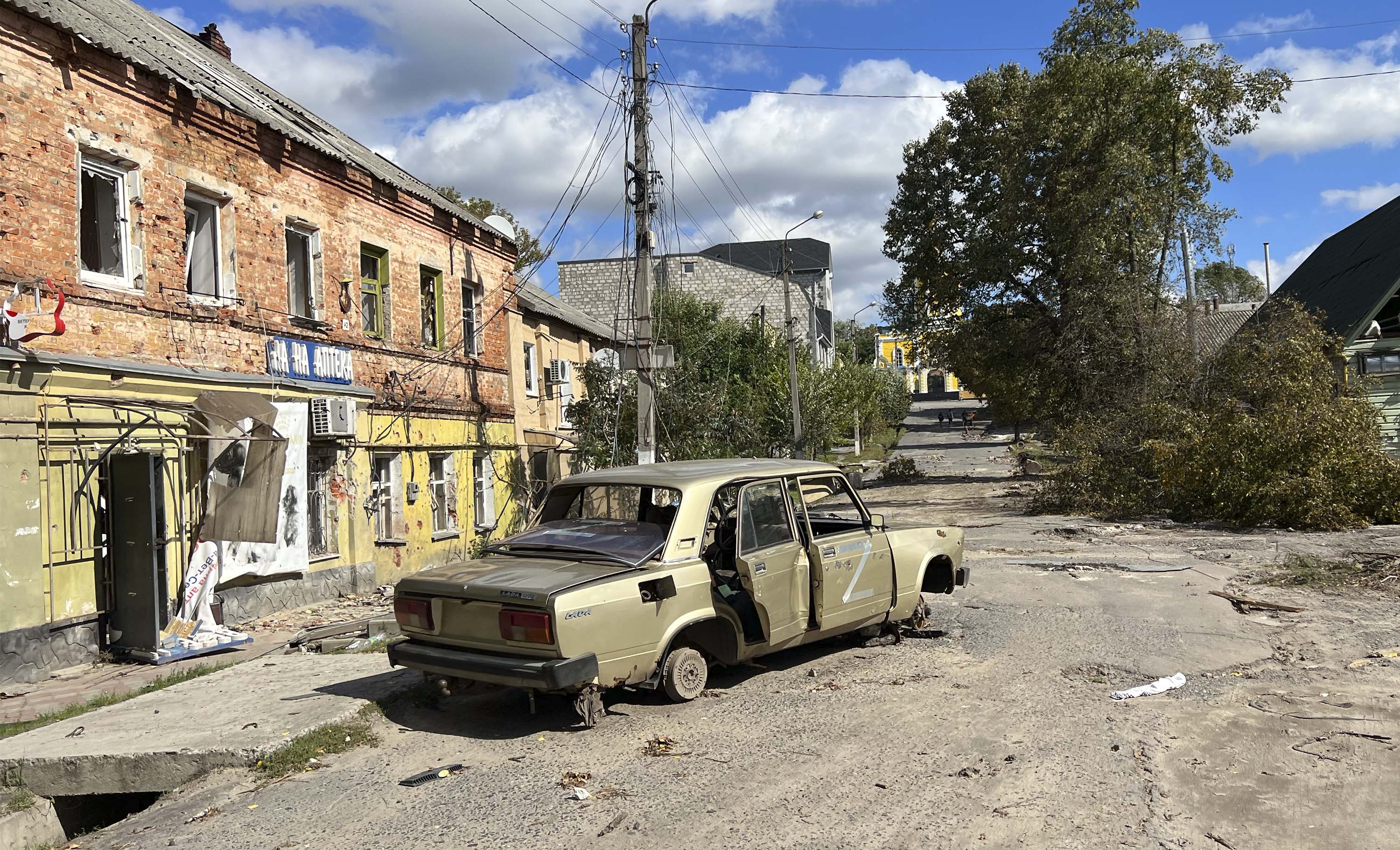 But, unlike other liberated territories, the war stayed near the town. Russian army is positioned very close to Kupiansk and they are constantly attempting to attack it. Sounds of artillery are everywhere, streets are almost empty.
Kupiansk is divided by the Oskil river. The bridges are destroyed, you cannot cross the river by car, only on foot or by bicycle. People from the eastern side are fleeing to the western side: it is more peaceful and located further away from the line of contact. From there they can evacuate further into the country. Next to the bridge on the west bank people are waiting for their families. There is no signal now, and it is unclear whether they will eventually see them on the other side, alive.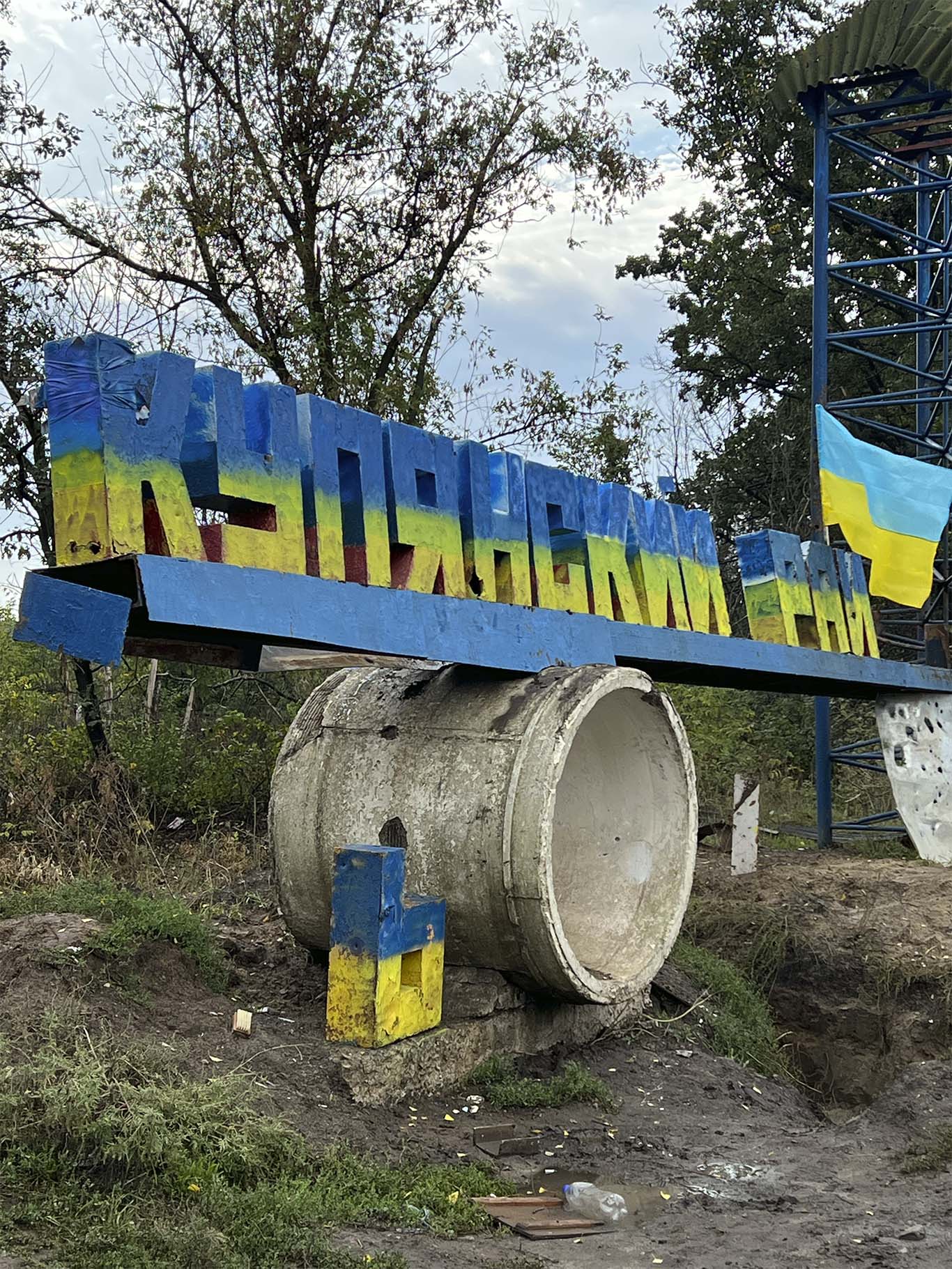 There is a big sign with concrete letters on the road to Kupiansk. Before 24 February it said 'Kupianskyy rayon'('Kupiansk region') in Ukrainian. Russian soldiers adjusted it to look like it was written in Russian. They also removed some letters so the word 'rayon' ('region') turned into 'ray' ('paradise'). But, of course, it could not be further from paradise there. 
The first person we meet entering Kupiansk tells us that the Russian army kept him imprisoned for ten days and shows scars from handcuffs: "It's been three months already, but I've still got the scars. They took me for no reason. They needed money. I won't say more — I am scared 'cos I've got a family. But it all looked like 1937. If a car approached our house, I thought they came for me."
In Kupiansk, just like in Izium, those arrested were held in the local police station. Ukrainian officials say that they discovered more than ten torture hubs like this in liberated areas.
A woman walking past with her son talks about captivity too. Her name is Irina Tokareva and she was freed only after the Ukrainian army took Kupiansk back.
"They imprisoned people, tortured them, looted. Some were there because they tried to stop soldiers from looting," says Tokareva. "Some stayed there for a hundred days. I was there for seventeen, then they made me read from a piece of paper, some kind of an 'interview' for the Russian journalists. I was released on 20 August. And then I was taken back on 5 September. Thank God, Ukraine came. We were able to leave. We had no food for days. There were many who were handcuffed to something, we tried to saw the cuffs off with everything we could."
"Did you hear people being tortured when you were there?"
"Of course. There was a 66-year-old woman who spent five days without water. The cells were overcrowded, ten people instead of two in each. They electrocuted people, mashed up people's internal organs, just made corpses out of them. We heard bodies being dragged. When they opened the feeding windows in our cells, we could here that this person won't make it. But where they took the dead—I don't know."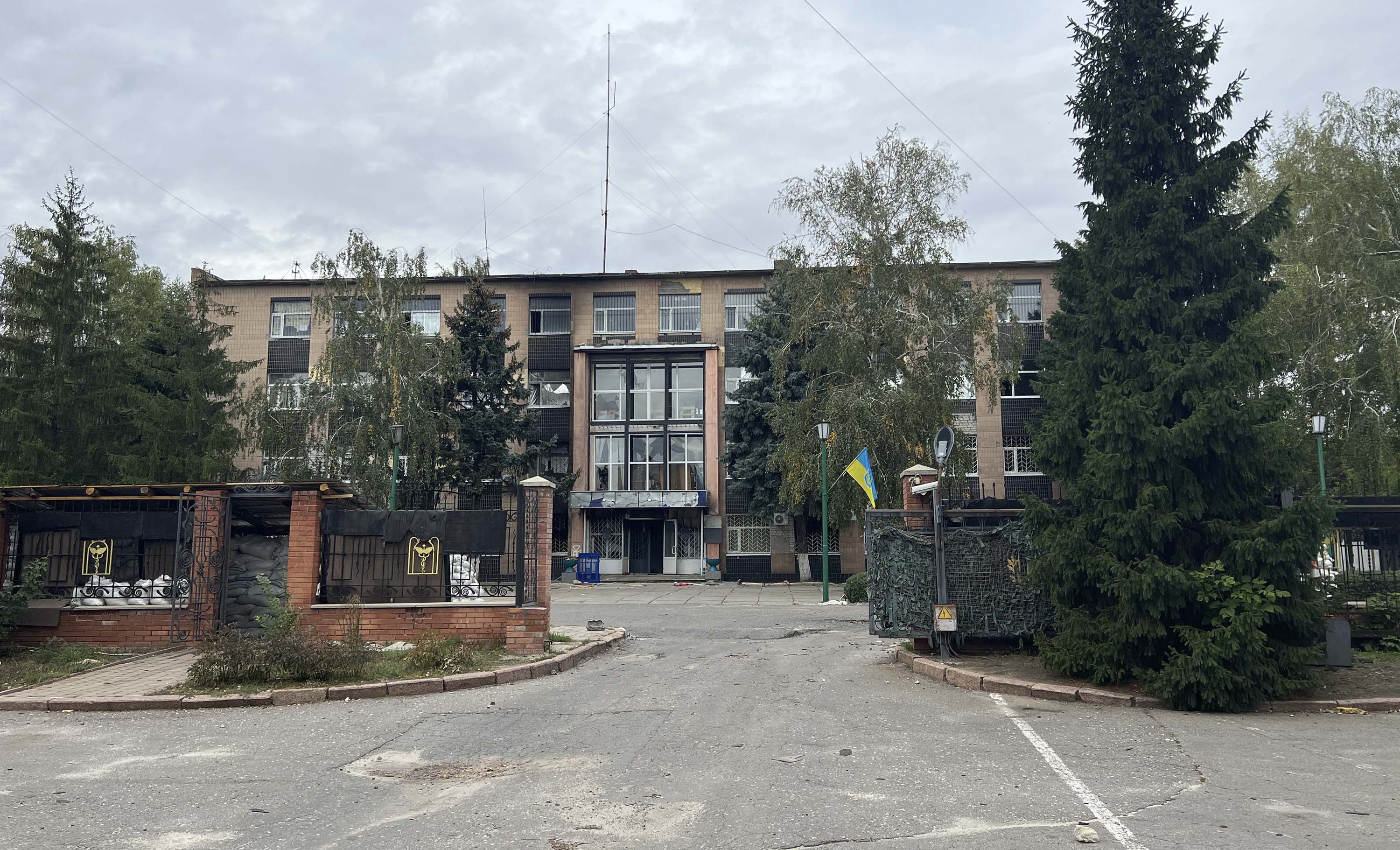 The four-storey building of the police department is just 400 metres away from the place where we met Irina Tokaryeva. Inside the building we see stuff lying around—evidence that people left in a hurry. A uniform with a 'Police' patch and portraits of Vladimir Putin and Russian minister of internal affairs Vladimir Kolokoltsev on the floor. A 'Certificate of Honour of the Ministry of Internal Affairs of Luhansk People's Republic to Captain Evgeniy Lisnyak,' awarded in 2021, in one of the windows. Signs of shelling and fire on the third floor.
The cells where prisoners were kept are on the first floor. Irina Tokaryeva says that based on her calculations, there were around 200 people there when the town was freed. She helped some of them to get out. The total number of cells is 12, with two to four beds in each. Food, clothes, and some books were left behind. Next to the cells are rooms for interrogations. I am walking cautiously with Ukrainian soldiers — they check rooms for left documents and trip wires.
In some offices on the second floor there are gas masks. "Oh, this is for torturing," one of the soldiers says. "They plug the hole so you can't breathe."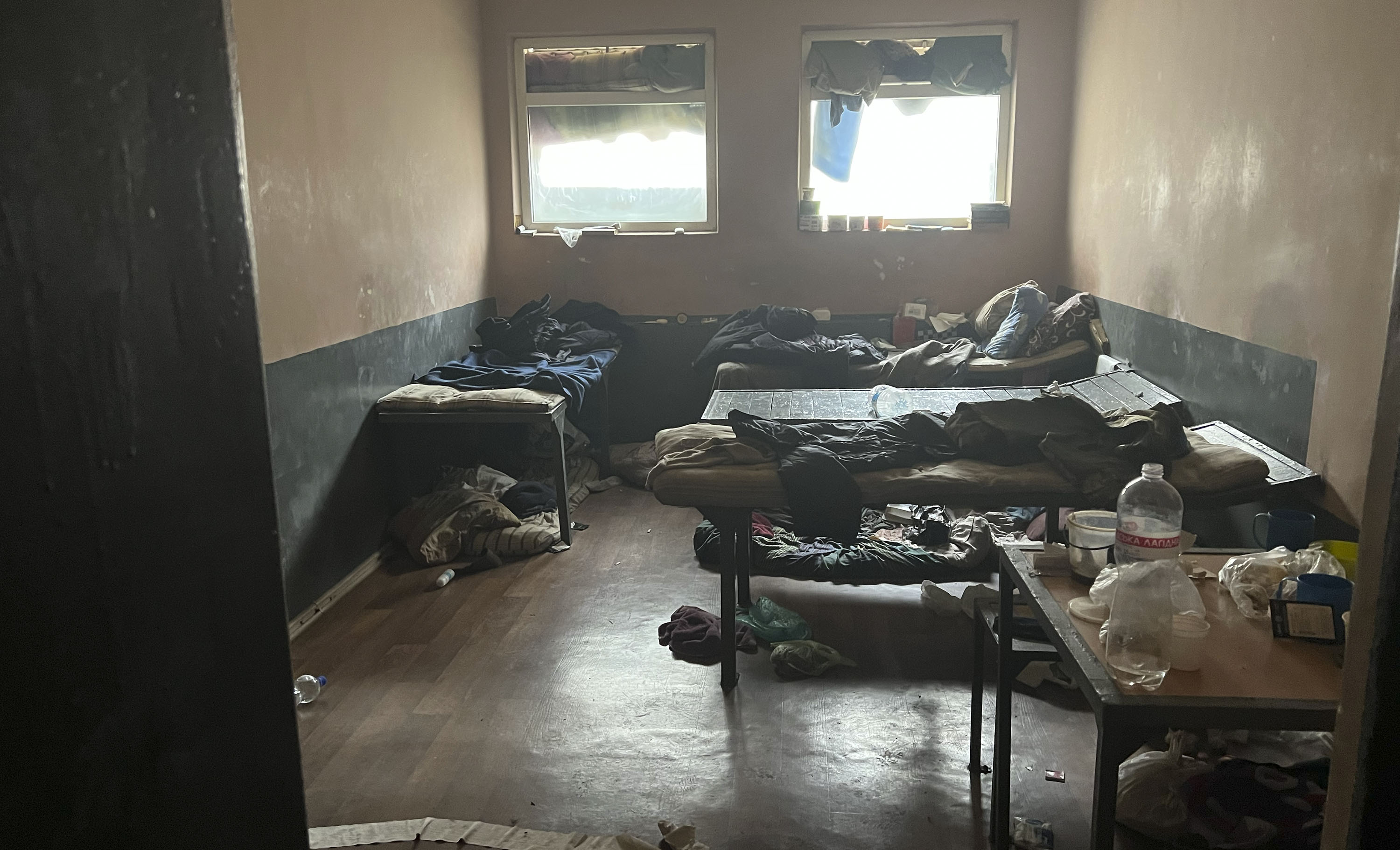 The streets of the town are empty, with the remains of buildings, shrapnel, and missiles. Scared dogs are running around. Occasional army officers and cars with volunteers who help to evacuate people who are still here. Torn billboards, with Russian posters taken down. Sometimes we see white-blue-red flags on the ground.
Black smoke from firing in the east of the town is visible. Ukrainian soldiers are passing by, through their walkie-talkie someone says that they found two corpses. On one of the central crossroads, there is a noticeboard with mixed leaflets from the pre-war and occupation periods. For example, an event where you could sell your hair planned for 24 February (with a Ukrainian contact number). Next to it is the information about where to translate documents for obtaining Russian passports (with a Russian contact number). 
People say anyone could get a Russian passport. Violent integration started almost immediately. Nina, an older woman with her grandson, whom we meet while leaving Kupiansk, says that "Russian officers said straight away that there will be no Ukraine here. And no Ukrainian language either. It was very tough. Ukrainian study books were taken out of the schools." First order of business of the Russian government was to stop Ukrainian TV broadcasts. Then everything disappeared from the shops — until they delivered goods from Russia. Then the communication was cut off. You could buy a Russian SIM card, but it barely had any reception. 
A family consisting of a mother, a schoolgirl, and grandparents says that cell signal was blocked because people were actively reporting the locations of Russian soldiers to the Ukrainian army: "We were told that we talk a lot, that's why they are cutting us off." As they explained, the army itself suffered from this — they had to go up the hill to catch the signal and talk to their families.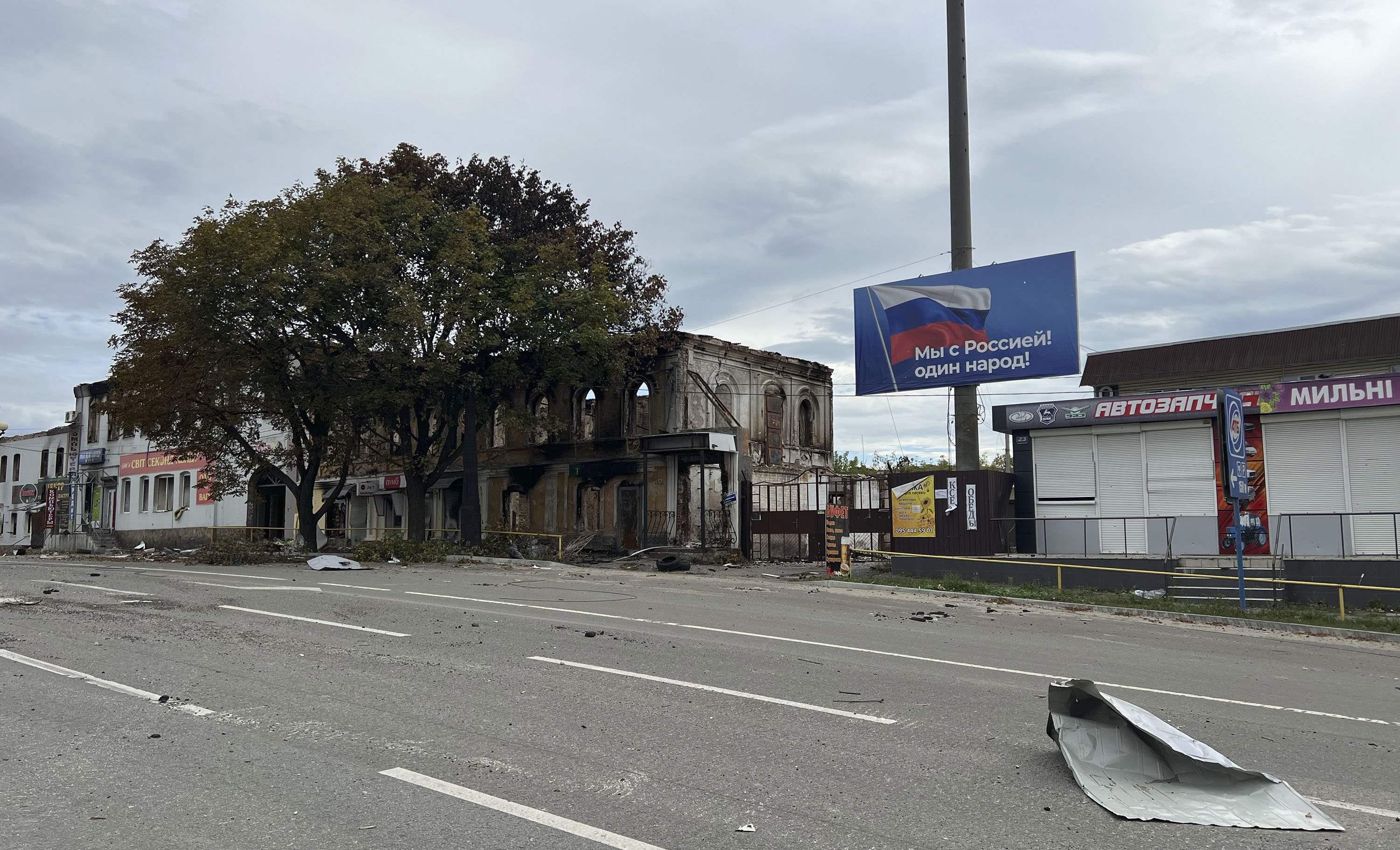 ATMs and bank cards in the occupied territories did not work. Some opportunists started cashing money with interest rates. According to locals, it worked like this: you share your bank details with them, they go someplace where there's internet, transfer the agreed amount to their accounts, and come back with the cash. The interest rate for this was 20% to 50%.
We met the family that recounted these details of life during the occupation in a quiet residential district of Kupiansk. They left their house in the eastern part of the city early in the morning and walked four and a half miles with bags and other belongings. For several hours they were wandering from one point to another, falling into the mud when they heard shots, terrified of shrapnel. Somebody told them that there was an evacuation point somewhere around. But in several hours, they only saw one bus packed with people that did not take them on board.
Together with the military, we took them with us. Closer to Kharkiv their cell phones started working properly, for the first time in six months. They all started calling their friends who had no idea whether their families and relatives had made it out of Kupiansk. There was a lot of firsts for these people who had been under occupation all these months. As we drove into Kharkiv, an air-raid siren went off, something completely unfamiliar to them, and they started asking if Kharkiv was being shelled.
Kharkiv. The 'sluts' are still here
Kharkiv is being shelled on a daily basis. The second largest city in the country is 25 miles away from the Russian border. The last time I was in Kharkiv, it was May, when the Ukrainian army first stopped the Russian forces from surrounding the city and then managed to push them back from the suburbs. But proximity to Russia's Belgorod region seems to endanger Kharkiv for as long as the war carries on—no matter how strong the Ukrainian counterattack is. Missiles are fired from there every day. Over these months, I can see many more destroyed buildings.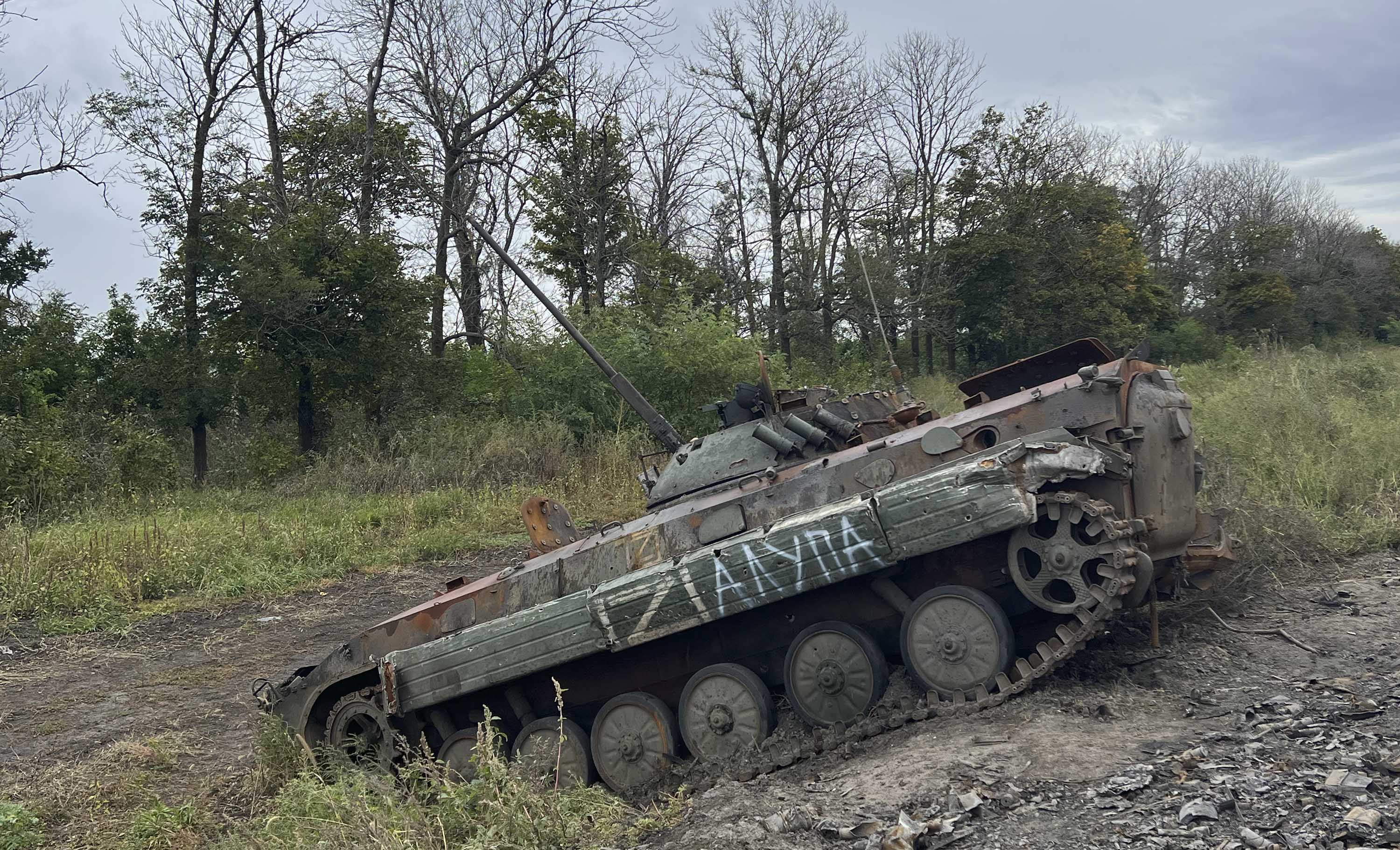 In early September, when Ukraine's successful counterattack liberated almost the entire Kharkiv region (6% of the area is still controlled by Russia), Russia's response was to bomb power plants supplying the city. For several days there was no electricity, communications, or water. At the same time, the ordnance and missiles, including cluster bombs, that spread out chaotically and off target, often ended up in civilian areas.
Since the beginning of the war, local Yaroslav Ilchenko has been driving around villages delivering food and clothes, as well as evacuating people. Like probably everyone in Ukraine, he is sure that these attacks are revenge for the successful counterattack.
The infrastructure is shelled, which puts electricity, water, and heating supply at risk. This practice is spread across the whole country, thinks Yaroslav. In his words, most Ukrainians should expect the same tactics from the Russians, especially with the heating season getting closer.
Yaroslav calls Russian missiles 'sluts,' which is now an established moniker for them in Kharkiv.
Editor: Yegor Skovoroda
Translation: Ivan Ignatiev