Kirill Tkachenko, a Ukrainian citizen, spent five hours at the Russian–Finnish border awaiting his interrogation. First, the FSB officer told him to unlock and hand over his phone. Tkachenko was too tired to argue. Scrolling through his messages and photos, the officer thoroughly questioned him about his life: where he was born, which school and college he attended, and where he was employed. The agent also wanted to know about his relatives, especially the ones who are still in Ukraine. Tkachenko, 29, has been living in Moscow for several years, so when asked if he stays in touch with Ukrainian friends, he said no.
"That's when I realised that he could just punch in the +38 country code and see all accounts with Ukrainian phone numbers on my contact list," Tkachenko recalls. "That's exactly what he did—and found a friend of mine from Ukraine, we were in touch lately. I wrote to him that I'm going to Warsaw, Poland, and I've already told the border guard that my destination was Riga, Latvia. He did not like these discrepancies at all."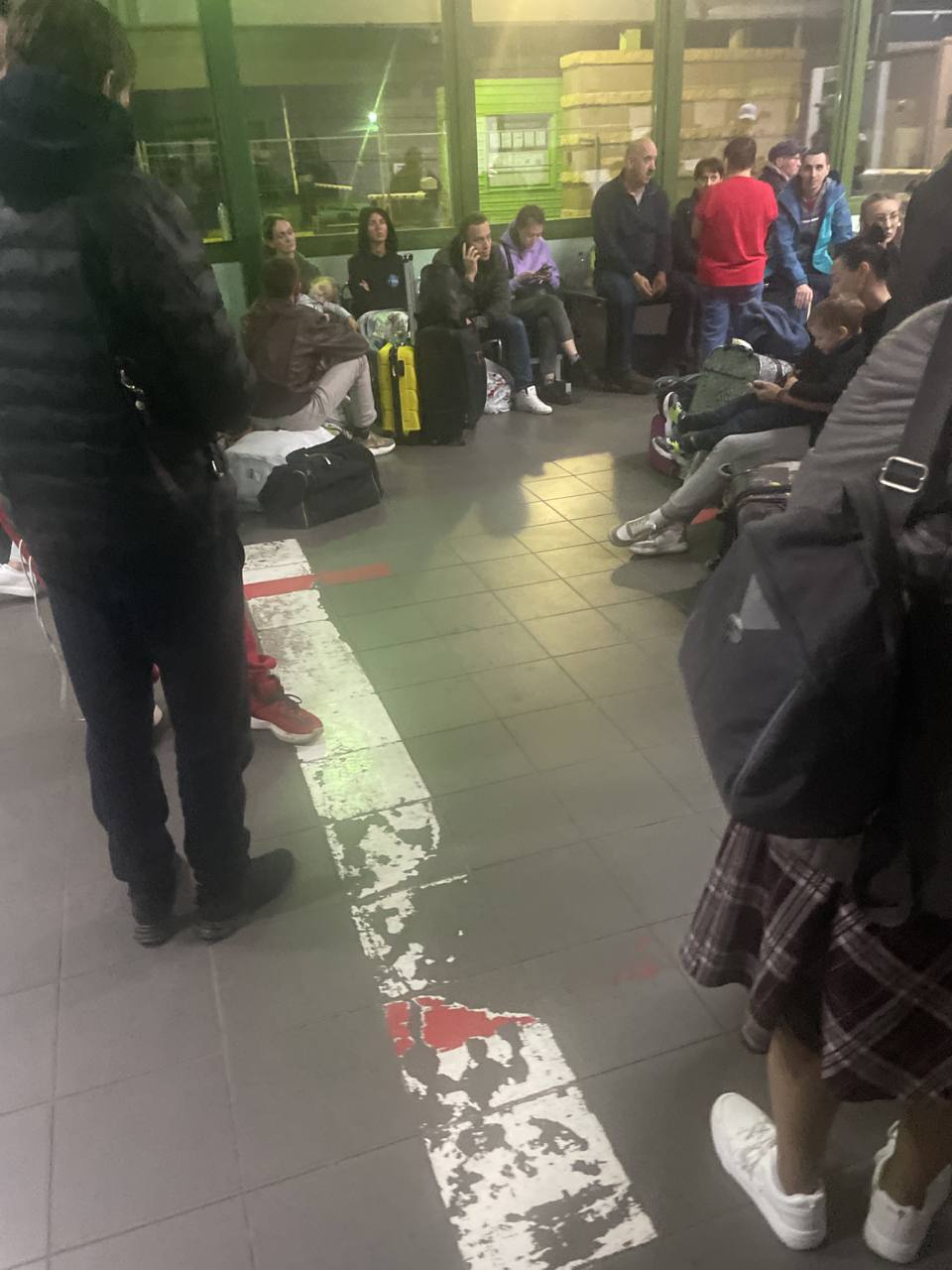 Tkachenko says he'd had to change plans on the go based on waiting times at different checkpoints. Initially, he was going to cross the border to Estonia at the Shumilkino checkpoint in the Pskov region, but upon arrival he saw hundreds of people in the queue, all of them out in the open, desperately trying to keep warm. He joined a group of Ukrainians travelling to another checkpoint by car, which turned out to be a bit less crowded.
Tkachenko tried to explain that to the FSB officer, but he changed the subject: in his phone, there was a picture of his wife's shoulder tattoo—a tryzub, the trident on Ukraine's coat of arms. The man tried to lie and say the picture was saved from a chat, but the border guard checked the metadata—it indicated that the photo was taken with Kirill's phone. Also, the guard noticed a tiger print blanket in the background, featured in many other photos.
"That's when I started to flounder. I thought that was it, they're not letting me out," Kirill says. The border guard started acting tough, and the man told him the truth about his wife. Another FSB officer came into the room. Kirill was forced to write to his wife and ask for photos of her passport and the marriage certificate, which the officers carefully inspected.
Then Tkachenko was told to take off his sweater: the border guards wanted to check if he had any incriminating tattoos. The man realised that he forgot to take off his 'No to war' locket and got really scared. But they were satisfied with the fact he didn't have any tattoos and decided to let him go.
"I asked what would happen to my wife," Tkachenko recalls. "He said not to worry, she'll be fine, but she has to get rid of the tattoo." His wife is still in Russia.
"They don't let the volunteers organise"
Andrei Astakhov, a Mariupol native, saw people being taken away after those interrogations. Astakhov spent 15 hours at the Ivangorod checkpoint; Kirill Omelchenko, another Ukrainian citizen, spent 36 hours there. He says the queue was not moving, and people kept coming. At some point, he started making photos, hoping it could somehow change the situation. Some outraged Ukrainians supported him: after that, the queue started to move a bit faster, and people with children were able to come to the front of the line.
Last week, volunteers said people were spending more than a day in queues, and the situation seems to have only deteriorated. Now, these activists say it can take up to three days and even more to cross the border. At least Ivangorod does have some infrastructure, at other checkpoints people have to queue outside.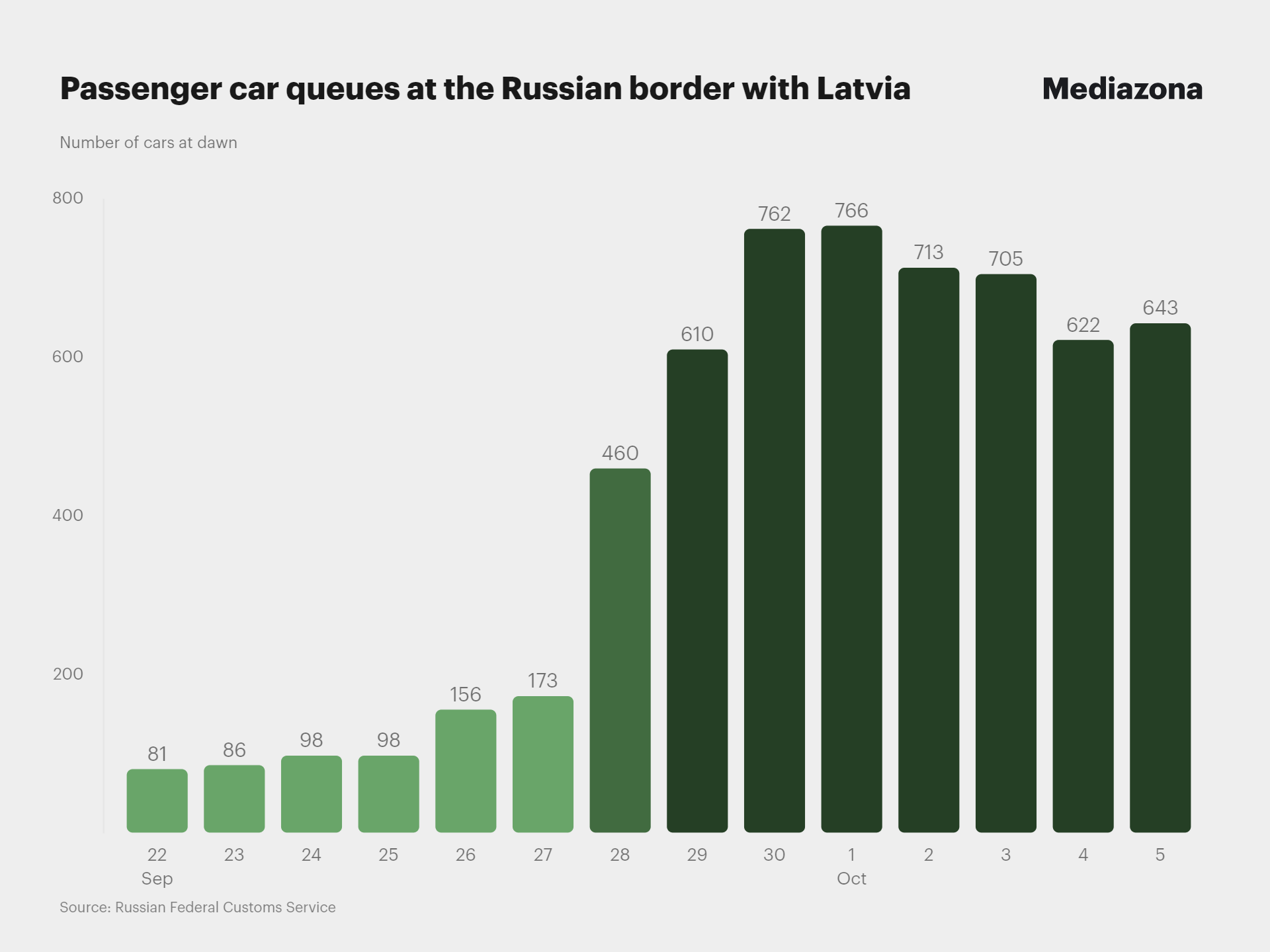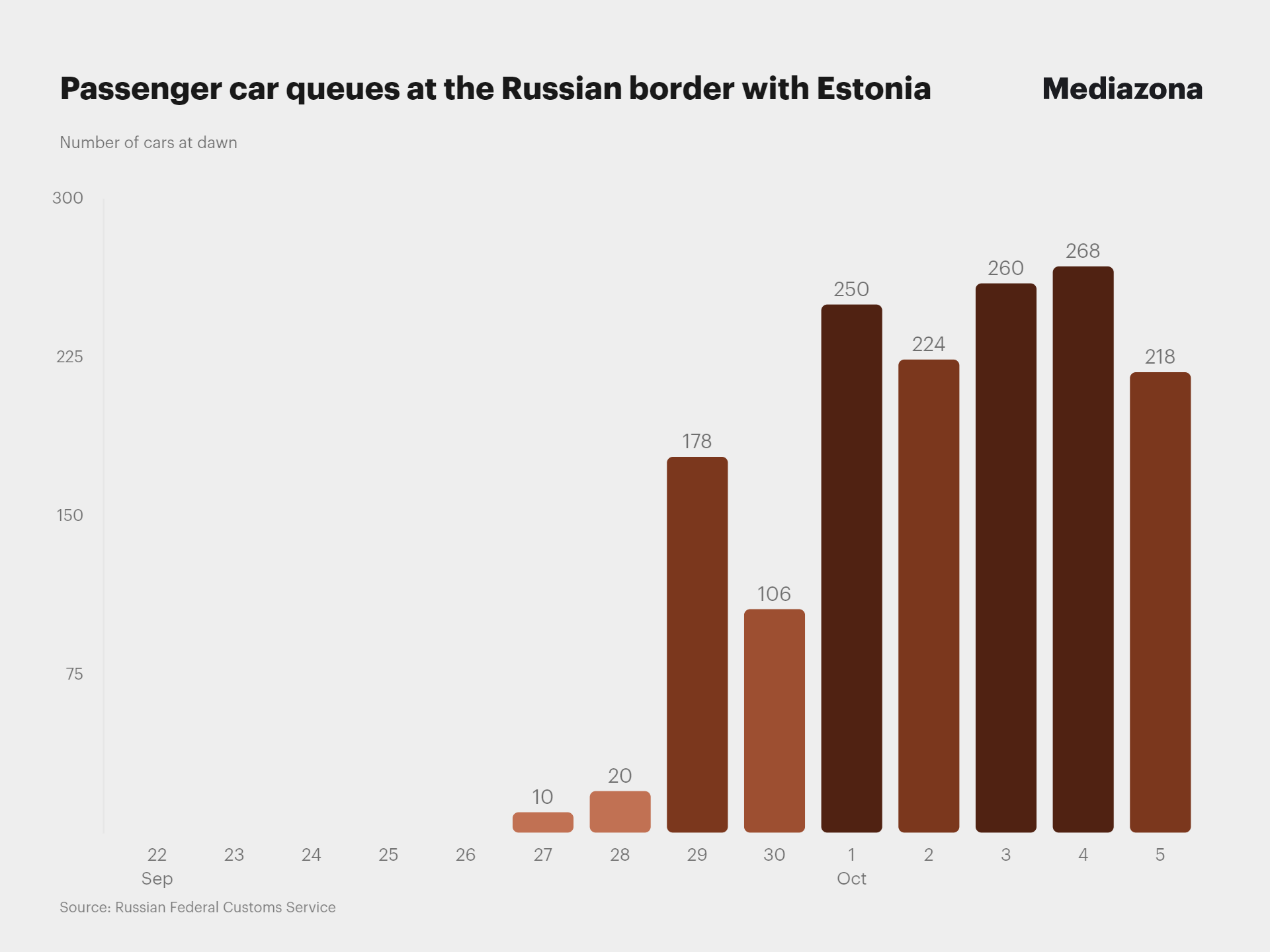 Volunteers from nearby Russian towns responded to the crisis, and people on both sides of the border started to raise awareness. But in Russia, helping Ukrainians can be dangerous: it can draw the unwelcome attention of the authorities and the security forces. Even volunteers who would only help with logistics or bring food and warm clothes request to speak anonymously. Some recall the story of Irina Gurskaya, an activist from Penza in central Russia, who claimed she had no choice but to leave Russia after she was kidnapped and tortured for helping displaced Ukrainians.
Architect Lyubov Krutenko, who collects evidence from volunteers and blogs about the situation at the border, writes: "Unfortunately, all information is anonymous, but I personally know the people who share it with me. At the moment, it's hard to verify, but one thing is clear: there are enourmous days-long queues at the border, and people literally live there, lacking basic necessities, food or water. Many of these people are refugees, having already made a long and hard way to get where they are."
Independent journalists and photographers could have brought attention to the border crisis but the risks are enormous. "You would basically send a correspondent to an FSB interrogation," says an anonymous source.
"The Ukrainians keep asking why we aren't scared to help them," says another volunteer who asked to remain anonymous. "And many of them seem to be scared of Russians." According to the her, there are lots of children in the queues at the border, people barely have any money left (that is if you can buy anything in those queues in the first place), and the temperature at night drops to almost freezing levels.
She says that Russian authorities obstruct many attempts to help Ukrainians: "They don't let the volunteers organise. We've been urging the [Russian] Ministry of emergency situations and The Red Cross to interfere for over a week, and they seem to be OK with the idea, but can't do anything without the [Pskov region] governor's permission. And the governor just told us to go to hell."
The volunteers think one of the reasons the queues are moving so slowly may be corruption. At some checkpoints, the border guards would split the refugees into groups, and members of one group would observe how their group practically did not move over the course of the day while another group is almost done. People could also be called out randomly.
In any case, the pass-through capacity of the Russian checkpoints remains very low, partially because the refugees are painstakingly checked and questioned. Another volunteer laments that transport companies would often bring more people to the border than the guards can process. For now, the volunteers can only mitigate the consequences, not the cause of this crisis.
Editor: Maria Klimova