The email opened with a personal appeal. "I am writing this because it is no longer possible to remain silent about what is happening in Russia," it read. "It is impossible to look at what the deceitful government has turned our beautiful country and our city into. It is impossible to look at this vile and criminal war against our neighbours, the Ukrainians, anymore. A war that claims the lives of thousands of people from Ukraine and Russia. A war for the interests of our mad president and his entourage. A war from which thousands of our children, husbands, fathers, and brothers will not return."
Sidorenko explained that state officials' "deceitful speeches" about a "holy war" in Ukraine are in fact merely a façade constructed to deprive Russians of all rights and commit a "crime against humanity." He urged the readers to quit their jobs or leave the country, and if this is not possible, "to stick together, unite and defend the truth… Don't be afraid to stand up and speak out if you have something to say. Do not put up with it and do not let yourselves be fooled. Loans, mortgages, and financial benefits are not worth a life in slavery for you and your children. By any means, resist the criminal orders of our leadership. And justice will surely prevail," he concluded.
To send those emails, Sidorenko used his access to the departmental database shared by all agencies using the mos.ru domain. It contained all work email addresses used by employees of Moscow budgetary organisations.
Sidorenko does not know how many addresses were in the database—according to his estimates, about 100,000 people received the email. The photographer spent four hours manually adding people to the mailing list, until he was denied access—one letter had to be limited to 5,000 recipients. He says that he reached the letter 'S' by going through the employees' list alphabetically.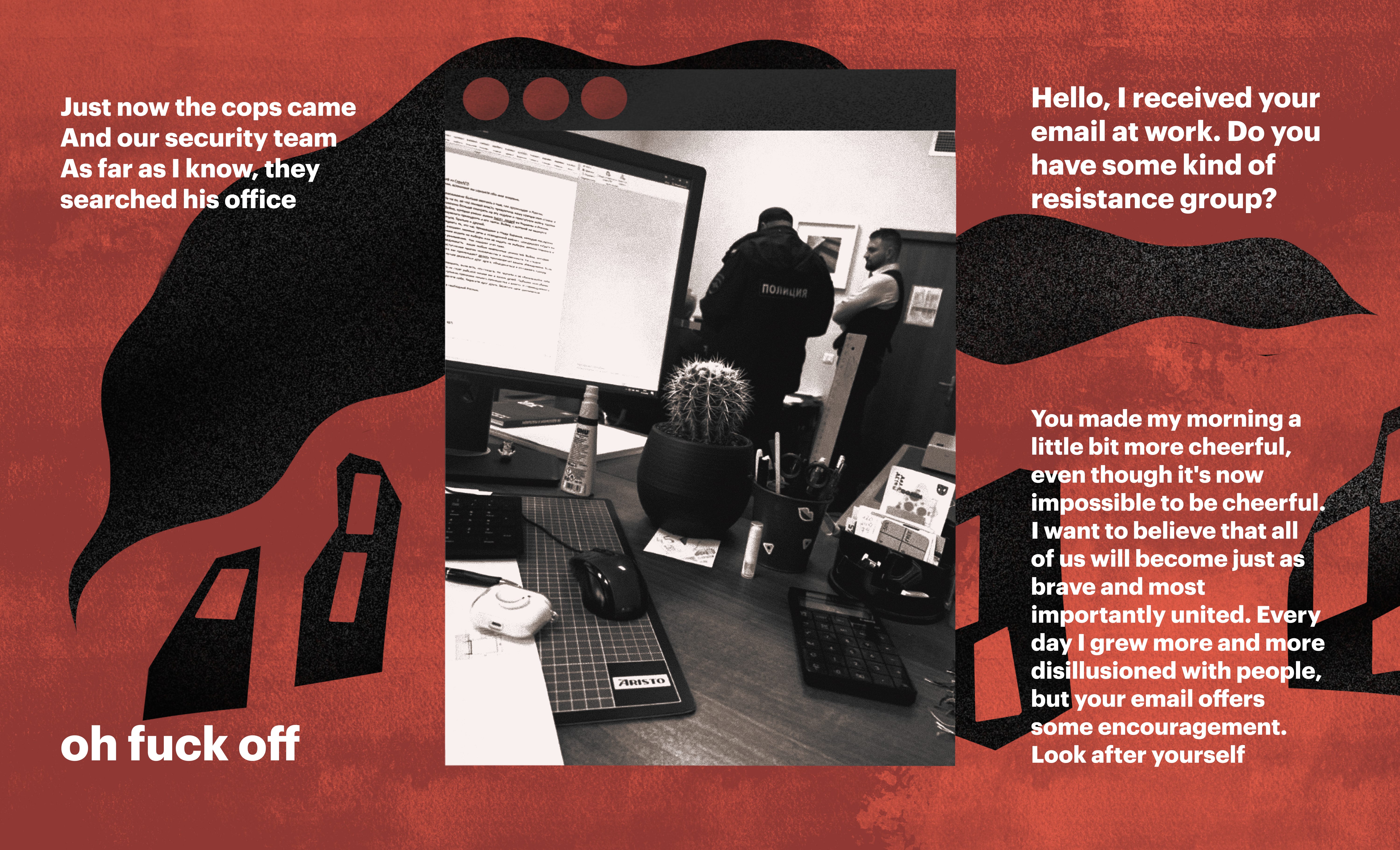 "They need to know what's going on"—in Oleg's own words
"We had this group chat for colleagues at work. After the start of the war, people were discussing ideas to celebrate March 8 [International Women's Day]. One guy suggested 'a tank ride' and added that it was 'topical.' With tears in my eyes, I came to the deputy head of our department, and she asked me to show her these messages. I sent them to her, we gave it some time, everything calmed down, and then this guy went on again. How does it even cross one's mind, what does he imagine? Designing trenches? Putting flowers in them? Cleaning them? I could not stand it, so I called him a 'fuckwit', I was very emotional. My wife is Ukrainian and Ukrainians did nothing against me, I have nothing against them.
We didn't plan on leaving Russia. After the war had started, I wanted to leave for Georgia, but my boss suggested that I just switch to remote work. I agreed and stayed because of my wife's job. In September, I was supposed to have a vacation—we were planning to go to France, but were refused a visa. Still, my wife insisted that we go on holiday somewhere—after all, I could take three weeks off, because there wasn't much work and my presence didn't seem to be required. So, we bought tickets for September 23 to the country where I am now.
Three days earlier, mobilisation took over everything. I woke up, read the news, and listened to broadcasts about the so-called 'partial mobilisation'—this newspeak is of particular concern to me, that people are starting to employ language like that. All this simmered inside... and then I realised that there was nothing to lose. So, why not make a statement? I watched in awe at this rally in support of mobilisation. I didn't attend, but my colleagues took selfies out there: they needed to be present there and present proof to the management. This whole atmosphere made me angry to such an extent that even though I was abroad, I could not just let it pass, I had to do something. Like flip the Russian consulate off when passing by.
That's when I came up with the idea of this email, picked the most fitting time, three in the morning, when everyone's asleep, and started sending the emails together with my wife. It took us four hours. From this database, the address book, I took individual names and addresses, up to 5,000. My wife kept tabs on where we stopped. Then she fell asleep and I continued on my own, keeping tabs on my phone. These records indicate that they had found out about the email when I reached the letter 'S'. At 7:10 am the boss called me and they revoked my access. Otherwise, I would have continued. By 9:30 am, a policeman was already at my workplace.
Initially, I had this idea to make the database public in full—maybe share it with some opposition figures or the media so that they could create a mailing list of this kind, but it was not possible technically. I asked my friends, but no one could help. But all these people, state employees, recepients of the emails, they should know about what is happening—and think about it.
I was flooded by replies the next day, mostly positive—basically everyone agrees with me."
Editor: Dmitriy Treschanin