"Roughly speaking, one foot is already in the 'special operation' zone." Summons at the door and a dispatch to Belgorod
"I ask you to help Kirill Berezin. He cares for a dependent grandmother. He is an orphan. He is currently located near Belgorod and was mobilised from the Nevsky district of St. Petersburg on September 24. The company commander Anatoly Vladimirovich Smirnov threatens him with reprisals and prison, saying, 'you must go with everyone to defend the motherland,' ignoring his conscientious objection and formal request to replace military with civilian service. Smerdov has told him, 'you will die a slow death, painfully,' that 'you'll be forced on a bus and sent to Ukrainian territory,' and 'you'll have to kill people'." A video with this message was recorded the other day by another St. Petersburg resident, Marina Tsyganova, who is trying to bring her mobilised friend home.
27-year-old Kirill Berezin served in the army eight years ago. The record of his specialisation during his conscription was "car driver". On September 24 a summons appeared at his door, like an advertising slip, demanding that he report to the draft office on the same day. The young man decided to go and explain why he could not be mobilised: he needs to support his 69-year-old grandmother, and also holds anti-war beliefs that preclude him from fighting. He had with him an application requesting Alternative Civil Service, but the enlistment office didn't listen to him and didn't let him go home.
"I told them my grandmother was alone, not registered as a dependent because it was never necessary. Because I was always there. They just closed the door behind me, took away my passport, and said, 'You're heading off today. All the other questions can wait.' There wasn't even a medical examination," Berezin says.
From St. Petersburg, mobilised men were taken to Kamenka, near the border with Finland, to military base #02511, where Kirill was promised that he would serve in a local defence unit. But during a briefing about injury and death payments, he realised that he had been deceived.
A few days later, on September 28, the mobilised were taken to a military camp in the village of Khokhlovo in the Belgorod region. "Here I am, roughly speaking, one foot in the 'special operation' zone," he complains.
Since Kirill was drafted, Marina Tsyganova has tried to advocate on his behalf. "Kirill was told, 'You can come home to your grandmother every weekend.' He was satisfied with this option, every weekend at home, and at the same time, everything is legal. He wasn't running away from the army, from mobilisation," Tsyganova says, "Four days later he was informed that he was going to Belgorod. I came as soon as I could, packing up everything I could think of: knee pads, elbow pads, a sleeping bag, and night vision devices. It was only because I had these things that I was allowed inside so that I could give them to him."
According to the woman, the mobilised were only given warm clothes, berets, and, just before being sent to the camp, two dry rations. Everything else, including food, they bought at their own expense.
While receiving assault rifles in Kamenka, Tsyganova says, the mobilised men had to sign papers stating they were "in perfect condition". Then they "were given something impossible to shoot from. It turns out that the number of guns didn't correspond with the correct number of enlisted soldiers. So, when they arrived to do shooting exercises, they were outraged at this. The camp's solution was to no longer take them to the exercises. In other words, the recruits are simply not shown the weapons that are waiting for them," says Marina, "And there is even a video on the internet, where a kid with the red Russian Railways logo in the background takes photos and shouts. It's these 'fighters' who were taken away on the 28th."
On the evening of October 5, videos recorded by those mobilised in the Belgorod region began to appear online. They complain that they were given weapons without documents and kept in "animal conditions". "There are 500 of us with weapons in the area. But at the same time, we are not assigned to any specific unit. We've lived in animal conditions for a week, absolutely horrible," says the man holding the camera.
Tsyganova says that, according to rumors, "the kid who was filming was already taken away, and can't be reached by phone."
Berezin confirms the problems with the machine guns, saying some of them are "either old, rusty, or have a crooked muzzle." "I got one with rust, but it looked like it should work. I shot one round at the exercises in Kamenka and another after arriving here, with all the training," says the young man. "I handed over the machine gun as soon as they began to consider the question of alternative service."
"His eyesight is bad, too. Yes, in ordinary life, he didn't use glasses, but he can't shoot with such vision. It's just not good enough to see the target. They said to him, 'Do you see that spot over there?' 'Yes.' 'Shoot towards the spot, there's a target there,'" says Tsyganova.
"I'll go to the woods at night and hang myself." The risks of reporting
In early October, Kirill filed a report to the company commander Anatoly Smirnov with a request to transfer him to ACS. "I can't serve with a weapon, I can't kill people or help those who do it. I refuse to fulfill everything listed in the oath, as it contradicts my conscience," he wrote.
Berezin says the company commander reacted "aggressively" to the report, and promised to send him to the front lines by force. "He said he'd break my jaw, force me into a truck. He was aggressive and said, 'Why should normal guys go to die, while you, you little scum, get to live?'" Kirill recalls.
Berezin claims that in the military camp his "already severe mental state" worsened. He is depressed, experiences panic attacks, and says "obsessive thoughts drive me to despair."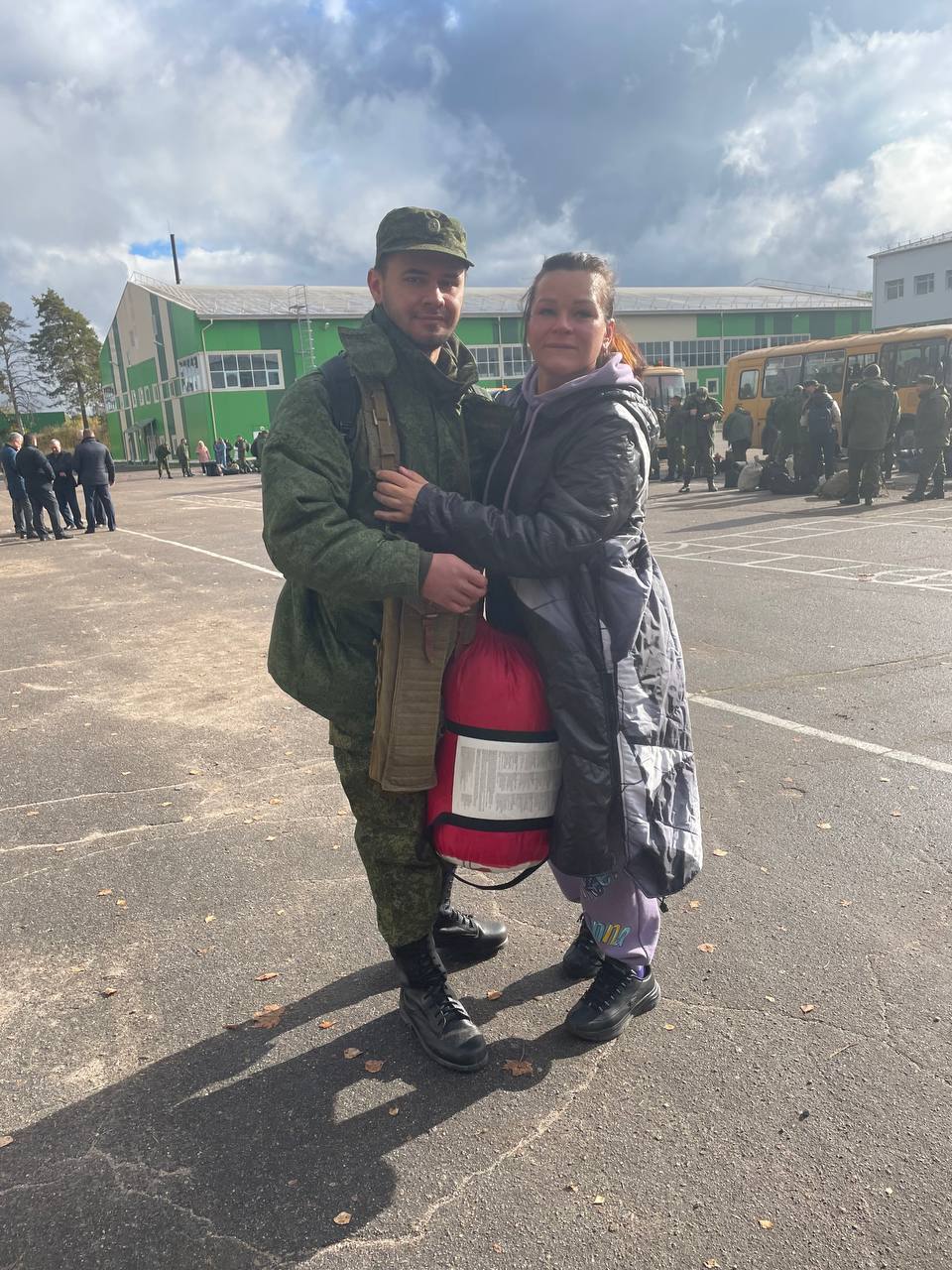 "He's always had a tendency to depression and suicidal thoughts," says Tsyganova. "I am a close friend, that is, I know him well. I helped him, mentored him in life, because he is insecure, feels very vulnerable. He didn't know his father at all, his mother gave birth to him when she was 15 years old. And I'm like a mother to him by age. When he was six years old, his mother died of a drug overdose in a McDonald's toilet. That is, he doesn't really remember her, and his grandmother brought him up in strict Soviet traditions."
According to Marina, Kirill still has suicidal thoughts. He told her recently that he wanted to hang himself: "When I brought him things, there were all sorts of ropes and clasps I gave him. And he says, 'I'll go out to the woods at night and hang myself.' And I explained to him, 'You can't do that with these ropes. They need to be wound, and waxed. You'd die painfully, hang for forty minutes. There is nothing worse than this.' So, he is already in such a despair that I have to talk him out of a painful suicide."
"Even if it takes three years, I'll get him out of prison alive." Appealing to the court and waiting
At first, Berezin even refused to put on a uniform. He still doesn't participate in the exercises. According to him, these now consist of the mobilised men "carrying logs", but Kirill only helps conscripts who are building the camp from the ground up.
"There are those who are clearly just recently enlisted, mobilised only a few years after their mandatory service, usually closed off, silent, tense," he says of those around him, "And there are people who clearly had some experience in the North Caucasus. Maybe they feel at ease. And also some who seem smug, get drunk and shout, 'We'll get all these khokhols'. There isn't much good around. Everyone understands that any training will be difficult."
The other day, Tsyganova filed a lawsuit with the Nevsky District Court in St. Petersburg, demanding that the decision to mobilise Berezin be declared illegal. The first hearing is scheduled for October 18, but St. Petersburg courts have already registered ten such appeals.
Marina also attached a letter from Berezin's employer to the lawsuit. It says that he often told colleagues about his caretaking role, and that he was afraid of the sight of blood.
Now, Tsyganova is seeking interim measures to allow Kirill to go home for the duration of the proceedings. She admits that after visits to the deputy prosecutor of St. Petersburg and the prosecutor of the Western District, she "was a bit defeated," after their assurances that Berezin would lose to the court in any case.
"They all say that ACS doesn't apply in this mobilisation. I'd say, 'And what? So these mobilised men are deprived of part of their constitutional rights?' The prosecutor says, 'Yes, the mobilised are in another category. These rights do not apply to them.' I say, 'It says that it's just military service, it doesn't indicate the mobilisation has a specific urgency.' He says, 'I repeat, we have explanations from our military lawyers. There are documents for internal use, we bring them to court, and the judges take our side. We have our own order. You're only wasting time.'" Tsyganova recounts.
An anonymous lawyer at the Plea for Conscience coalition emphasises that, according to the Russian Constitution, every citizen whose beliefs don't align with military service has the right to replace it with Alternative Civil Service. "While there is a law for those who are subject to ordinary conscription, there are no laws for the period of mobilisation that would regulate the procedure for sending them to ACS. But this does not mean that citizens should be deprived of this right—they have it, and the state is obliged to ensure it. And the fact that [the authorities] deny it, saying that it is not provided for, this is a violation of human rights," he explains.
The lawyer stresses that it is better to apply for alternative service before going to the draft office. But if, as in the case of Berezin, a person has already been taken to a military unit, you need to sue and "defend your rights based on the Constitution and your beliefs." "It is possible to find success with persistence. Obeying the arbitrariness [of the mobilisation] is, of course, not the only option."
According to the lawyer, if the court refuses interim measures for the time of consideration, you can file a private complaint against this decision and demand protection measures from the Appeals Court. If this decision is not in favor of the mobilised, then it can be appealed further and further, "up to the Constitutional Court."
On October 12, we learned about the first case when a court suspended a mobilisation decision and ordered the return of a conscripted man from his military unit. Like Berezin's request, the return is only for the time of court consideration.
"There is another risk that he will be held accountable for refusing to comply with an order to participate in hostilities," the lawyer says. "Amendments to this end have recently been added to Article 332 of the Russian Criminal Code."
All the men mobilised with Kirill have already been sent to Ukraine. Berezin himself is still at the training the camp, although the commanders continues to threaten him. Tsyganova also instructed Berezin in case he was forcibly taken "to the front", saying that he should verbally refuse to carry out military orders and be prepared to "go to prison."
"Kirill tells me that they have drones flying over the training camp, and that among those who were mobilised with him, some have already been killed. This kind of information has already reached the camp," she says. "In any case, even if it takes three years, I'll get him out of prison alive."
Translation: Jack McClelland