Relocation into the woods
Adam Kalinin has been living in the woods in southern Russia for almost a month now. He opposed the war and was fined and arrested for anti-war protests, but when the mobilisation began, he decided not to wait for the summons.
"I have always had this choice: either one day I will go to a store and will be caught by the military draft officials, or I can live in the woods, perhaps not the most comfortably, but free. It wasn't exactly an easy decision," he admits.
He's been backpacking a lot over the past few years, so he's had some experience. "As a matter of fact, I love backpacking, that kind of thing. My wife and I used to go camping quite often in our spare time or during vacations," Kalinin says. "So we had some equipment, some experience. Of course, not everyone can go out and sleep in a sleeping bag, in a tent, just like that. And even my friends are surprised that I did."
His own land
Kalinin says the news about the mobilisation came as a shock to him. The option to stay in the city because of the government's promise not to draft IT professionals seemed unreliable at best, because "there is a long list of conditions that are difficult to meet." Two of Kalinin's colleagues soon left for Central Asian countries, but he did not want to leave Russia. For one thing, he says, he has no acquaintances or relatives abroad, so leaving would greatly hurt him financially."
"The second point would be that both my friends and my relatives are here. Somehow leaving and covering my tracks was not for me. I mean, it feels like I have to leave my own land," he explains. "Why should I do it, run away? I can't find a reason. It's not like the most important factor, but it matters, too. I don't want to leave. I want the life to get back to normal, to help those who have stayed, including my relatives."
Adam's family and co-workers know that he now lives in the woods and support his decision. "My wife is a real backbone! Without her support and assistance, I wouldn't get half as far as I had planned," he wrote on his Telegram channel.
A forest office
Preparations took about a week. Kalinin already had many of the tools he needed: a chainsaw, a regular saw, an axe, a modem, an antenna and more. He had also added solar panels. "I was more or less interested in the technology, alternative energy and stuff, so I did have some understanding of the tech. And it was easier to understand what I needed to buy, and which components. Because if I didn't have any experience with it, most likely I would have bought the wrong equipment or devices that would be simply incompatible with other devices, or the ones that wouldn't work as efficiently," he says.
Adam and his wife set up a food stash close to a tarmac road. "I bought a simple rubbish container. It's big, fairly cheap and I can store all the supplies there: canned food, Doshirak, tea, coffee, sugar. It's all in this container, and you can park a car nearby. We stocked it once, put all the food in that container," he says. "And I go there from time to time like it's a shop. It takes me about an hour to get there, if I'm not in a hurry. I just trek there, take some food, put it in my backpack and go back."
In the woods, Adam has set up two tents, one for sleeping and one for working. "The office", as he calls it, is a three-minute walk from where he sleeps. "The reason I have them separated is that I've found this nice location, protected from the wind, with lots of sunshine, everything is cool—but there's no internet. And the location of my office is not that ideal, if the wind starts blowing, it gets pretty nasty out there, but there is the internet," he explained in a video filming his commute. "The antenna is mounted on a pine tree, which allows me to have a pretty good mobile internet connection."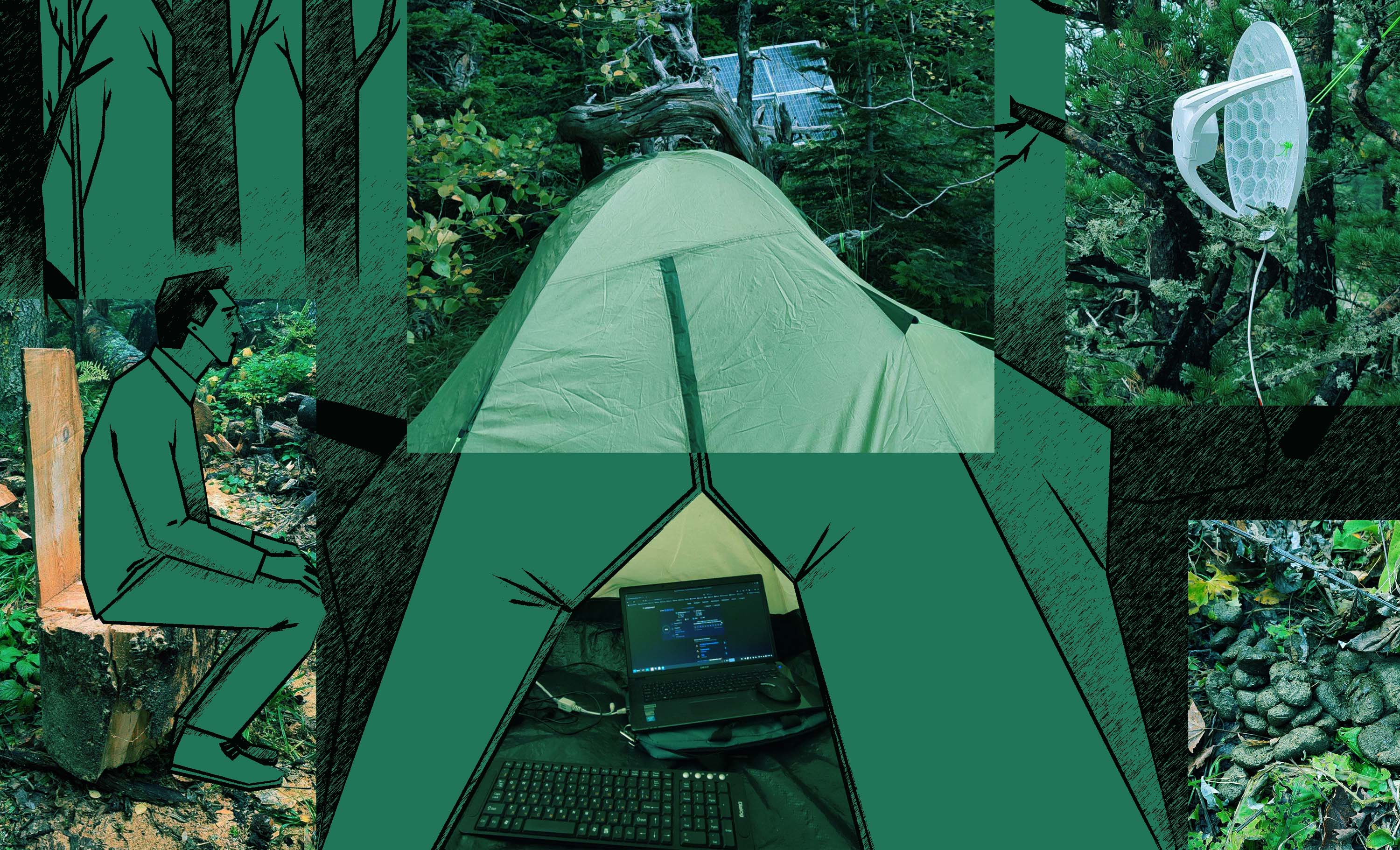 Eco-friendly
Adam usually gets up at around 7 in the morning. "The sky gets bright at around that time, and the birds start chirping. They wake me up, basically, it's a natural alarm clock," he notes. "I get up and have some breakfast. My favourite breakfast is oatmeal with prunes, sultanas, maybe with some condensed milk or cream and sugar." He usually cooks with a composite gas cylinder and a burner. For cooking and drinking, he uses rainwater, which he collects using a plastic sheet spread out over the grass. "I wash myself, of course, but it's just wet wipes. And going to the toilet: I take a small spatula, make a hole and then put dirt over it all. It's a super eco-friendly toilet," he insists. Still, he misses a shower and a washing machine.
Kalinin works eight hours a day, five days a week, and in his spare time, he continues setting up his forest home. "I want to build something more serious, not a tent, some kind of cabin maybe. And for that I need to collect some building materials," he explains. "From time to time, I'd go and spend 20 minutes just leaving markings on a log. Later in the evening, when my official working hours are over, I can get back there with a chainsaw. And that's how I get something done during the week, bit by bit." He has no experience in construction, so he learns from YouTube videos.
Coping with anxiety
Adam hasn't met a single person during his time in the woods. "All in all, it's OK," he describes his feelings about being reclusive. "It probably has something to do with the fact that I write code. As a rule, people in the industry are more introverted, and not too keen on having lively communication. I don't feel like I'm missing out. But, of course, I would like to see my friends and my wife.
Almost every activity in the forest—making tea, for instance—requires some effort. "There's more physical activity here. And I think it helps me cope with the news, with stress, with all the worries. It's somehow easier to bear this way," he adds.
His wife plans to visit him in about a week. "It will probably be a month since we've seen each other in person," Adam says. "I already have a wish list: biscuits, candy, out of that simple stuff, and some tools that I need. I'm hoping there won't be any problems, given that we have this semi-martial law situation going on."
Adam has three large first-aid kits that his wife put together for him. "She bought a whole set. I guess even if I get shot, this first-aid kit would come in handy. I mean, it's a pretty good kit. I haven't used any of it, thank God," he says. One can get injured in the woods quite easily, but Adam was lucky: "If you observe safety precautions more or less, stay attentive, you'll be fine."
He is certain that the mobilised men now have it much worse than he does: "People get into these training units, and they're being kept in savage conditions. Probably worse than where I am now. They are abandoned, and they have to buy stuff on their own. And besides, it is unclear why they are there. Some try to explain this as some kind of duty to our homeland, while others come up with different ideas. But I don't see any benefits from that. It's obvious that we are not defending anyone, we're attacking. And this is very sad."
Winter is coming
Adam is not concerned that anyone would be able to find him in the woods, even though he sometimes builds a fire and uses a chainsaw. "I already know this place, got some of the trees memorised. And for someone who's never been here, it's a lot harder to navigate. 'Where should I go? I heard a sound somewhere. But where?.' In that sense, it's good news that people who search for those lost in the woods usually fail. I've watched some Liza Alert videos, and I can imagine how hard it is to find someone who wants to be found. I'm not worried about something happening if my campfire is seen by someone. I can draw parallels to my work. You can use an easy-to-guess password, or you can use a hard password. Both can be cracked. A strong password doesn't guarantee 100% security. Theoretically, it can be cracked, too—it's just a matter of time," he says
He has not yet encountered any large wild animals. "I've seen squirrels close enough. Birds of all kinds. Some aren't even scared of me at all. I have some space under my tent, where it's always dry, the rain doesn't get in, and there's some dust in there. There, in the dust, the birds are 'swimming' and looking at me as if they were checking if I planned to do anything to them— and continue to dabble. And I haven't seen or heard any big animals," he says. "Well, I saw some faeces here and there, but I don't know whose." In his opinion, it could have been wild boars.
Adam says that his stay in the woods is getting extended. He has already stocked up on firewood and is discussing with his subscribers what kind of tent to buy for the winter. He admits: "When I moved here, I thought, well, a month or so, and then probably either this mobilisation is over, or something will come up. To be honest, there was no precise plan. I was thinking about a month, and now this month is coming to an end. Now, given the latest news... it is possible that I will stay here.
Editor: Yegor Skovoroda