"Kherson, forever with Russia." The occupation
In the wake of the Russian occupation, fragments of the torn-down posters remain as a reminder. "Russia is here forever," "Russians and Ukrainians, one nation," "Kherson is with Russia, forever," they say. As Russian troops were preparing to withdraw, they blew up much of the city's infrastructure, depriving the locals of heat, water, and power; cell service is still unreliable.
Kerson, the only regional centre that the Russian army was able to take over since 24 February, has not been as heavily damaged as one might expect in liberated territory. Most of the buildings have been left intact: the city was not besieged at the beginning of the invasion as well as during the Russian retreat.
In contrast, the area between Kherson and Mykolaiv remained effectively the front line for over eight months. Almost all of Posad-Pokrovske village was destroyed, and the infamous Chornobaivka, a Kherson suburb, now lies in ruins following repeatedly thwarted Russian attempts to use its airport as a landing point for invading troops.
Along the road, fields of unharvested bell peppers follow fields being demined by sappers. Ukrainian authorities constantly warn about the mines remaining in liberated territories. In Kherson, Russian troops had plenty of time to plant explosives, way more than in northern Ukraine in the first months of the war or in eastern Ukraine in the summer and early autumn. One of Kherson's police stations was deemed impossible to demine, so soldiers decided to blow up the building.
During the first week after liberation, the Russian army mostly shelled the area around Kherson, but now is also targeting the city itself. Casualties are rising daily.
"Praise Russia!!! Praise Putin!!! Praise Shoigu!!!" The torture
A common pattern appears in stories from liberated territories: torture chambers for "disloyal" locals located at police stations.
The torture repertoire was versatile, but the most common and cruel method was electric shock, usually employing a tapik, a military field telephone. According to Ukraine's prosecutor general Andriy Kostin, nine locations of similar type were identified in the Kherson region; bodies of more than 400 civilians had been discovered.
Yaroslav lived next to a police station with a torture chamber in Kherson. One day in the summer, a military patrol stopped Yaroslav in the street. According to his stepfather, they checked his phone and found messages to his friend from Odesa: Yaroslav sent him photos of the neighboring building and Russian military vehicles. For this, he was detained and held prisoner for three and a half months. In early November, when the occupation administration was evacuating to Dnieper river's left bank, some prisoners, including Yaroslav, were taken as well. His mother went looking for him but when she made it to a Russian outpost in the village of Kalanchak, some 50 miles from Kherson, the military refused to let her son go.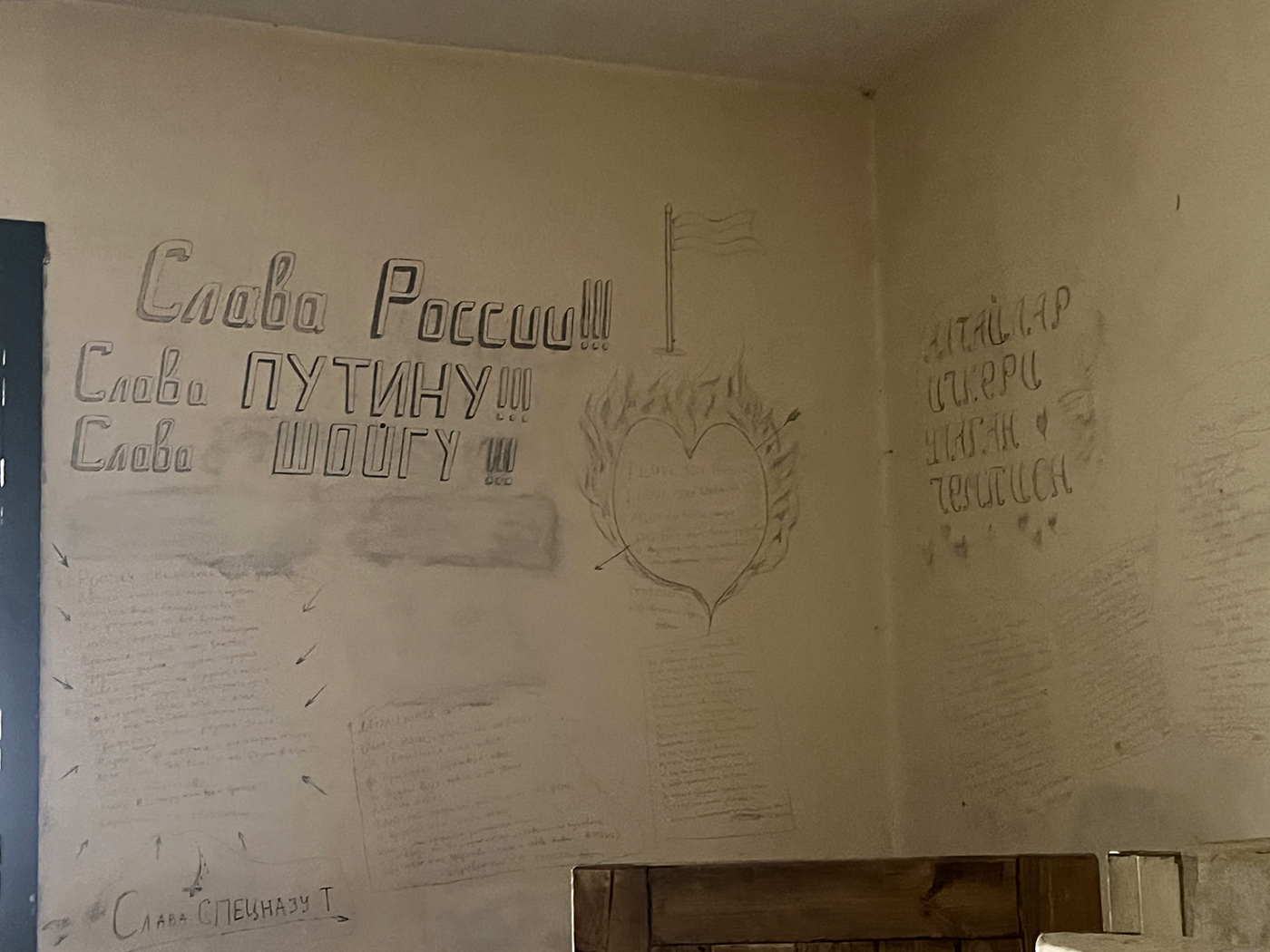 Maksim Negrov, a former serviceman who lives in Kherson, describes in detail what happened at the police station over a three week period. Maksim shows me his cell—first by himself, then with another individual. Each day in captivity was marked on the wall. In a neighbouring cell, there's a message on the wall that reads: "Praise Russia!!! Praise Putin!!! Praise Shoigu!!!" It's hard to believe that the prisoners would write those words voluntarily.
"Rosgvardia soldiers kept watch, they rotated shifts: one gives more food and beats us less, the other gives less food and beats us harsher. The torture was going on upstairs. In April, horrific things intensified. They started torturing us with electric wires, and cruelty varied depending on the guard's mood. In my case, they wanted me to confess to collaborating with Ukrainian military and intelligence," Negrov says. Several weeks later, he was driven out of the city and set free, the soldiers told him he'd have to get home on his own.
"To the Dnieper for water." Kherson today
All over Ukraine, "Points of invincibility" are now being opened with heat, power, and sometimes even cell and internet service via Starlink terminals. These points are usually located in schools, administrative buildings, shopping centres, but also in big tents in the streets. One is in Kherson's Freedom square, the meeting point for liberation celebrations where people still hug solders and ask them to sign the Ukrainian flags they bring.
This is also the place where humanitarian aid is being distributed. Kids shuttle between groups of people, asking soldiers for sleeve patches they then cover themselves in, head to toe.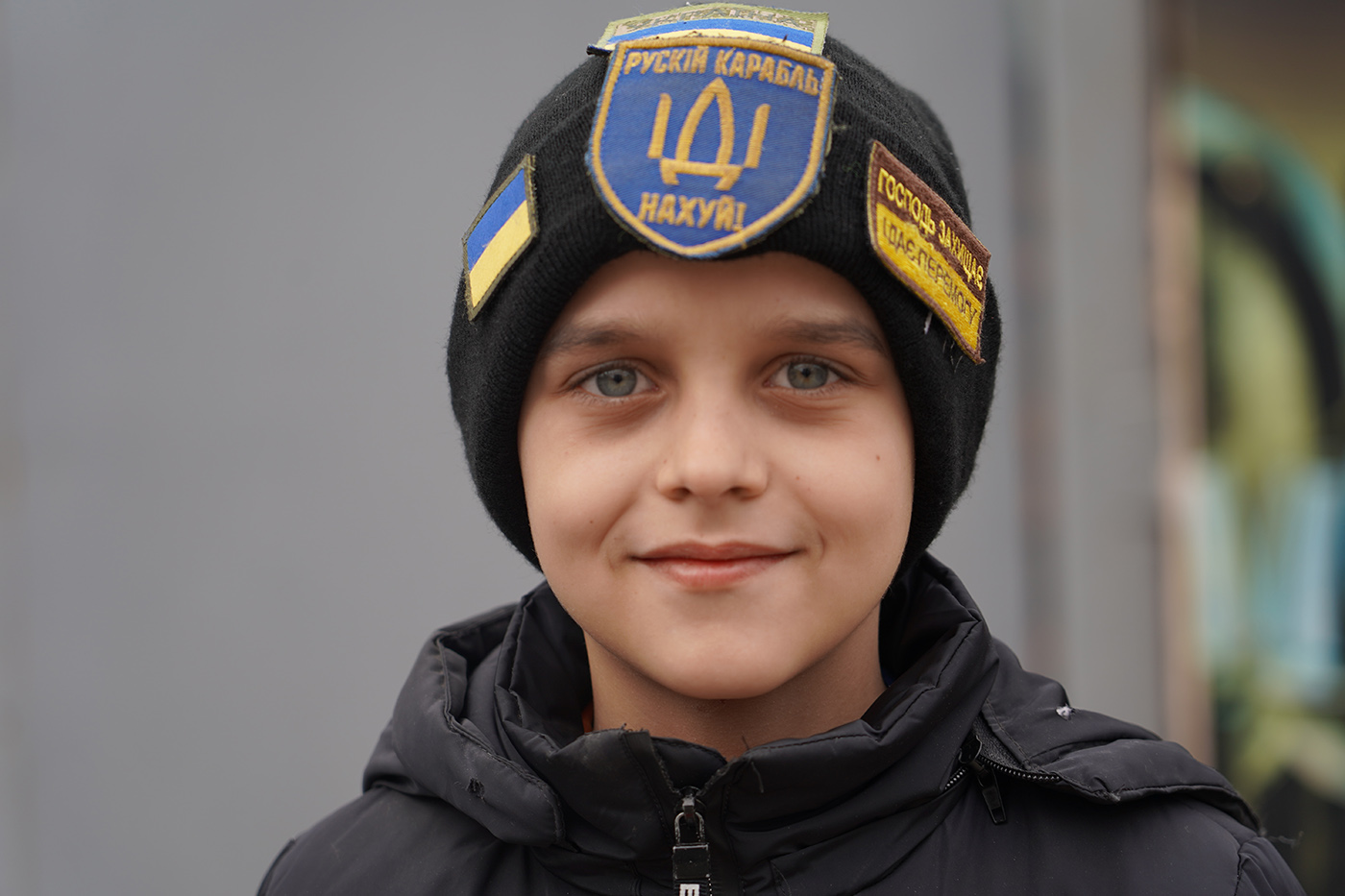 The first regular train from Kyiv arrived to Kherson on the night of 18 November. The Central station is one of these points with electricity and cell service, people can come here to charge their gadgets and connect with relatives from other cities.
At the station, I meet Mikhail, head of a local car parking cooperative. During the occupation he tried to protect the property, but Russian soldiers still broke into some of the garages, mostly those of people who left the city. Now, Mikhail says, even though there is no heat or water, he feels much more calm and free: "There's this painting, you know, To the Neva for Water, from the [World War II]. And I took a picture of how people are going to the Dnieper for water, so they'd have some at home. These are memories: to the Neva for water, to the Dnieper here."
There are several places in the city where people come for water. One of them is close to the river. There's a police checkpoint on the way there, policemen say people can't go by car, and because the territory is exposed to Russian snipers from the left bank, one should be very careful. One of the policemen, a guy in his mid-20s, says he is from Kherson. When asked if he's glad that the city was liberated, he tears up and says we can't even imagine how happy he is.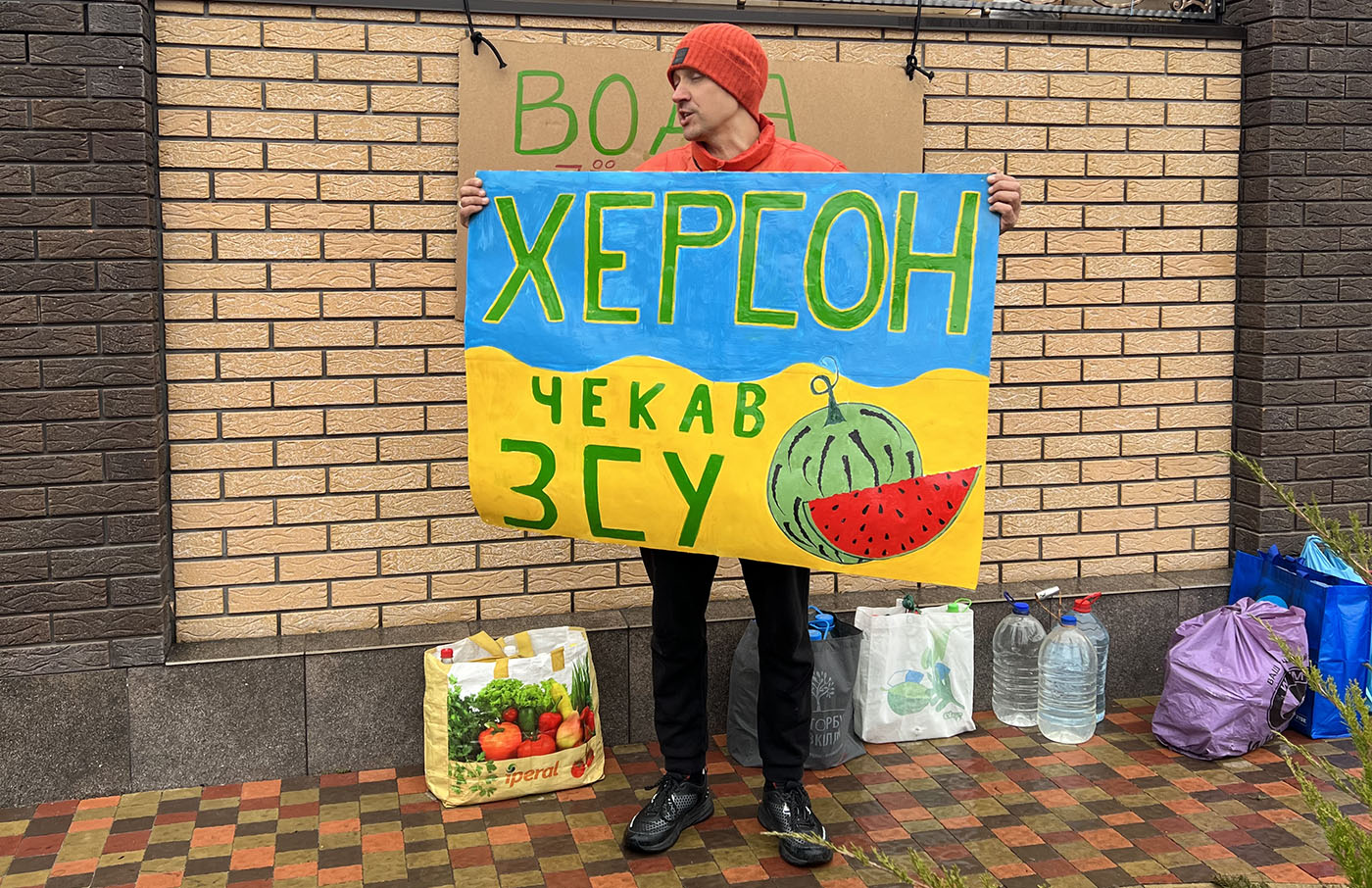 Alexander, a local businessman, launched a water distribution point on one of the streets. There's a small queue there. People lived in fear during the occupation, anyone could be detained, and Russian soldiers checked people's phones on the streets. His brother was nearly shot; his property was taken.
"My dad and I used to be long-haul truckers," says Alexander. "So we have our own grain trucks. As soon as the war started, we said we were not going anywhere or doing anything. So for eight months, we didn't go on a single grain trip, not here, in the region, not to the Crimea. We weren't taking blood money."
But when the Russians were leaving, somehow the soldiers found out about their DAF trucks ("Someone must've ratted us out"). "A bunch of bearded guys showed up, harassed the family for two days and asked for the keys. Because we took the keys with us and took the electronics off," the businessman explains. "In the end, they took 12 DAF trucks from us. They were blunt: 'You should've worked with us, then everything would be fine, simple as that'." Alexander says, the men also took his motorboat and a minibus, at the very beginning of the war
"These eight months have been very hard," he recalls. "These are horrible people, horrible people. Tortured folks for their pro-Ukrainian position, harassed them. You couldn't say anything. I deleted everything from my Instagram and Facebook, too. And we just sat home and kept quiet. All of these 'LPR' and 'DPR' [fighters] came to us, wanted to evict us from our house, because they needed a place to stay. We even have a video recording, how my father and I stood on our knees, begging them not to kill us."
Alexander shows me the video on his phone and explains: "That's my father. I'm in the backyard, with my mom and my brother. This one came to kill my brother because he raised his voice. He's saying: 'Don't raise your voice at me.' Dad's asking: 'Don't kill my son, what for?' Here he's coming in, and I'm coming out. He comes up to one of his people and says: 'Give me a gun, and I'll take him out with a gun.' That's him taking the gun, he got it. Here's me coming out. My dad is begging him, asking: 'Don't kill my son, what would you want to kill him for?' And my father and I stood on our knees, so they wouldn't kill my brother. That's how the liberators came to us. Took everything we earned in our life."
Many Kherson locals who stayed in the city with children during the occupation say they wouldn't let them out on the street. Lyubov, a local woman who came to the central square to hug and thank Ukrainian servicemen, recalls in tears how Russian soldiers would point guns at children and even shoot into the air.
Viktor came to the square to charge his gadgets with his daughter, Alexandra. She stumbles and blushes when she speaks Ukrainian. She went to school during the occupation and started eighth grade in September.
"They told us that teachers from some Russian college came, and there were some from neighbouring schools, too," says the girl. "There was one teacher who was telling us during Russian language classes how we are one nation and stuff, you know, propaganda. Even though before this whole situation he was teaching Ukrainian in a Ukrainian school, he was now on Russia's side."
"And what about teachers from Russia?"
"Well, they barely said anything. We could sit through the whole class staring at the phone, it's like they didn't really notice us. I mean, they did say that this is it, it's Russia here now. My classmate Luisa even cried once, and we were calming her down."
"Many Ukrainian teachers left," her father adds. "Because they didn't want to teach under Russian flags. But now, thank God, everything turned out just like we wanted and hoped for. We need to rebuild now, but it's going to be all right now."
Editor: Yegor Skovoroda