On 3 April, Anna Krotova was waiting for her nephew at the Veselo-Voznesenka border post in the Rostov Region of Russia. The day before, they had boarded an evacuation bus from the already destroyed Mariupol, heading towards Rostov-on-Don, the region's administrative centre. The road to Ukraine was already closed at that time, so the only way left was to Russia. "The trip was scary, under shelling," recalls Krotova. The city had already been turned to ruins and had almost been captured, but the Ukrainian military had, up to that point, resisted in the centre of Mariupol and on the territory of the Azovstal plant.
By nightfall, Krotova and her nephew, 30-year-old Dmitry Lisovets, reached Veselo-Voznesenka, where Dmitry, like all Ukrainian male refugees, was forced to undergo "filtration", a long and sometimes humiliating series of interrogations with an inspection of all tattoos, documents, correspondence and photos on phones. "There, at the border, all men were taken for filtration," she recalls. "They were not interested in women at that stage."
Her nephew did not leave the office where he was taken for filtration for a long time. After some time, an FSB officer appeared and took away all the possessions of both Dmitry and his aunt.
Dmitry was taken out of the office in handcuffs, recalls Anna Krotova. With his handcuffed hands, he could barely hold the bags with his few belongings. When her nephew was taken away, she sat for a long time in a daze at the office. "Then I went down the corridor, tried to find the person in charge and stumbled upon some guy. I burst into tears, of course, right away—we had already experienced so much, my sister entrusted her son to me, and right before my eyes they had taken him away somewhere."
The man asked her: "Well, didn't you know that your Dima served in the Ukrainian Army? And in the Right Sector? He has already admitted everything." According to a relative, she knew that her nephew had once served in the Armed Forces of Ukraine, "and even under contract," but she had never heard about his involvement in the Right Sector. The young employee was not able to tell her to where Dmitry had been taken.
"Tell me, at least, that they won't shoot him?"
"He won't be shot, but he will be locked up."
Since then, neither his aunt nor any other relatives of Dmitry Lisovets have seen him.
Torture in a Taganrog detention centre
Dmitry Lisovets was born and raised in Mariupol. Late February and March, like the rest of the city, he had spent under constant shelling. In 2016, Lisovets did actually join the Ukrainian Volunteer Army (UDA), a paramilitary unit created by the nationalist Dmytro Yarosh in 2015, when he ceased to be the leader of the Right Sector. As lawyer Grigory Kreshchenetsky explains, Lisovets joined the UDA to defend Mariupol, which was near the border with the self-proclaimed Donetsk People's Republic; after 2014, clashes between the Ukrainian military and armed separatists never stopped. He was 24 years old at that time.
At the beginning of 2017, the attorney says, Lisovets left UDA. A few years later, he returned to the regular army and in 2020–2021 served under contract in the Armed Forces of Ukraine.
"[During filtration] he told everything about it because he believed that he had not committed any crime, and he was absolutely right," explains Kreshchenetsky (he was hired by activists from the Every Human Being project after they had been approached by Lisovets' relatives). "He told them directly that he was a Ukrainian, that he loved his city and his country, Ukraine. That's why they arrested him."
According to the attorney, Lisovets never participated in hostilities, he only patrolled the border with the self-proclaimed DPR.
Immediately after his detention, Lisovets was charged with disobeying a police officer and the court gave him five days under arrest, spent in one of Taganrog's police departments. "We all know this Russian practice: to fabricate disobedience if a person needs to be arrested quickly before launching a criminal case," says Kreshchenetsky.
After five days, Lisovets was taken to SIZO-2, a pre-trial detention centre in Taganrog, Rostov region, where he stayed for almost two and a half months. According to the attorney, Dmitry was placed in isolation, bypassing any legal procedures: neither a court session, nor even a criminal case.
"In this pre-trial detention centre, he was beaten, tortured and ordered to admit that he participated in hostilities," says the attorney. Kreshchenetsky thus repeats the words of his client: "They don't tolerate Ukrainians much at all in this SIZO. They burst into the cell in masks and beat everyone indiscriminately." As Lisovets told the attorney, Ukrainians in the Taganrog pre-trial detention centre are forced to stand in the middle of the cell from morning to evening, not to sit down, even more so not to lie down. "Well, imagine in which condition a person is who has been standing on his feet for eight or nine hours in a row? This is torture," the lawyer concludes.
The Mariupol man was kept in the Taganrog detention centre until 15 June, all the time without any procedural status, neither was he a suspect, nor accused of anything. The criminal case, according to the attorney, was opened only on 16 June, after which, by the decision of the Leninsky District Court of Rostov-on-Don, Lisovets was sent to SIZO-4, a detention centre located in the building of the FSB's regional department.
FSB and the secret witness with binoculars
The FSB is leading the investigation. Dmitry Lisovets has been charged under three articles of the Criminal Code at once: participation in an illegal armed formation (Part 2 of Article 208 of the Criminal Code), participation in the activities of an extremist group (Part 2 of Article 282.2 of the Criminal Code) and training for the purpose of carrying out terrorist activities (article 205.3 of the Criminal Code). The accusations are related to Lisovets being in the ranks of the Ukrainian Volunteer Army, which in Russia is considered an 'illegal armed group' and part of the Right Sector (recognised as an 'extremist organisation' since 2014).
"All these accusations are unsubstantiated by anything and are based on their own line of thinking that Dima was a member of the Right Sector," says the lawyer Kreshchenetsky. "While there is no evidence for this."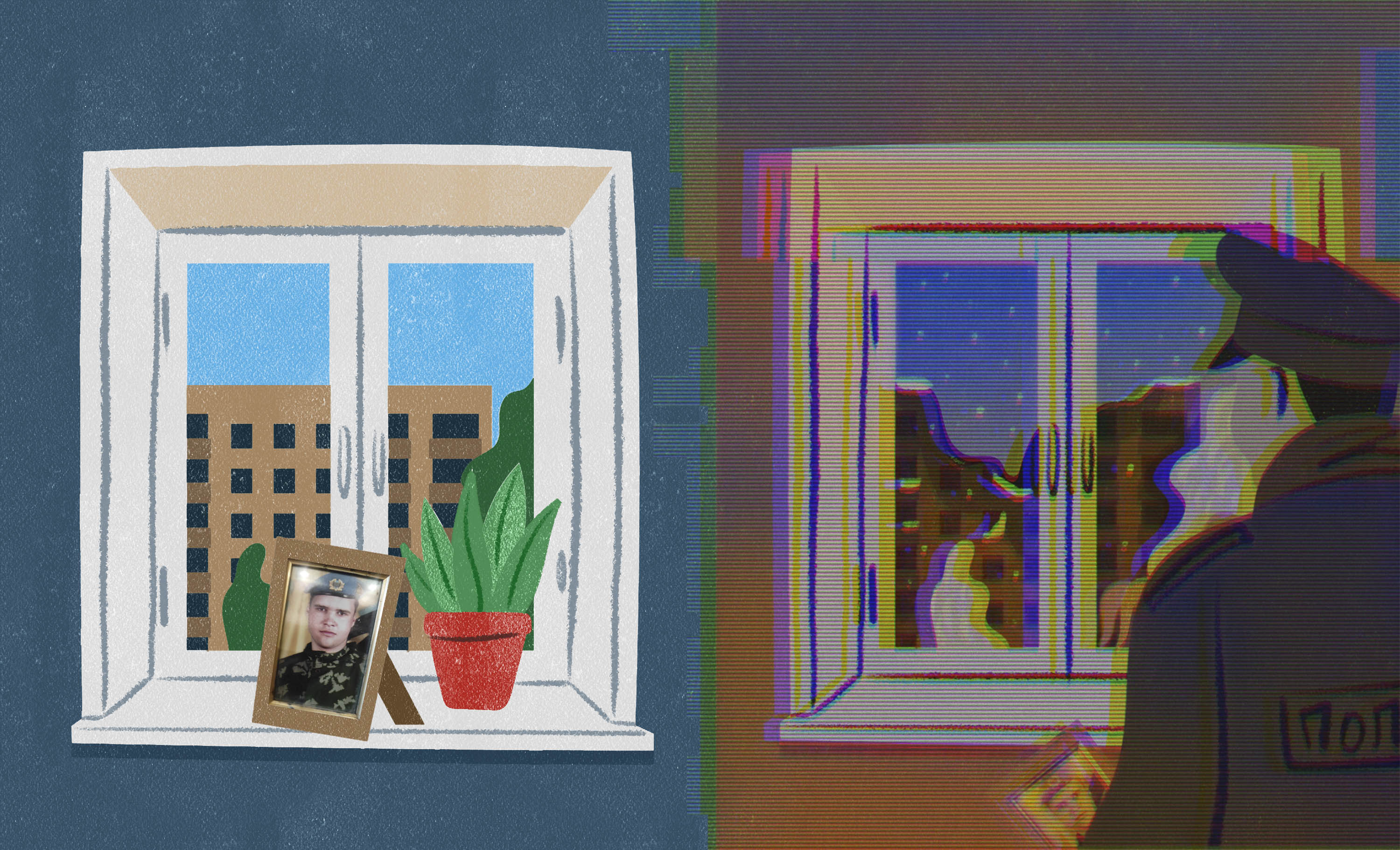 According to the lawyer, besides his own testimony, the case contains the testimony of a secret witness who allegedly saw how, in 2016, Lisovets, as part of the Ukrainian Volunteer Army, patrolled the border between Ukraine and the self-proclaimed DPR. "He testified that he is a citizen of the DPR, was on the contact line and examined this guy through binoculars. Then he found his last name on the internet and established that it was Lisovets." Lawyer Kreshchenetsky says that in the case this witness goes under the pseudonym "Rusich," but the attorney calls him a "Sharp-Eyed Falcon."
According to the attorney, to justify opening a case, the investigator calls Dmitry "an adherent of the ideology of radical Ukrainian nationalism and Russophobia." In a petition to dismiss the criminal case, the lawyer writes that back in January 2017, Dmitry Lisovets "voluntarily left the Ukrainian Volunteer Army", and during the filtration and numerous interrogations by the FSB "told authorities frankly about participating in the Ukrainian Volunteer Army." The attorney notes that a person who comes forward with a confession about participation in an organisation of this kind is automatically relieved of criminal liability.
At each interrogation, Lisovets said that he had served in the army, because he is a patriot of Ukraine, the lawyer emphasises, and not only has he never been a member of the Right Sector, but in principle, he does not support the "ideas of nationalism and Russophobia." When, during one of the interrogations, Dmitry was asked if he needed an interpreter, he was surprised: "Why? Russian is my native language."
"And now a person who has been speaking Russian his whole life is accused of Russophobia," the lawyer Kreshchenetsky says indignantly. "His mother is still in 'liberated' Mariupol. From what has it been liberated? From water, heat and gas, probably."
Property search in Mariupol. "Tell him how lucky he is"
Dmitry Lisovets' parents still live in Mariupol. They hoped that through Russia their son would be able to leave for "somewhere in Europe." In any case, Dmitry had told them about his plans, promising to pick up his parents from Mariupol as soon as he settled in a new place. "He is our only son. If he had settled somewhere, we would have rushed to him wherever. But not to Russia, of course," says his mother. "Never again to Russia."
According to her, Dmitry signed a contract for military service in 2020 because he was always looking for work. Recently, he's been switched jobs: "I worked as a freight forwarder and went to sea. When the season at sea ended, I went to a car wash, but they hardly paid anything. Then I went to work at a food distribution centre, packing seeds, seedlings and fertilisers for sale." His aunt Anna Krotova adds that in the last months before the war, Dmitry was often sick, he had pneumonia.
A few days after the son's departure, Russian military personnel came to his parents' home in Mariupol. "Three people came to us, poking around in their underwear. But they searched everyone, even 90-year-old pensioners," says Dmitry's mother. "They were looking for weapons, ammunition."
The parents did not have weapons at home, but the military personnel found photographs of Dmitry in military uniform. The mother says that the pictures "interested and worried" them:
"It's your son? Where is he now?"
"He's not here."
"Well, you tell him that he's very lucky."
After his detention in April, none of his relatives has seen Dmitry or exchanged words with him. Dates or calls are out of the question, relatives do not know how to write letters to the SIZO and are afraid to do so.
In early November, lawyer Kreshchenetsky filed a motion to dismiss the criminal case. He tried to convince the investigators that there was no corpus delicti, proof that the crime was even committed. The investigator refused the petition, completed the investigation and referred the case for review by the prosecutor's office. The prosecutor unexpectedly returned the case for revision to the investigator: "We understand everything about the courts in Russia now. We are just waiting for the charges to be approved and the case go to court, and this will definitely happen."
The case will most likely be considered by the Southern District Military Court in Rostov-on-Don.
Dmitry's mother still hopes that her son will soon be released: "Maybe he will, at least, be exchanged? Or they will send him to Ukraine? I want to hope for the best, maybe in vain, but I can't think that I won't see my son again."
Editor: Egor Skovoroda