On the early morning of March 11, two weeks after Russian troops had crossed the border with Ukraine, a draft office in Berezovsky was set on fire. The wooden building on Revolutsionnaya Street sustained minimal damage as the fire was quickly extinguished by a security guard and traffic police officers who just happened to be nearby. An orange peace sign was left on the fence in front of the draft office.
The police put out the fire using snow, and then searched for traces of the arsonist. They arrested the suspect, 24-year-old Alexei Rozhkov, a shop assistant at a local DNS electronics store located just a 15-minute walk away from the draft office.
Later, Sergei Kashin, a senior traffic police inspector, claimed that when they tried to arrest Rozhkov he attempted to flee. However, when Kashin shouted "Stop, or I'll shoot!", Rozhkov stopped, fell to his knees, and placed his hands behind his head. Rozhkov was then handcuffed and placed in a police car.
During the interrogation, Kashin stated that the detainee "spoke calmly" and "did not offer any resistance." Rozhkov admitted to setting fire to the draft office, stating that it was "not due to alcohol," but due to the ongoing war.
The policeman quoted him as saying, "My peers are dying in Ukraine like cannon fodder, and no one cares about it." Kashin asked why Rozhkov had started the fire, pointing out that even if the draft office had been burned to the ground, there would still be ways to draft individuals. Rozhkov explained that he "wanted to draw public attention to this issue."
"Alexei requested the police to take him to the draft office to assess the extent of the damage caused by the fire. He stated that he wanted to check if his actions would have been helpful," the policeman reported.
This was the third instance of draft office arson in Russia since the beginning of the war. In an interview with Mediazona, Rozhkov discussed the reasons for his actions. He said he felt sorry for the conscripts being sent to the front lines.
"It all began on February 24, 2022. I couldn't find a way to cope when I learned of the special military operation in Ukraine. I immediately started searching for alternative sources of news. I found this Telegram channel, 'Ischi svoikh'," he said. "On that channel, footage of captured Russian military is being published. In the videos, the guys said they were sent to military training exercises, which means they knew nothing about the war. It touched me deeply, I realised it was all so wrong, and I wanted to help those who were mistakenly sent there."
Alexei believed that the arson was part of the reason why the authorities decided to withdraw conscripts from Ukraine. "I saved people. After my act, Vladimir Putin, our beloved leader, admitted on Channel 1 that the conscripts sent to the special military operation were sent there by mistake. And those men would be sent back to Russia. Those [military leaders] who sent the men there would be punished. So, I believe that it was me, the third draft office arsonist, who saved at least some from their certain deaths," Rozhkov said.
Jail as "educational measure"
Initially, Rozhkov was charged with attempted murder committed with extreme cruelty and in a dangerous manner. According to the case materials, Svetlana Sultanova, a security guard, was on duty that night. During her interrogation, she stated that at five in the morning, she heard a clapping noise and then saw "fire and black smoke at the entrance." She quickly ran to get a bucket of water and put out the fire.
Sultanova added that when the arson began, she was in the office with the lights on. "From the street, it was clearly visible that the lights were on in the office," she stated. Based on this evidence, Rozhkov was charged with attempted murder.
However, Kashin, a traffic police inspector, provided a different account. He stated, "There was no one in the draft office because it was dark in the building and there was no one seen or heard."
Rozhkov believes that the presence of the guard could have been fabricated by the investigator—he hadn't seen any woman inside or near the building. "I can hardly believe that there was anyone inside. Probably, there was no one inside. They just fabricated that there was this woman to put me in jail," he said.
On March 12, Berezovsky town court sent Rozhkov to a detention centre. He spent six months there. In early September, the investigator, Mikhail Snigirev, reduced the charges to attempted arson, and Rozhkov was released on his own recognizance. Rozhkov thinks that there were no external factors to retain the case. He believed he was released most likely due to the discretion of the employee of the investigating committee: "The investigator who led my case was a very humane person, and from the very beginning he did not want to put me in prison, because my crime was a misdemeanour. He kept me in jail for six months to make me understand what prison is so I wouldn't want to go back." Rozhkov recalled a conversation with his lawyer: the investigator once referred to custody in the detention centre as "an educational measure."
Rozhkov said that he was treated well during his detention and that he did not have any issues with either prisoners or officers. "I was doing my time in a psych ward, together with another man, in a unit for those with mental health issues, the 116th," he said.
The young man said that after the quarantine, the head of the psychiatric unit spoke with him and prescribed medication for insomnia. Prior to that, he had not slept for four days.
"The treatment was surely inadequate, it was a strong schizophrenia medication," the young man said. "My sleep hasn't gotten back to normal. I was a 'road worker'; I didn't sleep at night and hardly slept during the day. All in all, I slept about half an hour a day, maybe an hour. That was pretty hard."
A psychiatric evaluation found the man to be sane.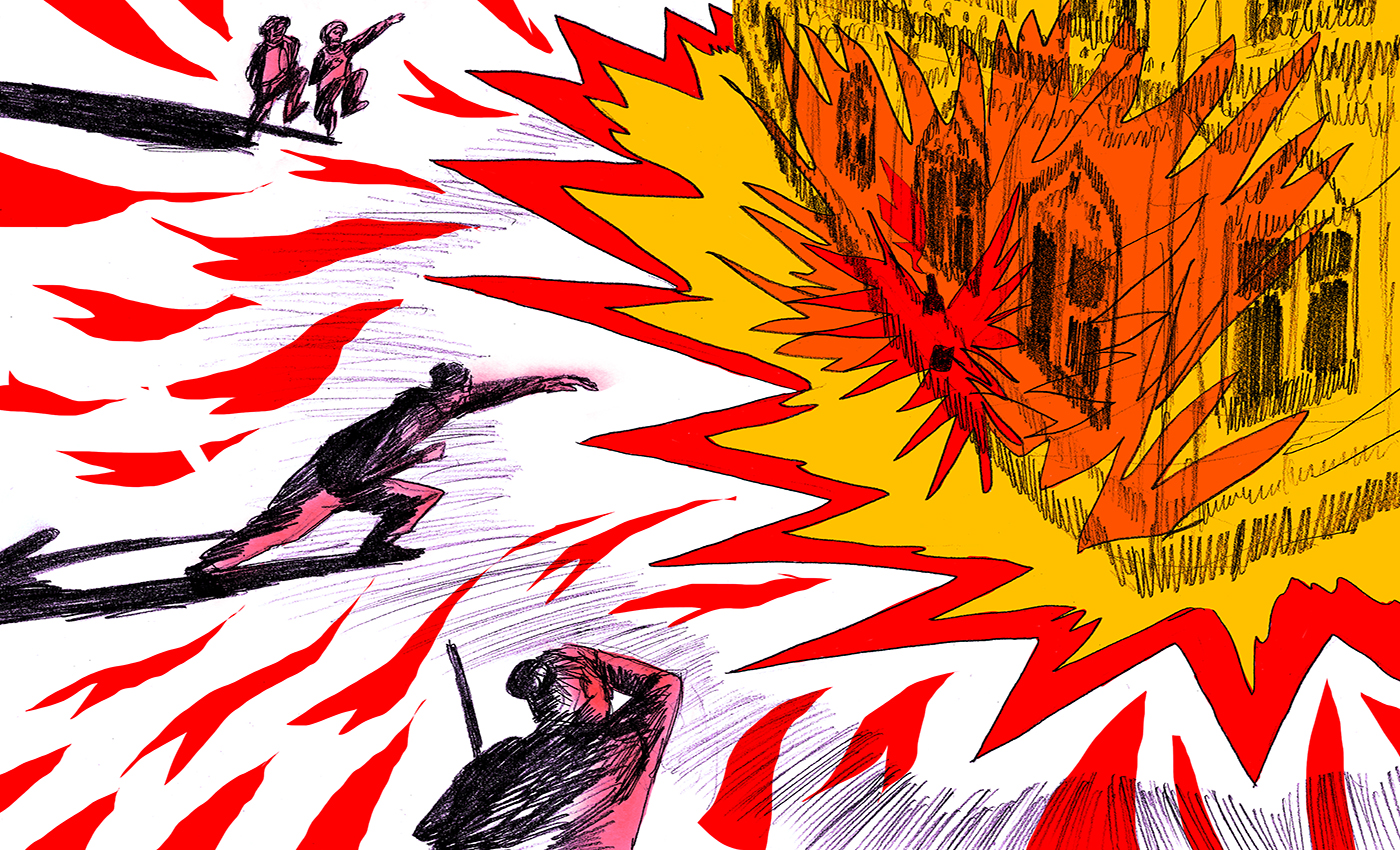 The introvert's case. Preparation
Rozhkov considers himself a left-wing anarchist but admits that he was not involved in political activism until the war had begun. "My political viewpoint on what was happening was very clear, but I've never done anything like this before," he said.
In his youth, Rozhkov was into music and played bass in a rock band called Tell Me the Reason. In 2017, he married his classmate, Alika, but they divorced four years later—by her account, due to Rozhkov's jealousy.
During the interrogation, Alexei's mother, Elena Kurashova, said that he struggled after the divorce: "He became withdrawn, anxious, stopped sleeping and eating normally, and was thinking of suicide." She said that he asked for help at a psychiatric hospital in 2021 and improved with treatment.
Rozhkov had been working at DNS store for the last few years. According to the store manager, Ilya Golovin, Alexei was communicating normally with his coworkers but was not close with anyone. Rozhkov's school friend, Ruslan Reutov, described him as a relatively withdrawn person who "communicates only with old friends."
Reutov told investigators that shortly before the arson, Alexei visited him to help repair a tap. Alexei said that he wanted to set fire to the draft office. Ruslan thought it was "just a drunken banter" and told his friend "not to say things like that."
On March 8, Rozhkov shared his feelings about the war with his mother. "Alexei came to her and started talking about the war in Ukraine. Alexei felt indignant about young Russian guys dying. He had tears in his eyes. She told Alexei to calm down and not think about it," the investigator referred to Elena's testimony.
Despite the divorce, Alexei continued to keep in touch with his ex-wife, Alika. The day before the arson, on March 10, he invited her to visit his dorm room. Alika saw a peace sign painted with an orange spray on the wall, but Alexei did not explain what it meant. The woman noted that by the time she arrived, Alexei was already quite drunk. Later, Rozhkov explained that he had been drinking heavily since March 8, consuming about three pints of beer per day.
While consuming alcohol, Rozhkov did not stop taking antidepressants prescribed by his doctor.
A few hours before meeting his ex-wife, Alexei began preparing for the arson. He purchased gasoline for Molotov cocktails but chose not to mention it to Alika. That evening, the two of them drank beer and only discussed "relationship-related topics," according to her.
According to Alika, by midnight, she fell asleep and Alexei went to bed as well. According to Rozhkov's testimony, he waited until his ex-wife fell asleep, turned on a lamp, and began preparing Molotov cocktails by pouring gasoline and oil into three bottles of Essa cherry beer. The young man assured the investigator that Alika was sleeping and facing away from him, and did not see what he was doing.
Alika woke up around six in the morning and Rozhkov was no longer there. The door was locked with a key and she was unable to leave. She was rescued by the police, who arrived at the hostel with Alexei's stepfather.
A microwave, a dictionary, a flag. Potential damage
By September 12, Lieutenant Colonel Snigirev prepared an indictment.
According to Snigirev, Rozhkov had the intent to destroy the draft office and believed that the 1917 wooden house would "inevitably" catch fire, and did not consider the possibility that people might have been inside the building. The prosecutor emphasized the potential damage Rozhkov's actions could have caused, as the building was worth 23 million rubles and had recently been renovated, and the state property inside was valued at 4 million rubles.
The investigator listed the property inside the office in detail, including a sofa, a microwave oven, a military dictionary, the Sverdlovsk region's flag and a book, "Instructions on the mobilization of the Armed Forces of the Russian Federation, part 3."
In reality, the only damage caused was 1,268 rubles for repairs—only the window glass and ceiling tiles at the entrance had to be replaced. Rozhkov's personal file, which stated he was exempt from military service due to health reasons, was unharmed in the fire. Rozhkov admitted his guilt, expressed remorse, and explained that his parents and lawyer—a former member of the public oversight committee at a local police department—had influenced his decision to confess. He acknowledged that his actions could have resulted in injury, but did not believe he had done anything wrong.
"Left for political asylum." The escape
Rozhkov said that shortly after his release from the detention centre, the investigator called him for questioning. "I came to his office, and five minutes later, a man walked in. I guess he was from the Federal Security Service or some other bureaucrat," Alexei said. "He told me that if I were to give any interviews or make public statements, they would charge me with article 205 [terrorism] and not 167. This is how it was. I never saw him again."
Two months later, Rozhkov decided to leave Russia. "The day of the trial was set, and I decided to leave the country. I perfectly understand that even if I get a suspended sentence, the case will be sent for further investigation. And then, they convict me on a harsher charge, terrorism. It would be that way inevitably," he said.
Alexei said that he did not notify his mother of his plans, but he left her a letter with explanations. She hadn't read it right away, as in November, she went to the police, concerned about his disappearance. When Lisa Alert volunteers started searching for him or his body, Alexei left a comment on their social media: "I am not missing. I left for political asylum."
Rozhkov left Russia illegally. He didn't specify which country he went to.
Editor: Maria Klimova