"We are not terrorists. Come on, let me show you the weapons"
A few days before New Year's Eve, eight men carrying plaid sacks with disassembled Kalashnikov assault rifles and machine guns approached the police station in Podolsk, a suburb of Moscow. They turned out to be mobilised conscripts who had fled their military encampment in the occupied Luhansk region of Ukraine two days earlier. They went to the police to surrender their weapons and explain their reasons for leaving without proper authorisation. However, the authorities were not receptive and refused to take the weapons, stating they had no storage space.
"They said, 'We don't care where you go, so long as you're not here." I was baffled. How could they treat us like that?" Marine Alexander Babeshko recounts in his conversation with Mediazona.
Babeshko and his seven fellow soldiers, who come from the Kaliningrad region, were drafted into the military within a few days of Vladimir Putin announcing a "partial" mobilisation in Russia. Some of them were barely given time to pack before being taken to the draft office.
The police department, where the men went next, also gave them a cold reception. Babeshko recalls this situation being even more comical than the first, as the police officer refused to come out and inspect the weapons for fear of potential sabotage.
"He said, 'I ain't coming out, what if you guys are terrorists." I said, 'We are not terrorists. Come on, I will slowly empty the bags right in front of your eyes." He said no, and that was it," Babeshko recalls of their encounter with the police officer.
The men were finally able to surrender their weapons after calling 112, the emergency hotline. Following an interrogation at the Chief Police Directorate, they were taken to the military police office in Podolsk, where they were further interrogated by an investigator and an FSB operative.
"They wanted to know why we fled, where we went, how we got here. I can't say they were particularly keen on the process. They just wanted to hear our justification," another conscript, Alexander Bogachenok, told Mediazona.
As a result of the interrogations, Bogachenok, Babeshko, and their fellow soldiers, Igor Medvedev, Nikolai Kolmachev, Alexander Eliseev, Denis Balakhin, Dmitry Melnikov, and junior sergeant Evgeny Kravchenko, were officially charged with group desertion committed by an organised group during mobilisation or wartime. In accordance with an amendment to the Penal Code passed three days after the mobilisation announcement, the soldiers may face 5 to 15 years in prison.
Evgeny Kravchenko was specifically targeted, as the prosecution insisted he was the instigator of the desertion. Consequently, the court placed him under arrest, while the rest were placed in the custody of superiors in a closed military town on the outskirts of Moscow.
Talking to Mediazona, Kravchenko's fellow soldiers insisted that the decision to flee the war zone was made by each of them personally. They are confused as to why the prosecution was so convinced that Kravchenko was their leader. "None of it is true. It was a collective decision. No one was the leader," Bogachenok states.
"They just inspected my body and gave me a form to fill out"
Alexander Bogachenok, a 33-year-old bridge operator from Polessk, a town in the outskirts of Kaliningrad, was conscripted on September 22nd, the day after Putin announced the mobilisation. He was given only an hour to pack and was taken to a military base in Gusev along with other conscripts. There, they were given military equipment and underwent a medical examination that Bogachenok described as irresponsible.
"I can't really call it 'medical examination' per se. They just inspected my body and gave me a form to fill out. They just asked what kind of illness I've had, how I'm feeling now, if I had wounds or infections — and that was it. Everyone was treated irresponsibly like that," — Bogachenok recounts.
During his two weeks at the base, Bogachenok and other conscripts were only given shooting practice twice, spending most of the time at the training yard while superiors took photos of them.
In early October, Bogachenok was transported to a military base in Kaliningrad, the headquarters of the 7th Motorised infantry regiment where he and some of his mates got seriously ill. Bogachenok described the medical aid as insufficient, saying that medics only gave them painkillers or Furacin to gargle.
Alexander Babeshko, 44, was conscripted from Znamensk around the same time as Bogachenok and was sent to the military base almost immediately. Babeshko recalls the poor conditions at the base, including the lack of dividers between toilet stalls.
The future defendants in the case of desertion, Bogachenok, Babeshko, and 39-year-old Nikolai Kolmachev, met at the same military base in Kaliningrad. Kolmachev resisted conscription, but his request to serve in a civilian capacity was rejected by the military officials and the prosecutor's office. He was unable to file a court case as he was already deployed to the war zone.
In early November, a military craft carrying the conscripts from Kaliningrad landed in Voronezh and took the men to a camp near Novy Oskol. Four days later, the company of 70 conscripts was deployed near Svatovе in the Luhansk region. Babeshko and Bogachenok explained that they felt uneasy as they were promised they would be guarding borders and ammunition warehouses, but did not see any in the vicinity of the nearby forest.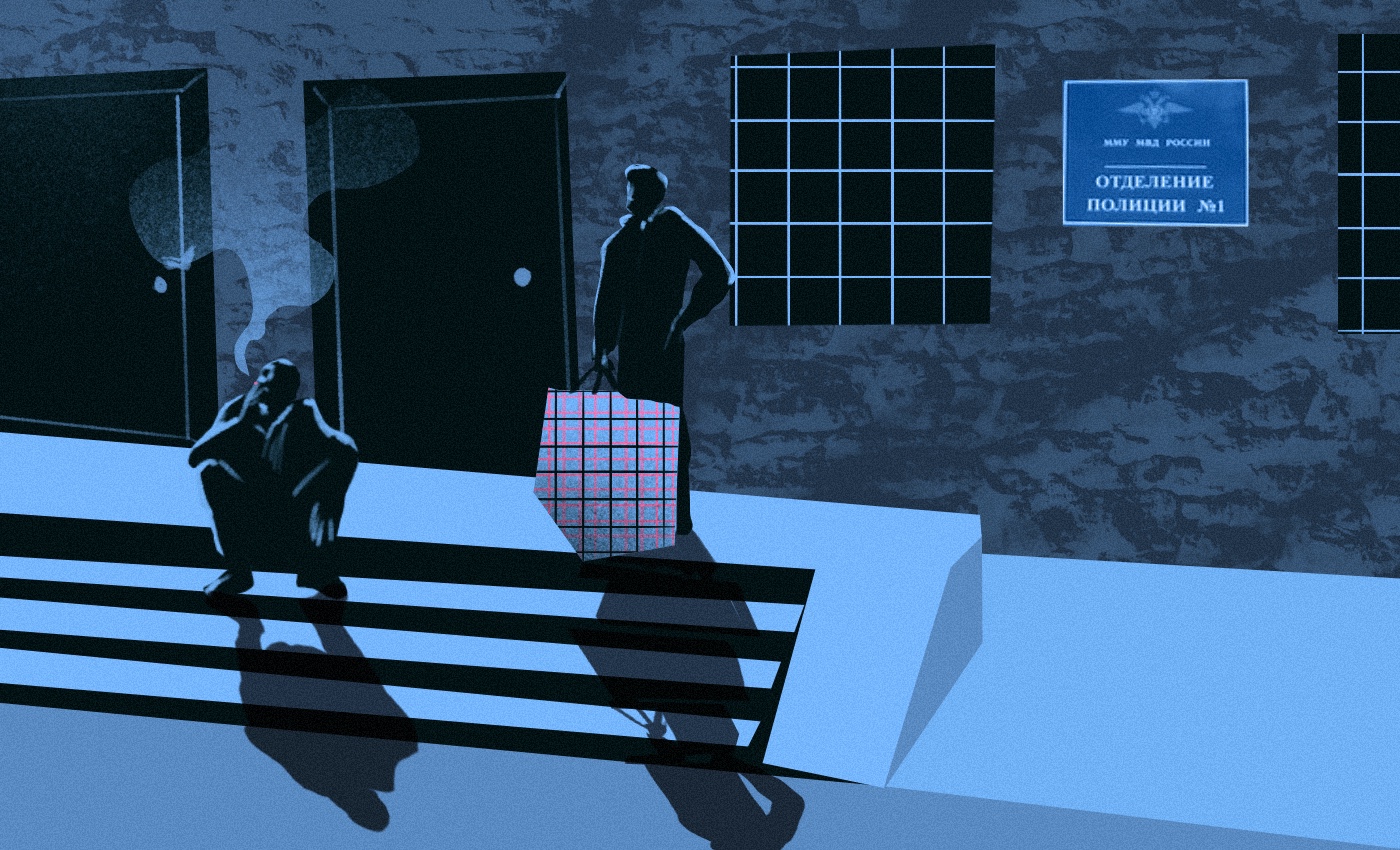 "Just know that people go missing in this forest"
The regiment mobilised from Kaliningrad was under the command of Lieutenant Colonel Alexander Zavadsky. The first and only conversation with him at the encampment left the conscripts demoralised.
According to Bogachenok, Zavadsky gave a speech in which he said, "Our regiment is special and highly decorated. I won't let any of you bring shame to it. If you say anything against me, just know that people go missing in this forest. It would be easier for me to kill and bury you in that forest."
In December, the Ministry of Defence awarded Lieutenant-Colonel Zavadsky the Hero of Russia medal for his successful attempt at sabotaging Ukrainian advances at the Savintsy settlement while under artillery fire.
Nikolai Kolmachev cited Zavadsky's threats in conversation with the prosecutor [Kolmachev never mentioned the Lieutenant Colonel by name but three other soldiers confirmed to Mediazona that he was talking about Zavadsky]. "We all took it as a threat of actual violence and death. It was the topic of discussion in our encampment. We realised that any mistake we made could be fatal, making us feel anxious and helpless. This is why I decided to refuse going to the front line," he stated.
Eight men from Kaliningrad fled the encampment for several reasons. According to Babeshko and Bogachenok, since their arrival at the camp, the mobilised were left to their own devices, with no consistent command and one of the officers always drunk and instigating fights. The lack of proper food, with only two meals a day, often served late and lunch often starting at around 8 p.m. due to the late arrival of the provisions truck. According to Babeshko, they "had three spoonfuls of porridge for breakfast, and three spoonfuls of soup and porridge for lunch, with no bread."
The dire shortage of water added to the difficult conditions. The conscripts had to share 1.5 liters of water among 4–6 people and had to melt snow and drink from a nearby brook, also used for bathing in below-zero temperatures. These were the conditions they lived in for the first three weeks, after which a food wagon was dispatched to their encampment in mid-December. However, the quality of the food did not improve.
The only task assigned to the conscripts was to dig trenches, but they were not given proper tools, and had to buy additional equipment, such as chainsaws and a generator, from the locals. The weapons they were given were also not in good condition.
"I called my husband at some point and he said, 'We had soup today.' I asked what kind, and he replied, 'Borscht.' I said, 'Oh, you guys got borscht.' He responded, 'It's only borscht in name, just greasy water with two slices of beetroot.' I asked, 'What about potatoes?' He replied, 'No potatoes, Oksana!'
The conscripts were only tasked with digging trenches, but they were not provided with any proper tools other than a couple of shovels and hatchets. The men from Kaliningrad stated that they had to chip in to purchase chainsaws, hacksaws, a generator, and a potbelly stove, as they had to buy everything from the local people. Bogachenok also reported that the standard weapons given to the soldiers back in Kaliningrad were not in good condition; for instance, his machine gun was not operational.
"For the sake of saving our lives and health"
In late December, the company where the conscripts served was informed that they were to be deployed to the frontlines. The demoralised men from Kaliningrad decided that they were not going to fight in these conditions and informed their superiors. Corporal Igor Medvedev had his arms immediately confiscated, and Bogachenok's faulty machine gun soon followed. The men were told to stay at camp until further notice and that they were considered "objectors."
However, on 23rd December, an order came for a new batch of conscripts to be sent to the frontlines the next day. The Kaliningrad-natives made a firm decision to refuse to fight "for the sake of saving our lives and health," as stated in Kolmachev's deposition. Some of the soldiers already had their weapons taken away, making the idea of going to the frontline without weapons seem like suicide to them.
According to Babeshko, he demanded to speak to a military attorney but was told he would only meet him at the frontline. "The same place where mortars are and where all of our boys went to never return. At that point, the arguing would be pointless," Babeshko explained. "If I went, there would be no chance I would come back alive."
Not long before their escape, Kolmachev, Medvedev, and Bogachenok were attacked by drunk fellow conscripts. A fight ensued, but was quickly broken up. Kolmachev's deposition described the threats from other conscripts to burn the men from Kaliningrad alive or blow them up with a grenade, which was another reason for their decision to flee back to Russia.
At 6 a.m. on 24th December, eight conscripts from Kaliningrad left the encampment without notifying their superiors. By 10 p.m., they had travelled over 30 miles and reached the Rovenky settlement in the Belgorod region. Babeshko stated that they were able to reach the Russian border thanks to one of the men downloading army maps to his phone. "I plotted the route and switched on the GPS tracker, and it kept us on track," the Kaliningrad-native explained.
Later, when Babeshko was describing the circumstances of their crossing of the Russian border, he found out that he and the others had unwittingly crossed a minefield. "A lieutenant of the border patrol told me. He asked me to tell him how we got there because there's a minefield all around," the man claimed. "I had no idea there was a minefield there. If I did, I don't think I would have been brave enough to go there."
The Russo-Ukrainian border was lined with three barbed-wire fences, which the soldiers bypassed with ease, according to them. They spent the night in a forest near Rovenky, and the next day they bought civilian clothing at a local market and took two taxis to the town of Lipetsk. There, the conscripts rented an apartment for one night, and the next day, they rented a minivan and drove to Podolsk in the Moscow region. "We wanted to go straight to Moscow, but decided against it. Who knows what would have happened if we got stopped for an inspection. So, we decided to stay in Podolsk," Bogachenok explained.
«Мама, мы идем сдаваться». Уголовное дело
Following interrogations and criminal charges, all but Evgeny Kravchenko were sent to Chekhov-3, a closed military town in the outskirts of Moscow. The men from Kaliningrad are living in barracks and awaiting the conclusion of legal proceedings, while Kravchenko is being held at a detention facility.
The last time Junior Sergeant Kravchenko contacted his family was the day before his arrest in Podolsk. "He called me and said: 'Mum, we are going to turn ourselves in.' Jesus, I almost fainted," recalls Irina Kravchenko of her conversation with her son. "I said: 'What do you mean, turn yourselves in?' So he briefly explained it to me: 'We fled and are going to hand over our weapons and search for the truth.' Something like that. Meaning they wanted to tell the true story of what was going on [on the frontlines]."
Before mobilisation, the 33-year-old Kravchenko lived in Znamensk and worked in Kaliningrad as a fit-out worker. Irina Kravchenko said that Evgeny's older brother, Mikhail, was conscripted first. Evgeny decided not to wait for his own conscription papers and followed his brother to the draft office.
The woman describes her son as "not faint of heart" and very enduring, having done rowing for a long time. "When I told his father that Zhenya (short for Evgeny) had fled, he said: 'If Zhenya fled, then it's serious. He is strong, so if he ran, something must be seriously wrong there'," the woman said.
Evgeny Saveskul, the lawyer defending seven defendants from Kaliningrad including Kravchenko, told Mediazona that he suspects Kravchenko's arrest is due to his military rank. "First of all, he is the only Junior Sergeant of them all. The rest are corporals and privates. Whereas he holds a minor commanding title," Saveskul stated. According to him, only Kravchenko has been officially charged, while the rest are considered suspects in the case.
Kravchenko will remain in custody at least until 27th February. According to Irina Kravchenko, her son is being held at the detention facility in Serpukhov. His brother is still on the frontlines in the Zaporizhzhia region.
Editor: Maria Klimova