"Open Telegram, read the news of the day, and evaluate this year on a scale of how 1937 it is," reads a poem by Zhenya Berkovich from her book "Buzzed," released on May 1 by the Israeli publishing house Sefer. The cover features an person with a shaven head and fear in their eyes.
On the morning of May 4, Berkovich's mother, Elena Efros, reported her daughter's detention on her Facebook page. Efros's St. Petersburg apartment, where she resides with her 88-year-old mother, writer Nina Katerli, was searched. A few hours later, news arrived from the husband of playwright Svetlana Petriychuk, who penned "Finist, the Brave Falcon," directed by Berkovich: Petriychuk had been detained at Moscow's Vnukovo Airport.
Both women were taken to the Moscow Investigative Committee department, where they underwent several hours of questioning. They were first reported to be witnesses in a "justification of terrorism" case. Petriychuk was interrogated without an attorney present. Alexander Andrievich, the producer of the "Soso Daughters" theatre company founded by Berkovich in 2018, was also questioned. His attorney, Alan Kachmazov, later told Mediazona that Andrievich is a witness in the case.
By the evening of May 4, lawyers informed OVD-Info that Berkovich and Petriychuk were officially suspects in a case of "public justification of terrorism" (Part 2 of Article 205.2 of the Russian Criminal Code), which carries a punishment of up to 7 years in prison. The details of the charges remain unclear.
Online wives of Islamic extremists
The play, "Finist, the Brave Falcon," named after a Russian fairy tale, premiered in 2020 as a production by the "Soso Daughters" theatre company, lead by Berkovich. Centered around a criminal trial for women who marry "members of an Islamic radical sect," it explores how these couples meet online and ultimately join one another in Syria, without ever meeting in person. According to critics, the play is "a mix of interrogation transcripts and instructions for newly-converted Muslim women on how to wear a hijab or prepare a halal cake," and "director Zhenya Berkovich and the actresses collaboratively crafted monologues for Maryushkas, which are based on documents, interviews, and personal experience."
In an interview with jouranlist Katerina Gordeeva, Berkovich said that the play's initial text contained no monologues: "We began composing and searching for material while conducting interviews. And we found ourselves in their shoes..."
According to playwright Svetlana Petriychuk, during the production process they had to "sift through an enourmous amount of documentary materials, seek out real people and their stories, consult Islamic clergy and even liaise with officers of Russian law enforcement agencies."
"We went through all of this to understand what could a person, a woman might be missing—to the point that she would gamble her entire life, trust not even a man, but an image on a screen," Petriychuk said. "And then travel to a far-off land in search for her Finist."
"Go to prison or take care of grandma"
In 2022, "Finist, the Brave Falcon" won two nominations at the most prestigious theatre awards in Russia, the Golden Mask—Best Play and Best Costumes. Stage and costume designer Ksenia Sokolova donated her award to Sasha Skochilenko, a St. Petersburg artist who has been under arrest since April 2022 for spreading "fake news" about the Russian army by replacing supermarket price tags with death toll in Ukraine.
"No one should be in prison for their art," Sorokina and Berkovich said in a video recorded last year in support of Skochilenko. "Nothing she does threatens anyone's life, health, or property. Keeping her in under arrest is absurd." Last autumn, Berkovich also took part in a charity auction that helped raise 4 million rubles for political prisoners.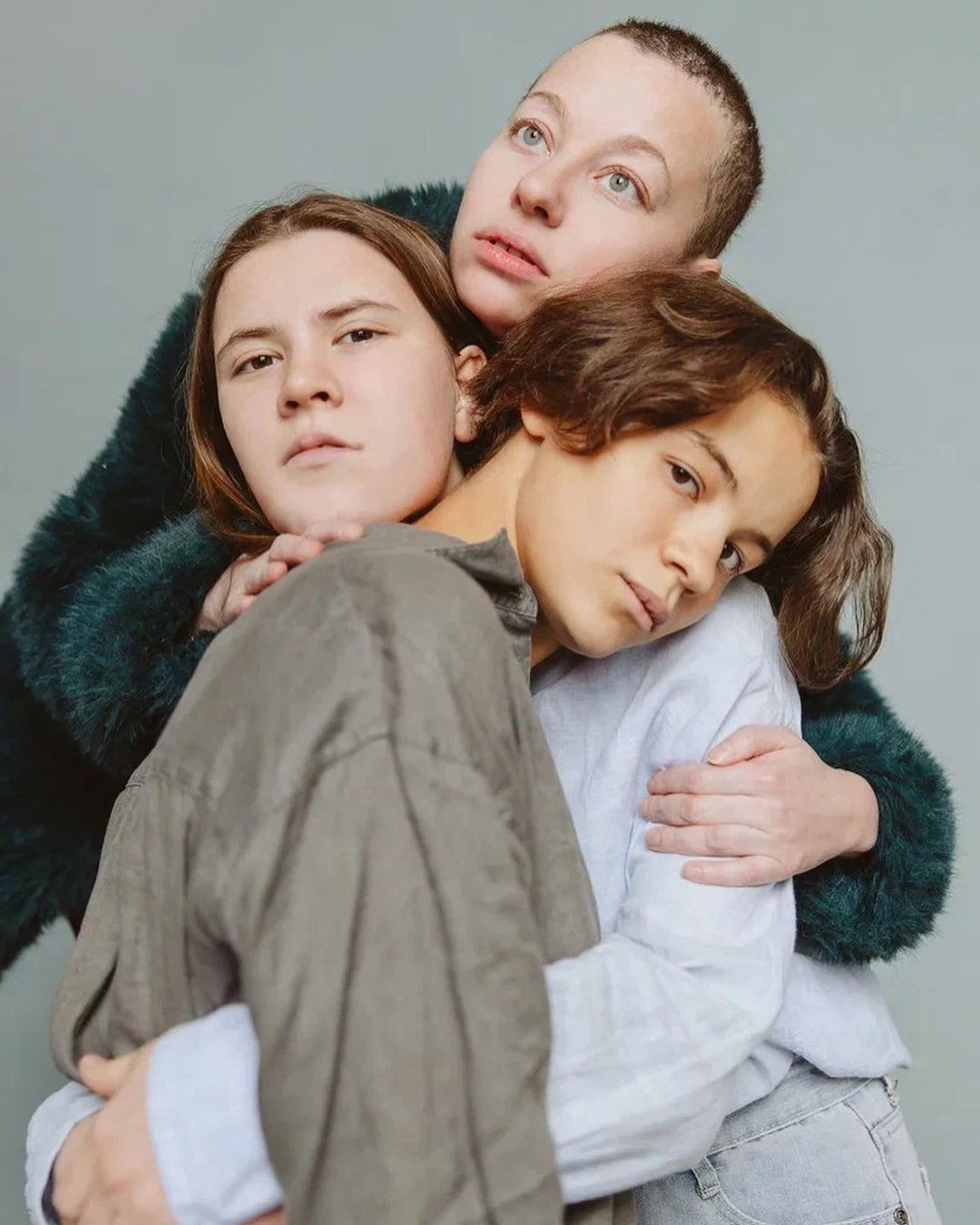 Berkovich's mother, Elena Efros, is the creator of "Tales for Political Prisoners," a project that corresponds with those imprisoned for their beliefs. Two years ago, Berkovich adopted two teenage girls with "complex diagnoses," she is raising them by herself.
In an interview, Berkovich said she's also taking care of her 88-year-old grandmother. It was the elderly woman's apartment where the search was conducted on the morning of May 4. Nina Katerli, a St. Petersburg writer, according to Berkovich, "knows well what repression is," because she is "the daughter of an enemy of the state who was executed in 1938."
"To a large extent, it is a family necessity," said Berkovich in a December 2022 interview, explaining her decision to remain in Russia. "If I had to choose between going to prison or taking care of my grandma, of course, I would leave, because I couldn't care for her from prison. But that's not really a choice for me right now. And I genuinely don't want to leave. <…> If I leave, she will die. But she's also one of the people who tell me: 'Zhenya, just be quiet for a little while'."
Editor: Yegor Skovoroda