The Attack
The assault occurred as Milashina and Nemov were driving from Grozny airport. Their car was blocked by three other vehicles. Men in black balaclavas emerged and started kicking the journalist and lawyer and beating them with PVC pipes. The assailants also took both of their phones. According to Nemov, the attackers put a gun to his head and threatened to kill him.
Milashina, speaking from the hospital, described the incident as a "classic kidnapping, just like in the good old days." "It's just that things like this haven't happened in a while. They blocked the taxi, threw the driver out, got into the car, put our heads down, tied my hands, pulled us out on our knees, gun to the head. But they seemed nervous, couldn't even tie our hands properly."
As reported by Memorial, a human rights organization, during the beating of Milashina and Nemov, the attackers said: "You were warned. Get out of here and don't write anything."
"Attackers were bringing up all of their activities: their work, the trials, the proceedings they attended, Milashina's reporting. This doesn't look like a random gang violence—it's a direct attack against them," summarised Sergey Babinets of Crew against Torture.
The assailants were particularly interested in electronic devices, insisting that Milashina unlock her phone. The journalist stressed the connection between the attack and their work: "As they were beating Sasha, they taunted, 'You're defending too many people here. No one here needs your defence'." Milashina added that the attackers had been waiting for her and Nemov at the airport, and it's possible that one of them even accompanied them on their flight from Moscow to Grozny.
The attackers did not take any money or credit cards but destroyed all of Nemov's documents except for his passport. After the attack, both victims were taken to the Grozny Emergency Hospital. Milashina's fingers on both hands are broken, and she was diagnosed with a closed head injury.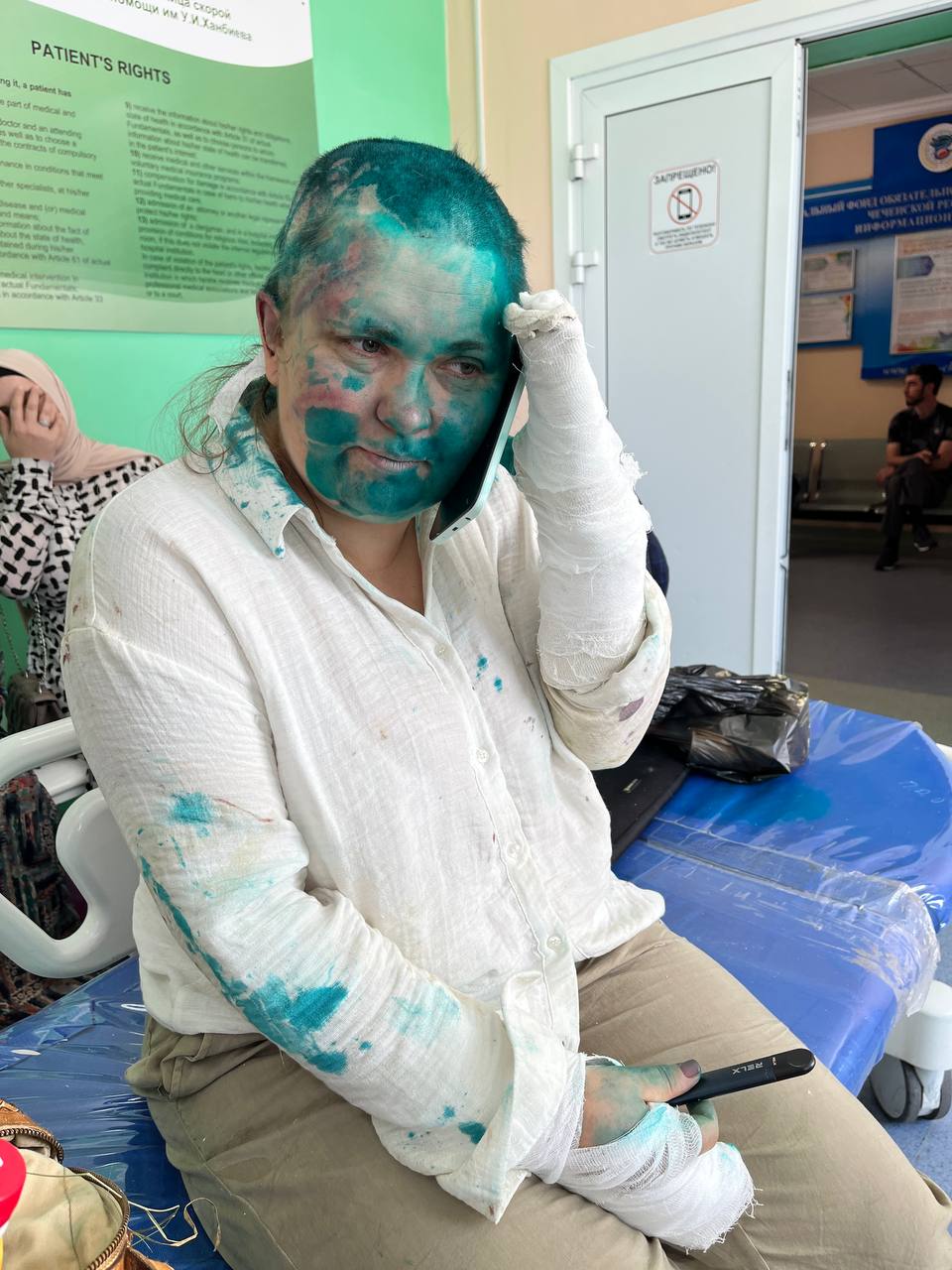 Initially, it was reported that Nemov still planned to participate in Musaeva's court hearing, but later both victims were transferred to a hospital in Beslan in the neighboring Republic of North Ossetia–Alania.
In a later video from the Beslan hospital, Milashina, limping, walks down a corridor and falls. Several men rush to her aid, and the journalist groans, "Ah, don't, it hurts!" Eventually, they manage to lift her and guide her to a bench. Someone yells: "Is there really no wheelchair in the reception area?"
The human rights ombudsman in North Ossetia, Tamerlan Tsogoev, stated that plans were underway to airlift the journalist and lawyer from Beslan to Moscow via an Emergency Situations Ministry aircraft. Tsogoev confirmed that both Milashina and Nemov had suffered multiple fractures, and the lawyer had a knife wound.
The Reaction
Following the attack, Russia's human rights ombudswoman, Tatyana Moskalkova, contacted Milashina. She later informed RIA Novosti, a state news agency, that she had reached out to the Investigative Committee and the Prosecutor's Office of Chechnya in connection with the attack. The head of the official Russian Union of Journalists, Vladimir Solovyov, clarified that no one had yet sought help from the organisation due to the attack.
Several lawmakers, including Alexander Khinshtein and Yevgeny Popov of the United Russia party, as well as Senator Andrey Klishas, have called for an investigation into the attack. The President of the Federal Chamber of Lawyers, Svetlana Volodina, and the head of the Chamber Council's commission, Genri Reznik, also appealed to the head of the Investigative Committee, Alexander Bastrykin, and Prosecutor General Igor Krasnov, demanding that a criminal case be initiated. Journalists from the Kremlin pool of RIA Novosti claim that Vladimir Putin is aware of the incident. The Kremlin noted that "this is a very serious attack" that "requires vigorous measures" and "the implementation of investigative actions."
Who Are Milashina, Nemov, and Musaeva
Elena Milashina, an investigative reporter with Novaya Gazeta, is one of the most well-known journalists in Russia writing about Chechnya. She has received numerous journalism awards and honours. In 2017, she published a series of reports about the persecution and murder of gay men in the republic.
In February 2020, Milashina and lawyer Marina Dubrovina were attacked in Grozny when they arrived to a court hearing for Islam Nukhanov, a critic of the head of the republic, Ramzan Kadyrov. In early 2022, she left Russia after receiving threats from Chechen authorities; the decision was made by her editorial team shortly after Kadyrov labelled Milashina and human rights defender Igor Kalyapin as "terrorists" and "accomplices of terrorists."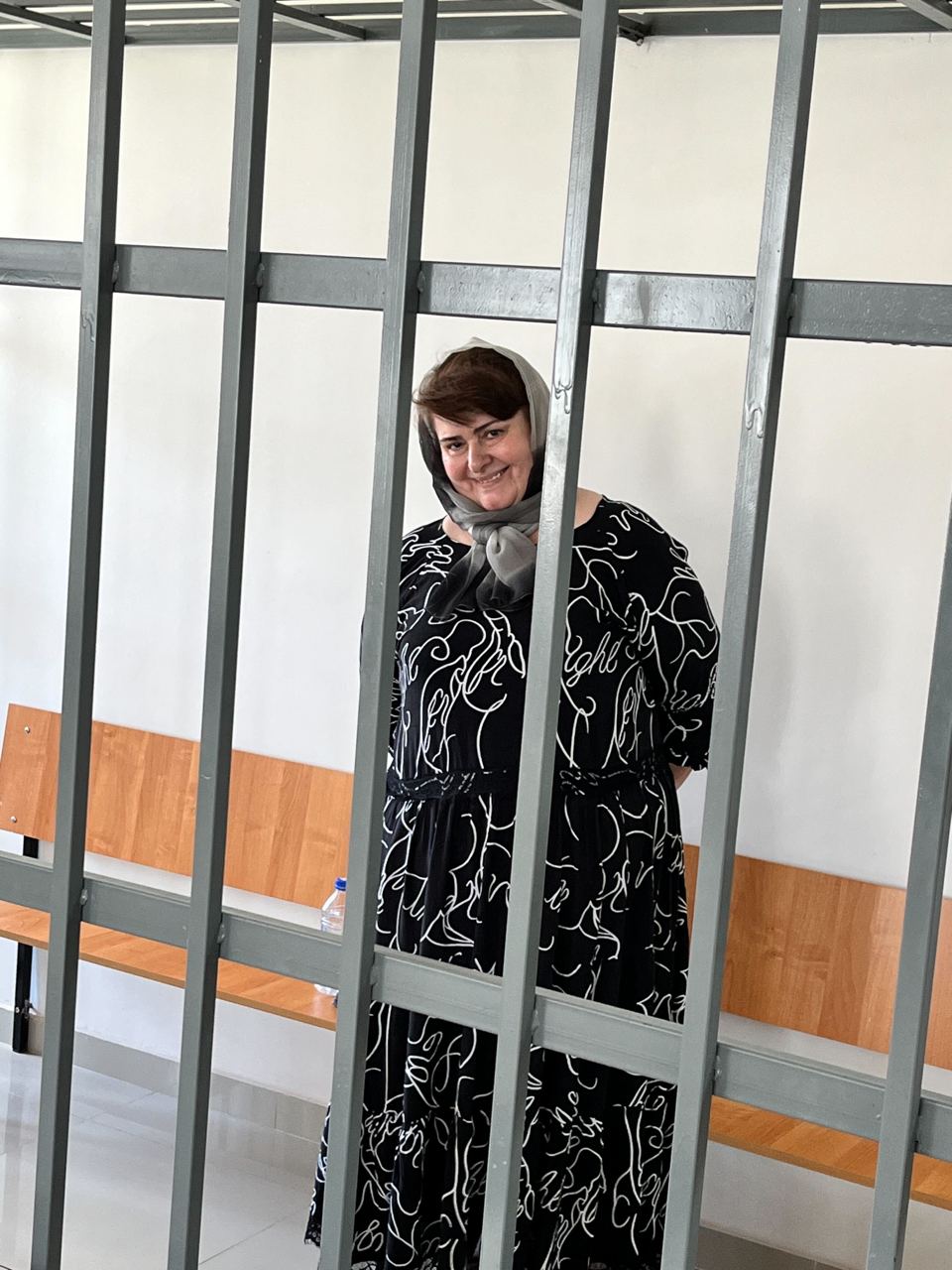 This time, Milashina and lawyer Alexander Nemov flew to Grozny for the verdict of Zarema Musaeva, the wife of former judge Saidi Yangulbaev, accused of assaulting a police officer. Their children—Abubakar, Ibrahim, and Baysangur—are considered by Chechen authorities as administrators of the opposition Chechen Telegram channel 1ADAT, which harshly criticises Ramzan Kadyrov. The beaten lawyer Nemov was defending Musaeva. The verdict was announced without him: the Ahmatovsky District Court of Grozny sentenced Musaeva to five and a half years in a penal colony.
Chechen Authorities vs. the Musaev Family
As reported by Kavkaz.Realii, the middle son of the Yangulbaevs, Ibrahim, is the owner of the 1ADAT channel, and the younger Baysangur also admitted that he is a contributor. Ibrahim Yangulbaev said that in 2015 he, his brother Abubakar, and their father were kidnapped and taken to Kadyrov's residence, where the head of Chechnya personally tortured him. The younger and middle brothers left Russia in 2018, and both are now on the Russian list of terrorists. The eldest son, Abubakar, worked as a lawyer with the Crew against Torture. He emphasized that he had nothing to do with the Telegram channel. However, at the end of 2021, according to him, the Chechen authorities kidnapped about 40 of his relatives and he also left the country.
By January 2022, former judge Saidi Yangulbaev, his wife Zarema Musaeva, and their daughter Aliya remained in Russia. In January 2022, Chechen security forces broke into their apartment in Nizhny Novgorod, claiming that the couple needed to be interrogated in a fraud case. Yangulbaev still had judicial immunity at the time, so only his wife was detained and escorted to Grozny. Attempts by the former judge to involve federal authorities and security forces were in vain: no one prevented the kidnapping of his wife. Saidi Yangulbaev and his daughter left Russia shortly after Musaeva's arrest.
Milashina was one of the first to report on the kidnapping, mentioning Musaeva's severe health condition.
Later, Kadyrov announced that on the way, 52-year-old Musaeva "attacked a police officer and almost blinded him," and a case was opened against her. The woman spent a year and a half in pre-trial detention, while her health condition constantly deteriorated, and in June 2023 she was hospitalized. Her eldest son publicly offered Kadyrov to arrest him instead of his mother.
In February 2022, a rally against the Yangulbaevs was held in Grozny, and portraits of members of the family were burned. The authorities of Chechnya claimed that the event attracted 400,000 people. On the eve of this rally, Adam Delimkhanov, a deputy of the Russian State Duma from Chechnya and one of Kadyrov's closest associates, held a livestream on Instagram, in which he talked about revenge on the Yangulbaev family. "We will leave a command to our descendants — to tear your heads off, to torment you, to kill you," he stated.
Chechen Authorities and the Attack on Milashina and Nemov
Akhmed Dudaev, Chechen Press Minister, spun a wild narrative about the attack. In a statement on Telegram, he labelled the incident as "unacceptable for our region," yet affirmed that Chechnya "has deservedly earned the status of Russia's safest region."
Dudaev raised questions like "if it's not beneficial to the Chechens or the authorities, then who benefits?" The attack, he claimed, could have been a plot to "discredit our country before the NATO summit in Vilnius," bearing "a signature style of Western special services." The minister asserted that "our agencies will do everything possible to identify persons who ordered and executed this egregious violation of law."
In a final twist, Dudaev attacked "public figures" and "liberal masses," accusing them of hypocrisy: "When Milashina insulted tens of thousands of our soldiers... we didn't see such a violent reaction from these public figures."
No criminal case has been initiated yet.
Editor: Maria Klimova