"As an anarchist, revolutionary, and a Russian, I found it necessary to take part in the armed resistance to Putin's occupiers. I did this for the sake of justice, for the protection of Ukrainian society, and the liberation of my country, Russia, from oppression. For the sake of all the people whom the vile totalitarian system created in Russia and Belarus deprives of dignity and the opportunity to breathe freely," Petrov wrote in a farewell letter, which he left to his comrades in case of his death at the front.
The publishers of this letter, Russia's "Combat Organization of Anarcho-Communists" say that Petrov was an fiery organizer activist. He was a founder of the Black Blog collective, which engaged with protests through both reportage and active participation: anarchists form this network burned construction equipment and police cars, military draft offices, and offices of United Russia political party.
Dmitry Petrov died on April 19, in battle defending Bakhmut. His death was confirmed a week after the fact. Petrov was 33 years old.
An anarchist and anti-fascist, historian and lover of the Russian North, environmental activist and street guerrilla, Kurdistan researcher, political emigrant and soldier who fought for the freedom of Ukraine; his friends and comrades say that Dmitry Petrov's life would be enough for nine. 
Anarchist, anti-fascist. "We must build anarchism in our own lifetime."
"Many consider anarchism to be a utopian idea. Dima was just saying that if we are anarchists, we really should build anarchism in our lifetime," recalls Petrov's long-time friend Ivan, another anarchist who left Russia. "If we don't strive to this, it's pointless to engage at all."
Dmitry joined the anarchist movement in the mid-oughts, in the midst of a ruthless street war with Russia's organized neo-Nazis. This was a time when dozens of people were killed, and hundreds injured every year at the hands of Russia's ultra-right, and extreme ethno-nationalists began organizing massive Russian Marches. The state preferred not to acknowledge them, but sometimes provided patronage, so that in those years the ultra-right grew comfortable in Russia.
"This young kid of about sixteen looked like a metalhead and would sit gloomily and silent at meetings (then, however, as soon as he started talking, he probably couldn't stop for ten or fifteen minutes). And there he was, somewhere by Proletarskaya metro station, sitting on some Nazi and just beating him monstrously until they drag him away." This is how Ivan describes the adolescent Dmitry.
The young Petrov didn't limit himself to clashes with the ultra-right. He quickly joined the protest movement, a significant portion of which included local environmental protests. Activists and residents fought against developers trying to cut down cherished parks and forests.
Pagan, eco-activist. "A fascist's 'love' for Nature is nothing but hypocrisy."
"He was engaged in protecting Bitsevsky Park [located outside Moscow], was against the wave of urban densification that occurred in the 2000s and 2010s... During this period, when residents were being forcibly evicted from their dormitories, he was among those who confronted the private security guards," recounts Dmitry Okrest, a journalist and friend of Petrov, who wrote about the mid-aughts in his 2022 memoir "Being a Skinhead: The Life of the Anti-Fascist Socrates."
The standoff over Bitsevsky forest, located on the outskirts of Moscow, is far from over. Despite the potential for significant environmental harm, local authorities recently resolved to gentrify the area. During the early 2010s activists vocally opposed the introduction of a new metro line that would cut through the forest; environmentalists fought against the redevelopment of other wooded areas around Moscow. Dmitry, in a LiveJournal post from 2009, issued a call to action, urging people to spike the trees with nails as a form of protest.
Nikolai, a fellow anti-fascist who crossed paths with Petrov in 2004, recalls that at that time Petrov and his anarchist friends were quite radical, tenacious, and "very dogmatic." "Dima was a proponent of pagan-antifa," he adds. "They actively promoted a blend of paganism and anti-fascism, which seems to align with his alias, 'Ecologist.' We often found ourselves working together on various ecological initiatives."
Many of Petrov's acquaintances note that his commitment to paganism wasn't just a passing interest. Petrov championed paganism as a "religion of freedom," with its roots "tracing back to epochs when neither states, castes, or any form of hierarchy existed." He argued that pagan traditions should be revived in Russia, to prevent neo-Nazis from "distorting the essence of traditional culture."
In his writings for the website "Paganism against Fascism," Petrov offered sharp criticism of the far-right: "It's not uncommon to hear from the ultra-right that they share a traditional pagan love and reverence for Nature. However, how can these individuals live harmoniously with Nature when their state-centric ideologies inherently necessitate competitive industrial development with other nations, and demand the total subjugation of both human and natural 'resources' to their State's interests?" He concluded, "A fascist's 'love' for Nature is nothing but hypocrisy."
The most notable and large-scale conflict of that period occurred in Khimki forest. Portions of the forest were being cleared for the construction of a toll highway connecting Moscow and St. Petersburg.
During this period, environmental activists faced opposition not only from police and security personnel but also from far-right football fans hired as enforcers. The pushback against the protests was brutal as violent attacks on opponents became the norm. For instance, the editor-in-chief of the newspaper Grazhdansky Forum (Citizen Forum) survived two assassination attempts before succumbing to a fatal assault in 2008 that involved ten stab wounds. Another example is Mikhail Beketov, the editor-in-chief of Khimki Pravda newspaper, who had publicly revealed threats from the local mayor; he was brutally beaten, which resulted in doctors having to amputate his leg and several fingers. Subsequently, he lost his speech and passed away in 2013.
Against this background, protesters too became radicalized. On July 28, 2010, a several hundred anarchists and anti-fascists marched towards the Khimki administrative building. They fired non-lethal rounds at the building, hurled stones and smoke bombs, and then fled after leaving behind graffiti in defense of the forest.
The security services failed to stop them but and responded by detaining environmental activists in the forest and initiating criminal proceedings against them. Evgenia Chirikova, one of the prominent defenders of the Khimki forest, attributed this radicalization of the movement to the policies of the authorities.
The relentless deforestation and the surge of repression against activists compelled some to resort to more radical, covert, and guerrilla-style actions.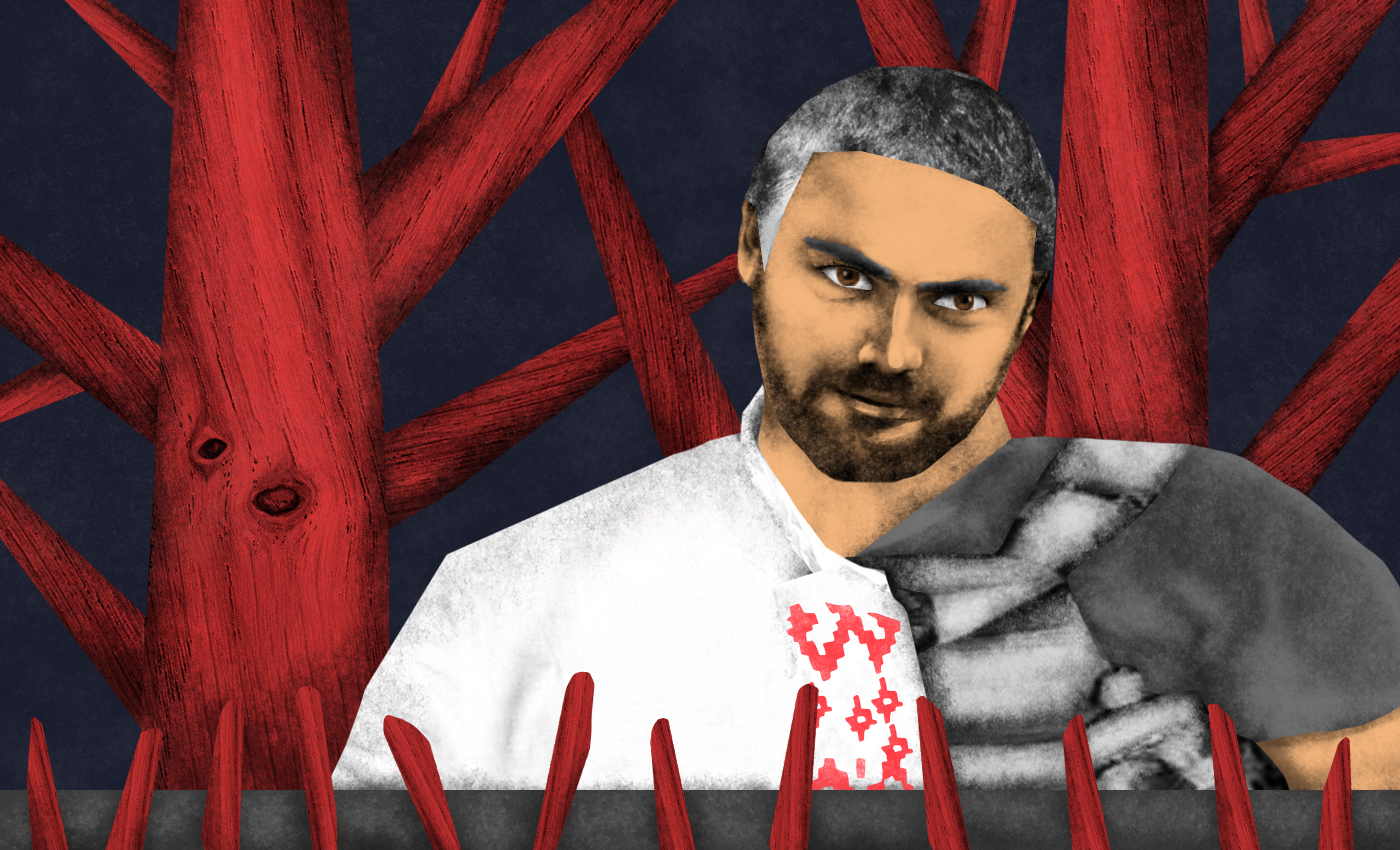 Guerrillero. "We are fighting for the people, against the state and its oppressive organs"
Anarchists from the Black Blog didn't stay on the sidelines. They carried out guerrilla-style raids in defense of the nature. Their tactics included setting fire to bulldozers in Khimki forest, construction workers' trailers in Bitsevsky Park, and a cottage in an elite community under construction in the Dmitrovsky District of the Moscow region. The original website is now offline but archived copies still exist.
The Telegram channel of BOAC (Combat Organization of Anarcho-Communists) identified Dmitry Petrov as one of these guerrilla activists. "Dima was at the forefront of the anarchist guerrilla movement in the late 2000s and he remained an active guerrilla every single day. Groups like People's Retribution, For Nurgaliyev!, and Anti-Nashi Action all had his participation. And yes, indeed, Dima was one of the founders of the famous Black Blog and was involved in all of their actions, including the sabotage of the traffic police post at the 22nd kilometer of the Moscow Ring Road."
"Dima's involvement with the Black Blog and BOAC only emerged only after his death," journalist Okrest notes. "He never mentioned it, I think, to maintain secrecy."
The Black Blog was known for documenting actions against law enforcement agencies, particularly arson attacks on police stations, police car lots, prosecutor's offices, and military draft offices—these attacks were carried out long before they became widespread across Russia in response to the country's invasion of Ukraine.
The guerrillas didn't spare the offices of the United Russia party or the pro-Kremlin movement 'Nashi.' Responsibility for these arson attacks was often claimed by groups with eccentric names such as 'Autonomous Dentists of Moscow City,' or more straightforward ones like 'Anti-Nazi Action.'

Dima's involvement with the 'Black Blog' and BOAC only came to light after his passing," journalist Okrest notes. "I think he kept it under wraps to maintain secrecy."
The 'Black Blog' was known for documenting actions against law enforcement agencies, particularly arson attacks on police stations, car lots, prosecutor's offices, and draft boards. These arson attacks were carried out long before they became widespread across Russia in response to the invasion of Ukraine.
The guerrillas didn't spare the offices of the United Russia party or the pro-Kremlin movement Nashi. Responsibility for these arson attacks was often claimed by groups with eccentric names such as Autonomous Dentists of Moscow City, Bitsa Green Roger Patrol, or more straightforward ones like Anti-Nashi Action.
In December 2009, the editorial office of the major newspaper Komsomolskaya Pravda was attacked for "promoting fascism." Assailants threw stones and smoke bombs at the office. Dmitry the Ecologist expressed his approval of this action on his blog, accusing newspaper reporter Dmitry Steshin of collaborating with ultra-nationalists, and other journalists from the publication of "promoting Nazism." (Steshin was indeed close to neo-Nazis from BORN, or Combat Organization of Russian Nationalists, and aided the gang leader, Nikita Tikhonov, who is now serving life sentence for the murder of a lawyer and a journalist in Moscow)
"Dmitry was the kind of person who was quite radical in his methods and words. A passionate individual," recalls anti-fascist Nikolai. "Such individuals were not in high demand 15 years ago, but in 2022, they certainly are."
The most notable operation carried out by the Black Blog occurred on the morning of June 7, 2011. An explosion took place near a traffic police post at the 22nd kilometer of the Moscow Ring Road. According to BOAC, Petrov was among the participants. The explosion resulted in no casualties, and only minor damage was inflicted on a booth in the yard. Anonymous anarchists claimed responsibility for the explosion, and their message was posted on the Black Blog.
"We chose the location and time so that no residential buildings were nearby and no innocent bystanders could get harmed. Moreover, the device was positioned in such a way that passing drivers wouldn't be hurt," the attackers wrote. "Therefore, don't believe it if someone says or writes that we're fighting against society, against people. We are fighting for the people, against the state and its oppressive organs."
Ethnographer of the Russian North. "Someone once compared him to Kropotkin, a prince-anarchist and a scientist."
Petrov was not only involved in anti-government activity. He was also an anthropologist who loved and studied the Russian North.
"Dima was unique among the anti-fascists of the 2000s," Okrest recalls. "Someone compared him to Kropotkin, a prince-anarchist and a scientist, because Dima was also accomplished in his scientific work. He was primarily an ethnographer, an anthropologist who researched the intangible heritage of Russian peasants. He also conducted numerous educational courses, workshops, and other activities throughout the 2000s, 2010s, and 2020s."
After graduating from the History Department of Moscow State University, Petrov obtained a Candidate of Sciences degree in history and worked as a researcher at the Institute for African Studies of the Russian Academy of Sciences. He went on ethnographic expeditions both to the Russian North and to the central regions of Russia. Numerous accounts of his expeditions can be found on his LiveJournal page, interspersed with calls to spike trees and join environmental protests, reflections on paganism, posts about the fight against Nazism, and acts of solidarity with persecuted anarchists in Ukraine and Belarus.
For instance, in December 2014, he wrote about his visit to the old town of Uglich. "There are three churches in the Uglich Kremlin," he noted. "Somewhere here, the horrific murder of young Tsarevich Dmitry occurred, marking the onset of the Time of Troubles, or Smuta. The canonized Tsarevich is now commemorated on the Uglich coat of arms. The western part of the Kremlin is virtually free of buildings—there's a small grove and a pond. This area isn't bustling with tourists or traders. You can stop by, escape the noise, gaze at the Volga River, and... experience the spirit of ancient Uglich. Don't pass this place up if you're in the vicinity."
He defended his dissertation on the "sacred geography" of villages in the eastern part of the Arkhangelsk region.
"Dima had an extensive knowledge of Russian history and the history of his region," says Alina Yakovleva. "We were once together in Petrozavodsk, Karelia, and he spent hours discussing the local petroglyphs. He also knew a lot about various belief systems, including pagan ones. He himself was a pagan, I believe. He found inspiration in it because he recognized the connection between nature and humans."
Protester in Russia and Ukraine. "He didn't just go with the flow, he contributed to shaping the flow."
In December 2011, a wave of protests broke out in Russia in response to rigged parliamentary elections. According to his acquaintances, Petrov promptly took to the streets and remained actively involved throughout the entire Bolotnaya protest movement.
The protests, which attracted tens of thousands, essentially concluded on May 6, 2012, a day prior to Vladimir Putin's inauguration for his third term as president. The "March of Millions" ended with clashes between police and protestors. The authorities reacted with large-scale repression, launching the "Bolotnaya case" and significantly tightening laws regarding protests.
In the subsequent year, the number of demonstrations dropped. The last noteworthy protests during that period were in response to the sentencing of Alexei Navalny in the summer of 2013 (the court decision was immediately reconsidered, and Navalny even managed to register as a candidate for the Moscow mayoral elections).
In Ukraine, the Maidan movement erupted towards the end of 2013. Intense protests broke out due to Ukraine's sudden withdrawal from negotiations regarding an association agreement with the EU. These protests lasted several months and eventually resulted in the removal of pro-Russian President Viktor Yanukovych. Dmitry Petrov could not remain indifferent, so he traveled to Kyiv.
"I think he arrived even before the New Year and before [February 20, 2014 when] there was a shooting on Institutskaya street, he was there at that moment too, on Maidan," says Dmitry Okrest.
Another acquaintance, Vladimir Platonenko, wrote on the website of Autonomous Action that Petrov "participated in organizing the Ukrdim, delivered food, and even took part in the clashes on February 18." He also attempted, together with other activists, to establish the "Left Hundred" on the Maidan.
"He didn't just go with the flow, he contributed to shaping the flow as much as he could," writes Platonenko. "This applied not only to what was happening in Ukraine, but also to environmental protests and actions and the fight against urban development. He tried to see beyond individual issues and transform the fight against one of the system's manifestations into a fight against the system itself."
In March 2014, Russia used the Maidan protests as an excuse to annex Crimea and began to actively support armed separatists in eastern Ukraine. This initiated a war that, nine years later, when Russia launched a full-scale invasion of Ukraine, would cost the anarchist Petrov his life.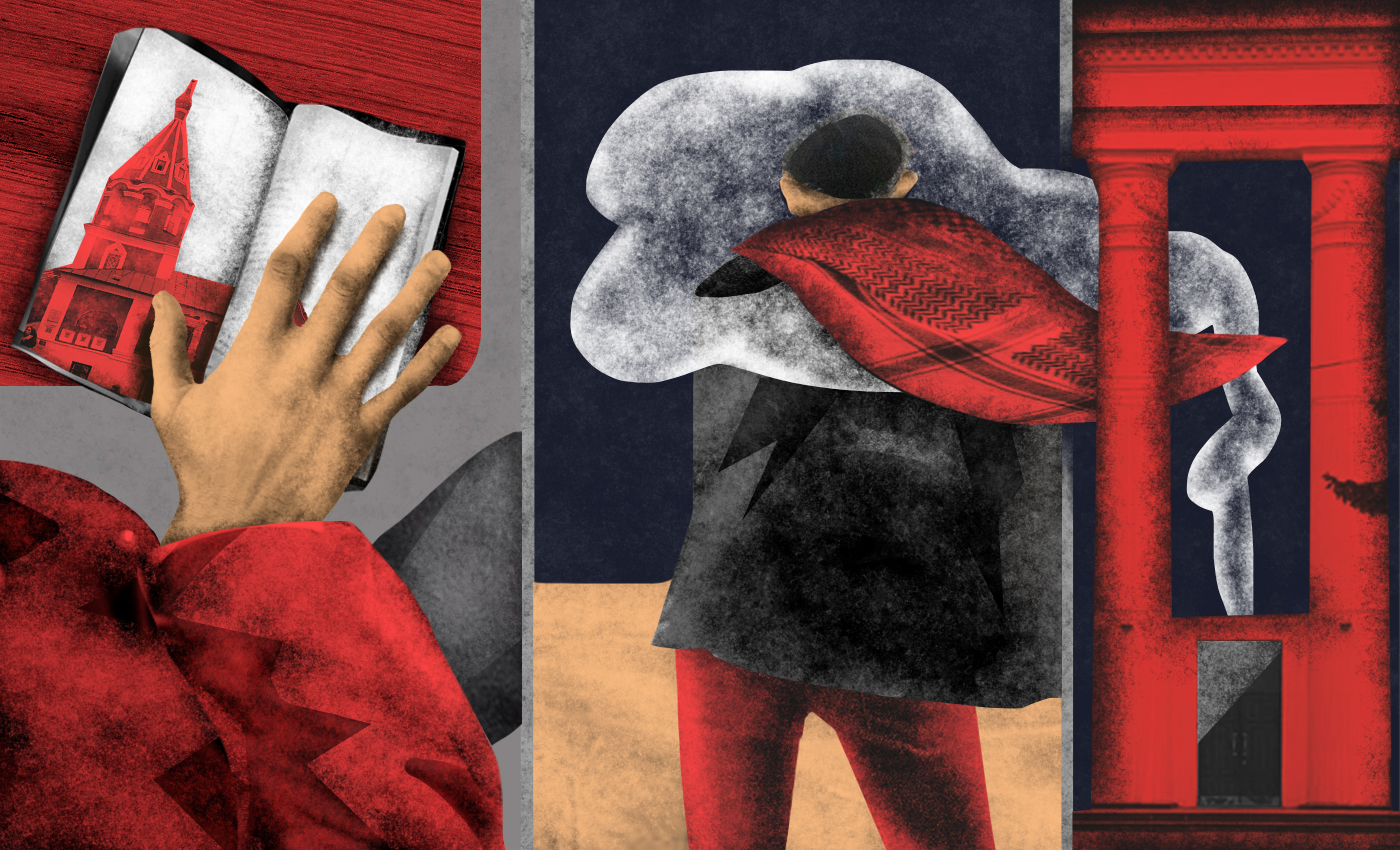 Anthropologist in warring Kurdistan, "great friend of the Kurds."
After the Maidan, Petrov redirected his research towards Kurdistan, intrigued by the Kurdish forces' significant role in the fight against the Islamic State during the war in Syria. Petrov, both as an anarchist and as an antropologist, was drawn to Rojava, a Kurdish enclave founded on self-government, anarchism, and gender equality principles.
"Rojava is a libertarian project that has garnered much attention from anarchists due to the war in Syria and rising authoritarianism in Turkey," says Alina Yakovleva, who assisted Petrov with editing anthologies on Kurdistan. "When ISIS initiated its jihadist campaign in the region, the Kurds stood as one of the strongest resistance forces. In essence, they battled three regimes: Assad in Syria, Erdoğan in Turkey, and ISIS. They managed to do so effectively while maintaining democracy within their community."
Petrov studied societal life in Kurdistan, scrutinizing the educational and healthcare systems and women's political roles. He questioned every detail, aiming to validate theories through practical experience, while living by his ideals and advocating for them at the grassroots level.
Petrov studied the Northern Kurdish dialect, traveled to Iraqi and Syrian Kurdish regions, wrote papers, and edited books about the region. His fellow BOAC members also claim he trained in Rojava and participated in the Kurdish liberation struggle.
Upon his return, Petrov lectured about the region, edited anthologies such as "Desert Flowers: 10 Years of the Revolution in Rojava" and "Life Without a State: the Revolution in Kurdistan," and started a research project Hevale.
"Dima was the only Russian Kurdistan researcher who genuinely understood this struggle," lauds a female author on the "Woman, Life, Freedom" Rojava Telegram channel, calling Petrov a "great friend of the Kurds."
Speaking about the Kurdish revolutionaries, Petrov said, "These are people who have dedicated their whole lives to the struggle and have achieved a lot. They're devoid of any pathos, don't seem traumatized by war. They exude calm, conviction, and inner strength." Petrov also confessed being humbled by their erudition, admitting, "I was surprised to find that some Russian books were read by PKK partisans, but not by me."
Russian anarchist in Ukraine. "Zero toxicity, only a balanced stance and arguments."
Around 2018, Dmitri Petrov was compelled to leave Russia and relocate to Ukraine. His departure was under duress: a new wave of repression against anti-fascists and anarchists had commenced, which included the high-profile Network case. Like many other activists across the nation, Petrov found himself on the radar of law enforcement agencies.
"In truth, he was reluctant to leave Moscow... he stayed put until the threat became immediate," remembers Okrest. "The desire to return was ever-present in him. He vehemently refused to be seen as a victim and strongly disliked the label of a 'political refugee' applied to him."
Alex, a Ukrainian anarchist, recollects that once in Kyiv, Petrov promptly established a film club for activist communities. He took part in demonstrations backing Kurdish revolutionaries. Alex describes Petrov as "very gentle" in his interactions, and it was through this relationship that Alex learned of Petrov's involvement in the BOAC and his underground activism in Russia during the 2000s and 2010s.
"It's quite challenging to reconcile his audacious past with the warm impression he left through personal interactions," Alex muses. "Dmitry lived in Ukraine for the past four years, but his identity always included both the 'Russian' and the 'anarchist.' We often engaged in debates over language, Russian imperialism, and nationalist tendencies in Ukraine. But he was a person who knew how to listen during a conversation. There was no toxicity, only a balanced stance and valid arguments. I have only warm recollections of him as an individual. It appears he lived countless more lives beyond the one I was fortunate enough to witness."
Others who knew him also highlight that Petrov took pride in his national identity, which is unusual among anarchists. His comrade, Konstantin, clarifies that this "didn't involve any nationalist sentiments."
"He was a pagan; religious ideas and motifs were not alien to him. Well, presumably, since paganism is traditionally associated with Russian or Slavic customs, he embraced it quite early and remained faithful to it," explains Konstantin. "And he believed in an afterlife, that those who fall with weapons in their hands are admitted to Valhalla, a kind of heavenly abode."
Last autumn, Konstantin fought alongside Dmitry Petrov near Svatove and Kremenna in Donbas. After Russia's invasion, the anarchist took up arms and headed to the front lines to combat Russian authority.
BOAC member. "Our creation, born out of a steadfast belief in organized resistance."
Petrov carried his urban partisan experience in Ukraine forward. Despite the closure of the Black blog in 2019, a parallel Telegram channel emerged, featuring similar themes.
In June 2020, the anarchist group "Smelchaky," or "The Brave," took responsibility for setting the main investigative department of the National Police in Kyiv on fire, as announced on the "Anarchist Fighter" website. Previous actions involved setting a Turkish operator's cell tower on fire as a protest against military operations in Rojava and burning an excavator of a tree-cutting company in the Kyiv region.
As protests surged in Belarus in 2020, Petrov risked crossing the Belarus-Ukraine border illegally to participate—the danger of being deported back to Russia was very real. Belarus anarchists from Pramen group noted Petrov's "involvement in dozens of marches, organizing anarchist blocs at demonstrations, and even deploying police noise grenades against the police."
Okrest recalls Petrov as a cautious yet determined person. "Despite the general apathy of his generation, he continued to be active," Okrest noted. "Many were shocked that he was on the front lines."
After Ukraine's invasion, the BOAC appeared, advocating for sabotage and armed resistance in Russia as a way to end the war. They claimed responsibility for several attacks, including setting fire to a mobile communication tower, sabotaging a railway track leading to a Ministry of Defense center, and a diversion on a railway leading to a military unit.
"We call on everyone to join the rail war!" they wrote after the sabotage near Kirzhach, Vladimir region. "Every stopped train means fewer shells and rockets that could have hit peaceful Ukrainian cities."
In a letter prepared for his possible death on the front lines, Petrov asserted his commitment to the BOAC, saying it was their creation, born out of a belief in organized struggle. He proudly recognized his comrades continuing the fight in Russia and beyond its borders.
BOAC activists say that Petrov was instrumental in the launch of the organization. "I am and will remain, even in death, a member of the Combat Organization of Anarcho-Communists," Petrov asserted in a letter, penned in anticipation of his potential death on the front lines. "BOAC is our creation, born out of a steadfast belief in organized resistance. We've succeeded in guiding its activities across state borders. I've devoted all my strength to contributing to the defeat of dictatorship and the realization of a social revolution. I take great pride in my comrades who persist in their struggle, within Russia and beyond."
Ukrainian volunteer fighter. "Expelled by the very monsters now trying to conquer Ukraine."
In a fiery Facebook post at the start of the war, Petrov urged, "Make any contribution, however small, to halt this war and the crazed tyrant who initiated it. Each step in Russia right now is worth its weight in gold. I know and believe that many millions of my countrymen do not condone the ongoing madness. Don't remain indifferent and apathetic while our passive (dis)agreement allows the Russian state to kill innocent people."
After February 24, Petrov began publishing sketches, first about life in wartime Kyiv, then about his combat routines. Come October, on the frontlines, Dmitry posted photos of items discarded by Russian soldiers fleeing Kharkiv. "Stumbling upon a pile of untouched 'Holy Source' water bottles, I felt a pang of homesickness... expelled by the very monsters now trying to conquer and obliterate Ukraine... I've found heaps of army rations, rolls of St. George ribbons, and military uniforms. In a few operational shops, you can discover goods from Russia or other occupied territories. Yet, such 'greetings from home' elicit only mixed feelings."
Ukrainian anarchists were already bracing for the war even before February 24, recalls journalist and Solidarity Collectives member, Sergiy Movchan. Activists decided that should Russia attack, some would join the territorial defense, while others would foster a volunteer movement to support the fighters. Dmitry Petrov was present during these discussions. In Ukraine, he was known as Leshy, rather than the ecologist or the ethnographer, (he later gave interviews from the front lines under the pseudonym Ilya Leshy).
Upon the invasion, Leshy found himself in Kyiv region's territorial defense, attempting, alongside other anarchists, to form an "anti-authoritarian unit."
"He always emphasized that we're not fighting peoples here, we're fighting the regime," Movchan recollects. "He detested the hostility directed at Russians in general. Soldiers, authorities, propagandists—that's one thing, but he stressed that our fight includes the freedom of Russian people. He remained an internationalist until the end. And I thought that after the war, he would be among the people we would engage in the political life of Russia, Ukraine, and Belarus."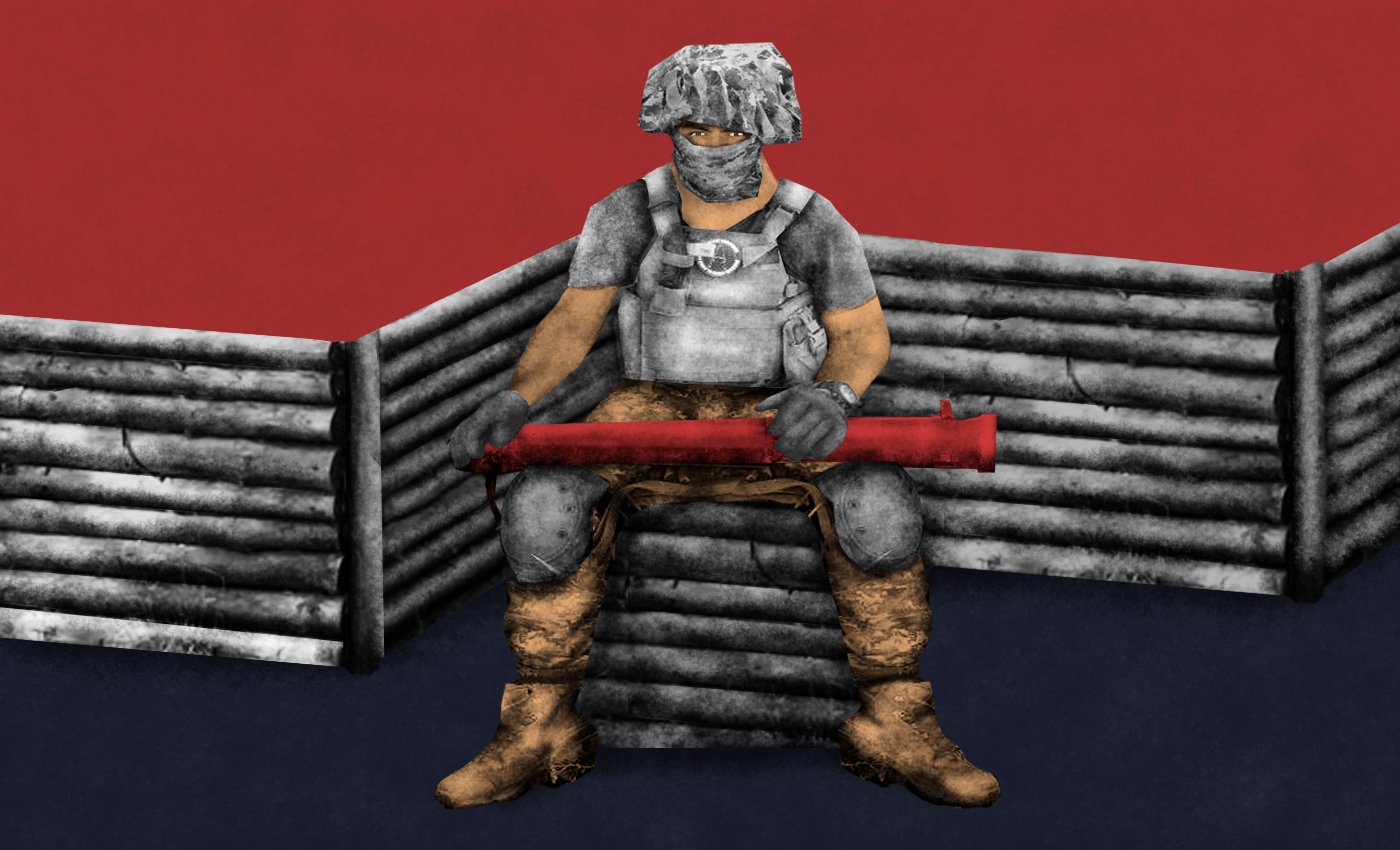 Dmitry didn't reach the front line immediately. For several months, they awaited deployment to the combat zone. When this didn't happen, many started seeking individual ways to reach the front.
"Dmitry was never a military enthusiast for the sake of it," shares anarchist Alexei Makarov. "For him, the crucial part was not only defending the Ukrainian people—it was a humanitarian duty—but also the political aspect. War participation was meant to advance the anarchist movement in Ukraine and across the post-Soviet space. He believed anarchists should become a recognized force in both Ukraine and Russia."
Alexei Makarov, a political exile and former National Bolshevik Party activist, had faced criminal charges at 17 after a clash with members of a pro-Kremlin movement. After nearly two years in jail awaiting a verdict, Makarov was released and fled to Ukraine, fearing further prosecution. He immediately started opposing pro-Russian forces and in 2011, was convicted in Ukraine for attacking a pro-Kremlin TV channel in Odesa. Upon release, he nearly faced extradition to Russia, but managed to secure asylum in Sweden, thanks to human rights activists.
In the summer of 2022, Makarov returned to Ukraine to defend the country, armed and ready. Alongside Dmitry Petrov, he joined one of the battalions of the 95th Separate Airborne Assault Brigade of the Ukrainian Armed Forces. By August, both were on the front lines.
"We weren't Ukrainian citizens, so formal enlistment was quite challenging. We were brought on as volunteers, which meant no salary or social protections," Makarov clarifies. "At that time, we were directed towards Izyum, in the Donetsk region. When the offensive commenced [in September], we began moving towards Svatove and Kremenna. From mid-October, our unit actively participated in assault operations on the Svatove lines. From early December through February, battles occurred almost daily."
Makarov describes Petrov as "extremely congenial," attentive to his comrades, and "practically the ideal soldier." "Always the first to rise, to stoke the stove, never asking 'Why are you sleeping while I light the stove every day?'" Makarov chuckles. "He was also a superb organizer and knew how to inspire people, but was completely devoid of toxic masculinity or any authoritarianism."
Reportedly, Petrov sought to incorporate some ideas drawn from Kurdish revolutionaries during the war. In an interview with DOXA, under the pseudonym Ilya Leshy, he discussed conducting tekmîl—a session of critique and self-critique where command decisions and the training process were evaluated. They also elected deputy commanders in their units who could relay critical comments to higher ranks. Dmitry mentioned that the unit he fought with in the Ukrainian Armed Forces lacked "distinct democratic institutions," but the commander, in his view, was close to anarchism, promoting a democratic atmosphere.
He confessed missing loved ones, a familiar social circle, and the ability to be alone, to distance his thoughts from the war or roam freely. "A year on, I can affirm that war is a profoundly draining undertaking. The last few months were particularly taxing: from December, we were heavily engaged in combat actions and faced escalating pressure. But I am spurred on by the belief in our cause's righteousness and the example of revolutionary organizations whose guerrillas have been fighting not for one year, but for decades."
Petrov evaded being wounded in the battles, but his fellow fighter Konstantin recalled a close call where he narrowly avoided being run over by a retreating tank: "During an assault operation, his group was supposed to mount the armored vehicle. Things went awry, they disembarked, and the tank began to retreat. The driver relies on his screens, so infantry must exercise extreme caution around the tank. It moved towards the soldiers, Dmitry failed to dodge, but luckily there was a pit there filled with fallen pines. He managed to leap into that pit, and it appears the logs protected him."
In early March, Dmitry Petrov and his fellow anarchists returned to Kyiv. His stay in the city was brief—only a couple of weeks. Konstantin remembers them discussing the need for rest, everyone yearning for a little peace. But the "new military project" Petrov joined seemed promising enough to realize the dream of an anarchist unit.
"He relished simple, human pleasures—a hearty dinner with a glass of wine, and such. He was not a fanatic," Konstantin notes. "Upon returning, he didn't immediately plunge back into challenging conditions. But he viewed the opportunity to create this anarchist unit as critical—superseding any personal desires, any attachments to everyday life. So, he exhibited tremendous willpower by returning to war. He was fearless and, in many respects, somewhat of a knight."
Death during the defense of Bakhmut
The new unit in which Dmitry Petrov found himself was sent to defend Bakhmut.
On April 19th, Petrov and two of his comrades—Irish anarchist Finbar Cafferkey and American Marine and left-wing activist Cooper Andrews—died near Bakhmut. Finbar, also known as Chia, which translates from Kurdish as 'mountain,' bore some similarity to Petrov. Back in his homeland, he participated in environmental protests and fought against the construction of an oil pipeline.
"They were engaged in the assault," reveals Alexey Makarov, who learned the details of his friend's death from comrades in Kyiv. "It was the road between Bakhmut and Khromove, and in April, it witnessed the fiercest fighting because there were attempts to cut off the road. They stormed enemy positions to drive them back from the road. They did a great job and accomplished their combat mission, capturing the positions by storm. But then they came under heavy mortar shelling."
The bodies of Leshy and the others were not recovered for some time. According to Makarov, this position changed hands throughout April. In May, the Ukrainian military "finally pushed the Russians out of there," leading to the identification process of the found bodies.
"If the bodies are found, there will be a lengthy identification process," Makarov elucidates. "Especially since a lot of time has passed. And given the frequent change of control in this area, there were many casualties of both Ukrainian and Russian soldiers."
Makarov plans to return to Ukraine shortly. "In essence, I consider it my duty to continue Dima's work—that is, to work for the organization of the anarchist movement and the unification of anarchists into a separate unit. That was our shared goal, though we had a sort of division of tasks, so to speak. But with Dima's passing, I will definitely return."
"The anarchist movement is quite peculiar, highly fragmented. Dmitry aimed to unify it, dedicating all his time and energy to it," says Andrey, a friend of Petrov fighting for Ukraine. "You know, he was like those old revolutionaries from books who devoted everything to their cause. He was more of a Modern Age person rather than from the current era."
Before heading off to the front, Petrov left a letter to his comrades in BOAC, to be made public in case of his death.
"My dear friends, comrades, and relatives, I apologize to everyone who has been hurt by my departure," Petrov wrote. "I highly value your warmth. However, I firmly believe that the fight for justice, against oppression and injustice, is one of the most noble meanings a person can fill their life with. And this fight requires sacrifices, up to complete self-sacrifice."
He asked his loved ones to "continue the active struggle for a free society based on equality and solidarity." "The risks, hardships, and sacrifices along the way are our constant companions," he conceded. "But rest assured—they are not in vain."
"For me, victory is primarily an uprising in Russia, it is a military defeat of Putin's army. I have a dream that this should result in our long-suffering Russian society rising up, standing tall and shaking off the shit that we have been forced to carry for more than 20 years," Petrov stated on a podcast before his death.
At that moment, he was already on the front line and was giving an interview, covered by a rain-tarp underneath a tank.
"I sincerely hope for this. This is one of the primary reasons why I am here," the anarchist explained. "In order to personally contribute to the defeat of this monster, which has now spilled out so horribly beyond the border of the Russian Federation and which, I hope, will break its teeth and break its spine here."
Editor: Egor Skovoroda
Translation: Jack McClelland, with Daria Fomina