I lived in the Khovrino district, on Levoberezhnaya street. It's a territory that was bought out by the Ministry of Defense, to build so-called military apartment housing, to give soldiers the chance to buy an apartment through a mortgage. And we've got one block that's known as the military dormitory: it's all service apartments. That's the block I lived in, so I was part of an online group chat, and recently I joined the group for people in all the buildings of our development. It had over a thousand participants. That's the chat used for ongoing fundraising for any prostheses or direct financial aid for injured soldiers. But I joined more so for news in our community, exchanging and buying things off neighbours, and I hardly ever used it for anything else.
I'm a general practitioner, I graduated from the Russian National Research Medical University named after N.I. Pirogov, with honours. But my partner is a military man, so we lived together in one of the service apartments in our block. I moved in a year ago, joining him a while after he moved in himself, but we're not married.
So this is how it all began: I accidentally opened the chat, but a message about a caretaker for an injured soldier caught my eye. It had a vile suggestion in the end: 'Better get one [caretaker] with a C cup [bra], got to be easy on the eyes for the brave man's entertainment.' And that's what got me, I said: 'He could have stayed healthy if he had just stayed out of the war.' I wasn't tagged in the message, it wasn't addressed to me, but I felt the need to join the discussion. I immediately got a response: 'It's best to open your mouth only when you've got a smart thought to share.' I believe it was [my neighbour] Svetlana. I replied with sarcasm, a pointed remark, I decided it's only fair to say something hurtful in response to something hurtful. Then Svetlana wrote: 'I'm blocking IT', and I only had the chance to reply: 'You're all fucked up' before I was blocked.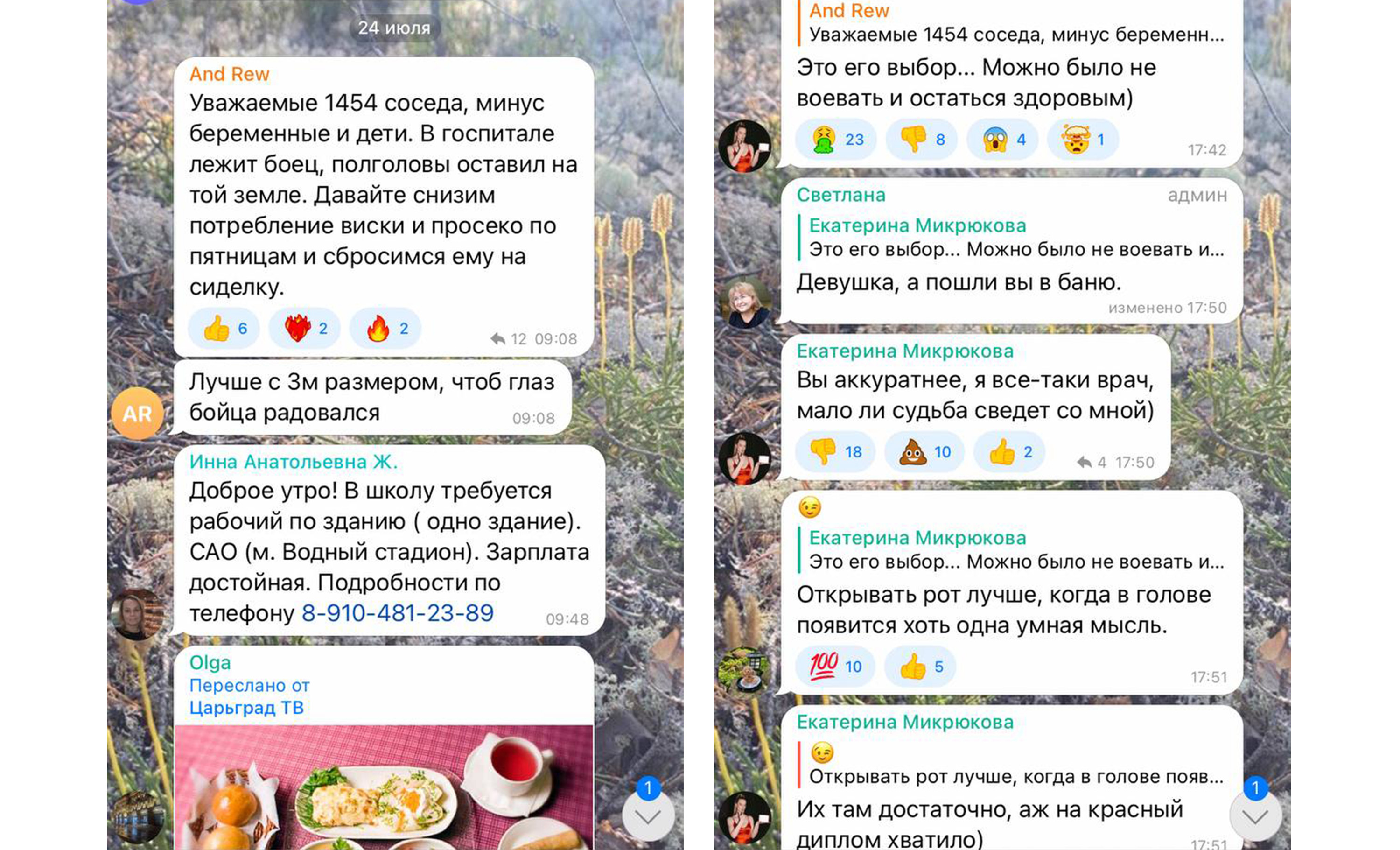 And so the onslaught began, the Telegram messages I received read: 'You're a piece of shit', 'Cunt', 'Khokhols' whore'. At first screenshots from the group chat emerged in The Bayraktar Witnesses, a Telegram channel dedicated to wartime news. Then someone wrote a monologue, and it was reposted by someone, maybe Andrey Medvedyev. I don't know these people. And then followed the spam attacks, automatic phone calls and so forth.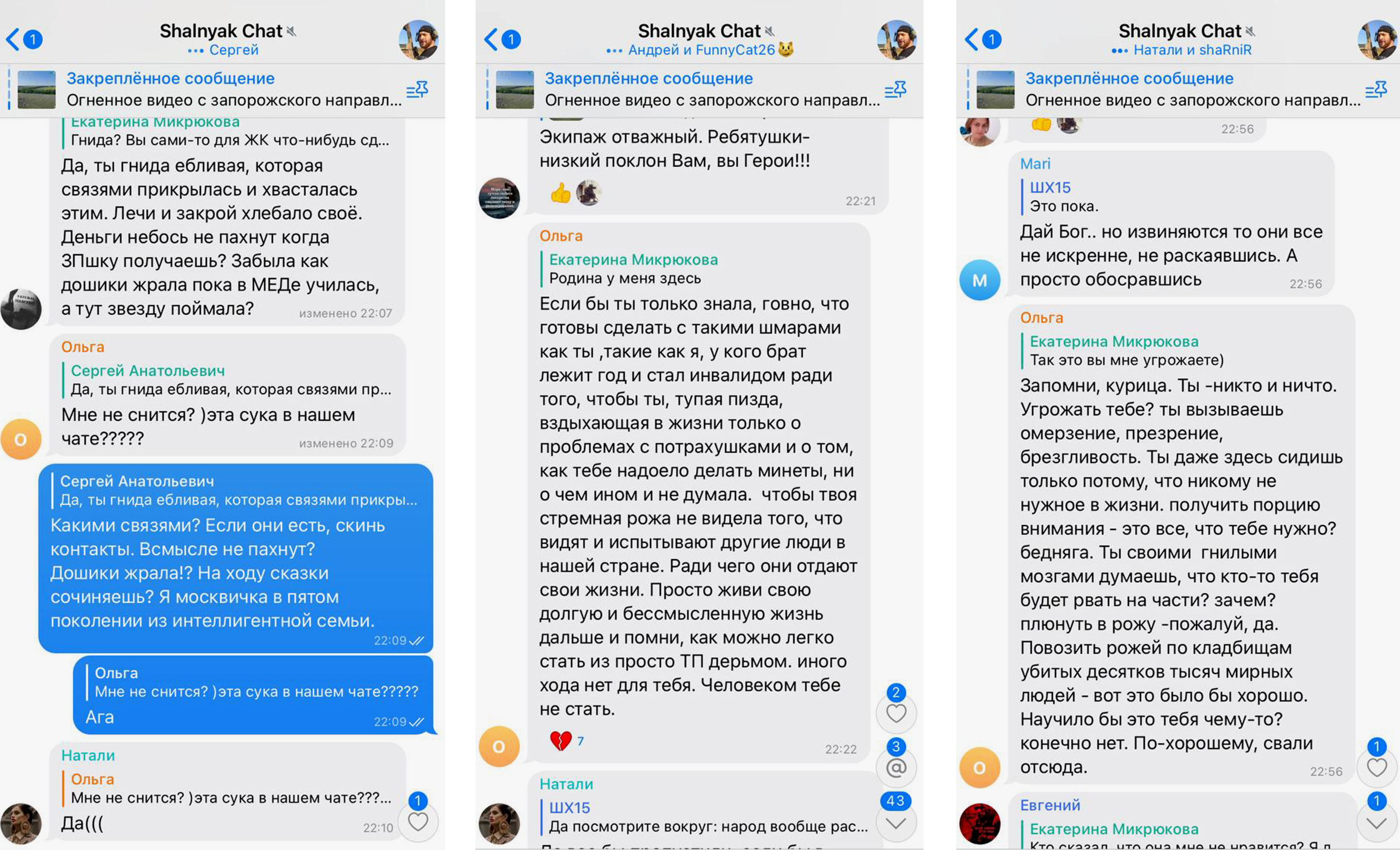 I started a direct online chat with lots of them. What did they do? Nothing, really, all my arguments were met with death threats. I blocked most people, on Tuesday alone I got at least 500 messages, it then dwindled to 300-400. Threats, insults, I got them all: 'I'll give you a life lesson, I will find you and give you a good one.' Then they even got to my sisters, they messaged my dad.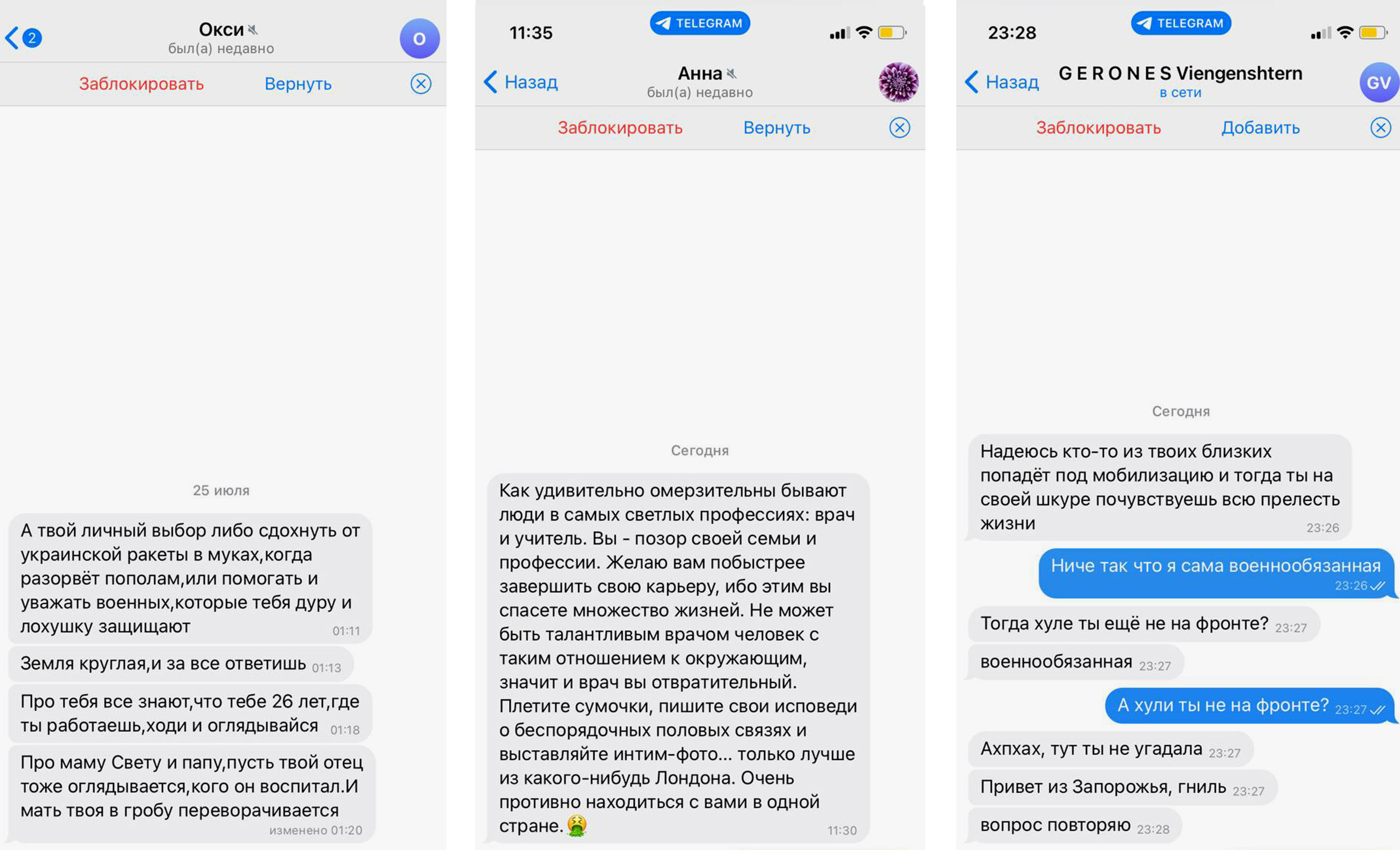 Gemotest, the company where I worked as an administrator, summoned my manager. They tried to come up with a solution for this mess. My manager didn't give me the details of where the meeting was. To my understanding, it wasn't Gemotest's security service but somewhere else. So he said: 'Due to security concerns it's important that you aren't associated with the clinic.' I understood where he was coming from — he was a great manager — I said: 'Well, I understand, there's no need to take this out on the clinic's reputation.' And I was fired, right after signing a letter of resignation.
My partner broke up with me because of this scandal, so in the span of a single day I moved back to my apartment, and the day after that I left the country. Right from the beginning he told me: 'Don't participate in any chats', and I didn't listen. Eventually he said: 'I'm so done with this, you're only thinking about yourself here. What if I lose my job? What if I don't get my bonus—then it's all going down the drain.' In his opinion, I'm being stubborn and nosey. Because he treats his duty seriously, he understands his place. But that was his choice, so he's still carrying out his duties.
But there were other reasons for our breakup. He thinks that I should've kept it to myself. On the other hand, he didn't agree with the way I was treated either, but didn't take any steps to find out who started the bullying campaign. But the wave of hatred upset him, he got angry.
When I just moved into that house a year ago, I installed bookshelves for a sort of library for book swapping, for exchanging clothes and furniture in the lobby. I tried to make it more lived-in, added dried flower bouquets and art on the walls. I got into loads of fights with the managing company, because nothing gets done properly there—not enough funding from the Ministry of Defence.
One time, I took all the pictures of potential hazards and imperfections of our block and filed 50 complaints at Our City. It's a great portal for these sorts of complaints, but since it's the ministry's territory, it was out of their control and they couldn't help. But still, they were able to help with some things.
Now there's at least a decent groundskeeper, otherwise nobody wants to do it because of low wages. We fought for a long time to get stuff fixed: blown out light bulbs, broken intercoms, lifts. It took us a year to get an extra trash container, considering that there's always ongoing renovation and lots of construction rubbish.
Almost everyone is fine with it. For example, when I moved in, all the buttons on the lift were covered with scotch tape, to keep them clean when the lift was painted. But nobody thought to remove the tape. I took care of my floor, gave everyone doormats, mopped and swept. But these efforts quickly got buried with construction rubbish, so after a while I gave up. A little while before the scandal I organised a fundraiser for a fence, 25,000 rubles. My ex-boyfriend finished its installation in the backyard only after I had already left.
I'm not afraid of anything now, after my mother's death nothing can faze me. I'm more worried about any repercussions on my family, they shouldn't suffer because of me.
I love Russia, I'm a patriot. But a love for one's country and a love for one's political regime, I think, have been very different things for a long time now. I'm a Muscovite, my family has been for five generations now, I adore Moscow and believe it to be the best city in the world. But I also understand precisely why Moscow is so cool, and, as a Moscovite, I would reject the indulgent governmental funding if I could. I would redistribute the money and help other regions of Russia, Moscow has got more than enough.
I wouldn't say I'm a political person, politics seems like a massive thing, something I wouldn't be able to fully grasp, let alone geopolitics. I don't even get into it—one will never know the truth because there are only moral principles at play. Of course, war is a bad thing, and attacking a country that is no direct threat to yours is wrong. Same goes for deciding an entire country's fate. War is only acceptable as a means of defence, when posed with a real threat. Everyone knows that the conflict with Ukraine was swelling for a long time, but that's no reason to react in such a way. But wars are part of human nature, they have always been with us and will stay with us.
Now I'm in Turkey, living with vegan friends, whose views on war are the same as mine. They're renting a flat here. What are my plans? Returning to Russia. When? It's difficult to say.
My grandfather was Ukrainian, from Popovka village. Thank God he didn't live to see what's happening now.
Editor: Maria Klimova
Translator: Anna-Maria Tesfaye