The picture from FSB's press release depicts a young woman with blue hair and a blurred face, with a heart-shaped pin in the colours of the Ukrainian flag on her chest, sitting in a cage for the accused. That's 24 year old Polina Yevtushenko from Tolyatti, in the Samara region of Russia, who was arrested on July 13 for treason.
According to FSB, she 'advocated,' 'published propaganda content, geared towards creating a positive image of the Ukrainian army's structural unit,' and published 'instruction on how to surrender.' There isn't any other information about the accused.
"When I met her, she had green hair," says Oksana Terentyeva, Polina's former coworker from a mobile operator named Yota. "Then I saw blue, sometime before me she also had [dyed her hair] red and purple. Otherwise Polina is a natural blonde. One time she ordered a long blonde wig, excitedly came to me to show it off. We were the only ones working the shift, so we turned on music on the TV, sang." 
Oksana learned about her former coworker's arrest through Telegram news channels. Polina left Yota at the beginning of this year, so the women barely kept in touch. "But I couldn't believe it then. I called Polina, but the number was unavailable," Oksana recalls. "Her plan was to open her own Wildberries spot."
In the beginning of July, Polina Yevtushenko posted a photo with Minister of Economic Development of the Samara region Dmitry Bogdanov—he awarded diplomas to graduates of the program for young entrepreneurs 'My Business 63,' and Polina was among them. Samara resident Vladimir Sidorov also participated: the man wanted to open a business of cultivation of seedlings, but, in his own words, because of 'ludicrous requirements' of the program, obtaining the grant from Samara officials is difficult.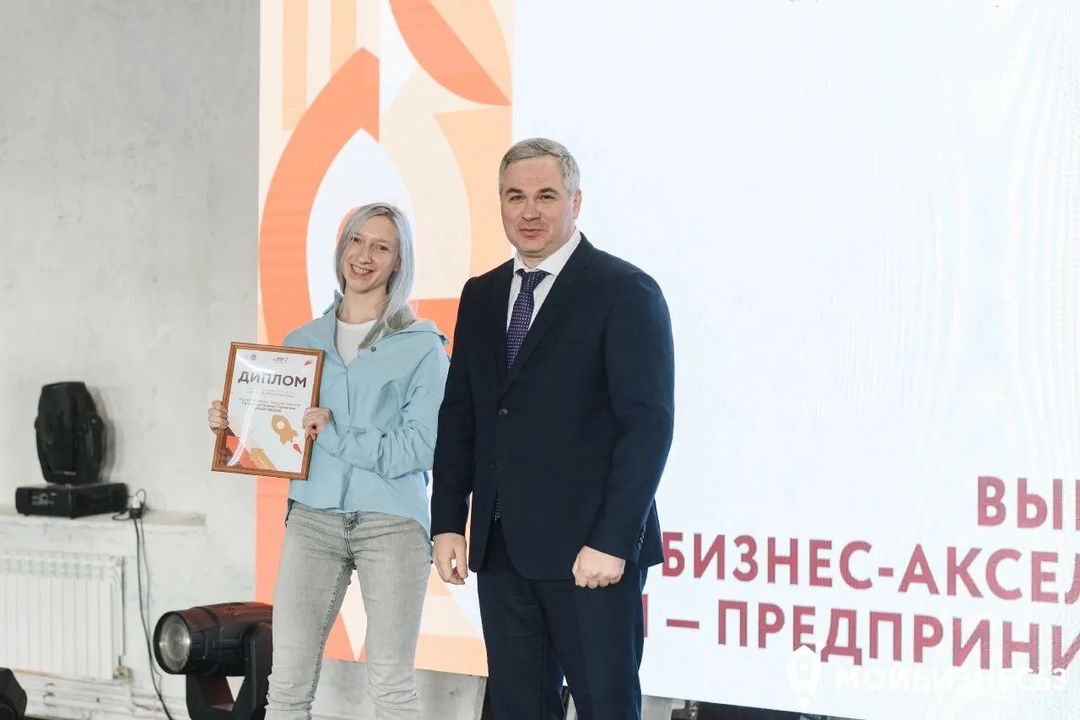 "Polina and I met at a gathering for entrepreneurs, she had already opened an online store for selling lotions on Wildberries," Vladimir recounts. "The brand had some sort of sexual name, something like CUMLOVE."
The host of the gathering urged the participants to get up and mingle, for 'quick finding of an entrepreneurial partner', Sidorov recalls. Out of nearly a hundred people only he and Polina got up.
"That's how we met," he continues. "She's an active girl, talkative. Sometimes I had a feeling she didn't control at all what she was saying. She just says everything she thinks, overshares. No, she wasn't nervous. But it was clear: she says exactly what she thinks. I was surprised when you told me about her arrest, I understood that, most likely she just blurted something out and was imprisoned for it. And after that I wasn't surprised anymore."
Oksana Terentyeva says that Polina was 'always smiling' and an earnest person. "I have never heard her saying anything evil or bad about someone. She's very kind," she insists.
'Our tax money funds the war,' 'Peace to Ukraine,' 'Z = swastika'
Yevtushenko has 128 followers on Instagram, her profile picture shows a blue-haired young woman dressed in yellow, and in her bio there's a long message: 'No to war! Russia will be free of Putler! Glory to heroes of Free Russia and Ukraine.' Yevtushenko also shared pictures of her young daughter and her own paintings, and shared news about success in running and playing the drums.
On March 1, 2022, Yevtushenko posted a screenshot and a link to a petition called 'Initiate an impeachment of the Russian Federation's president, Vladimir Vladimirovich Putin.' The petition has 282 thousand signatures and is open to this day.
Three days after federal mobilisation, in September of last year, Polina posted a picture of a poster 'No to war,' fastened with a white-blue-white scotch tape to the memorial 'Waiting for a soldier' in Tolyatti. A few days later Yevtushenko posted a screenshot with a link to a chatbot in Telegram, named 'I want to live,' designed to accept applications from Russian soldiers that wish to surrender. In her post there was also a copy of the text outlining how the bot works. Now there are 2 likes under her post.
From October 2022 Yevtushenko began speaking strictly Ukrainian on her Instagram. "She knew the language", says her former coworker, Oksana. "She also wears a pendant with the colours of the Ukrainian flag."
Based on her Instagram history, Yevtushenko at least twice published pictures of bank notes valued at 1,000, 5,000, and 500 rubles, that had a link to Freedom of Russia Legion's Telegram channel, scribbled in ballpoint pen. The notes also had quotes like 'Our tax money is funding the war,' 'Peace to Ukraine,' 'Z = swastika.'
"What is Putin's Russia going to war for?" — that's the headline of one of her Instagram posts showing the bank notes. "For freeing (killing) Ukraine from people that used to be okay with Russians and Russia? For banishment of the Ukrainian peoples from their own turf? Or just because 'we can repeat [past victories]'? We did [repeat]. Once again we have established fascism, bombed Ukrainian cities, killed tons of civilians and children!"
In her Instagram stories, the woman saved reposts of messages about anti-war protests and instructions on leaving the country, as well as news about the consequences of the Russian army's attack on Ukraine. Oksana Terentyeva, her former colleague, says that she saw posts in support of Ukraine on Polina's Instagram when they still worked together. But nobody, not the colleagues, not herself, not the organisation's management, as far as she knows, talked to Polina about it.
"None of the management follow her," Terentyeva ponders. "One time I asked to borrow money for my commute, a 100 ruble note, I didn't have cash on me. It had something about Ukraine scribbled on it, but I didn't really care, who knows what people write on their notes. There's graffiti on the fence too, as they say. Well, yes, I used the note that day. I had to somehow get home from the office."
'I don't think there's a chance to reduce the sentence'
How and when Polina was arrested remains unknown, her last Instagram post dates back to July 4. In the picture there is a woman with crossed legs, sitting on a tree, looking at the camera and smiling. 'The forest, running, beauty!' reads the caption, in Ukrainian. 
In the press release of Samara Regional Court, that sent Yevtushenko to the pre-trial facility for attempted treason (Part 1 of Art. 30, Article 275 of the Russian Criminal Code), it is stated that the woman was 'trying to convince a Samara native to commit treason,' to join the Freedom fo Russia Legion.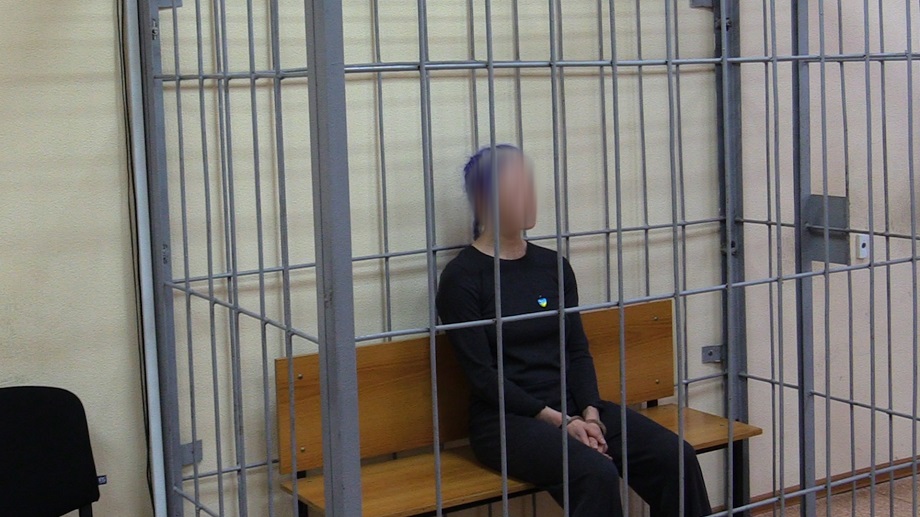 The independent media Astra states, with a citation of its own sources, claims that there was also a charge of terrorims against the woman (Art. 205.2, Part 2 of the Criminal Code), but FSB doesn't mention this in their press release.
Based on the Instagram of Maria Yevtushenko, the accused's sister, Polina's daughter now lives with their parents, grandmother and grandfather of the little girl. Maria refused to speak to Mediazona about her sister. Another acquaintance of the arrested, Ivan Golovchyuk, told Mediazona that Polina's family asked him not to talk about the arrest of his friend with journalists. Gulnara Yevtushenko, Polina's mother, gave Mediazona a short comment, revealing, among other things, how her daughter knows the Ukrainian language.
"She was offered a job [translating] from Ukrainian to English and English to Ukrainian, here, in Tolyatti," Gulnara says. "That's why she practised the language, to get the job. She spoke German and English because she was studying to become a translator. Well, she wasn't, she still is — in Synergy. That's why she knows many languages."
Gulnara Yevtushenko refused to go into detail about the case or to provide Mediazona with Polina's lawyer's contact. "I don't believe in this, you won't help us," she replied quietly. "I don't think there's a chance to reduce the sentence. There are facts, and you can't get rid of the facts."
Editor: Maria Klimova
Translator: Anna-Maria Tesfaye