The route from Nagorno-Karabakh to Yerevan is seldom congested. On typical days, one might encounter Iranian trucks and tourists returning to the Armenian capital from the Tatev monastic complex, a prime attraction in the country. However, on the night of September 28, 2023, an entirely different scene unfolds as vehicles, one after another, line the route.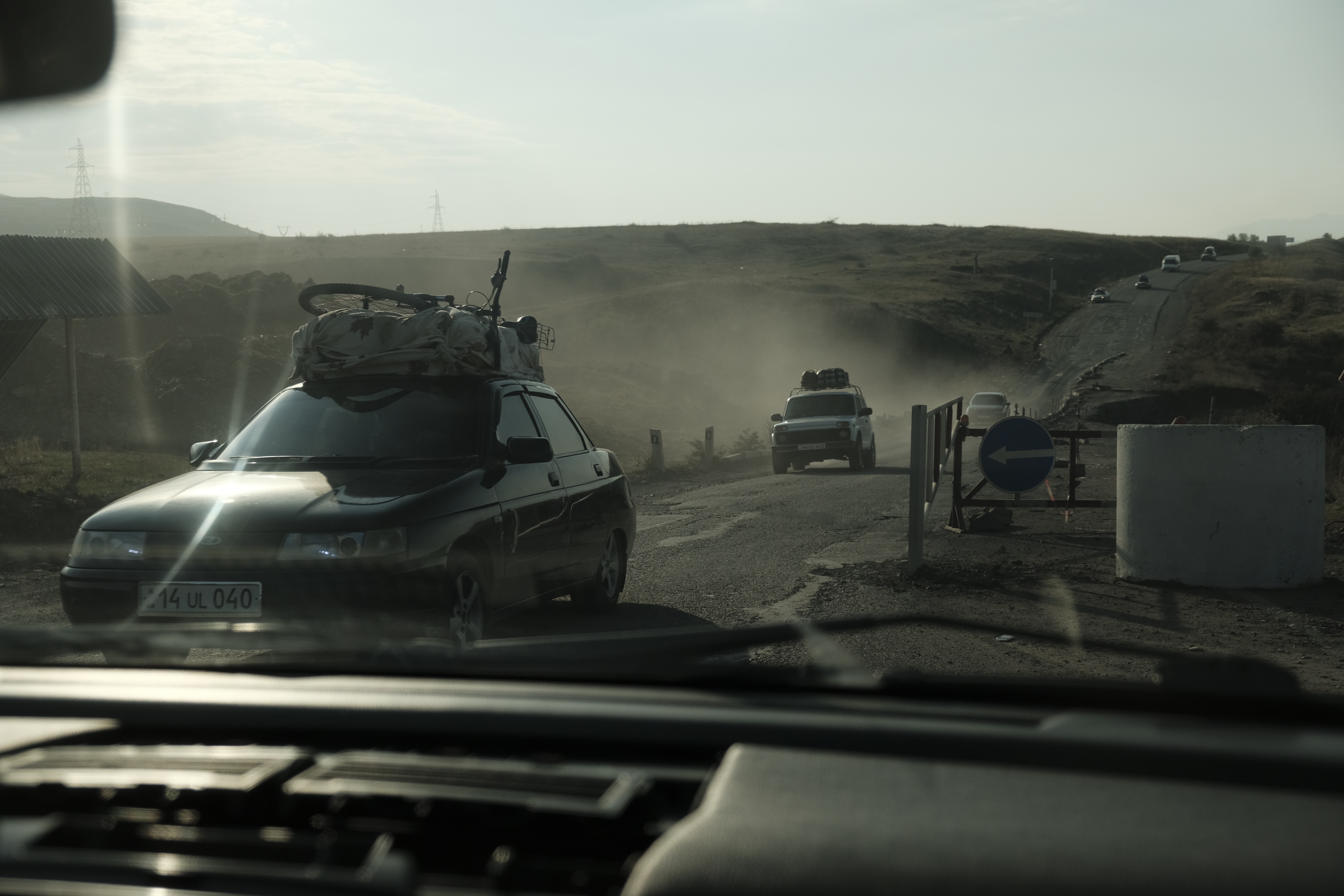 They have strollers, bicycles, mattresses, pillows, trunks, and bags tethered to their roofs with tape or ropes. Eight people cram into five-seater cars; even tractors are seen, equally laden and draped with belongings. A recent accident reveals itself, with a shattered old Soviet-Russian VAZ sedan, bales flung from the roof lay scattered. Like others on this road, the car carried Karabakh Armenians fleeing their homes after Azerbaijani artillery assaults on Stepanakert and surrounding areas forced the government of the unrecognized republic to announce self-dissolution.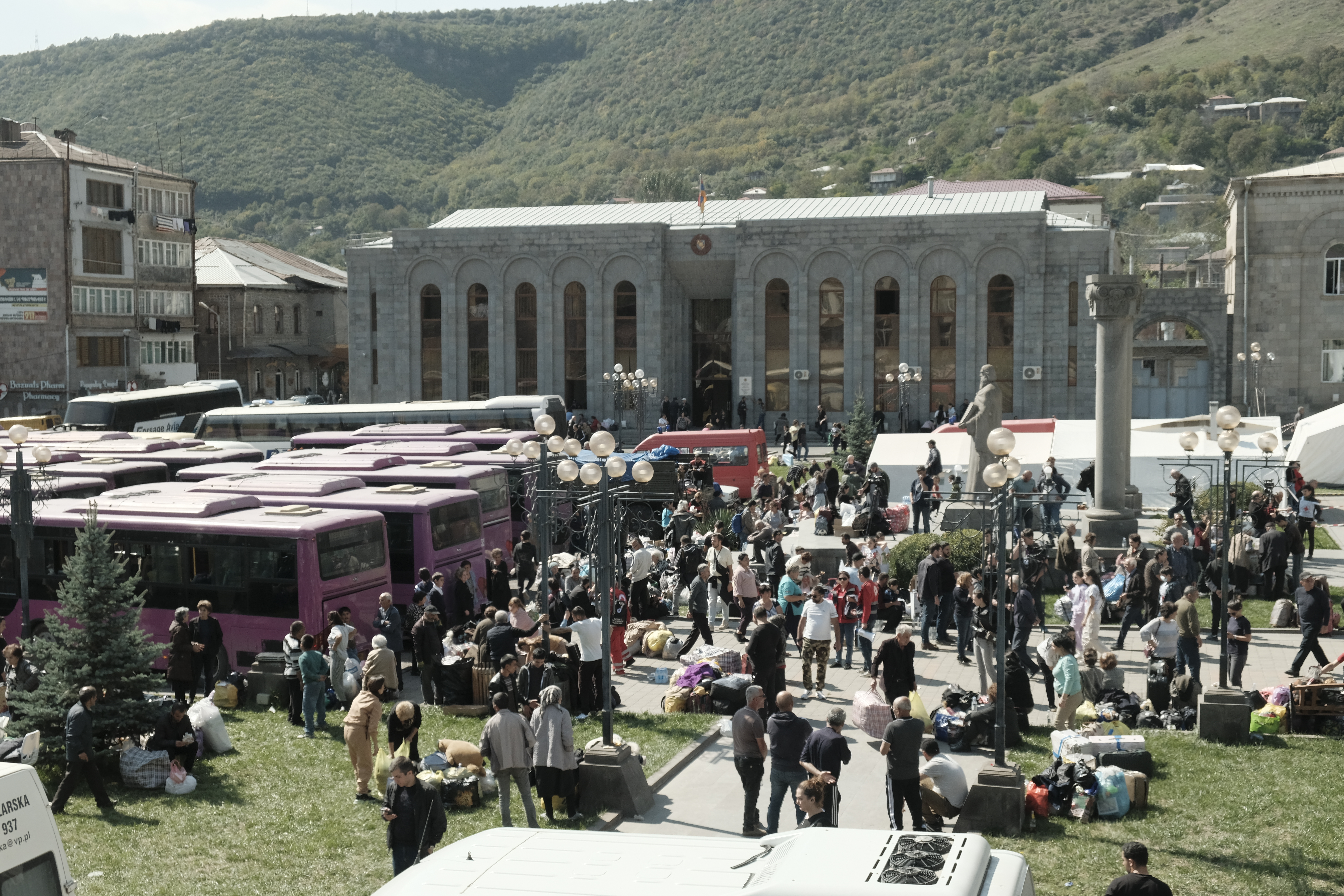 Many on the road had spent the night in their cars or had not slept for over a day—the bottleneck at the region's exit, now under the control of Ilham Aliyev's troops, stretched for several kilometres and was visible from space.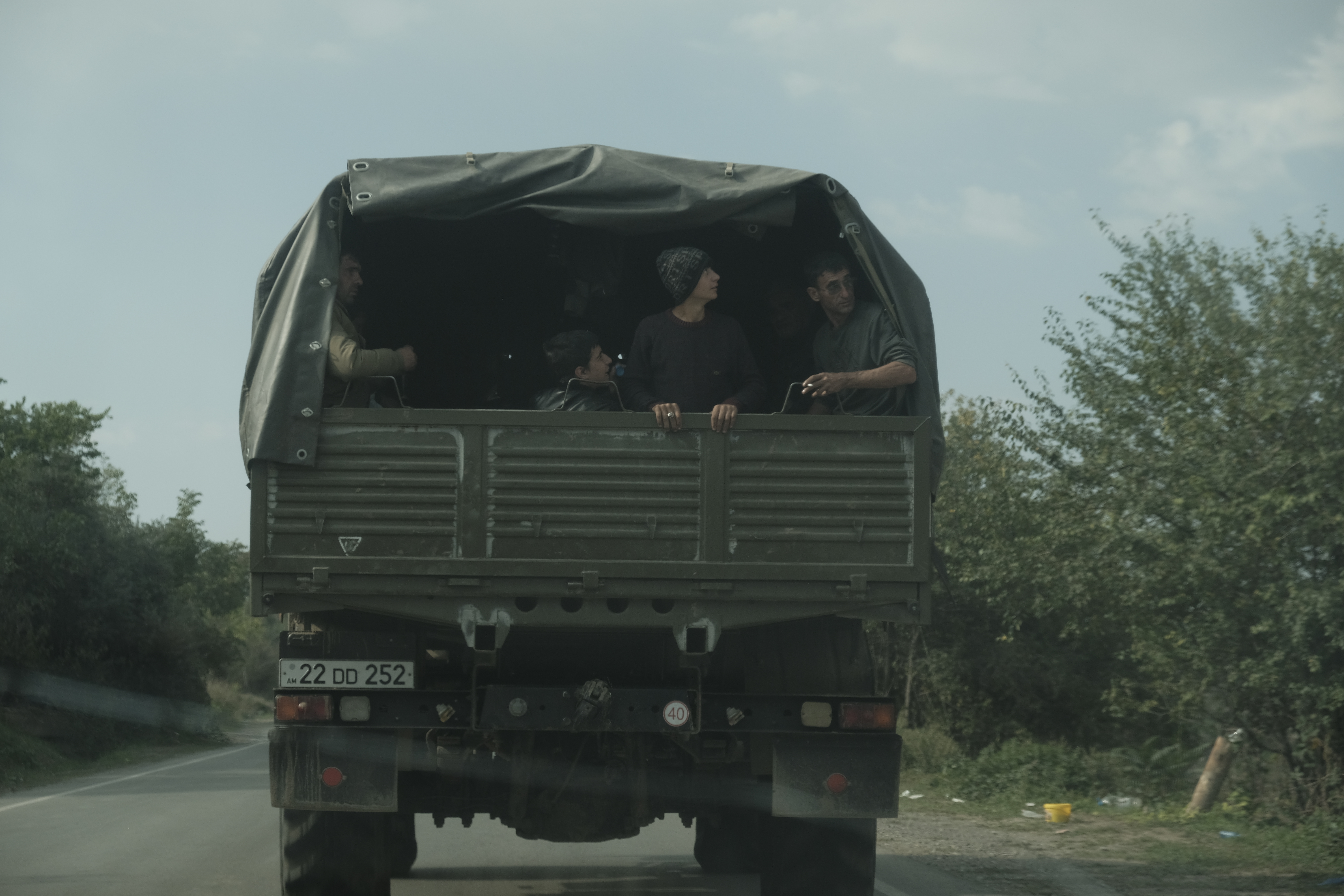 "You drive a metre, you stand for an hour. There's nothing to eat, nothing to drink, nothing is being delivered there. Only here, on Armenian soil, were we provided with food, water, juice," recounts a scruffy man from Stepanakert, lighting another cigarette. Beside him, five exhausted children sit on trunks, two of whom are disabled, along with his wife—a shivering woman wearing slippers on her bare feet.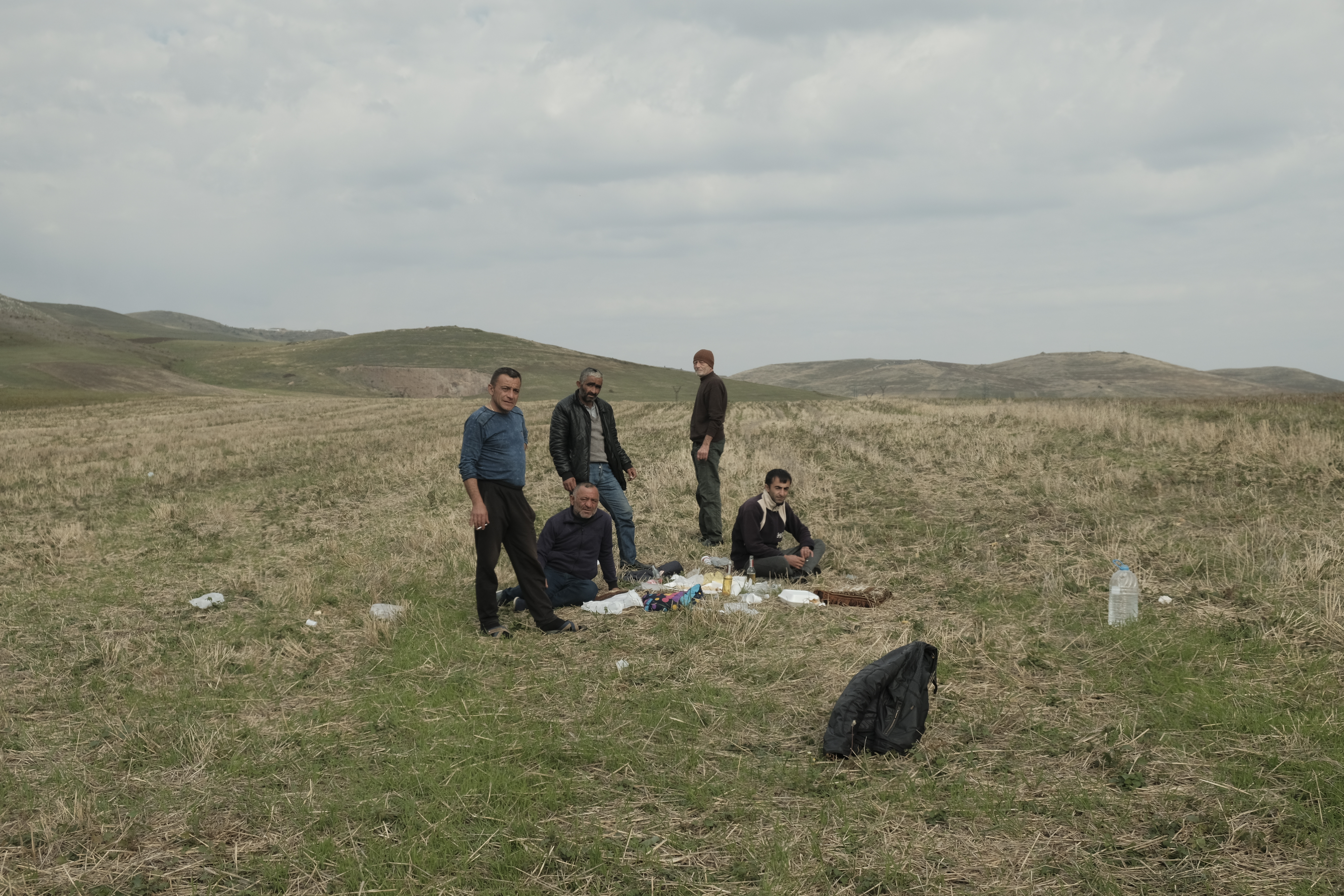 This family endured a 50-hour standstill in traffic. Before embarking on this gruelling journey, the children had hid in a basement for nine days—since September 19, when the Azerbaijani army began firing at Stepanakert. "They fired everywhere, absolutely indiscriminately. At all houses—residential or not. I saw it when I was bringing them food," the man reminisces.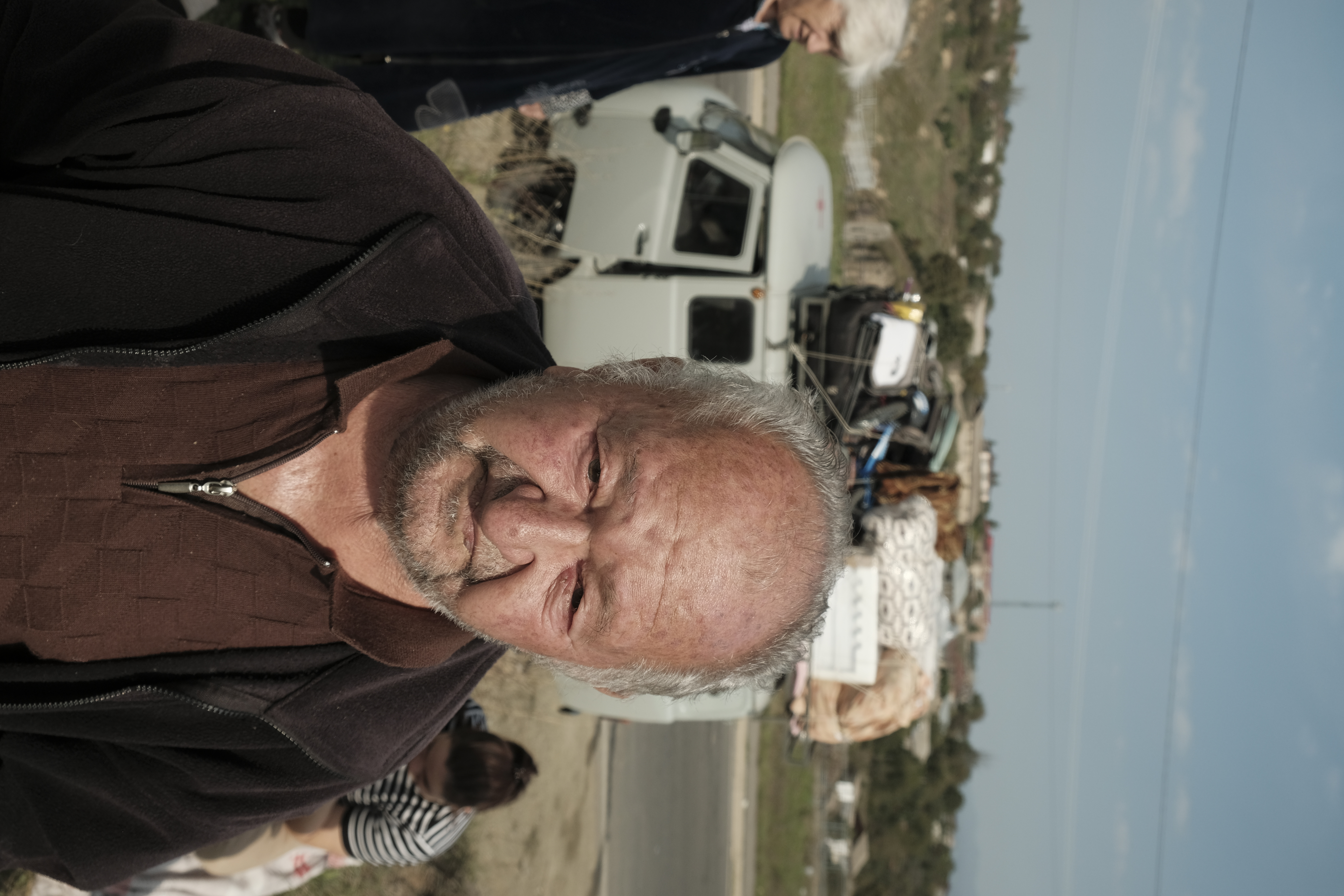 The family's exodus from Stepanakert began on a bus dispatched by the Armenian government, which transported them to the nearby border town of Goris. Yet to exit the enclave, they had to cross an Azerbaijani checkpoint: soldiers photographed all passengers, recorded their personal info, counted the children, and for one last time, offered the Karabakh Armenians an opportunity to obtain Azerbaijani passports.
In recent weeks, he says, local residents have been inundated with text messages bearing similar offers. "Happiness is in your own hands. The right choice is to be with Azerbaijan," he displays one of the messages.
When asked if many in Karabakh accepted, the man tersely responds: "It's positively not possible. Armenians, simply put, can't live under Azerbaijan. So much has happened, it's now impossible."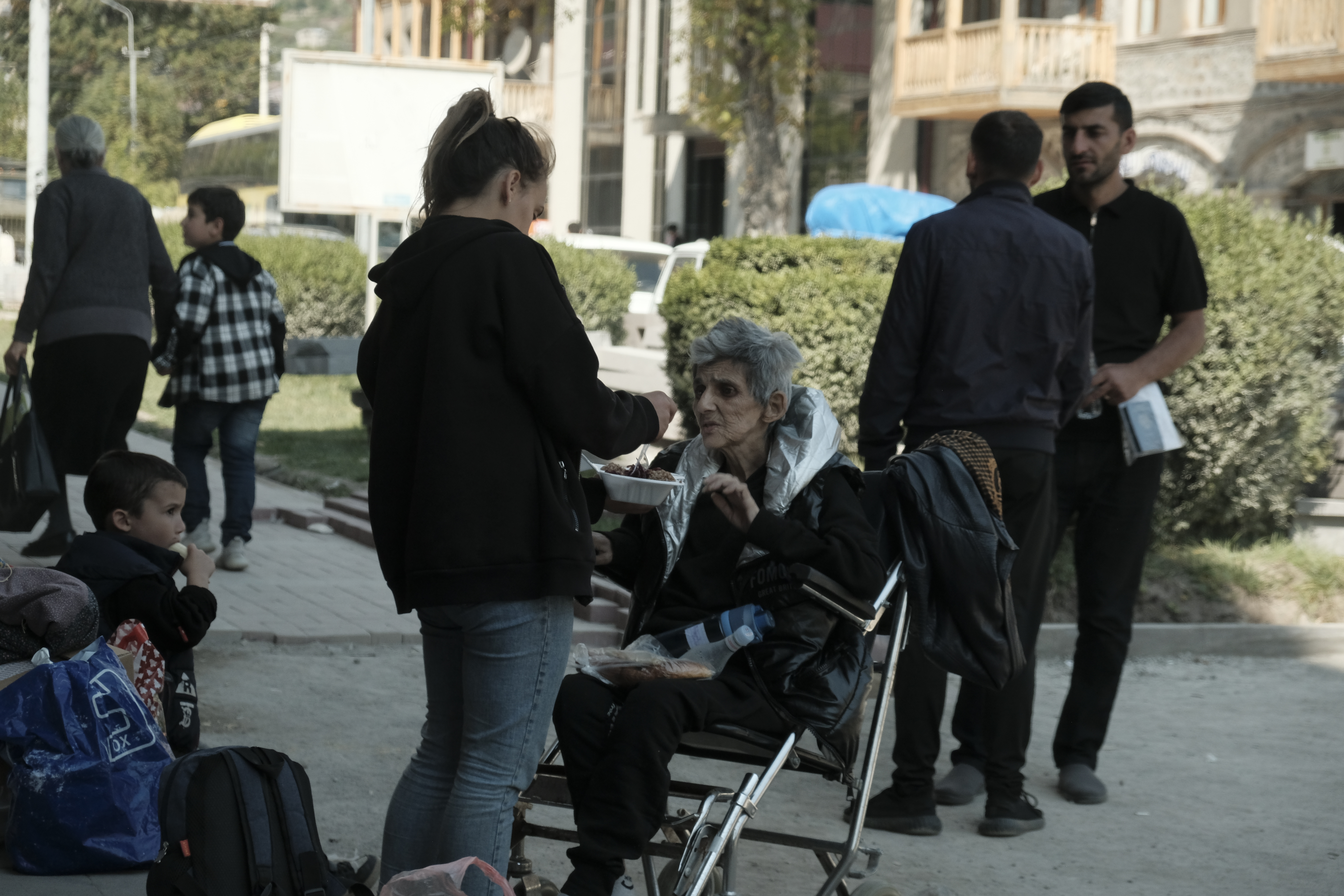 Following registration in Goris, the man and his family will head to Yerevan, the Armenian capital, where like many Karabakh refugees, they have relatives. "I'll go there for a few days, then see what's what. Armenia is offering housing assistance, but Yerevan is far, and the kids need to go to the hospital. They don't walk, they don't talk," he explains.
None of the refugees who spoke to Mediazona in Goris knew exactly where the evacuation bus would take them; in rare instances, they could name a village, sometimes not even that.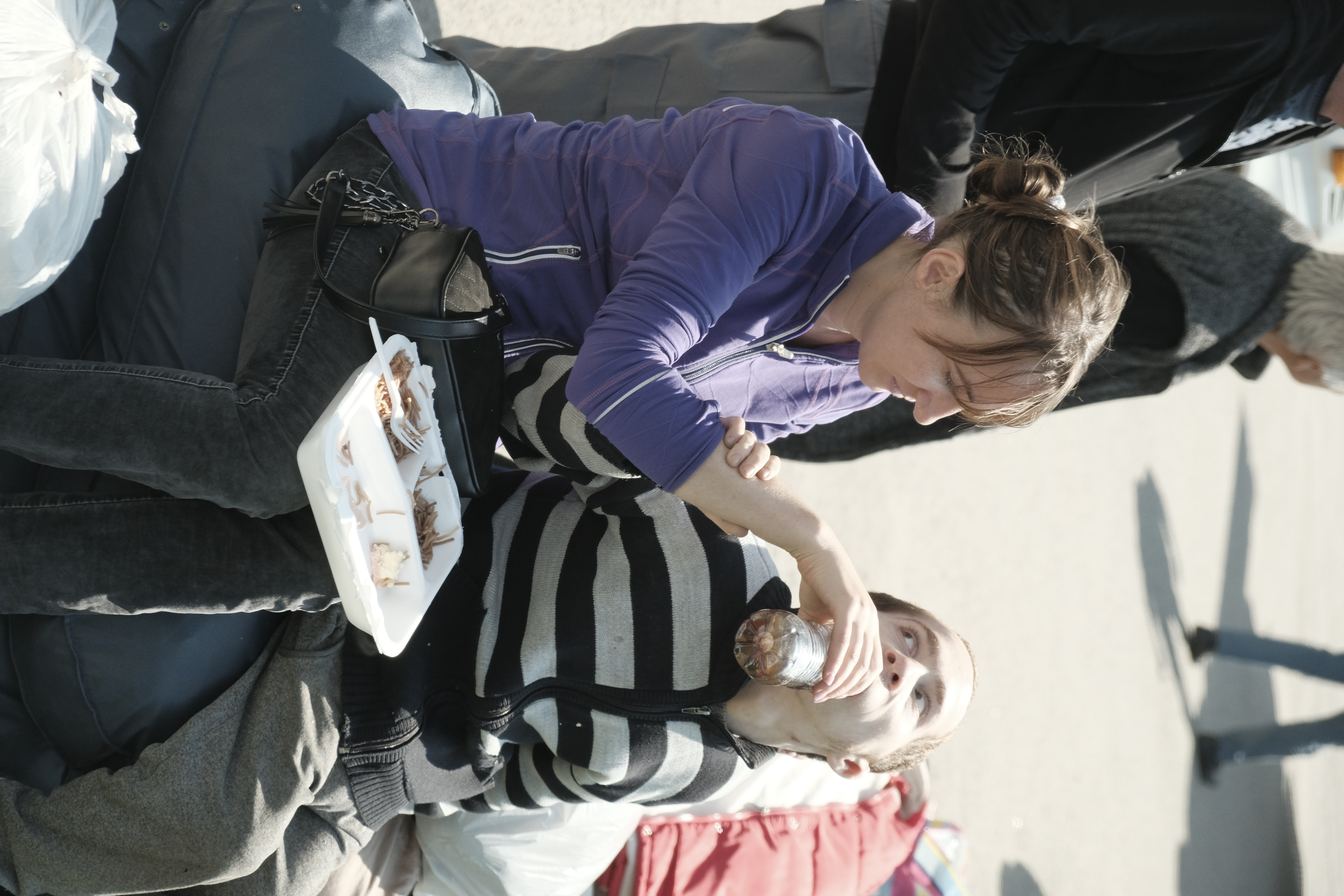 "They didn't say where, whether there's housing or not, whether we'll live on the streets or not. I had five cars back in Stepanakert, now none; there was no petrol, had to leave them behind, what else could I do? They were killing, shooting, and robbing houses there," one of the men says.
Despite the escalating rhetoric from Azerbaijan at least a month prior to September 19, when the shelling started, Yerevan was unprepared for the exodus of Armenians from the disputed region. Refugees are being distributed to vacant homes and buildings in sparsely populated areas—for instance, near Vanadzor, a children's summer camp building is being prepared for accommodation. Deputy Prime Minister Tigran Khachatryan said that some individuals will be housed in available rooms in hotels and guesthouses, although Yerevan is excluded from this programme due to the high cost of rent in the capital.
Many refugees are keen on Yerevan, especially those with chronic conditions, fearing they won't receive adequate medical care in smaller towns.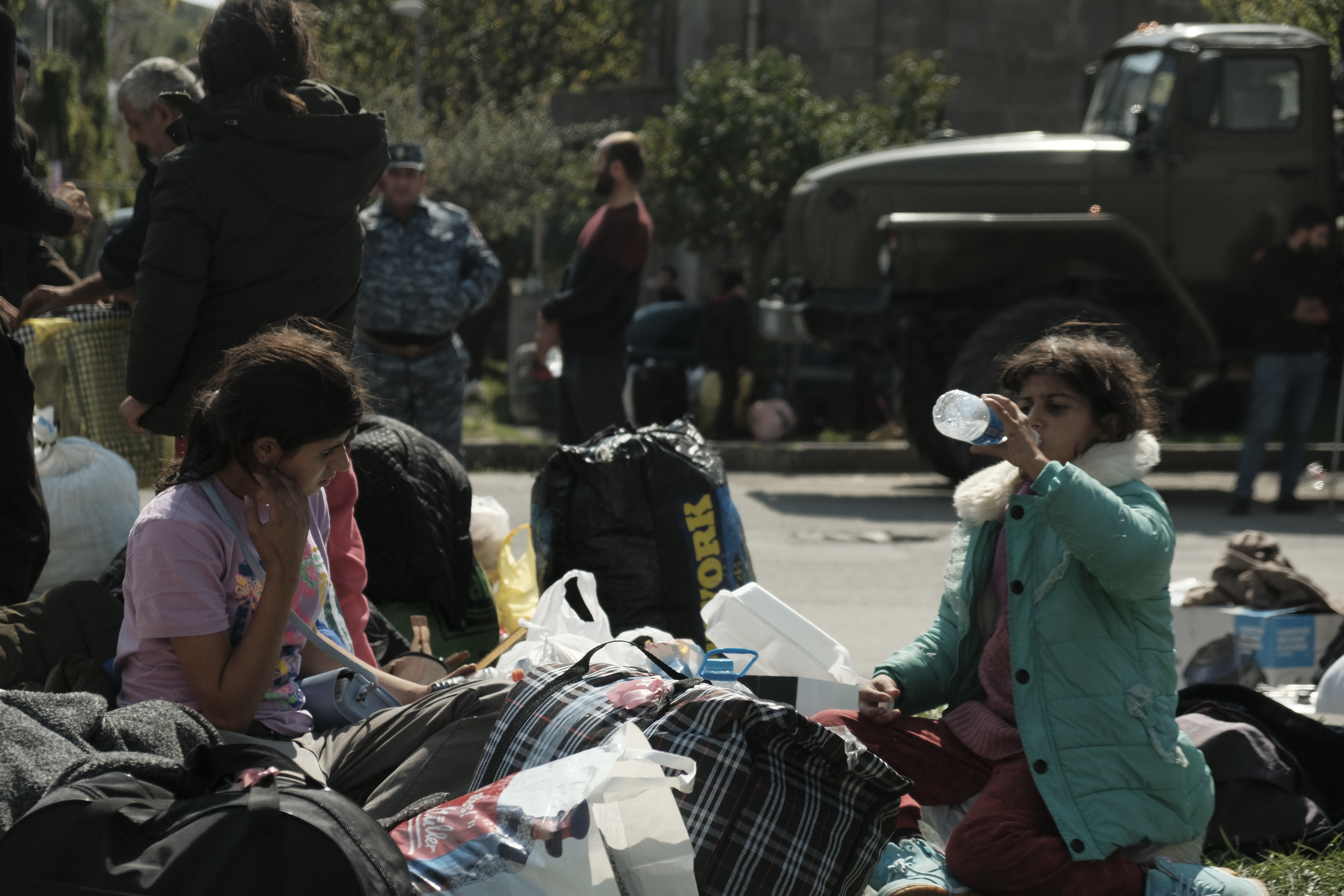 "They didn't give me a room, they didn't. There's a theatre here, a bench in the theatre, I'll sleep on it," says an elderly refugee, pointing at the Vagharsh Vagharshyan Drama Theatre in Goris. "Tomorrow I'll go to Yerevan, my leg has poor blood circulation, I need to get treatments."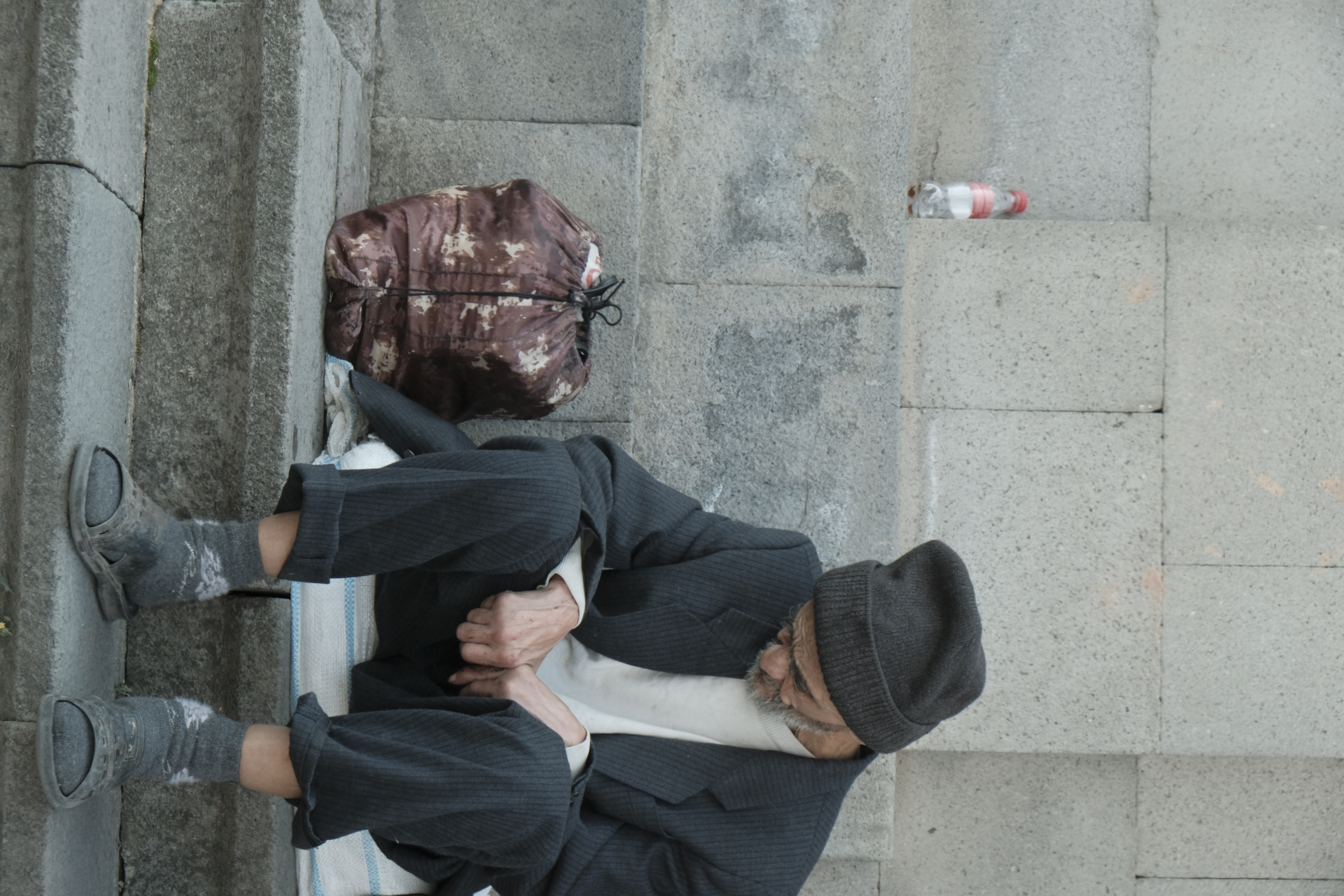 While she approves, albeit with reservations, the Armenian government's decision to avoid direct armed conflict with Azerbaijan, she adds, "We have no arms, we can't defend ourselves. There are children and women there, their lives need to be saved. So, we raised the white flag, we can't fight against them! We have so many children, good and beautiful. How could such children die? Azerbaijanis don't think about children, they are terrorists and bandits. I'll die soon, but the children have just been born, of course they need to be saved," the woman muses.
Now, the Vagharshyan Theatre has been converted into a reception and registration centre for refugees. Along the windows of the grand foyer, tables are lined, around 50 volunteers sit behind computers. They take the Armenian passports of arriving individuals and register them as displaced persons; the exact benefits of this registration remain unclear.
"In any case, it's a way to accurately count and understand how many there are, so later it's possible to track and assist them," a young volunteer says. According to the latest tally, Armenia has registered 88,780 displaced persons; the remaining inhabitants of Nagorno-Karabakh, around 30,000 people, continue to wait for evacuation buses. The buses are on hold until the queue at the Azerbaijani checkpoint eases.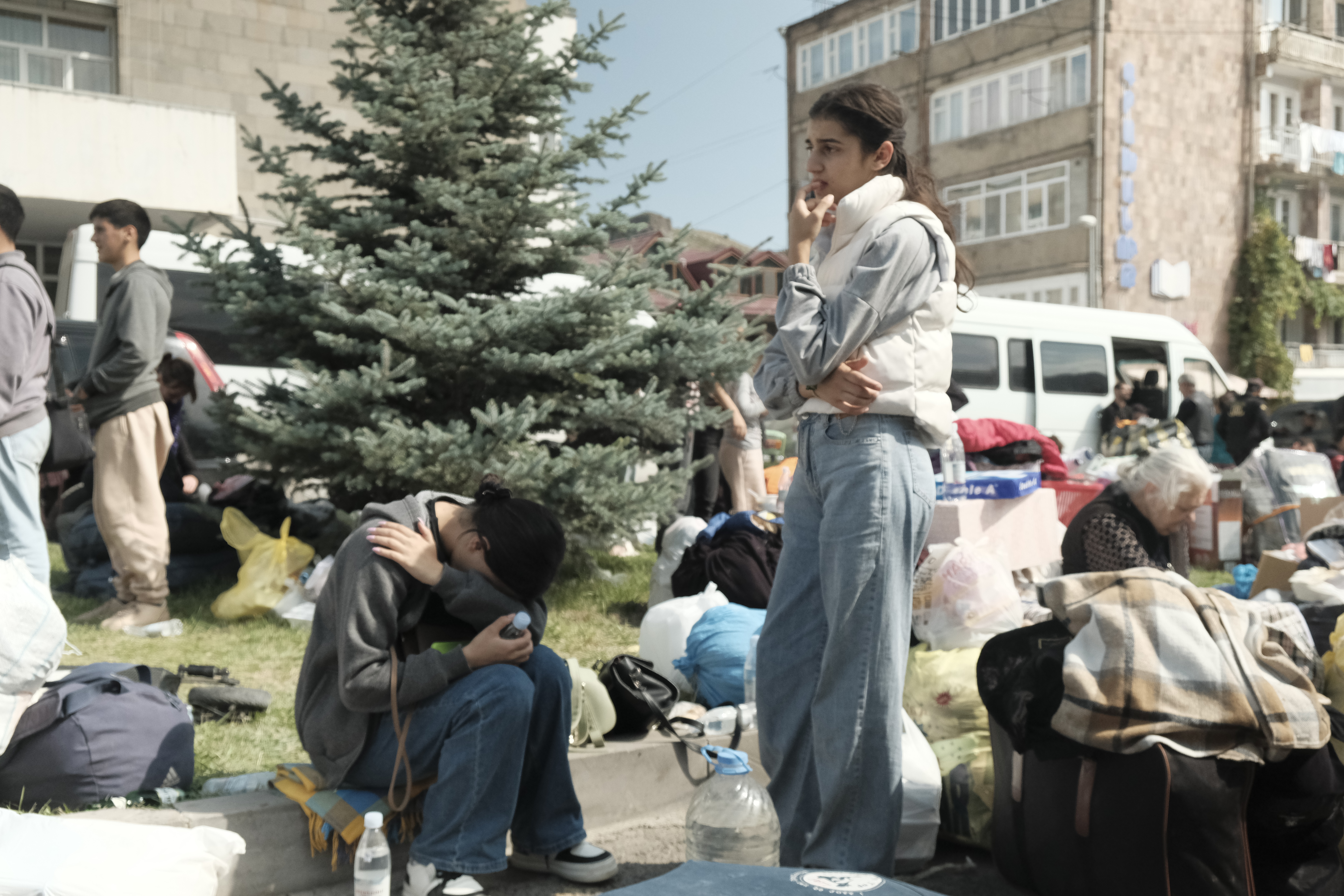 On the streets, amidst tents housing humanitarian aid, where food and warm clothing are distributed to the arrivals, Armenian youth—occasionally mere children, fresh from school—are at work. One of them shares that overseeing the aid distribution is crucial as refugees sometimes mix up the packages—for instance, a Karabakh pensioner accidentally picked up a packet of sanitary pads.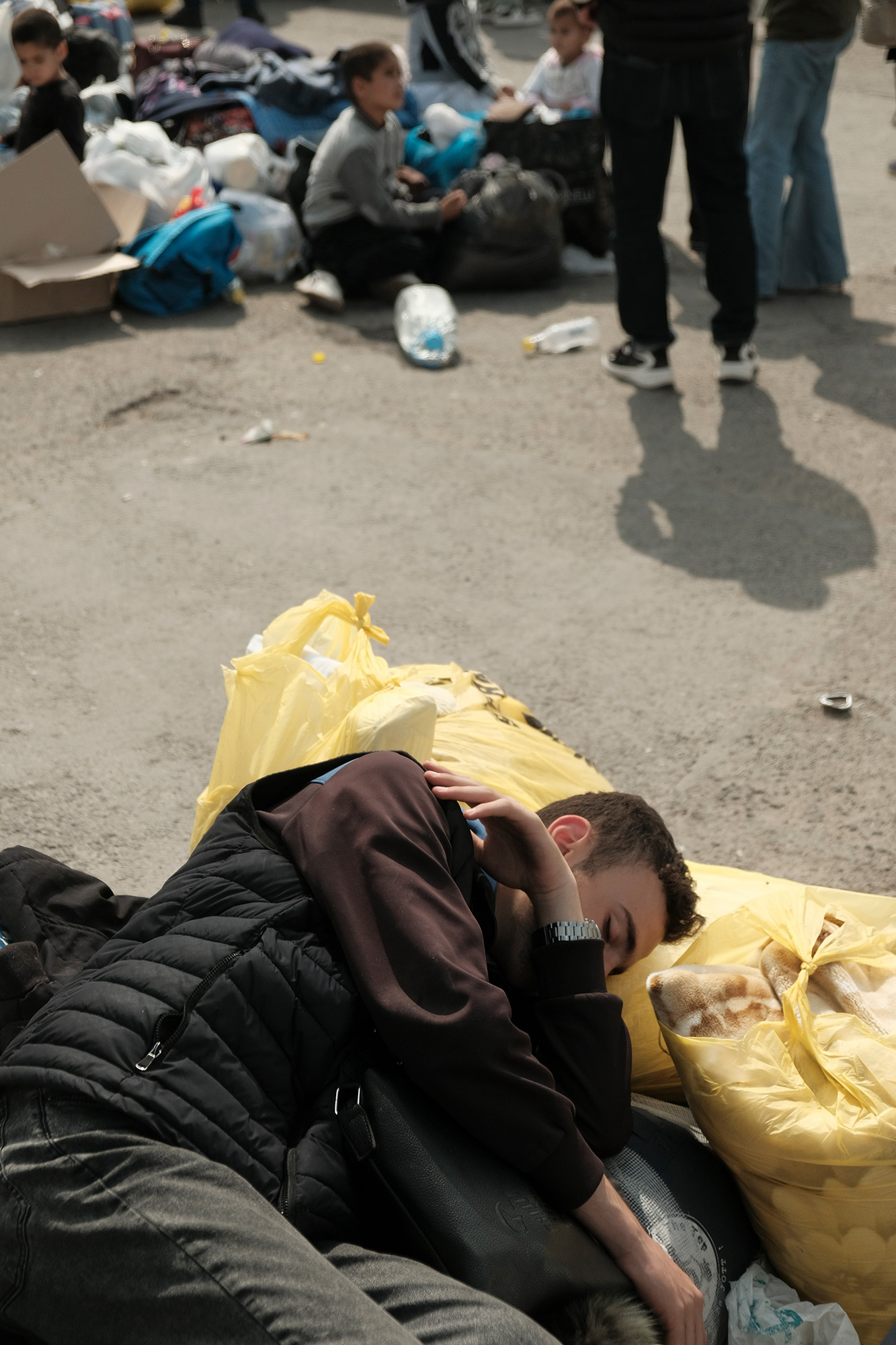 A similar setup is seen in Vayk, some two hours drive away from Goris and closer to Yerevan. When Goris became overcrowded, a second registration point for refugees was opened here. It occupies a Soviet-era community centre, around which weary people sit in groups or alone, surrounded by bags and parcels of belongings. On the streets, schoolchildren lug boxes of canned lecsó, an Armenian-produced vegetable stew, delivered by a Red Cross truck.
A bewildered elderly man, just after completing his registration, mentions that this is his second time as a forced evacuee—following the Sumgait pogroms of 1988, he moved from Baku to Stepanakert, and now, from Stepanakert to Armenia.
"Back then, we weren't given refugee status, because technically, we moved from Azerbaijan to Azerbaijan. Though we left everything we had in Baku—couldn't flip our apartment, couldn't do anything. And now, with Armenian passports, we've moved to Armenia again, leaving everything behind once more. So, we are double refugees," he explains.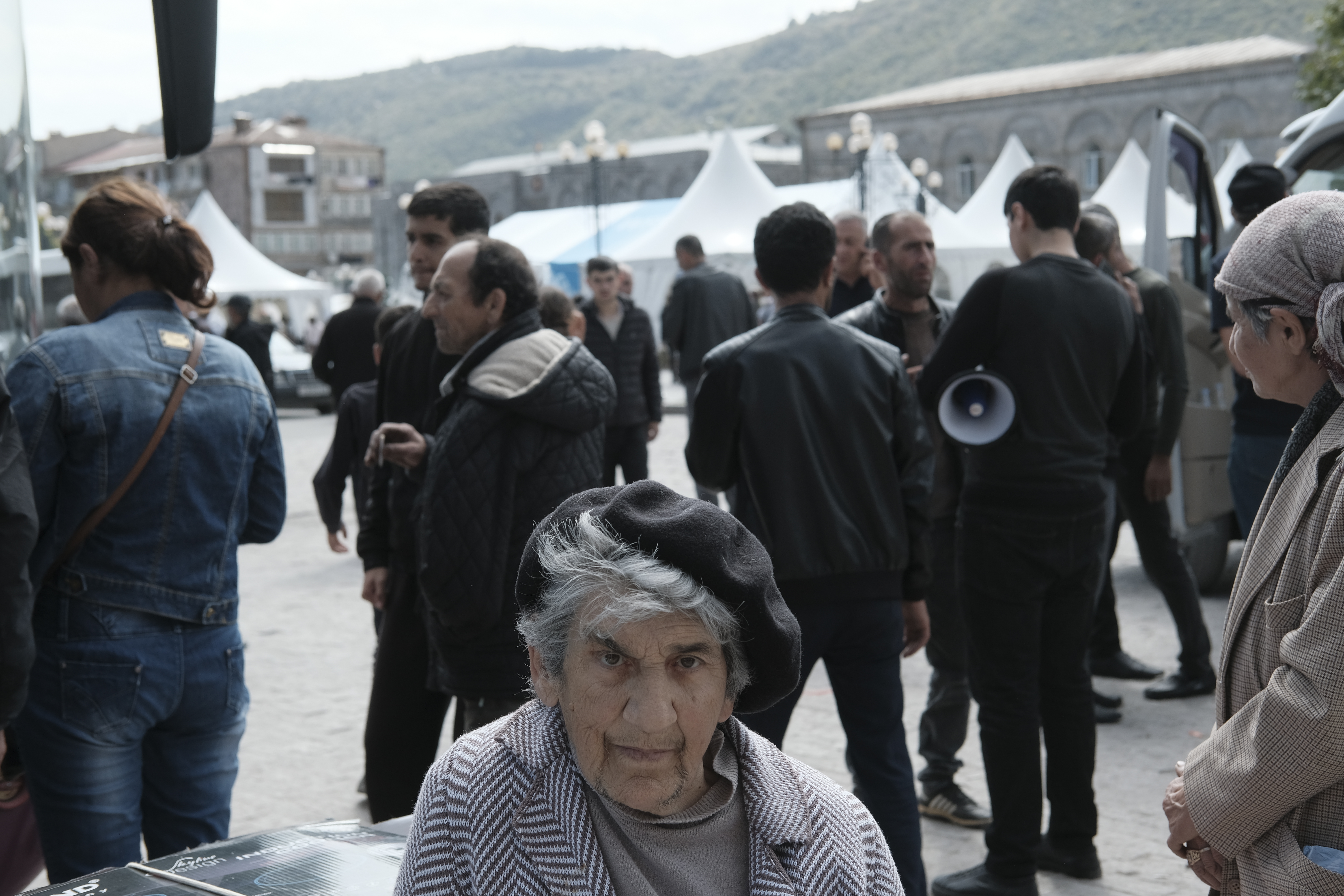 His wife adds that they had long planned to leave Stepanakert, but held out "hope for Russia" until the end.
"After the 2020 war, we kept hoping for it, always talked about it. But now, when our people, the Armenians, shelled Shushi, and Azerbaijan threatened to level Stepanakert, we realised nothing can happen anymore. We endured all those shellings in the basement of our home. It was terrifying, utterly terrifying, and now we are homeless and roofless," she says.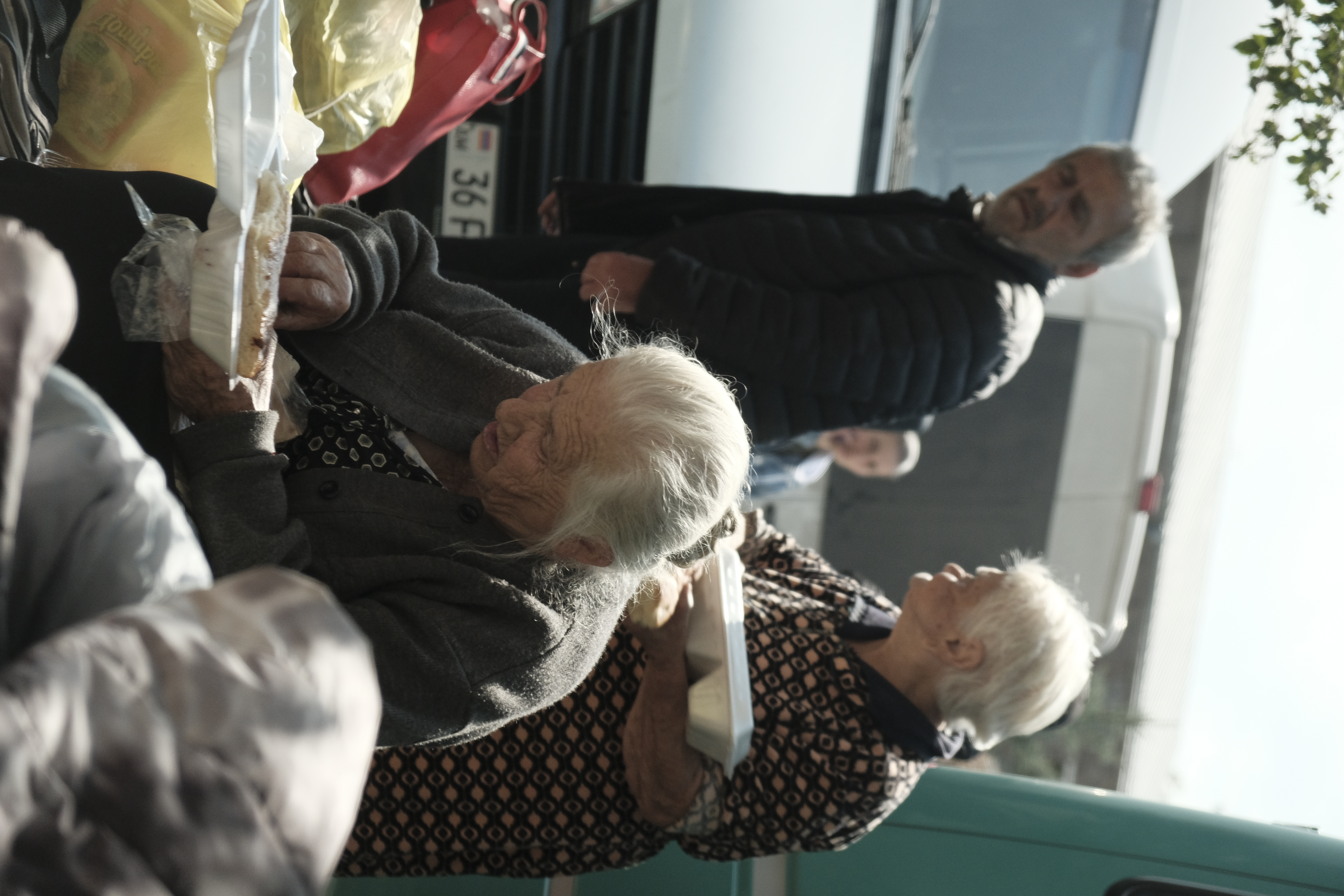 Anothher refugee, a Russian language teacher at an Armenian school in Nagorno-Karabakh, left all her belongings and a home her son had built behind; she only took family photos she couldn't bear to part with. They had to collect their things hastily. Emerging from the basement after enduring shellings "from morning to night," she, along with relatives and a friend's family, scrambled into a car.
"It happened at night — they targeted homes, schools, even a kindergarten on the outskirts was destroyed. There was no freedom to move, but in Artsakh, everyone knows everyone, so we kept in touch with acquaintances. They would say, this house is ruined, now that one. The shelling seemed random, many homes were hit."They scared us alright," she adds.
She explains that although Moscow never promised Nagorno-Karabakh residents Russian citizenship, locals harboured a glimmer of hope that someday it might come to pass.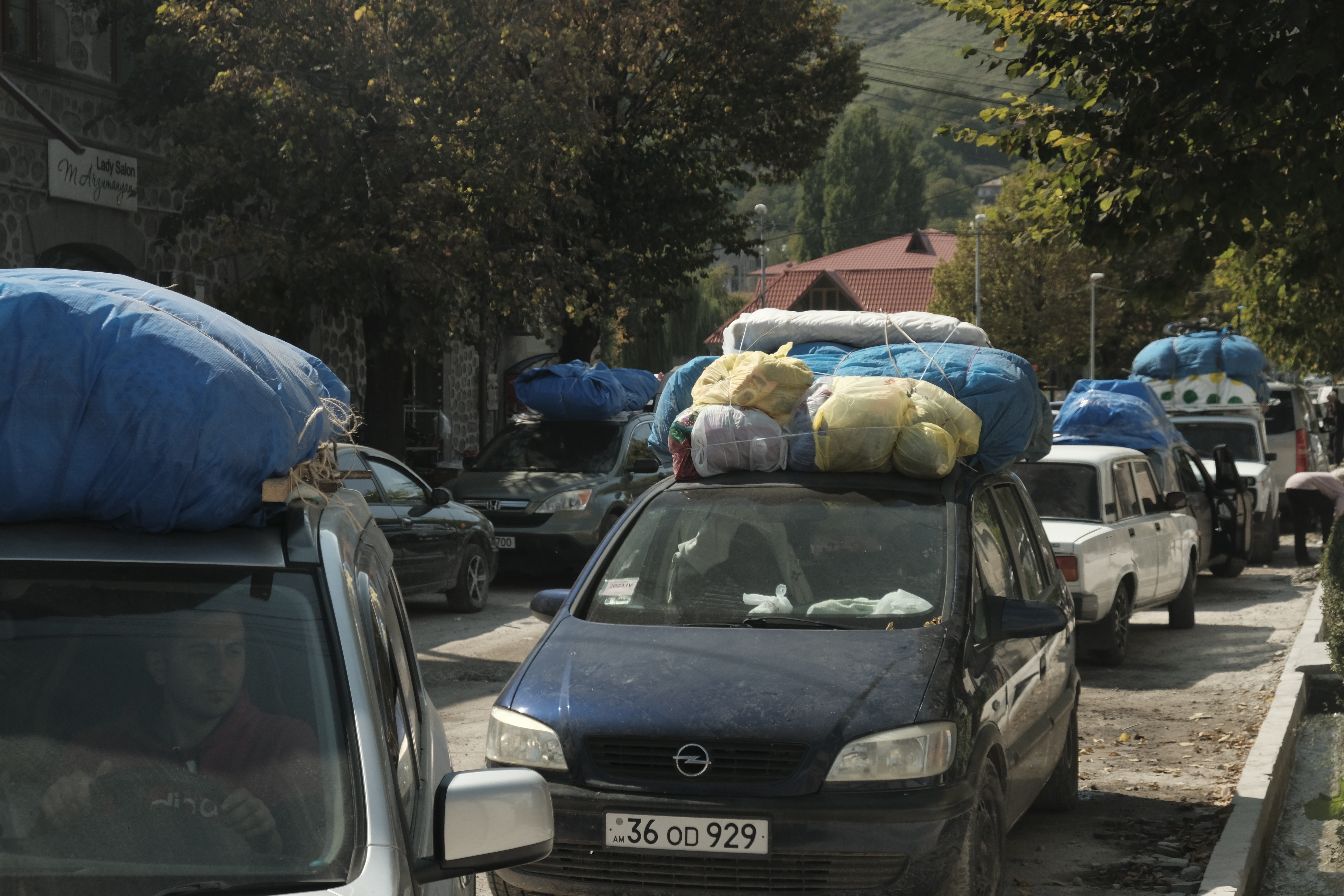 "We weren't guaranteed, but we thought — there's Ossetia, there's Crimea and so on. What if it's us, next? We have a Russian-speaking population, Russian schools, people love Russian literature. I was a Russian language teacher; walk into any school, even Armenian, and see whose portraits hang there. Our children think in Russian, they don't want to learn Armenian!" she exclaims.
"Our hope was that the competent authorities of the Russian Federation, who assured us that you all can return, would honour their word. People returned, but the assurances were not met. They didn't keep their word," a young man grimly interjects.
Editor: Dmitry Tkachev