Over four years in custody. What the journalist is accused of
39 year old Abdulmumin Gadzhiev, the editor of the religion column of Chernovik — a Dagestenian newspaper — has been in custody for several years now. In the morning of June 14, 2019, his apartment in Makhachkala was stormed by security forces. After a raid the journalist was arrested for organising the financing of terrorism and participation in terrorist activities. 
Two other people are associated with the case; they were both detained on the same day as Gadzhiev. They are Abubakar Rizvanov — a lawyer and founder of the charity Ansar, who was detained in a Dagestenian village Verkhneye Inkhelo — and Kemal Tambiev — a developer and entrepreneur, who was detained in Balachikha and escalated to Makhachkala right away. 
There are eleven people in total being accused of the crimes associated with this case, but the rest now reside outside of Russia.
Among the accused is Abu Umar Sasitlinsky (Israil Akhmednabiev), a popular preacher in the Caucasian region. Apart from his lectures on Islam, he is known for opening a school for hafizes in his home village Novosasitly, his plans on building it he shared in an interview with Gadzhiev. The school operated for a year and closed down due to pressure from security officials. In 2013, Sasitlinsky founded Ansar and opened a fundraiser for aiding Syrian refugees on territories neighbouring Turkey. He also mentioned the campaign during his interview with Chernovik, which became the basis for proving that Gadzhiev is guilty.
According to the prosecution, the preacher and his accomplices have been using various charitable foundations since 2013 in order to sponsor terrorism. Among their supposed methods they list Ansar, Mukhadzhirun, and Amana, as well as payment system Qiwi, Yandex.Money and Webmoney. After being detained Sasitlinsky refused to acknowledge or confirm any ties with terrorist organisations and insisted that Gadzhiev is innocent.
During the first interrogation, Tambiev incriminated Gadzhiev, but shortly after withdrew his testimony. He said that in 2013 he contacted an administrator of a VKontakte (Russia's most popular social media app)  group named Abu Sasitlinsky, and he allegedly said that the editor of Chernovik is raising money for ISIS.
Tambiev withdrew the testimony during the first trial hearing, appearing in court with a bruised eye.
"In the break I was in the cage with two other arrested people. I asked which one of them was Tambiev," Gadzhiev recollects. "The person who answered appeared to be a badly tortured and beaten individual. I'm sure the other witnesses are in very similar shape. Tambiev apologised and admitted that he had been tortured."
The defendants say that they didn't even know each other prior to their arrests. "All three first met in a cage of the Soviet court of Makhachkala," wrote Gadzhiev.
On June 18th, 2019, the accused were arrested. Before the case was heard in the Southern District Military Court, they were held in the pretrial detention center in Makhachkala, and later they were transferred to the investigative isolation facility in Rostov on Don.
In December 2019, all three of them were included in the list of terrorists by Rosfinmonitoring. None of them admit to being guilty.
Journalist Gadzhiev studied mathematics, and before working at the newspaper he taught at Dagestan State University. In 2008, he began writing articles about Islam for Chernovik, and after his arrest, he started keeping a prison diary. The journalist has four sons, and at the time of Gadzhiev's arrest, the youngest was eighteen months old.
"Mom tried to calm down the crying Muhammad and Idris's nervous, fearful laughter.  She also made sure these people didn't plant anything on us," the eldest son of Gadzhiev gives details of the day his father was arrested. "When they took dad to prison, that day we went to practise with Sulik, and the younger ones went to kindergarten. My head couldn't comprehend it. The day passed as if it was a dream. Everyone said dad would be back soon. Then there was the second day, the third, a month, the second year, and today marks the four year anniversary of our fatherless lives. I couldn't imagine back then that this entirely fabricated case could drag on for so long."
According to the prosecution, Gadzhiev's guilt is evidenced by his articles in the newspaper and airline tickets he purchased. Investigators claim that the journalist helped raise money for ISIS. To do this, he 'published' information in the newspaper about Ahmednabiev's alleged charitable activities and thus 'encouraged' readers to make donations to the Ansar fund.
The investigation also believed that the journalist, by "drawing attention to international conflicts in the modern world, adapting Quranic verses and Hadiths to them, attempted to influence people's consciousness to involve them in the activities of ISIS."
The charges included 26 articles, including an interview with Sasitlinsky. Three professional linguistic examinations were conducted during the trial, both at the initiative of the defence and at the request of the prosecutor. The articles and specific sentences in question 'did not reveal even a hint of criminal intent,' says the journalist's defence attorney, Arsen Shabanov.
The investigator also claimed that Gadzhiev transferred 16,000 rubles to the Ansar fund, as stated by one of the many secret witnesses, who did not appear in court later. The journalist's defence found out that Gadzhiev had actually purchased airline tickets for his brother on a Cairo-Moscow flight. This was confirmed by the owner of the travel agency, and the ticket printout was included in the case materials.
Other individuals involved in the case were accused of financing terrorism due to their involvement in charity. One of the two other suspects in the case, 39-year-old Abubakar Rizvanov, is a law school graduate. In 2018, he was sentenced to three and a half years on charges of possessing a grenade and narcotics. He insisted that the findings were planted on his person by the police.
In 2013, Rizvanov and a relative established the charitable foundation, Ansar, founded by Ahmednabiev. During interrogation, Rizvanov stated that 'Ahmednabiev was in charge of managing all the funds,' and he only provided his bank account to him, withdrew money from it, and handed it over to Ahmednabiev or to the madrasa. According to him, on average, he gave Ahmednabiev 300,000 to 400,000 rubles per month. The Ansar fund stopped operating in 2014.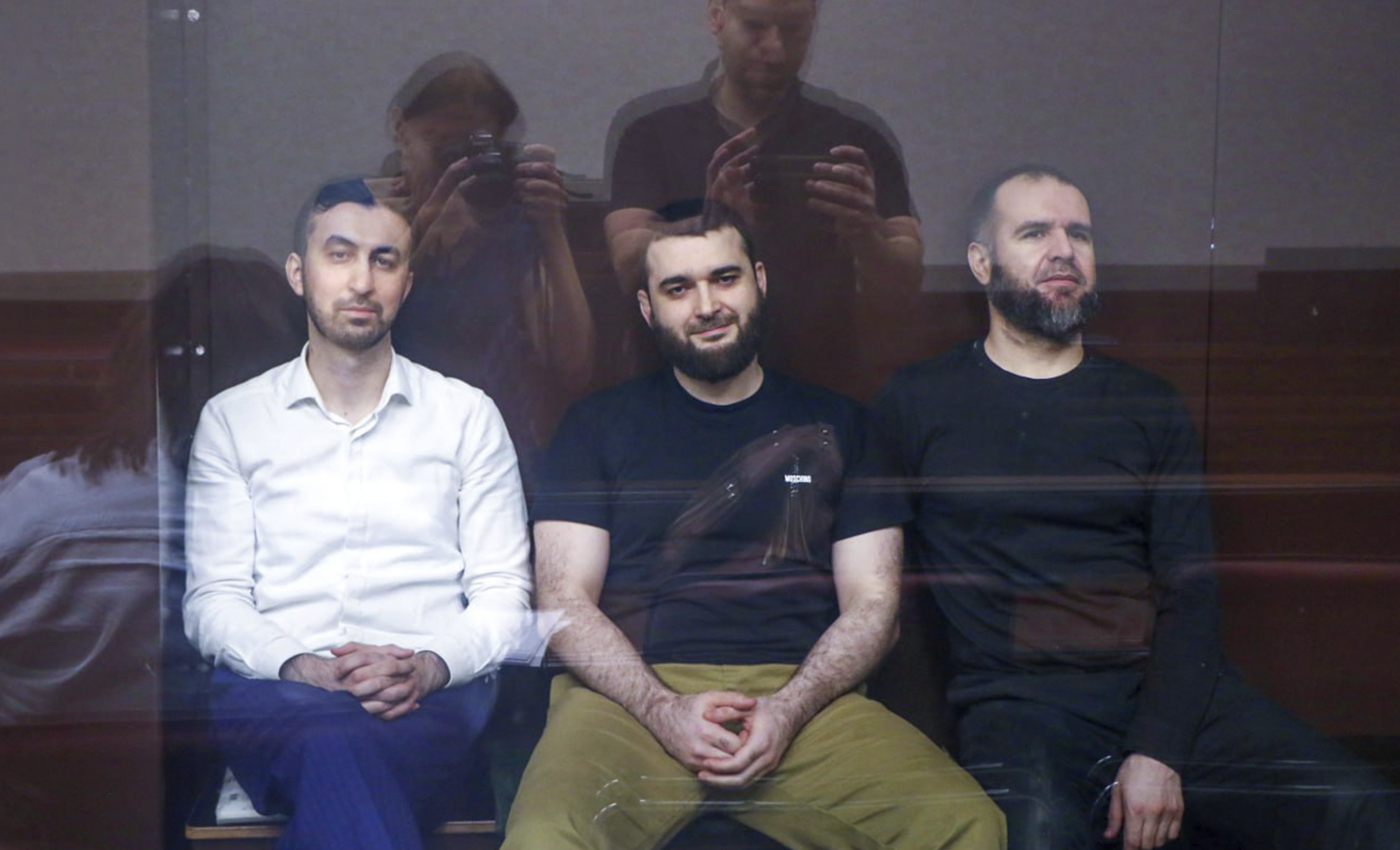 According to lawyer Shabanov, during the investigation Rizvanov actively defended himself and appealed all the actions of the investigator that he deemed illegal. He reasonably filed motions and raised objections to the evidence. Gadzhiev wrote that the staff at the pretrial detention centre even nicknamed Rizvanov 'the complainer' and that "as a result of Abubakar's actions, several significant individuals in the Soviet District Court of Makhachkala lost their jobs."
The third suspect, 31-year old Kemal Tambiev from Karachay-Cherkessia, was born in Cherkessk. After finishing school in his hometown, he moved to Moscow and enrolled at the Bauman Moscow State Technical University.
During his studenthood Tambiev and his friends organised a charitable project named Khair, aimed at helping people below the poverty line from Karachay-Cherkess Republic, Stavropol Krai, and Moscow. It ceased to exist and operate in the beginning of 2014, as per his wife, Laura Kurdzhieva. The investigation claimed that this project was linked to Sasitlinsky, but both Tambiev and other organisers of Khair deny any connection between the charitable foundation and terrorism sponsorship.
The accusation includes a rather unusual money transfer scheme to the preacher, based on the testimony of an undisclosed witness. The witness claimed that in 2015 Kemal Tambiev wanted to 'surreptitiously' transfer 200,000 rubles to Sasitlinski using the Yandex.Money payment system. In court, Tambiev pointed out that anonymous transfers in this payment system are not permitted, and according to statements from his electronic wallets, he didn't make any transfers after 2014.
A year after the arrest, another case was brought against the journalist and the other defendants. In April 2020, charges of involvement in an extremist organisation were added to the case. According to the investigation, from 2009 to November 14, 2013, Gadzhiev, Rizvanov, and Tambiev were involved in the activities of the organisations 'Congress of the Peoples of Ichkeria and Dagestan' and the 'supreme Military Majlis of the Shura of the United Forces of the Mujahideen of the Caucasus,' which were recognized as terrorist organisations 20 years ago.
The accused are convinced that the investigator 'simply included' the first available organisations on the FSB's banned list in the indictment.
"I/We are Abdulmumin Gadzhiev." Colleagues of the journalist continue to hold weekly strike actions, and he himself continues to publish articles
"The accusation of financing terrorism in the North Caucasus is very reminiscent of the case of planting drugs on Ivan Golunov in Moscow," explained the editorial staff of the Chernovik newspaper, clarifying the motives behind the persecution of their journalist.
Ivan Golunov, a correspondent for the independent media outlet Meduza, was detained in Moscow a week before security forces visited Gadzhiev. He was accused of attempting to distribute drugs on a large scale, and he was placed under house arrest. Nationwide protests in support of Golunov erupted across Russia, and five days after his detention, the Ministry of Internal Affairs dropped the criminal case. Later, five police officers who had arrested the correspondent were arrested and convicted.
On June 21, 2019, Dagestani newspapers Chernovik, Novoe Delo, and Svobodnaya Respublika featured headlines that read 'I/We Are Abdulmumin Gadzhiev,' following the example of federal publications such as Kommersant, RBC, and Vedomosti, which displayed 'I/We Are Ivan Golunov' on their front pages after the detention of the Meduza correspondent. Journalists from different regions of Russia, including Golunov, recorded video messages in support of Gadzhiev. Human rights organisation Memorial recognized the Dagestanian journalist as a political prisoner, and Amnesty International considers him a prisoner of conscience.
Colleagues believe that the criminal case against Gadzhiev is related to his journalistic pursuits and the determination of local law enforcement and authorities to squash any irritating opposition, including media outlets. In November of the previous year, under pressure from local authorities, Chernovik was forced to stop publishing its print edition and had to go digital.
Gadzhiev's colleagues continue to hold solidarity protests to this day. Journalists from Chernovik have tried to obtain permission for a rally in support of Abdulmumin Gadzhiev nearly 600 times but have been denied time and time again. Nevertheless, they conduct solitary strike actions in the centre of Makhachkala every Monday. Typically, law enforcement does not obstruct them, but journalists are occasionally detained and taken to the police station.
In an interview with Caucasian Realities, Gadzhiev explained that he doesn't consider these actions 'meaningless.'
"My cellmates were never subjected to shock treatment; they allowed us to receive books, and we were never sent to solitary confinement without good reason," he said. "We were able to assert our rights multiple times, stand up for ourselves and for others. Perhaps we even managed to change the attitude of many detention centre employees toward those who are baselessly accused of terrorism today. All of this is thanks to persistent and conspicuous public support."
Despite being imprisoned, the journalist continues to write articles and maintain a blog, sharing information about his case and the experiences of his cellmates. In the same interview with Caucasian Realities, Gadzhiev mentioned that the release of each publication, while he was in the special block of the Makhachkala pretrial detention centre, 'was accompanied by a small special operation.' According to him, before meeting with his lawyer, they would search him thoroughly and inspect all documents. Then, they would ensure that he didn't pass anything to his attorney.
"A staff member could not understand how a new publication appeared in Chernovik every week, but the scheme was as follows: I wrote a column for the newspaper on half of a notebook sheet, then hid it inside a pen, tightly wrapping it around the ink cartridge — this had to be done to avoid being caught by surveillance cameras. The lawyer would come on Wednesdays, and my cellmates would help me during his visit,"  he explained. "When the lawyer and I sat down at the table, we immediately took out identical pens and started gesturing as if we were discussing something, writing. Then, we put the pens in front of us. When the meeting was coming to an end, he would leave with my pen, and I —  with his. He immediately delivered my pen to the Chernovik editorial office."
In November 2019, the head of the detention centre, Daud Davydov, and several of his subordinates were arrested on charges of bribery and torturing detainees (Gadzhiev also covered this in his column). In February of this year, former law enforcement officers were sentenced to up to 8 years in prison. After that, according to the journalist, there were no more problems with passing articles to his lawyer.
Abdulmumin told stories about other cases too, including examples of torture of his cell-mates. A year ago, the Dagestani ombudsman wrote that he asked the Investigative Committee to check this information and promised to report on the response, but never mentioned the topic again.
Nearly three years in court. Witnesses refuse to testify while experts fail to find allusions to terrorism in the articles
Any proof of guilt is based on witness testimonies, and most of them refused to testify. There are more than 10 protected, secret witnesses (one of them was put down as Dzhigurda Nikita Sergeyevich, [a media personality in Russia]). Most of the testimonies concerned the preacher Sasitlinsky, but there were some that mentioned the Chernovik editor.
For example, 'Magomedov Magomed Magomedovich' insisted that Akhmednabiev had talks with Gadzhiev about cashing in money in order to make sure that the police didn't suspect him of sponsoring terrorism. He gave his testimony while under investigation. Later, Gadzhiev revealed his identity.
Another undisclosed witness (according to Chernovik, a former associate of Sasitlinsky) called Gadzhiev 'a very sly and calculated man,' put in charge of working out measures to conceal the preacher's activities.
In January 2021, the case began to be considered on its merits in the Southern District Military Court. The Human Rights Center Memorial noted that during the trial, many prosecution witnesses recanted their testimonies, 'some partially, and some in full.'
Some witnesses reported pressure from law enforcement officers, while others said their testimonies had been distorted. For example, Aida Khayty and Sultan Omarov mentioned that they were threatened during interrogations, and they were serving sentences on terrorism-related charges themselves. Another inmate, Anna Papushina, stated that she 'absolutely does not confirm the nonsense' that, according to her, was fabricated by an FSB officer from the Murmansk region during her interrogation.
The former imam of a mosque in the city of Izberbash also claimed in court that he did not provide 'the testimonies that were recorded in his name in the interrogation protocol' and did not understand what he was being questioned about, as he had been invited for an innocuous conversation. He mentioned that he signed the protocol 'after quickly skimming through the first paragraphs' because he was in a hurry for prayers. Another witness, who also retracted his testimonies, expressed outrage in court that he 'could not fathom that they would falsely attribute to him things he did not say.' Yet another witness explained that he simply signed all the papers given to him by law enforcement officers and investigators after they had detained him and subjected him to torture at the Kizlyar Center E  in connection with a different criminal case.
According to human rights activists, some witnesses in court contradicted what they had said during the investigation, some refused to answer any questions, and others claimed they could not remember anything 'due to head injuries.' 'All these witnesses had no information related to the charges presented. It seemed like they were not judging Gadzhiev, Tambiev, and Rizvanov, but Ahmednabiev, as they provided testimonies about Ahmednabiev, while no one really knew anything about these individuals,' said defense attorney Arsen Shabanov.
The trial was protracted because the investigator did not conduct linguistic examinations of Gadzhiev's articles during the investigation. Linguistic examinations of the 26 articles by the journalist from Chernovik were carried out during the court proceedings, which prolonged the trial for two and a half years. According to Gadzhiev, the presiding judge Roman Saprunov referred to this process as the longest in his practice.
Investigator Nadir Televov, who conducted the investigation, explained in court that he did not resort to experts. He clarified that based on the testimonies of witnesses, he personally concluded that Gadzhiev's texts were an attempt to "influence people's consciousness to involve them in the activities of the Islamic State."
"At first, we independently prepared a conclusion, based on which we filed a motion in court, and this specialist was questioned," explained lawyer Shabanov. "Then we filed a motion for an examination. The court conducted the examination, but we had to wait for it for a long time. Then the prosecutor also filed a similar motion."
Both examinations, as reported by Memorial, did not find in the journalist's articles any "incitement to send money to charitable foundations, overthrow government authorities, abandon a secular way of life, and create a theocratic state," nor "propagation of the idea of Sharia superiority, the ideas and views of terrorist organisations, and incitement to join their ranks." A supplementary examination initiated by Prosecutor Murad Aliyev reached the same conclusions.
"In essence, all the expert opinions indicate that there is nothing illegal in the articles, and this is essentially the main accusation against me because I was charged with two of the most critical points: transferring money directly to ISIS and writing these articles for ten years in which I allegedly incited terrorism," Gadzhiev noted in a letter to Mediazona.
The state prosecutor called for 19 years of prison for Gadzhiev, Tambiev, and Rizvanov. His monologue stretched for 2 meetings in court. According to Gadzhiev, the prosecutor "literally read out the investigator's indictment as if there had been no court hearings for two and a half years, during which he for some unclear reason commuted by train from Makhachkala every week." In his social media post the journalist once again points out all the inconsistencies of the case, which the accuser ignored "as if they didn't exist." 
"The prosecutor failed to notice that during the period in which the investigator attributed our activities to the named funds, two out of three terrorist organisations had long ceased to exist (!), and the third one did not yet exist (!)," he wrote.
Arguments began on June 22 and lasted for two and a half months as both sides presented their statements.
"I am offended by the terrorist label that they have pinned on me," said Kemal Tambiev in his closing statement. He mentioned that he had been offered a pre-trial agreement to give testimony against others to mitigate his sentence, but he had "nothing to confess to and nothing to expose either Gadzhiev, Rizvanov, or anyone else." In his final statement, Rizvanov also spoke about the lack of objectivity in the investigation, requested the court to "not extinguish hope for justice," and asked for an acquittal.
"We still don't know exactly who is behind this spectacle," reflected journalist Gadzhiev during his closing statement. "Some say it was an attempt to shut down the newspaper Chernovik and silence independent media in our republic. Some believe it was a signal from above to a certain part of the youth in the Caucasus. Perhaps it was just some office clerk, an inept operative trying to make a name for himself by simulating active counter-terrorism efforts. Today, standing here, I can confidently say that whoever it was, they did not achieve their goals."
Gadzhiev admits that even in spite of the hearing, these four years have been 'the most productive' in his life, and precisely in the detention centre he actually did some journalism, publishing 'hundreds of publications from confinement.' The criminal case against him and the rest of the accused he called 'a fake from through and through.'
"As one of the great legal scholars of the past, Sheikh Islam Ibn Taymiyyah, who also faced unjust persecution, once said, 'What can my enemies do to me? My heaven is in my heart. If they hide me away in prison, that will only bring me closer to my God. If they kill me, it will be a death in his way. If they send me away, it will be an adventure. 'I used to just read these words, but I am now beginning to understand them', he added with a smile at the end of his speech. 'At any rate, no matter how terrible prison is, I am very hopeful that the three of us will very soon be free.'"
On September 12, the Southern District Military Court in Rostov-on-Don sentenced Abdulmumin Gadzhiev to 17 years in a maximum-security prison. Kemal Tambiev and Abubakar Rizvanov were each sentenced to 17.5 and 18 years of imprisonment, respectively.
Editor: Maria Klimova
Translator: Anna-Maria Tesfaye