Originally, it was Baza, a breaking news Telegram channel, that reported about the detention of a 14-year-old schoolboy named Valery and his 18-year-old friend Nikita in the town of Solnechny in Khabarovsk on the evening of October 12th.
The Telegram channel claimed that the two young men "sympathized" with the Ukrainian Azov battalion: the older one, Nikita, managed "groups and chats" on Telegram and VKontakte, "propagandizing the battalion's ideology", while Valery "was involved in practical activities and also supported Azov."
"He was looking for instructions on how to work with explosives and prepare Molotov cocktails," Baza paraphrased the Investigative Committee's version of events. "The teenager conducted tests with explosive liquids, he prepared incendiary devices, tested them in deserted places, and posted the results in a Telegram channel."
According to Baza, on October 11 Nikita was charged with incitement to terrorism, while his younger friend was accused of training for a terrorist attack. It was not reported what happened to them; the Investigative Committee did not officially inform about the detention.
"Everybody knows about Valera"
The 14-year-old boy is Valery Zaytsev, a ninth-grader at School No. 1 in the Solnechny village. His classmates found out about the teenager's arrest from social media.
"Last Friday, a voice message was sent to the class chat group. Someone asked if we knew what had happened to Valera," Ira, a classmate of the detainee, told Mediazona. "They sent a post from the Khabarovsk News site or something. It said that he was doing something with Nikita, they were reading some kind of manuals…"
At first, Zaitsev's friends didn't even realize that the news story was about him, says another of his classmates, Dina. Since the beginning of the school year Valera has not been going to school—he was in hospital and had to stay there until December.
"We had a TB skin test at the end of eighth grade. And it turned out that he had a form of tuberculosis," Dina explains. "Valera ran around to doctors and hospitals and finally told us what had happened. I don't know what it was, but they told him to go to hospital. So he went to Komsomolsk to a hospital, and at weekends he came home to Solnechny."
Valera lived with his grandparents in Solnechny, his parents are alcoholics.
"Valera's father worked, but he also drank, and last year he passed away," recalls Oleg, another one of Zaitsev's classmates. "Mum drinks a lot, too."
Sometimes Valera would tell his friends "funny stories" about his visits to his parents, with whom he tried to keep in touch, Dina adds. "Well, yes, he would chat to mum and dad, go to their flat," she says. "And there were funny stories: you know, you can say all sorts of things when you're intoxicated. The usual dialogue with a drunken person."
After her husband's death, Valera's mother "seems to have reconsidered everything", according to his friends. "As he told me recently, his mum is already recovering and giving up drinking," Zaytsev is quoted as saying by classmate Viktor.
"Why is it burning so hard?"
Solnechny is a workers' town built in the 1960s for miners at the Solnechny Mining and Processing Plant, one of the largest tin mining operations in the Soviet Union. The plant went bankrupt in the early 2000s, and the site of the former factory is now a ruin. Many locals commute to work in Komsomolsk-on-Amur, 38 kilometers away.
The population of the settlement is about 12 thousand people. The local VKontakte community called "Made in Solnechny" has 375 subscribers. The latest post on the community wall is a video of several teenage girls beating up a peer near a heating pipe. "In the fucking face!" one of the girls shouts as the others beat the victim, pull her hair, and spit on the victim. She cries and tries to dodge the blows. If you rewind the tape, you can see other children fights. About a year ago, for example, the community posted a recording of  two boys of about ten fighting fiercely on the grass, while their peers filmed the fight on their phones.
Valery Zaitsev's classmate Oleg told Mediazona that the phone video could also be a reason for his arrest.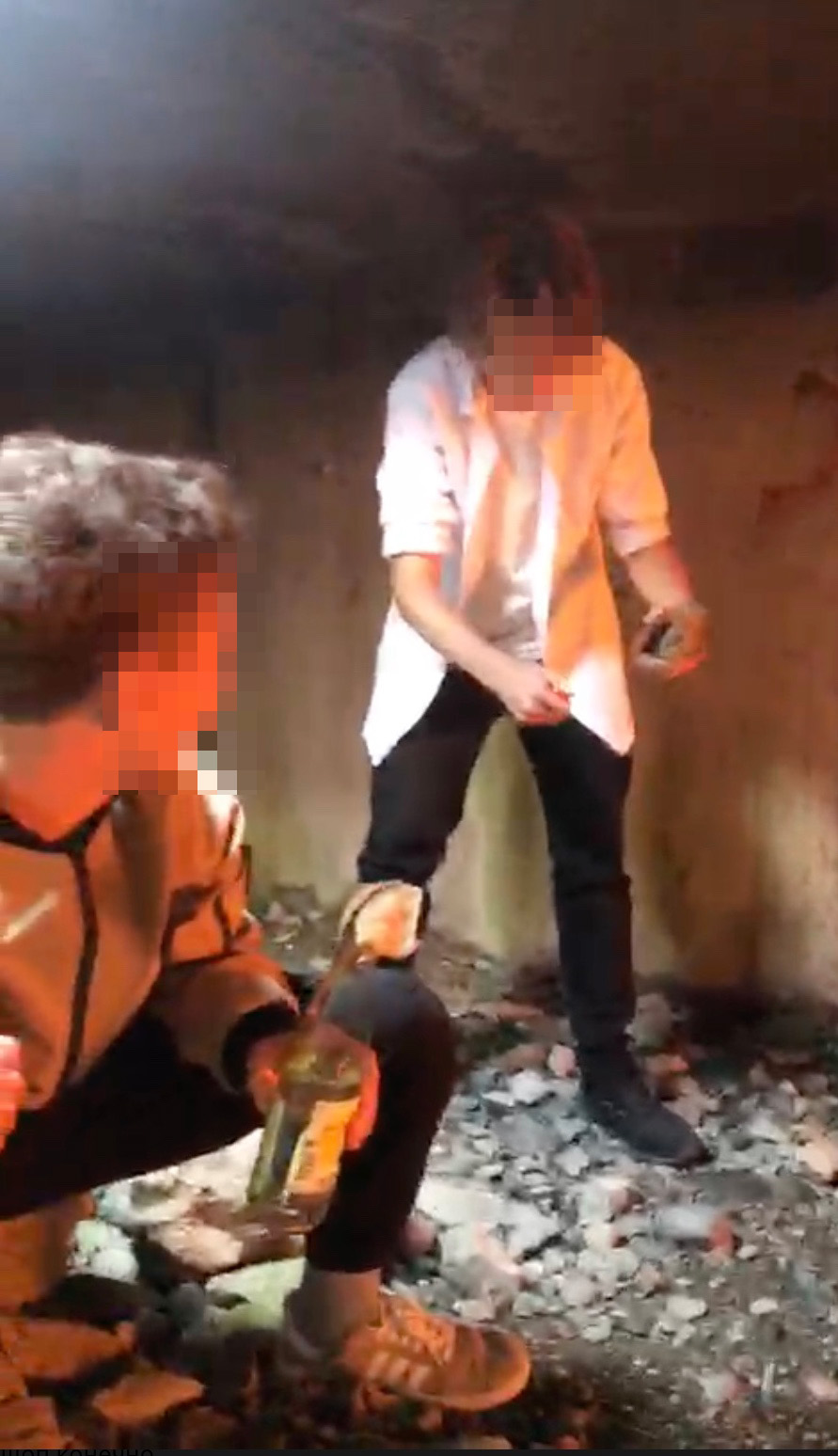 "They posted a video of them throwing Molotov cocktails in the basement of an unfinished building on Podgornaya Street," says the boy. "They posted it in a group on Telegram, and then Valera was detained by the police and taken to the pre-trial detention center."
In this 24-second clip, three teenagers take turns setting fire to four Molotov cocktails and throwing them into the concrete wall of an abandoned building. The bottles shatter and flames lick the ceiling of the concrete box. Faces are barely visible in the video, as the camera pans back and forth from the figures holding the bottles to the burning wall.
"Why is it burning so hard?" shouts one of the boys enthusiastically. Three of them flicker in the frame, the fourth is filming. The cameraman shouts: "Let's get the fuck out of here!" The tape stops.
"Handcuffed and taken away"
In a conversation with Mediazona, Valery Zaitsev's classmates suggested that the second detainee could be 18-year-old Nikita Turlayev from Komsomolsk-on-Amur, the only person they knew whose name and age matched the description in Baza. But none of them knew that the boys were communicating. Zaitsev's classmates also claim that the photo published by Baza is not of Turlayev, but of a teenager they do not know.
"I was about 11 years old, I think he [Nikita] was here in Solnechny, he was going for a walk here. But I don't know the person very well. In my opinion, he and Valera never communicated. As long as I know Valera, he never said anything about him, and we have been friends since kindergarten," says Viktor.
Mediazona managed to find Turlaev's classmate – before he was detained, they studied together at the Komsomolsk College of Technology and Service as masters of finishing and decorative works. Oksana says that Nikita was arrested in the morning of October 12 in the dormitory. She heard about it from Turlayev's roommate, who was present during the search and said that a social worker later spoke to her classmates about it.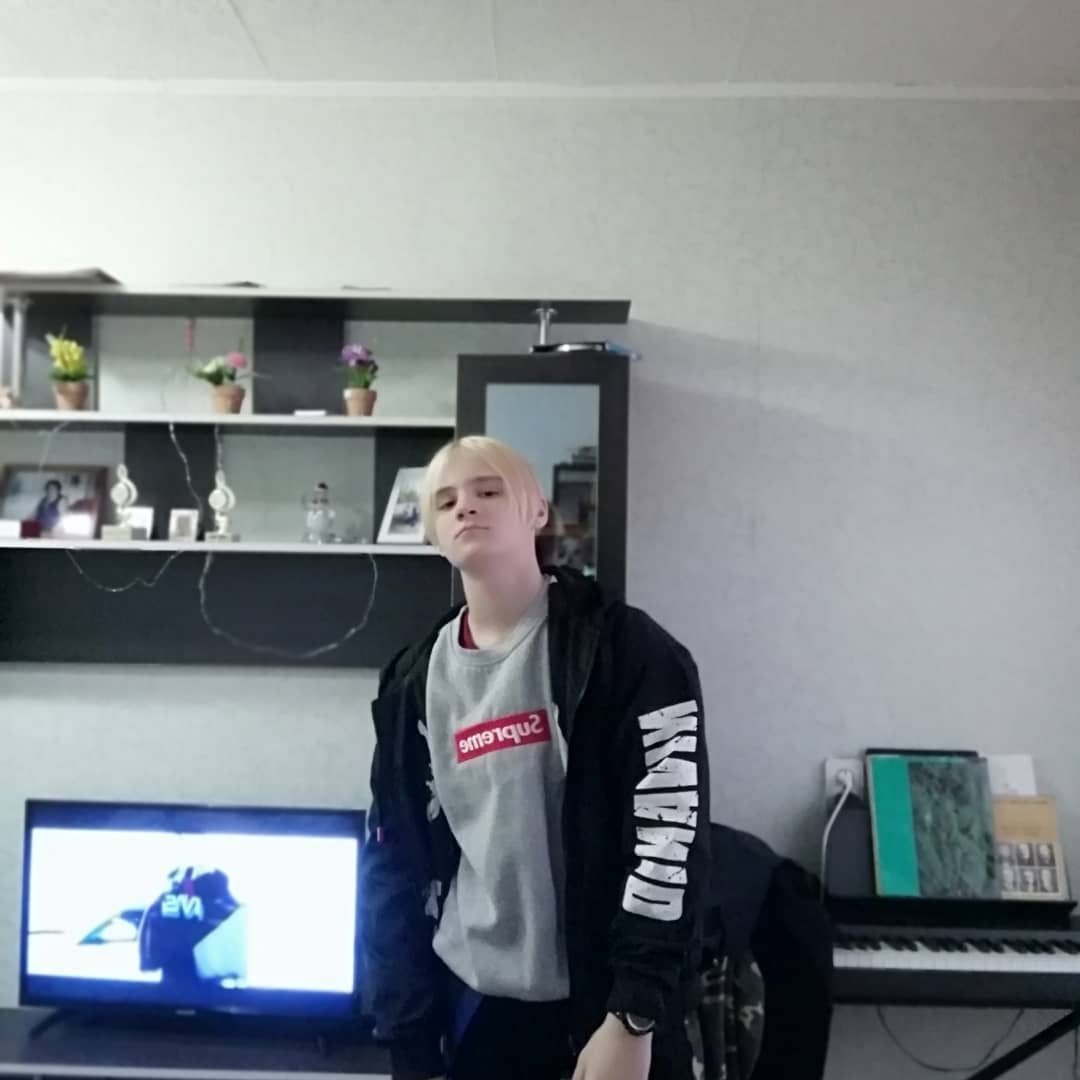 "They handcuffed him up and took him away, the neighbor was in shock," she says. "I don't know anything about his family, but in general he was a good person. You could laugh with him, he never quarreled with anyone. I didn't expect that at all."
The college head Galina Gorbunova refused to talk to Mediazona.
"You know, I am not an investigative body and I will not give you a comment, of course," she said. "I will neither confirm nor deny [the detention of Nikita Turlayev]. We know the law on personal data very well."
"There are specially assigned people"
In the status on his VKontakte page, 14-year-old Valery Zaitsev has two emoji: a Russian flag and a red heart. The avatar shows a curly-haired boy taking a selfie in the mirror. The gallery is full of photos taken against the background of garages and abandoned buildings, but one photo stands out. On it, the teenager is making a "V" gesture, which stands for "victory", with Kiev Motherland photoshopped between his fingers.
His classmate Oleg recalled that the detained student had supported Ukraine "even before the special military operation."
"Well, he said all sorts of nonsense," he says. "He did not hide his views at school, he did not keep his mouth shut. But after all this started, he somehow realised the danger of it all and stopped. If I'm not mistaken, his grandmother is Ukrainian... Something like that…"
Classmate Irina also remembered what Valera told her about his Ukrainian roots.
"I don't know if any of his relatives fought in the war, but as far as I know, he always supported Ukraine," she says. "Sometimes he would even say some words in Ukrainian. Like 'Glory to Ukraine,' for example, something like that. If one of his classmates said something against Ukrainians, he'd be like, 'Are you crazy?' I think he said that some of his relatives were from Ukraine, but I don't really remember. To be honest, everyone in the class didn't care about this war... Well, .except for Valera. He mostly supported Ukraine."
The children don't know why Zaitsev had a status with the Russian flag on his VKontakte page. His classmate Dina thinks that "this longing for Ukraine is just a joke," and Valera was not entirely serious about it. The classmates agree on one thing: the boy could not have been preparing a terrorist attack.
"Well, of course he could do mischief," Irina argues. "He could break a glass in an abandoned building, something like that... But to organise a terrorist attack…"
Zaitsev's friends say he could have been arrested at the hospital where he was being treated for tuberculosis. However, they don't know the details: the school teachers have not spoken to them about the incident, and Valera himself has not been in touch since last October 12.
"Now, as his older brother says, Valera is in the pre-trial detention center in Komsomolsk-on-Amur," said classmate Oleg. Zaitsev's adult brother did not want to talk to Mediazona's correspondent.
"Of course we feel sorry for him," Dina says. "We don't understand the whole point of the case, this conspiracy against him. It's just that everyone close to him – his friends, his brother – didn't notice anything that was written about him. But we really hope he doesn't get anything for it. Because... Well, shit... Poor Valera."
All that remains is for classmates to discuss the disappearance of a friend at break time and in the general chat room.
"We told the class teacher, but he did not react at all," says Irina. "He only said that we would all be questioned. That was his only reaction."
The 9B class' homeroom teacher Igor Tsapko did not return calls or messages from Mediazona. The school said that its management would not comment on the detention of Valery Zaitsev. The children department of the inter-district TB dispensary in Komsomolsk-on-Amur gave only  an evasive answer to Mediazona when asked about the detained boy.
"You know, it's all understandable, but I'm not entitled... If you read the media, you already know everything,"a doctor who introduced herself as Galina Vladimirovna but refused to give her surname said over the phone. It was probably Galina Starodubova, head of the children's hospital department; her contacts are given on the hospital's website.
Valera's grandfather, when called by the Mediazona correspondent, first swore and hung up but from the second time he agreed to talk and confirmed that his grandson was detained right in the children's hospital. He added that "everything was done properly there" and that investigators would "bring clarity" to the case.
"Of course I don't mind him being detained," the man said irritably. "It's already been taken care of, he's under investigation! There are specially assigned people who deal with that... He's under investigation, so that's it. We have enough to deal with as it is."
Editor: Dmitry Tkachev
Translator: Daria Fomina