Since January 17, our latest update, 876 more names have been added to the list. While this is less than in previous weeks, it is still one of the highest figures of the war.
Deaths of 137 more mobilised men have been confirmed; the total number of casualties among the mobilised reached 823. This refers only to instances where mobilisation was explicitly stated in an obituary. As this is not always the case, it is likely that the number of the deaths among the mobilised, including those we are aware of, is significantly higher.
Over the first six months of the war, most of the casualties were among professional military personnel. This is evident from obituaries and grave markers that featured pictures of the deceased in service uniforms and typically included information about their place of service. Later, the situation changed. The recruitment of volunteer fighters and prisoners along with the mobilisation led to a greater proportion of deaths among individuals in civilian clothing. In our count, about 70% of photos of the dead were of individuals in civilian clothes and their biographies suggested no previous professional military service.
It is important to note that we cannot definitively state that all of these individuals were volunteers or mobilised, as we often categorise them as "no data". However, this trend does suggest that there were likely more mobilised than previously assumed. Furthermore, losses among volunteers (which we define as individuals who had not served in the military prior to the war and had not been mobilised, but had chosen to go to war) have become comparable to or even greater than those of regular units.
In previous reports, we categorised prisoners enlisted in the Wagner PMC as volunteers. However, we have now decided to move them into a new category. We have identified the names of 458 dead prisoners. As a result, there are now fewer deaths among "volunteers".
High-ranking officer deaths identified over two weeks
What we know about the casualties
Most of those killed in action come from Buryatia, Bashkiria, Dagestan, Sverdlovsk, Chelyabinsk and Volgograd regions. Unusually high number of casualty reports from Krasnodar Krai can be attributed to local volunteers' frequent visits to the cemeteries to photograph new graves, so a greater number of casualties becomes public knowledge.
This is how the casualties are distributed across the Russian regions. These are absolute figures, no adjustments to the population of the region or number of military units station there have been made.
You can choose between the total amount of casualties and a breakdown by army branch, as well as see where the mobilised soldiers who were killed came from.
In the majority of cases, a fallen serviceman's branch is either listed on the death report, or can be identified from the uniform and insignia on their photos.
Mobilised soldiers and volunteers do not have separate branches, but we indicated them separately to allow for comparisons to regular military personnel. Here's how the deaths are distributed across army branches.
Volunteer units have been sustaining the heaviest casualties since the summer as opposed to death tolls from February and the spring: in the first weeks, the Airborne forces suffered heaviest losses, the Motorised rifle forces followed suit. A large number of those killed in action with no branch identified were volunteer fighters.
117 military pilots are known to have been killed. The loss of pilots is particularly painful for the army: it takes 7–8 years to train one first-class frontline pilot, and costs about $3.4 million. The loss of each pilot also means the loss of expensive equipment.
By January 16, we've been able to confirm deaths of over 1,641 officers. 191 of them had the rank of a Lieutenant Colonel or higher.
Officers killed in Ukraine
As of today, only two deputy commanders of the armies have been officially confirmed as killed: Major General Andrey Sukhovetsky of the 41st Army, and Major General Vladimir Frolov of the 8th Army. Retired Major General Kanamat Botashev, 63, was killed in late May; former fighter pilot had likely volunteered to rejoin the Armed forces. Another Major General, Roman Kutuzov, was reported dead on June 5; deputy commander of the Black Sea Fleet, Captain 1st Rank Andrey Paliy, is also among the casualties.
The date of the deaths is provided in almost 9,175 reports. The number of casualties per day according to this data is a poor reflection of the real picture, but it does suggest which days saw the most intensive fighting. 
It also has to be mentioned that the latest data is likely incomplete, further updates may introduce significant changes.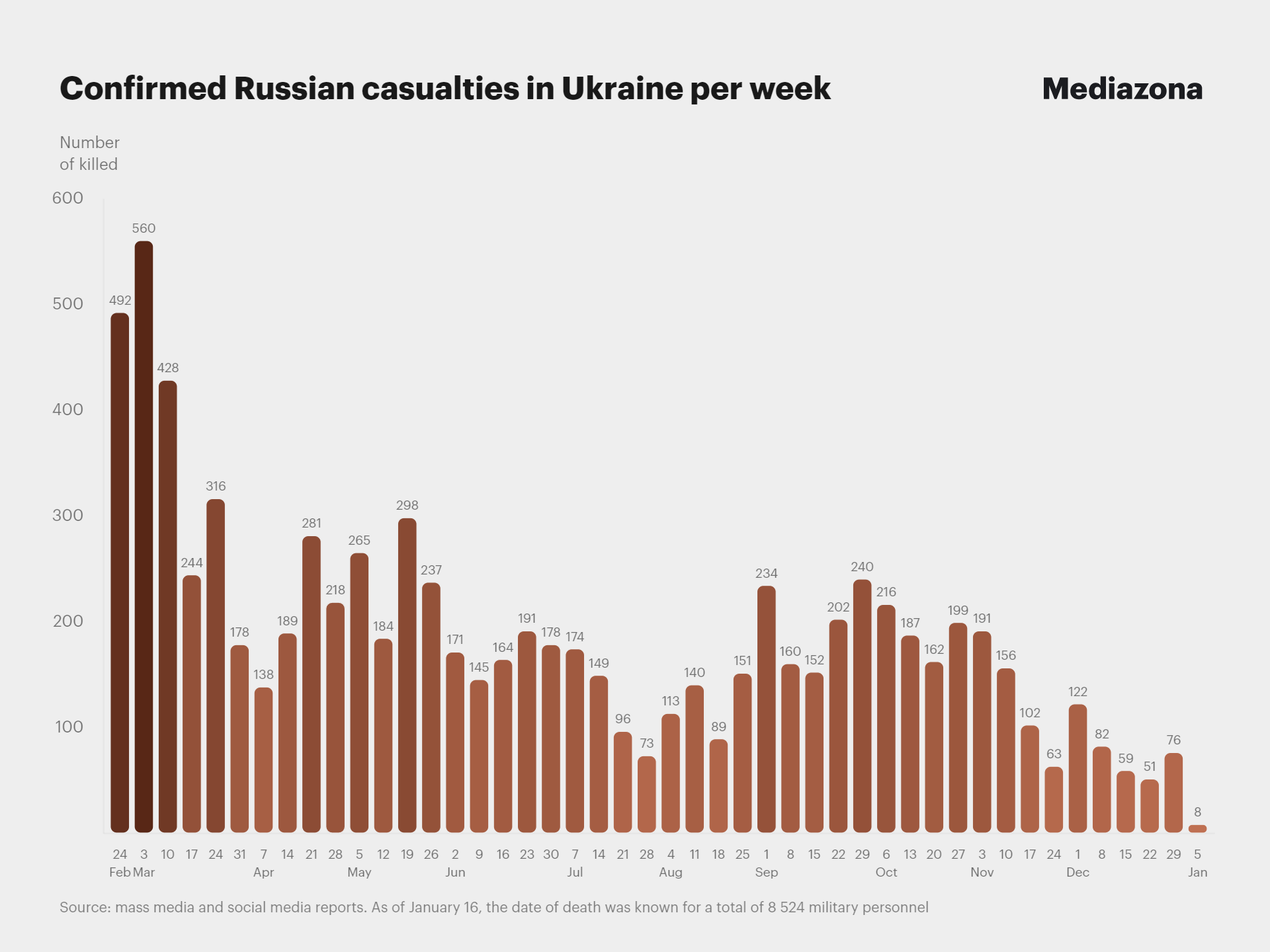 Over 10,000 reports mention the age of the dead. In the regular military units, the 21–23-year-old bracket saw the highest number of deaths. Volunteer and mobilised fighters are considerably older. Generally, men who go to war as volunteers are aged 30–35 and older, and the majority of mobilised soldiers are older than 25.