The first discrediter
On December 30 last year, 52-year-old Vladislav Nikitenko from Blagoveshchensk was released from prison. During 2009 days of imprisonment, he served time in prison colonies in four Russian regions, wrote almost eight thousand formal complaints to the courts and numerous security agencies, and participated in about a thousand hearings via video link. None of them led to any major decisions, such as the opening of a criminal case.
Nikitenko admits that he wrote those complaints for entertainment, but there was another motivation: "I sincerely love the Criminal Code and the Code of Criminal Procedure, even though it was Putin who signed them. Therefore, every time I am denied the registration of a crime report, I say: "Guys, you are fucking over Vladimir Vladimirovich Putin." And I say to Putin: "Listen, your arse is already so worn down, because no one respects your laws, and everyone fucks you over every day!"
Behind bars, Nikitenko was given the nickname 'The Lawyer': he also helped other prisoners file complaints earning their respect. But soon after a blatnoy came to his cell, demanded him to stop doing this, beat the expert of complaints, and pronounced him one of the downgraded.
Later, Nikitenko attacked his bully: unofficial prison law prohibits touching the downgraded, and blatnoy himself became one of the downgraded. Fellow criminal underworld representatives reasoned that it would be fair to strip both of this humiliating status.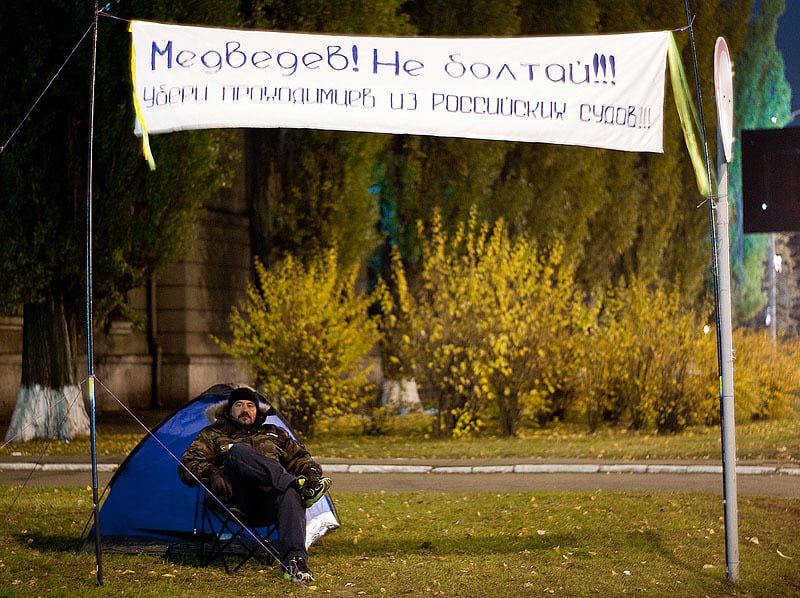 Nikitenko spent the next five years almost entirely in solitary confinement, encountering criminal rank only in the showers. "I was glad to be alone, because all this stupidity is simply unbelievable! Two wankers are sitting and talking about decency, like that you, God forbid, didn't touch anyone with your prick. I already finished washing, and they are still discussing it all! I say: "Listen, is everything OK with you? Maybe something doesn't sit quite right in your past? You're talking about someone else's dick for half an hour! Maybe you are taking strides in the wrong direction?" He laughs.
During the time he was off the internet, Nikitenko's site was shut down, and he was no longer able to access his LiveJournal account. He decided to move over to Facebook.
"Russia absolutely is a prison and a prison of the lousiest kind at that," he wrote in his first post. "You just have to admit that Tolstoy, Dostoevsky, Pushkin, Sholokhov and all sorts of other greats are not Russian. Just accept it as a sad fact of life. Such people are no longer born, Russia is inhabited by scum, and scum rules over scum. The few exceptions only prove this rule."
By late May 2022, Nikitenko was locked up again: he became the first Russian to be charged with discrediting the Russian army. Now he is under house arrest in his apartment in Blagoveshchensk, and he can no longer talk to Mediazona for fear he is being bugged; quotes below are from earlier conversations.
As in his last criminal case, Nikitenko—the law enthusiast, self-described 'proceduralist', polyglot, cyclist, fasting advocate and Ukrainian patriot—did all he could to get in trouble. But he doesn't want to end up behind bars again.
The making of a law enthusiast
Nikitenko was born in Moldova, graduated from an institute in Kyiv, served in the rocket forces, and then ended up in Blagoveshchensk. By the early 2000s, he was editor-in-chief and founder of the Amurskiy Letopisets newspaper.
His first conviction came in 2001 when he published a poem by a Communist MP about the local governor, whom the author called the 'Party's own Judas'. A year on, he filed an appeal that read 'It was judge Kuzmina and the chairman of the regional court Semyonov who sided with the crooks and actually became crooks themselves.' Judge Elena Kuzmina sued him for libel.
When the case was brought against him, Nikitenko sent a letter to the office of President Vladimir Putin, in his first term in office, asking to deprive him of his citizenship, recognise him as a 'stateless person' and issue an 'identity document that does not bear the state symbols of the Russian Federation.' Naturally, no such document was issued but, since then, when renewing passports, he put a written addition that he was not a citizen of Russia, and successfully received documents.
The libel case investigation was stopped twice — first because the statute of limitations had expired, then due to lack of corpus delicti — but Nikitenko successfully appealed all these decisions, so the proceedings lasted right up to 2009.
All the while he was travelling on his bicycle and practicing prolonged fasting with the latter either taking shape of hunger strikes with the demand of dropping the criminal case, or for no good reason at all, for the sake of 'hunriding.'
In the end, the charges were aggravated and Nikitenko was put on the wanted list. He left on a bicycle for Ukraine and travelled to almost all its cities, with the exception of 'five or ten around Kryvyi Rih.'
The traveller's story was highlighted by the Ukrainian media: for several weeks in November, Nikitenko lived in a tent in a flowerbed near the Russian Embassy in Kyiv and went on hunger strike. Above the tent, he hung the banner: 'Medvedev! Enough talking!!! Remove crooks from Russian courts!' While Nikitenko was in Ukraine, Russian publishing house AST published his book 'Hunger. Benefits for Survivors, Protesters and Dieters'. Now, according to him, the book is in its fourth reprint.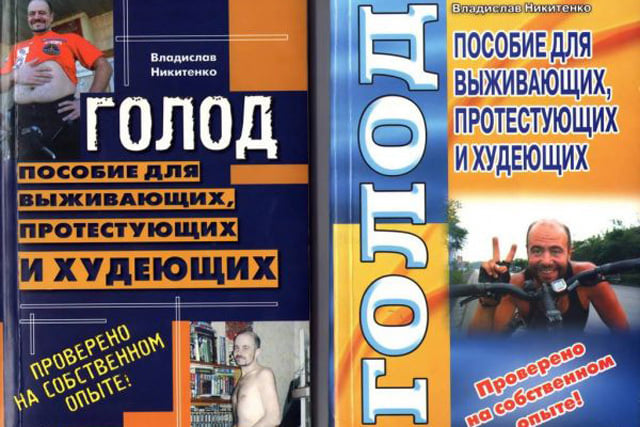 When his case was finally sent to court, Nikitenko asked for a jury trial. While this type of legal proceeding is uncommon in Russia, he believed that he would win any juror simply because he 'knows and loves' working with unprofessional judges. And, indeed, the jurors acquitted him.
Four more charges
After this triumph, Nikitenko started picking up cases as a public defender — in his uncompromising style. Defending an accused of attempted drug trafficking in 2013, he photographed the state prosecutor without a uniform and called her 'an animal'. A case of contempt was dismissed a year later for lack of corpus delicti. Under interrogation, Nikitenko claimed that he considers both himself and the investigator to be animals.
He did not last long, however, without a new criminal case — at another trial, Nikitenko snapped at the same state prosecutor, in response to her irritated tone: "PMS?" This three-letter question was used as a pretext for prosecution under the same article, but the charges were dropped, again.
Nikitenko was unstoppable, delivering numerous statements of confession: he confessed to insulting then Prosecutor of Crimea, Natalya Poklonskaya and to calls for violating the territorial integrity of Russia for offering Putin 'not to disgrace himself' and 'return Crimea.' To no avail, no case was brought against him even when he published online screenshots with a swastika from the movie 'Hitler Goes Kaput!' and took them to the police — almost demanding to be charged.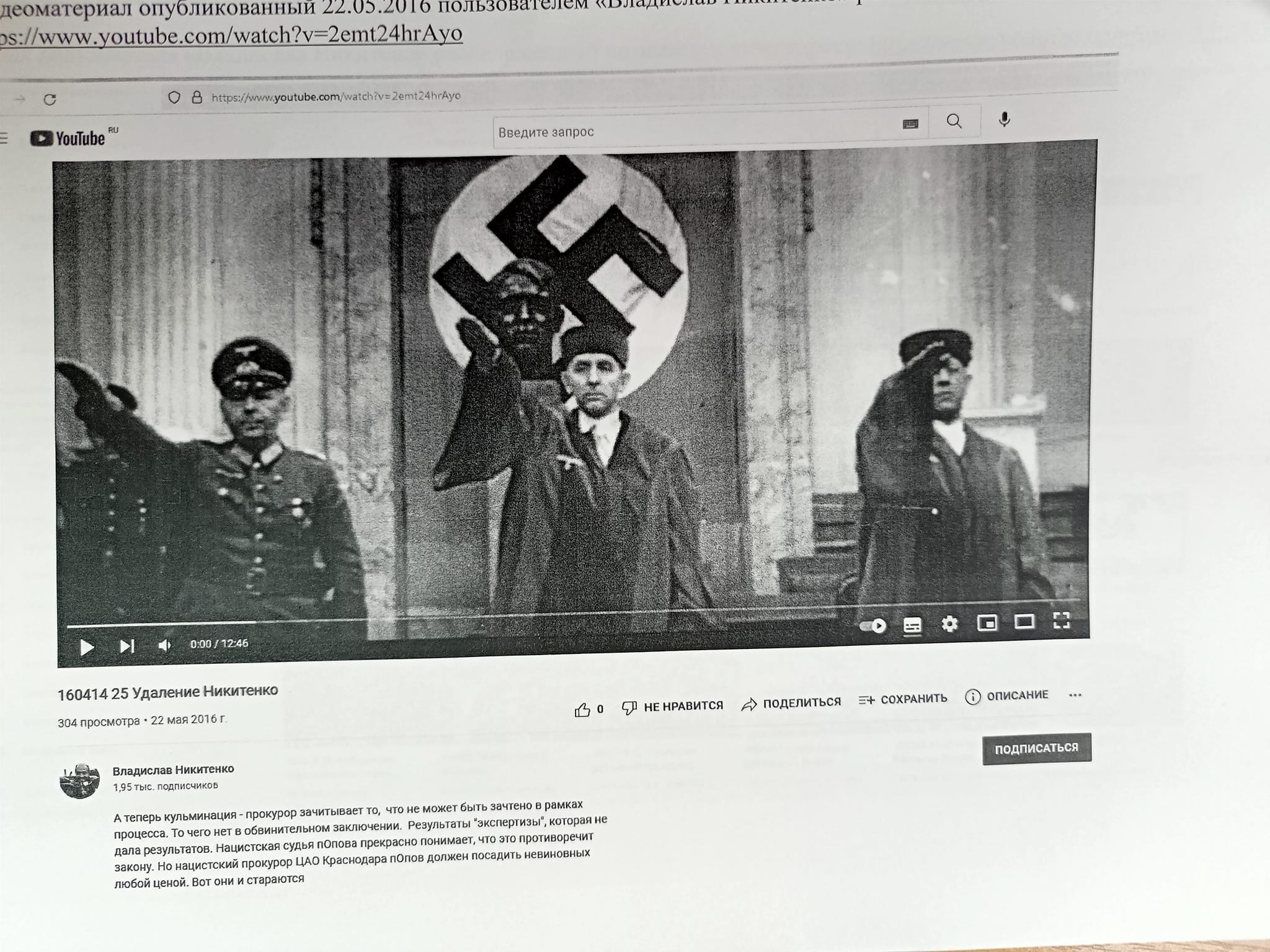 In the end, Nikitenko was sent to prison, but that case he considers fabricated from beginning to end. In 2015, he defended operatives in Krasnodar accused of beating a suspect. The self-taught lawyer was invited to participate in the trial by his former client, a retired judge. To do so, Nikitenko had to return from China, interrupting another cycling trip.
First case was brought against Nikitenko when he addressed the prosecutor, who apparently communicated too casually with the victim: "Are you related, or maybe just playing doctors and nurses?" Sexually suggestive language was considered an insult, and he was ordered not to leave the city until the end of investigation. This order he immediately violated by leaving for another trial.
According to the official account, when the policemen were arresting Nikitenko he managed to hit one of them in the temple twice — the man fell and received a concussion. The lawyer ended up in a pre-trial detention centre under a whole bunch of criminal articles: slander against a judge, two counts of insulting a justice system participant, obstruction of justice and violence against a police officer. In February 2017, a court in Krasnodar sent him to prison for six years.
A fabulous farewell blowjob
When Nikitenko was still in pre-trial detention, a new rule came into force making two days under arrest count as one day in prison. Taking into account transfers between prisons in different regions, Nikitenko began to file petitions demanding a recount of the sentence, but those remained unanswered.
Then, Nikitenko proudly recalls, he filed a report of sexual assault by the officers who participated in his arrest: 'A blowjob that was not ordered, not paid for, but carried out — by them.' His report was reviewed, but nothing followed. The restless Nikitenko appealed again — in the courts of all the regions where he had been held while transferred across Russia, seeking a full examination of his claims, including a polygraph test.
"There were judges at every hearing, and I said: 'Well, you are a woman, you must understand me, they brutally raped me!' I explained: one captain was giving me a fabulous farewell blowjob, another, who later became the victim in my case, was in the process of opening the door when my erect penis hit his forehead and that's how he got injured. Then, a few months later, the captain who gave the blowjob becomes a major. Well, I conclude that the main political secret in all of Russia is that senior officers receive promotions for their ability to give blowjobs, and the more the stars, the better they are at it. Accordingly, the blowjobs performed by Police General Kolokoltsev must be truly fabulous!" Nikitenko recalls with a laugh.
Predictably, the complaints did not lead to a fully-fledged trial, but participation in these meetings pretty much brightened up prison leisure time for the satisfied Nikitenko.
Switching to combat mode
After serving his sentence, the self-taught lawyer returned to his apartment in Blagoveshchensk "without a penny to [his] name." All his savings, some 7,500 euros, had been stolen during the search, he claims. The end of his term fell in the January holidays, so Nikitenko was released the day before New Year 2022.
Although hearings on his complaints were held three times a week in prison, Nikitenko was not tired. Upon his return to free society, he kept himself busy: attending hearings on his complaints about pre-trial detention, giving statements to the local police officers about other officers' supposed crimes and filing complaints to various branches of seciruty agencies. Some complaints were even accepted by the courts as justified.
But when the war began on February 24, all past proceedings became irrelevant. "YOU BALD ASSHOLE! DIE, SCUM!" Nikitenko then reacted.
The self-taught lawyer decided to fight in the usual way. On the same day, he sent complaints 'about a crime against peace and human safety' to the Prosecutor General's Office, the military prosecutors' offices of all districts, the military prosecutors' offices of all regions bordering Ukraine and all military investigative departments, specifying that he 'perfectly understands how dangerous it is' for him.
Russia started a war and all members of the Security Council, headed by President Vladimir Putin, and the military leaders of the country were criminals, Nikitenko insisted. They had committed crimes under 'at least' six articles of the Criminal Code: unleashing a war of aggression, publicly calling for a war of aggression, the production of weapons of mass destruction, using prohibited methods of warfare, genocide and an act of international terrorism.
In addition to the request to bring the perpetrators to justice, Nikitenko also demanded that a report on the crime be properly registered on a crime log and that all the necessary procedures be observed. "I would like the due process for my future imprisonment for my anti-war, anti-fascist and anti-Nazi positions to be observed," he explained.
Hitler Goes Kaput! and Glory to Ukraine
The next day, Blagoveshchensk City Court held a hearing on one of Nikitenko's old complaints. According to his testimony, he entered the court building with the words "Glory to Ukraine! Fuck the war! ", which no one heard except for the bailiffs and a policeman.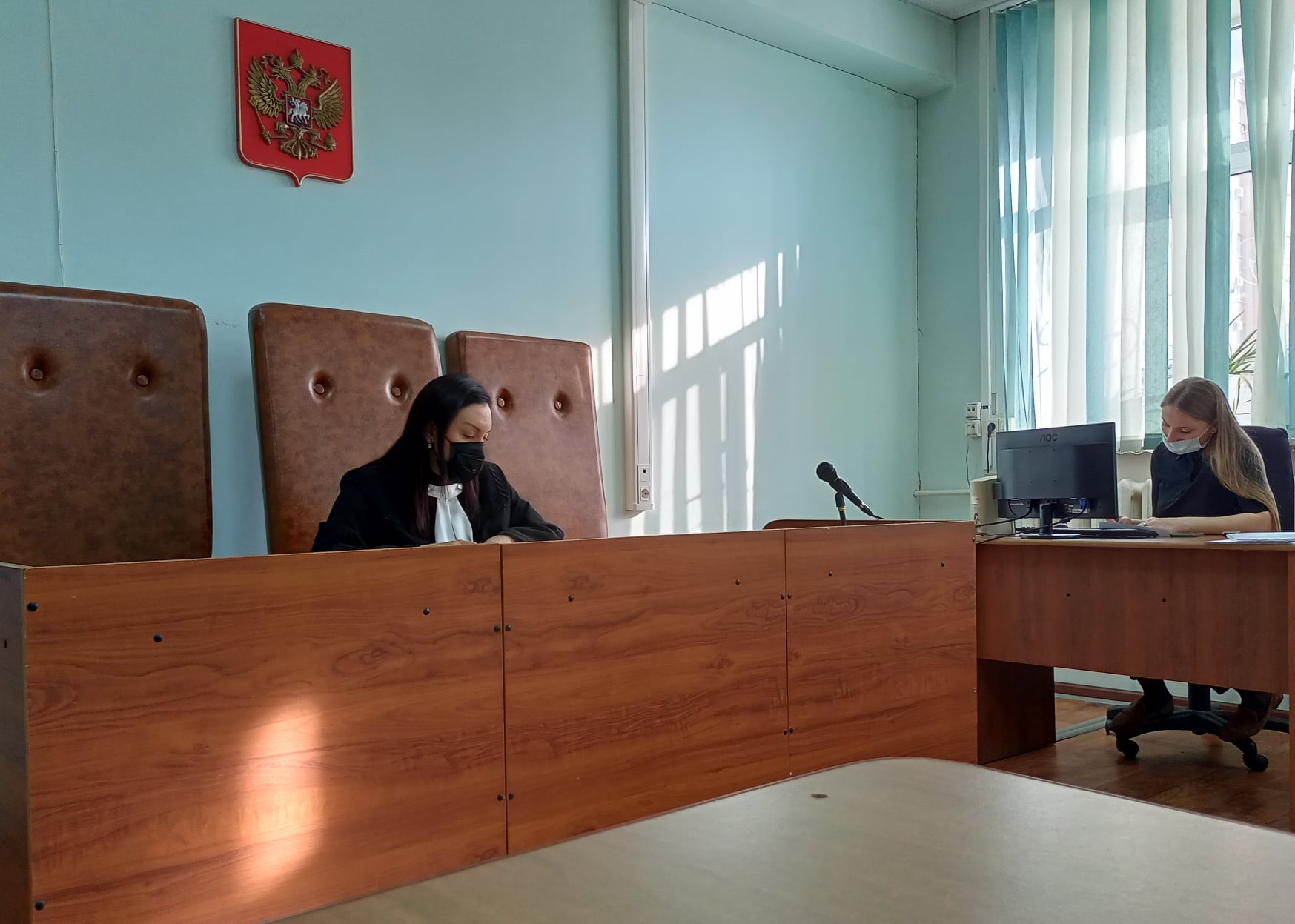 When one of them asked Nikitenko to repeat it, he did so, but they did not detain him — as he himself reasoned, because 'the instructions have not yet been conveyed.' At the hearing, he refused to address judge as "Your honour," which he repeated at all subsequent meetings.
Soon, Nikitenko began to receive confirmations that his complaints had been received and registered. All of them were returned to his home region and ended up at the Ministry of Internal Affairs. Nikitenko had an answer for every refusal from government agencies that reviewed his allegations. The military investigative department of the Investigative Committee for Strategic Missile Forces reported that the statement about Putin's crime was transferred for consideration 'to another state body.' Nikitenko filed a five-page response to properly describe nuclear war insisting that the agency infringed on his right to justice. The St. Petersburg Military Court refused to consider the application due to the lack of mention of specific places where the alleged crime was committed. Nikitenko requested the list from the Prosecutor General of Ukraine Iryna Venediktova, received a response and attached it to his further complaint.
In mid-March, Nikitenko sent a statement to the Ministry of Internal Affairs about the crime under articles on justifying terrorism and calls for war, which, in his opinion, the Governor of the Amur Region, Vasily Orlov, committed while announcing the death of a 19-year-old soldier. Orlov wrote online that he 'bows his head before the valour of our soldiers and officers,' who 'heroically serve and help the civilian population.'
"When the head of the region," explains Nikitenko, "declares his support for an aggressive fratricidal war, because of which the entire civilised world is already thinking that all of us are Nazis and fascists, when he claims that the deceased served and died heroically, he justifies this death and what is happening today in the long-suffering land of Ukraine."
In response, the district police drew up a protocol against him under an administrative article about discrediting the army. The court hearing took place the next day, and Nikitenko was fined.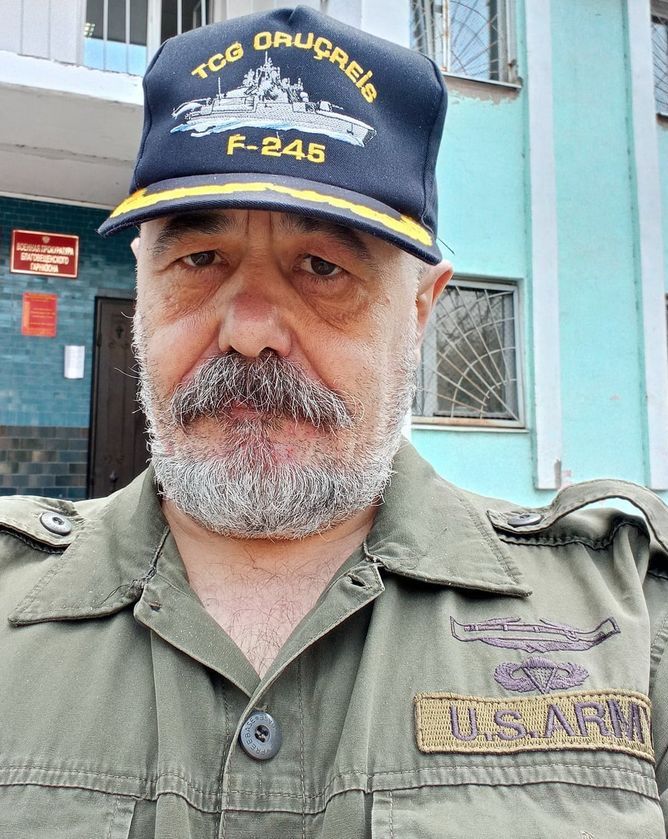 On April 1, Nikitenko was in front of a Moscow military court from Blagoveshchensk via video link. He was wearing a shirt with the 'U.S. ARMY' tag, and incited the indignation of the prosecutors by shouting: "Glory to Ukraine! Glory to heroes! No war!". The hearing ended in another redirection of his application. On April 6, another session was held in the same court, and Nikitenko "put on such a show that I surpassed myself." The next day he was detained after being charged with the public display of Nazi symbols.
The reason was the same footage from Hitler Goes Kaput! movie that he published on social media in early 2015 and took screenshots to the police, to no avail back then. This time, the judge sentenced him to 15 days in jail. "Seems like it was designed to prevent me from going from court to court and demanding that these new Nazis be held accountable!" he concluded, obviously not expecting such a decision.
Having left the temporary detention centre three days early, Nikitenko did not slow down and attempted to bring the Russian censorship agency Roskomnadzor to justice for issuing the movie a rental certificate. His Facebook posts became even more radical: he wished the death to the 'company of bastards', called 'the scum that fires missiles' … 'animals born of a whore', and predicted that 'Russia will be flowing in blood'.
In early May, another judge from Blagoveshchensk sentenced him to fifteen more days in jail under the same article on the display of Nazi symbols. This time, the reason was a video on Nikitenko's YouTube channel, in which a photograph of Roland Freisler with a swastika accompanied an audio recording of a prosecutor's speech at one of his hearings from 2016. "They sent me to jail solely so that I would not go to court," he wrote. Those were his last words on Facebook.
In the second half of May, the Ministry of Internal Affairs announced the opening of a criminal case on 'discreditation' of Russian army — not naming the suspect but the description of past convictions clearly identified Nikitenko. As one of the lawyer's acquaintances told Mediazona, the next day his apartment was searched, and he was put under house arrest, forbidden from making calls or using internet.
The Ministry of Internal Affairs said in a statement that from April 1 to May 6 the lawyer published more than ten posts discrediting the Russian Armed Forces. Nikitenko himself, who discussed the content of his Facebook page with Mediazona before his arrest, said that it was "nothing like that… I deliberately used vaguely sounding phrases."
The law enthusiast must be proud of himself: even after his first administrative case, he wrote that the articles criminalising statements about the Russian army were 'quality marks of an honest person.' Nikitenko hopes that his criminal case would be dropped if his administrative charges about fake news about Governor Orlov dissemination are dropped. So far he was unable to appeal against it.
Editor: Dmitry Treshchanin
Translation: Ivan Ignatiev