The TA-57 field telephone, a product of the late 1950s, is still employed by geologists, oil workers, and the military. However, it is also popular with Russian special services and police for a different reason. The device, equipped with a dynamo, generates a direct current and outputs 80 volts. This allows for a sensitive discharge to be administered to a person without leaving noticeable traces, explains Pyotr Khromov, a lawyer from the Crew against Torture, a human rights organisation.
The TA-57 was used to torture Dmitry Pchelintsev, a defendant in the 'Network' case, and Vladislav Esipenko, a freelancer for Krym.Realii. "The pain was intense, my eyes were ablaze, and it felt as if my brain was boiling. I was ready to confess to anything and sign any papers under such pain," Esipenko recounted. The operatives attached looped wires from the phone to his ears, a form of torture that has been given various names over the years, such as "The Putin Phone Call," "Chubais," or "Polygraf Polygrafych."
"Police departments and other structures keep a stock of these damned phones, just in case," Khromov explains. "They often use power outlets as well, connecting to the grid through a battery, as it's easier for an employee to explain the presence of a battery in his office than, say, a gas mask. But a field telephone is even simpler, hence its use in army units. It's a phone receiver and a dynamo, the handle spins to generate electricity. A cable can be cut and applied wherever needed. It's convenient and can be brought anywhere."
Ivan Kudryashov from Tver, some two hour drive away from Moscow, first encountered a TA-57 in 2019, when he was 23. The device was part of the equipment in an army unit near Rzhev, where he served as a radio telegraphist.
He next encountered the field telephone in the basement of the Tver FSB building on the night of October 1, 2022. Balaclava-clad operatives stripped him, bound his legs with duct tape, laid him on the floor, and only then removed the T-shirt that had been serving as a blindfold. Immediately, Kudryashov recognised the military phone. He was brought there following a search of his rented apartment, where law enforcement officers had discovered several Molotov cocktails.
The operatives began to interrogate Kudryashov. They demanded his iPhone password, questioned him about his affiliations, his connections with the Azov regiment in Ukraine, and his stance on the Russian invasion.
"Along with the questions came electric shocks. When I still refused to answer, they removed my trousers, leaving me in my underwear, and touched my anus with a stick. They resumed their questioning, and whenever they disliked my answer, they pressed the stick harder. Realising the depths of their depravity, I began to respond as they wished. Their final question was, 'To the front lines or to prison?' My answer was, 'I have no intention of participating in the war'," Kudryashov recalled.
He was made to write his confession at a table with the TA-57 on it. Once the paperwork was completed, Kudryashov was again laid on the floor, his legs bound and wrists handcuffed. As they left, the operatives promised, "You can expect nothing better."
The following morning, Kudryashov confirmed his nighttime testimony during an interrogation by a man with the last name Yerofeev, an FSB investigator. Neither the investigator nor Alexander Kiselev, the appointed lawyer, showed any interest in the abrasions and bruises on Kudryashov's face.
"Seeing my face scraped raw against the floor, Kiselev didn't even bother to ask what had happened or why," Kudryashov later wrote in a letter to his adoptive mother.
On June 20, the 2nd Western District Military Court handed down a sentence that, by today's standards, could be considered quite lenient: six years in a strict regime penal colony under a preparation for a terrorist attack article of the Criminal Code. The prosecutor's office had requested a seven-year sentence.
Two Posters on Tverskoy Prospect
Ivan Kudryashov's father left the family before he was even born. His mother passed away in 2000 when he was just four years old. Ivan spent his childhood in orphanages in the Tver region, initially in Bologoe, then in Torzhok. When he advanced to the fourth grade, Albina Shmeleva, a postmistress from the village of Moshki, took custody of him and another orphan. Her own two daughters had grown up and moved away for their studies, her husband was significantly older, and she found herself feeling lonely.
"I carried those mailbags endlessly, developed two hernias, so I decided to take in the children and leave my job. Initially, I wanted to adopt a girl, but the caregivers at the orphanage suggested a boy might be more helpful around the house. And indeed, they were. Our local orphanage was just across the village, I saw these boys all the time," she remembers. According to Shmeleva, both boys had "endured humiliation" at the orphanage, where "the older children bullied them." Now retired, Shmeleva is referred to as "mum" by Ivan.
Kudryashov excelled in STEM subjects at school. He gained admission to the Faculty of Economics at Tver State University, moved to Tver, and rented an apartment from Shmeleva's eldest daughter. However, after two years, he dropped out.
"He said it wasn't for him," his adoptive mother recalls. He tried to switch to a distance learning programme while working part-time as a loader at a carriage-building factory in Tver. In the spring of 2019, he received a draft notice. Ivan chose not to evade military service.
"He said he'd serve so that people wouldn't keep telling him he hadn't done his duty. He'd do his time as required and be done with it. He was even praised during his service," Shmeleva shares.
Upon leaving the army, Ivan returned to the same factory. "The assemblyman would instruct what to load and how much, and Kudryashov would do the loading," his manager described his duties during interrogation by the FSB.
During his military service, Ivan met Vadim Gonchar, another Tver native. After the army, Gonchar secured a position at the military recruitment office of the Kalininsky district of the Tver region. He became the senior assistant to the head of the department of planning, assignment, preparation, and accounting of mobilisation resources.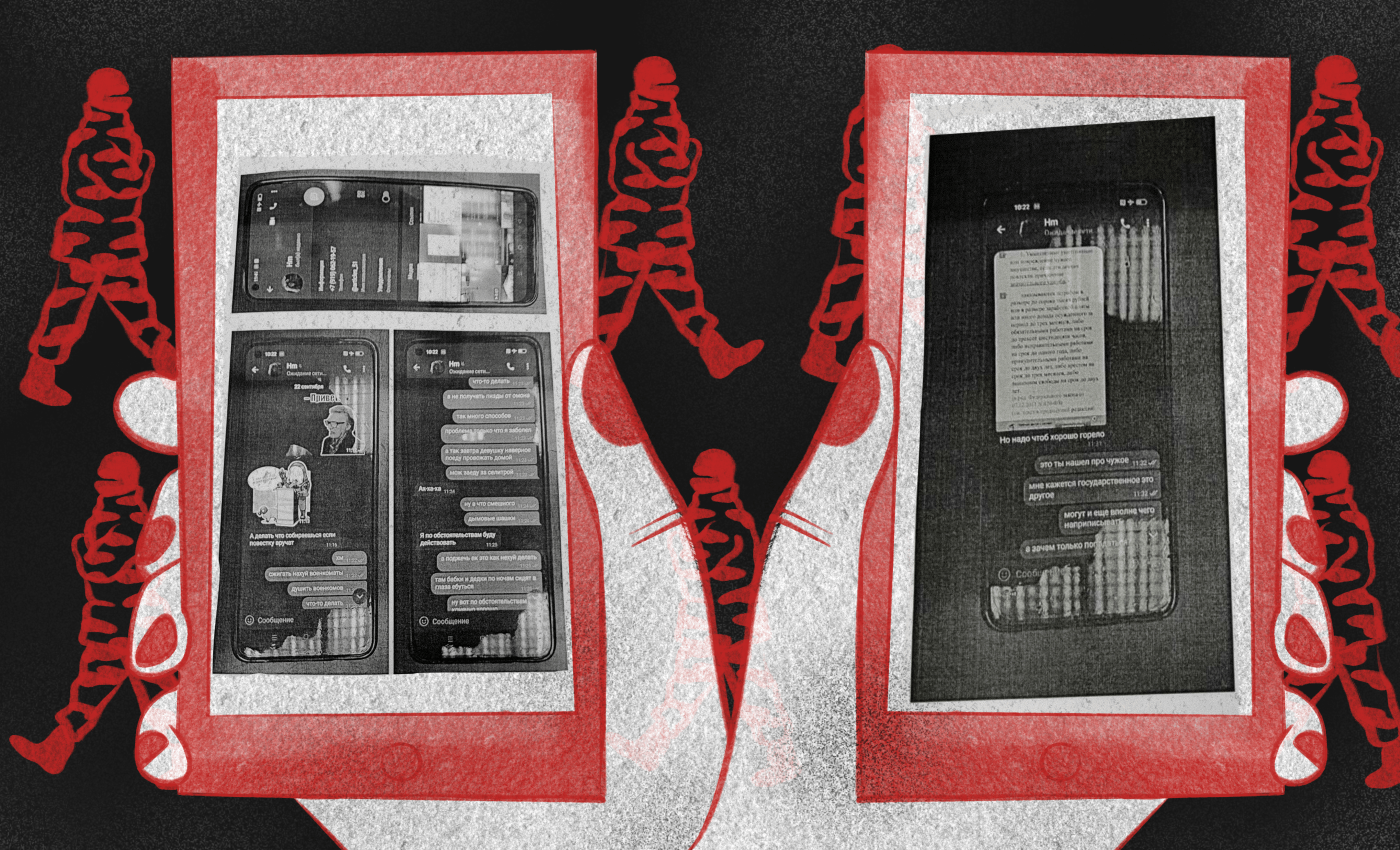 Judging by Kudryashov's VK account, he had an interest in politics even before his military service. He reposted announcements of rallies against censorship and concerts by protest artists like Oxxxymiron and Noize MC. After his military service, Ivan's feed started reflecting his views: news about protests in Belarus alternating with links to OVD-Info, a human rights project dedicated to helping people detained at the rallies, and Yury Dud's interview with Igor Kalyapin, Crew against Torture's former chairman.
Vadim Gonchar likely didn't see these posts. Kudryashov left his army friend's social media friend request unanswered for a long time—possibly because Gonchar was registered under a pseudonym, Vadim Almazov, and his profile picture was a manga image. They ran into each other by chance on a bus in December 2020, and only then did Ivan accept Gonchar's friend request.
On February 2, 2021, Kudryashov sent his former comrade a photograph from inside a police van—he had been detained at a rally in support of Alexei Navalny in central Moscow. "Kek, are you protesting? Where are you even?" Gonchar asked. "Police van, Moscow," Kudryashov replied. "Wow, why?" "I was just standing."
Kudryashov was released from the Yuzhnoye Butovo police department only after 10 hours, with a protocol under Article 20.2 of the Administrative Code. Later, a court fined him 10,000 rubles, and Kudryashov told Gonchar that this trip to Moscow was the most expensive of his life.
Afterwards, the friends' chat went silent. They would exchange news about the cancellation of a concert by the Ukrainian pop-punk band Poshlaya Molly in Tver, which they both seemed to have been hoping to attend, and they exchanged holiday greetings.
When the war began, Ivan and Vadim did not exchange a single word, although it's quite possible these messages were deleted. For some reason, the investigation did not seize the saved correspondence from VK's servers, limiting itself to examining Gonchar's phone.
The correspondence resumed on May 1. From the screenshots attached to the case, it appears that on this day Kudryashov sent Gonchar a link to a post in the Telegram channel "Close Tver after me" about a sensational local protest action: in the city centre, on Tverskoy Prospect, two bus stops were adorned with posters bearing the words "Fuck the war" in the colours of the Ukrainian flag.
"Close Tver after me" openly opposed the war from its first days, publishing posts about the crimes of the Russian military. This drew the attention of Tver's law enforcement as early as last spring. The FSB believed the channel's administrator was Alena Lakomkina, a volunteer who left Russia after special forces broke into her apartment and took her in for questioning. Later, a Tver resident who commented under one of the posts on the channel became a defendant in a criminal case.
The actual administrator of the channel uses the pseudonym "Dmitry Isakov" — according to him, this is the name of an employee of the local counter-extremism unit, or "Centre E", who tried to gain his trust but was exposed.
"Isakov" told Mediazona that he knew in advance about the time and "approximate format" of the action at the bus stops, which was prepared by a "User N."
"We communicated with him via messages before the action. He seemed like a reasonable guy, and I decided to help in any way I could. The action was entirely his idea. The cool thing was that the anti-war banners were drawn on the Ministry of Defense's banners promoting contract service. That is, he took down the Ministry of Defense's banners, took them home, drew his own on the back, and put them back in place," he recalls. Appreciating the ingenuity of the idea, the admin, according to him, decided to help "User N" and ordered a hacker service from the darknet—disabling surveillance cameras near the bus stops.
The day after the action, pro-government publications in Tver wrote that the photos with anti-war banners were "fake and photoshopped."
Despite the disabled city cameras, on May 20, a decision appeared on the website of the Central Court of Tver about the action, which the police qualified under the administrative article on discrediting the army. The author of the posters was fined 15,000 rubles, and his name appeared on the court's website—Ivan Kudryashov. None of the Tver publications paid any attention to this news at the time.
Kudryashov wrote on VK that he was indeed the author, but only after the announcement of "partial" mobilization in Russia on September 21, 2022. "Yes, this is my work, done on May 1, and I feel the same way about mobilization," he said, reiterating the slogan "Fuck the war."
To the post, Ivan attached a song by Trud, a Russian post-punk band, which goes like this: "The nastiest thing in the world is, of course, war."
«Не принимать никакого участия в этом говне». Опасные разговоры
The morning after Putin announced the "partial" mobilization, Kudryashov sent Gonchar his Telegram handle — articles_51 — via a VK message, asking him if he was "ready to die" and if he still worked at the military recruitment office. Gonchar replied that he had no intention of dying and that he had changed jobs a long time ago.
When the conversation continued on Telegram, Ivan asked what he planned to do if he received a draft notice.
"Hmm. Burn the fucking military recruitment offices. Strangle the military commissars. Do something, instead of getting beaten by the riot police. There are so many ways. The only problem is that I'm sick. But tomorrow, I'll probably take my girlfriend home—maybe I'll stop by for some potassium nitrate," Gonchar unexpectedly opened up.
The girlfriend he was planning to walk home was Ekaterina Mironova, who would later testify against Kudryashov.
"Ha-ha-ha," was all Ivan replied.
"Well, what's so funny? Smoke bombs. And setting fire to a military recruitment office would be a cakewalk. There are old men and women sitting there at night, staring into space. I could just slit my wrists without much effort, which is what I'll do if they hand me a draft notice," Gonchar continued.
"No, that's too much... My minimum is to get a criminal record if they serve me. I just have to choose what for. Arson sounds tempting," Kudryashov finally agreed.
Commenting on the detention of several Tver locals who had protested against the mobilization, Gonchar called the police "animals," complained that protesters in Russia don't fight back, and suggested new targets for attack—for example, an army clothing warehouse and even the school "where the children [of Tver's military commissar Igor Yanin] study." It's "right across the road from the assembly point."
Over the next two days, the former servicemen occasionally exchanged news about protest actions. Ivan reposted Mediazona's own "Draft Dodger's Guide" on his VK page.
On September 25, Gonchar sent him a link to a video about the "Freedom of Russia" Legion. "I'm not considering it," Kudryashov responded. "Killing Ukrainians or killing Russians—a lose-lose situation."
Despite the insistence of Gonchar, who kept repeating that the video had "a lot of interesting things to say," Ivan maintained: "You can either overthrow the regime with blood, or it will collapse on its own, like the USSR. The 'Freedom Legion' suggests the former, I lean towards the latter."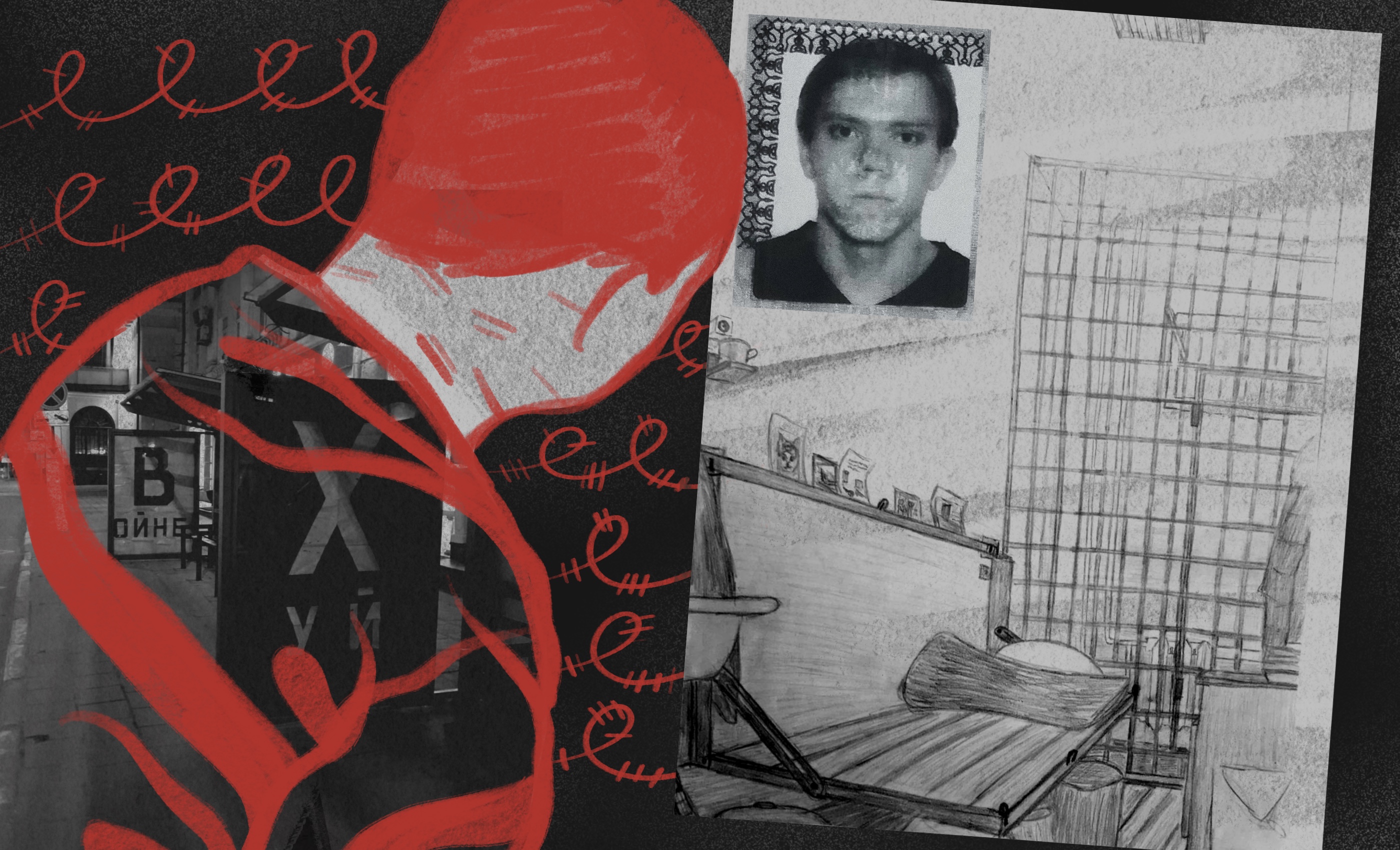 "Well, let's wait for the draft notices and get roughed up by the cops, I guess," Gonchar wrote back, disappointed.
On October 26, his 26th birthday, Kudryashov sent Gonchar a video of a burning military recruitment office in Uryupinsk, and Gonchar responded with news about a wounded military commissar in Ust-Ilimsk. Then the chat went silent for four days.
During this time, Evgeny Kataev, the head of the FSB in the Tver region, obtained permission from the Tver regional court to wiretap Kudryashov's phone, stating that he "holds a pro-Ukrainian stance," "has a negative attitude towards the SMO," and on Telegram, calls for the bombing and arson of military recruitment offices.
Kudryashov called his foster mother, Albina Shmeleva, and their conversation was recorded. They discussed the prospect of mobilisation. Ivan said that if he received a draft notice, he was ready to do "bad things," but he did not specify exactly what.
On September 29, a user with the nickname Carl Azov messages Kudryashov on Telegram. He asks why he hasn't fled from the mobilisation and whether he wants to "fight."
In response, Ivan sends a photo of the posters at the bus stop and admits that it was his work. "Are you ready to go till the end to stop the war?" asks the man. Kudryashov stays silent. "That all you got?" Carl Azov writes a few hours later. "Nope, just picked up a cocktail with one hand and a lighter with the other. Tell me where to go," Kudryashov replies sarcastically.
The next morning Carl Azov continues to persistently write about "the imminent death of the old bald faggot," promising that "the night will be hot," and suggesting "to bomb or set fire to all military recruitment offices with all their documents."
Ivan does not respond. Nevertheless, the investigator later attaches this chat log to the case as evidence that Kudryashov was preparing for arson.
On the evening of September 30, Ivan sends Gonchar a photo of a summons issued for October 3—it was handed to him right at his workplace during the evening shift, which lasted until midnight.
"Don't go," Gonchar advises. "Depends on why," Kudryashov responds, somewhat ambiguously.
Around the same time, he calls Shmeleva. Upon hearing about the summons, the woman starts to cry. Her adopted son reassures her: he won't go to the military recruitment office anyway, and the maximum penalty for this will be a fine of three thousand rubles.
"I think my salary should arrive soon. Sitting at home, waiting for it… Ah, I don't know, maybe it's better to just get the hell out of here, or maybe do something to get myself locked up? I haven't decided yet. He wants to pile corpses all over Ukraine, to pile corpses upon corpses… They take everyone, no matter the disabled or not. I'm blind, for instance. My glasses will fall off, and I won't be able to see anything," Ivan muses to the sound of his mother crying.
When Shmeleva notes that if he doesn't show up at the military recruitment office, they will come to his home, Kudryashov tells her about alternative civilian service. She hopes that due to his poor eyesight, Ivan will be sent to "serve out porridge," but he insists: "I will not take any part in this shit at all. This is shit! They fined me 15 thousand for calling it shit. And with this 15,000 fine, I have to go and defend this shit? It's not war, it's shit, and to participate in this shit—why should I want to get my hands dirty in it? It's not a war, it's called a special operation, right? I'd rather be in jail, it's no big deal, it won't be a big deal."
How exactly he planned to end up in jail, Kudryashov did not elaborate.
Arrest, testimony and a Molotov recipe
Kudryashov stashed the summons in his locker at the factory changing room.
After midnight, when his shift ended, he boarded the factory bus and stepped out at the stop closest to his home in the neighbourhood of nine-storey panel buildings.
He had music playing in his headphones. Halfway from the bus stop, he was ambushed by men who restrained him, handcuffed him, bundled him into a car, stripped off his T-shirt and wrapped it around his head.
According to Albina Shmeleva, she was told about the "bag" over the young man's head by Leonid Shain, a 64-year-old senior resident in the same building where Ivan rented an apartment. But when questioned by the FSB investigator, Shain mysteriously failed to recall this detail.
Regardless, Kudryashov was taken up to the fourth floor and the door to his apartment was opened with a key retrieved from his bag. Inside, Ivan was made to kneel in the bedroom, a search warrant was read out to him, and only then was the T-shirt removed from his face. He saw people in military uniforms and green balaclavas, along with two men in civilian clothes, also wearing balaclavas. According to Kudryashov, more people entered the bedroom later: a technician, an FSB officer filling out a protocol, and two individuals referred to as witnesses.
The security forces showed little interest in the bedroom; according to Kudryashov, the only items that caught their attention were the bookshelves.
However, when they led him to the storeroom, they discovered two bottles with rags and fireplace matches taped to them. In the kitchen, they found two more bottles of flammable liquid and a stencil for the words "No to War." The operatives took a photograph and sealed the evidence.
Later, the protocol revealed that they had also seized long fireplace matches from his apartment, which Kudryashov claims he had never bought or kept at home.
After being tortured and threatened with rape at the FSB, Ivan told them the password to his iPhone. Among political memes and Twitter screenshots, the investigators found a photo instruction for making a Molotov cocktail, similar to those widely circulated on anti-war Telegram channels at the time. The file's metadata indicated that Ivan had saved it on September 25.
In all three official documents containing Kudryashov's confessions, it is stated that he is an "antisocial individual," who doesn't date girls, has no friends, and "imbibes opposition information" on Twitter, where he follows Alexei Navalny, and on Telegram.
Kudryashov concedes that he "contemplated evading mobilisation by committing a criminal act—setting the military recruitment office on fire." However, his alleged crime itself, that is, the preparation for arson, is described only vaguely.
"I had two days left to decide how I would resist the authorities against mobilisation. One of the options I considered was setting the military recruitment office on fire, which I intended to do alone. I planned to commit this act of arson in the near future," the protocols quote Kudryashov.
How, when, and where the young man managed to prepare Molotov cocktails is not explained, especially considering that only six and a half hours passed between the delivery of the summons and his arrest, six of which Ivan spent at work.
Later, investigator Yerofeev will send a request to his colleagues from the Department for the Protection of the Constitutional Order and Combating Terrorism to determine the origin of the Molotov cocktails. They will respond that it was "not possible to ascertain anything" based on the results of the "comprehensive investigative measures." However, Lieutenant Colonel Chernyakov, the deputy head of the Department, will clarify that fireplace matches can be purchased at chain stores such as Magnit, Pyaterochka, or Leroy Merlin, and gasoline and motor oil can be found at any petrol station.
The testimony and the sentence
According to Kudryashov's testimony, it was Gonchar who suggested setting fire to the military recruitment office and going to jail to avoid being sent to the front. The security forces questioned Gonchar on the night of October 1, with the interrogation lasting from two to four o'clock.
Gonchar said that during the war they began to chat more often, discussing political topics. After the mobilisation decree, he noticed that Ivan began to express himself more aggressively and radically against the president's decisions and talked about the righteousness of those who set fire to military recruitment offices. A few days before the arrest—Gonchar couldn't specify the exact date—Kudryashov allegedly suggested to him to "set fire to one of the military recruitment offices in Tver."
Gonchar claimed that Kudryashov knew he had previously worked at the military recruitment office and asked about the security regime and protection measures at the facility. Gonchar said he supported his proposal "out of solidarity," without thinking about Kudryashov's serious intentions.
The interrogation protocol mentions that Gonchar "sincerely repented" and pledged to "timely inform the security agencies in case similar facts were identified." The fact that Kudryashov never suggested setting fire to the military recruitment office in their chat was explained by Gonchar simply: his friend deleted his messages in the chat.
On June 20, Ivan Kudryashov was sentenced to six years in a high-security penal colony, two and a half of which he must serve in prison conditions. "Your Honour, in my opinion, a person, especially after being tortured, should not be in prison, let alone for fabricated charges. There seem to be plenty of cases already," Kudryashov briefly stated in his final word.
Gonchar did not respond to calls and messages.
Мозг можно засорить, но сердце вряд ли. Встречи в СИЗО и голодовка
In a conversation with Mediazona, Kudryashov's foster mother, Albina Shmeleva, attributed Ivan's anti-war stance more to his kindness than political views. "He would even let a fly out of the house! 'I don't want to kill,' he would say!"
After his arrest, he met new like-minded people—the spouses Alexander Martynov and Lyudmila Razumova, who were accused of publishing "fake news" about the army and vandalism for anti-war graffiti and posts on social networks.
In mid-March, Razumova was sentenced to seven years of penal colony, and Martynov to six and a half. After this, Ivan's own sentence did not seem unexpected to him. "I thought they would give a little less. Well, it is what it is. ¯\_(ツ)_/¯," he concluded.
In one of his letters, Kudryashov, confessed that as a vegan by conviction and "knowing that the human body develops until the age of 25," he had been preparing all his life to completely give up animal food when he turned 26. "It's a pity that no one warned me about my arrest and subsequent imprisonment four days after turning 26," he added.
Initially, it was not easy to switch to a vegan diet in detention, but by February he managed to form a suitable diet thanks to purchases from the prison shop.
On June 8, he went on a hunger strike, demanding that the prison administration provide him with vegan food for free, stop delaying parcels with books, vitamins, and non-animal protein—and allow him to wear shorts outside the cell.
He ended his hunger strike on July 18, after 40 days, having lost 15 kilograms (it was reported that he now weighs less than 50 kilograms at a height of 175 centimeters). He decided to end the hunger strike after a visit from a prosecutor's office employee—the officer promised to fulfill all of his demands.
Editor: Dmitry Tkachev