On the night of August 17, Russian police officers brought a group of six Ukrainians to the Russia–Georgia border. This group consisted of five former inmates from Kherson and one other man. All of them had been kept in a center for foreign detainees, and the decision was made to expel them through the Verkhniy Lars border crossing.
Russian border guards allowed them to exit the country, but, unexpectedly, Georgia denied these men entry, even though numerous Ukrainians, previously freed from Russian prisons, had already entered via this route.
The Ukrainians adamantly refused to return to Russia and spent 11 days in the border zone.
According to 47-year-old Alexei Zarubin, they slept outside, in a pavilion of the Georgian customs, and in a small house belonging to construction workers who were, at the time, dismantling a duty-free building and allowed them to use their dwelling. As their predicament came to light, they started receiving food and drinks.
In one of the days, Zarubin says, two Russian security operatives in plain clothes attempted to abduct a Ukrainian. They entered the building of a Georgian customs post. "It seemed they didn't recognise us by face: they walked past us three times," recalls Alexei. "They went upstairs; one of our guys was sleeping there. They woke him up and asked, 'Are you Ukrainian?'"
Upon receiving an affirmative answer, Zarubin says, they approached the others and grabbed one of the Ukrainians, telling him to "go down to the car and sign some papers."
"He replied, 'What papers?' I see they're already beginning to twist his arms and lead him away by force. Well, we called the Georgian police—huge thanks to them; they arrived very quickly, five officers, and started to ask how these people had entered and what right they had to behave like this on Georgian territory. They didn't provide any documents, tried to pull them aside—obviously, they were hoping to negotiate. The Georgians behaved really well and told them to leave."
In the end, Georgia did let them into the country. These prisoners took the same route as dozens of other Ukrainians released from Russian penal colonies. Most of them were serving their sentences in the Kherson region, but when the Russian army retreated in November 2022, they took these prisoners with them. Why? Nobody understands even now.
Kherson under occupation. "Well, Euromates, welcome to the Russian Federation"
"I got tuberculosis, thankfully cured. But now, I have hepatitis C and an unexplained case of HIV. Many lads contracted TB; their lives are ruined," Alexander Sokolov explains, emotionally, during a conversation with a Mediazona reporter in Tbilisi. Sokolov sports a earthy tan, a short haircut, and unassuming clothes.
In Ukraine, he had been convicted for timber theft, served a short sentence at penal colony No. 90 on the outskirts of Kherson. There he met 44-year-old Mikhail Kuvshinov, imprisoned for an attempted motorboat theft. And in February 2022, the Russian invasion began.
Many at their penal colony had phones and tablets, say former inmates, so they learnt about the attack on Ukraine simultaneously with the rest of the country. According to them, numerous colony staff hastily resigned and moved to safer regions; Russian forces captured Kherson on March 2.
According to the inmates, the head of the facility, Evgeny Sobol, gave all staff members until May 25 to decide whether they would transfer to the Federal Penitentiary Service of Russia or not. "If someone wants to stay, write an application, and you will be accepted into the Federal Penitentiary Service," quotes him 47-year-old Alexei Zarubin, one of those who spent ten days at Verkhny Lars after being released. He recalls, "The worst shift 'under Ukraine', in our opinion, turned out to be the best one overall—they left work immediately and didn't want to stay with Russia."
Soon, new staff were hired to replace those who left.
"These were our our fellow Kherson residents who needed jobs. But they genuinely understood that they were supporting occupying forces," recalls Mikhail Kuvshinov. "The inmates condemned the employees who stayed, and said so, but cautiously, if relationships allowed. When asked, 'Why didn't you leave?', they replied, 'Where would I take my family, what would I do in Ukraine?'. I just shrugged, and that was that."
Gradually, Ukrainian inscriptions in the colony were replaced by Russian ones, state insignia disappeared and were replaced with Russian ones. According to Mikhail, employees admitted that at morning meetings they were required to "praise Russia." Sobol, the head of the colony, having sworn allegiance to the new power, ultimately assumed the position of the head of the Russian Federal Penitentiary Service department in the newly formed Kherson region.
"From the first of June, we completely transitioned to the Russian language. We replaced all the flags. We are fully integrating into the Russian Federation," he reported in the summer of 2022.
A week before the invasion, Sergei Zatirko found himself in penal colony No. 7 for tuberculosis patients near the town of Hola Prystan on the left bank of the Dnipro river (it remains under Russian control). He recalls how collaborators among the colony staff, starting in the summer of 2022, began to systematically torture the ill inmates (there had been no violence before): "They'd come in and say, 'Well, Euromates, welcome to the Russian Federation.' They'd set dogs on them, just like that, 'Attack'! They slashed hands, there were horrifying incidents, they just beat people up. Maybe because the old head of the colony was pro-Ukraine. [At the start of the war] he came in and said, 'Guys, those who want to fight, write a request, you'll be let out'. This was when the war began. Maybe that's why: we wrote requests, but then he disappears, and there's a new boss—and that's that."
Evgeny Muraev was also in this colony. He remembers the Russian-appointed warden, a man named Horobets, "pointed out to soldiers who needed to be beaten and humiliated."
"They beat me personally for about an hour and a half; I bit into a piece of wood and broke two teeth," recounts Muraev. "When they finished, only my neck was clean, everything else was black. I slept on my stomach for two months, went to the toilet half-standing. This, even though I have hepatitis C, HIV, tuberculosis, and also ruptured heart valves."
Mikhail Kuvshinov from colony No. 90 says that prisoners who openly expressed anti-Russian views were treated harshly: they were sent to solitary and beaten. Some were suspected of relaying information about the Russian military directly from jail. As Mikhail puts it, they were "taken away".
After the liberation of Kherson, inmates from the local detention centre told journalists from Slidstvo.Info that they found out the locations of the Russians from cellmates or town residents and passed this information to their contacts in the Ukrainian armed forces.
"You do know that those found to have relayed information were nearly executed?" a journalist asks Sergei Golovko, who was in confinement during the occupation. "I've read testimonies that they were put in front of a 10-meter-deep pit and warned not to do it again."
"You see, when they've lined you up against a wall twice, nothing else really terrifies you," he answers, meaning that the Russians practised a mock execution as a means of intimidation.
Another figure in the report, Yaroslav Sidorov, shares that four Russian positions were attacked based on his coordinates. Hence, in October, the Russians were fervently searching for whoever was feeding information to the Ukrainian forces. They entered his cell and began assaulting him, later transporting him with a sack over his head to an industrial area.
"They forced me to my knees, removed the sack, and before me was a pit ten by ten, perhaps even intended for us. And that's it, they're standing over me saying, 'Come on, spill it.' I thought, 'If I talk—they'll kill me; if I don't—they'll torture and kill me anyway.' They fired a shot just above my head, placed the sack back on, and dragged me away. They said they would call me again and threw me back into the cell. Everyone in the cell knew that I was assisting the Ukrainian forces."
Yet, no one returned for Sidorov. In early November 2022, the Russian army withdrew from Kherson, but not before liberating all detainees from the pre-trial detention centre, amounting to several hundred individuals. Anna Skripka, from the civic group "Defence of Prisoners in Ukraine," conveys that the Russians informed the prisoners that the facility was rigged with explosives, prompting them to scatter in all directions. Many of them were later apprehended by Ukrainian authorities.
However, the prisoners from the Kherson colonies weren't as fortunate. The retreating Russians took them along.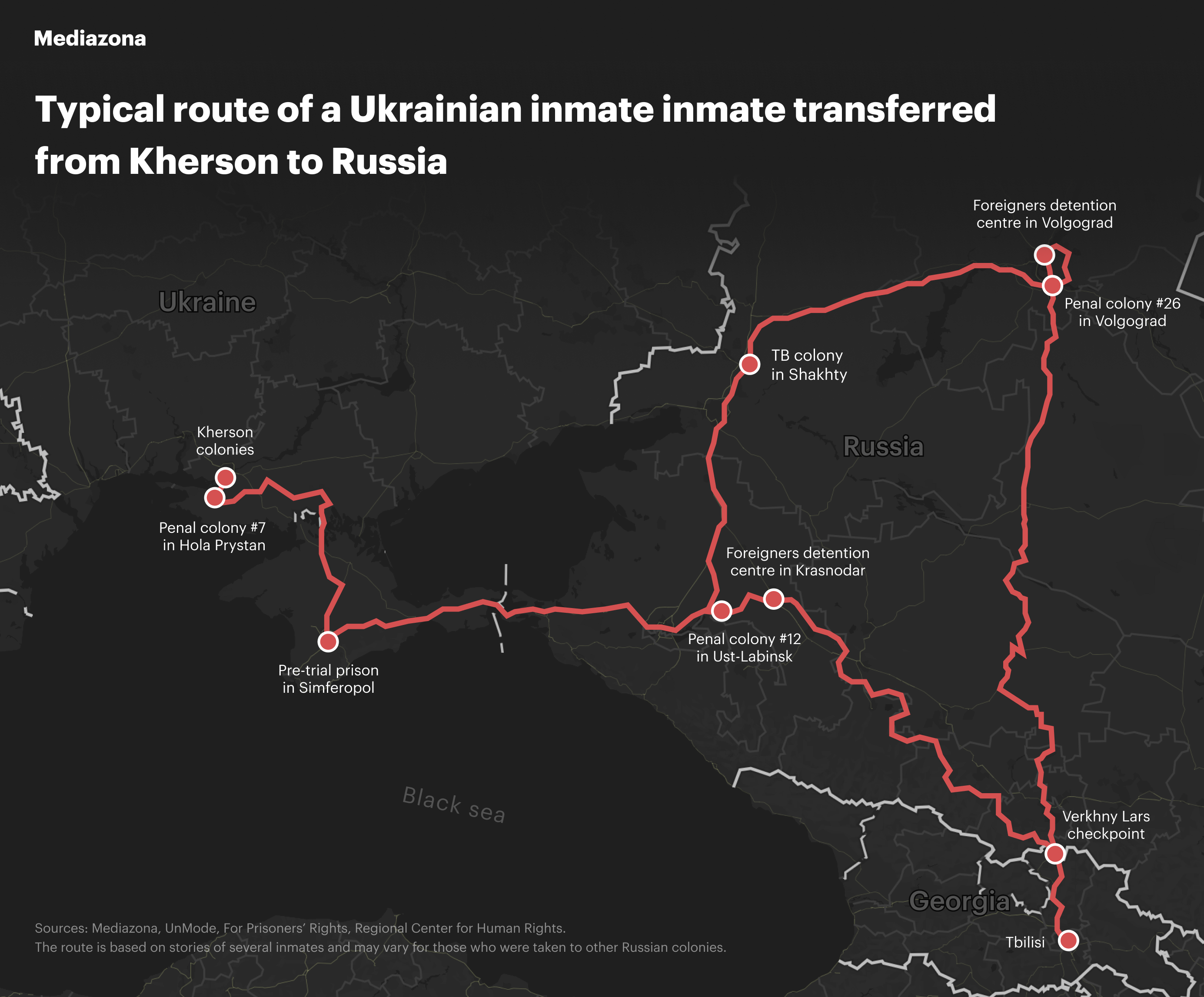 Hola Prystan. Crossing the Dnipro in cramped prison vans
Alexander Sokolov and Mikhail Kuvshinov from colony No. 90 reveal that inmates from other facilities in the region began being transferred to their location early in the fall. In the north, Ukraine swiftly reclaimed much of the Kharkiv region, while in the south, there was a slow but steady advance in the Kherson region. Only prisoners from Hola Prystan on the left bank of the Dnipro weren't brought in—it turned out that the Russians decided to take the rest of the inmates there.
"In September, the administration summoned influential inmates, and these people then relayed this information [about the upcoming relocation] to the broader prison population," recalls Mikhail. "Personally, I disagreed with this decision, and I asked, 'What if I don't want to go?' They told me, 'It's wartime now. If you want to see what happens, I wouldn't recommend it.' I had only four months left until my release."
Why Ukrainians, convicted by a Ukrainian court, were chosen to be evacuated to Russian-controlled territory during the retreat was never explained to them.
The prisoners were transported in tightly packed prison vans. Mikhail mentions that typically these vans held 18–20 people, but this time they were loaded with 1.5–2 times that number. There were so many inmates that they were permitted to carry only one bag of possessions each.
They were escorted by the Tiger armored personnel carriers, notes human rights activist Anna Skripka. Some even told her that they were also being guarded from the air by a helicopter (though people who spoke with Mediazona neither saw nor heard any helicopters). The inmates' primary fear was being caught in a crossfire en route, especially during the Dnieper river crossing, but they were fortunate.
"There was this constant threat, especially when crossing the river: we knew if there was an explosion nearby, the van could topple and sink, and no one would rescue us," Mikhail recounts.
All were taken to Hola Prystan's colony No. 7, a facility for tuberculosis patients, which continues to be a source of resentment for the former inmates. They spent about two weeks there. During this time, many became infected (they learned about this later when, already in Russia, the inmates were tested and underwent X-rays).
"There were conditions where people lived in basements and on the streets," describes Sergei, reflecting on those days.
Pre-trial detention centre in Crimea. Beatings and abuse
In mid-October, prisoners began to be transferred from Hola Prystan to Crimea. The last known group, according to people who spoke with Mediazona, was dispatched on November 7—just days before Russia fully withdrew from Kherson and the Ukrainian army entered the city.
Aidana Fedosik, head of the Unmode organisation helping Kherson prisoners shares that they became aware of the prisoner movement as it began in October 2022. "We received information when everyone was brought to Hola Prystan. Only those needing palliative care remained there. Then, in December, we got our first contacts [from Russia], indicating they knew where others had been taken," she explains.
Mikhail Kuvshinov was among the early groups transferred from Hola Prystan. He recalls that the Russian FSIN staff attempted to scramble into the vans where the prisoners were being loaded, possibly fearing that the left bank of the river would soon be under Ukrainian control. "They were told, 'No, you stay here'," he says. He is unaware of the fate of the jailers who had sworn allegiance to Russia. One volunteer aiding Ukrainian prisoners says that some of these personnel now work in a penal colony in Crimean Chonhar. In November, Ukrainian authorities reported that in Kherson, on the right bank, three FSIN staff members had been detained, having failed to cross the Dnipro in time.
The last to be transported were those who were initially in the tuberculosis colony in Hola Prystan. Among them were Sergei Zatirko and Evgeny Muraev. "From the outset, it was clear the journey would be tough," recalls Sergei. The guards warned, "We don't care in what shape you arrive; we only care about the numbers."
The next stop was a three-story building with long hallways and barbed wire on the roof. Former inmates aren't entirely certain about the facility, but from descriptions, it sounds similar to the detention centre in Simferopol, the SIZO-1.
Inmates were transported to Crimea in batches over several weeks. Upon arrival at SIZO, their accounts consistently paint the same picture: officers would form a corridor through which the convicts were made to walk with bent knees and lowered heads. Those who dared to look up were met with a baton to the back or directly to the head. Roll calls were accompanied by beatings. Afterward, Ukrainian inmates were crammed into cells for hours, without food, not allowed to sit. Sergei mentions that even an amputee missing a leg wasn't permitted to sit.
Mikhail Kuvshinov recalls a "curious incident" from those days: "An inmate, in a hurry as he ran past the riot police, lost his slippers. An officer said to him, 'Wait, you've lost your slippers.' To which he replied, 'Not mine!'"
Evgeny Muraev notes that some inmates from his group shouted "Glory to Ukraine!" For this, they were beaten unconscious and had their heads dunked into toilets, an apparent attempt to degrade their standing within the informal prison hierarchy. However, he points out that this didn't affect their standing. "When we got to the prison and spoke to the bratva, they told us that this was the guards' usual tactics and it was considered that they hadn't been 'tarnished'."
Colonies in Russia. Inmates beaten, coerced, forced to learn the anthem, offered Russian passports
From the Crimean detention centre, Ukrainian convicts were distributed to various penal colonies in southern Russia. Anna Skripka has identified 11 such facilities in the Krasnodar krai and the Volgograd region. She has managed to trace the whereabouts of 400 convicts who were transported from the Kherson region.
In Mordovia, Skripka says, human rights advocates found those sentenced to life imprisonment. The severely ill were sent to the Rostov region—either to the prison tuberculosis hospital (MOTB-19) or a medical penal colony (LIU-20).
Each prison typically accommodated around 200–250 inmates, say human rights activists. According to their data, between 1,800 to 2,500 inmates were transferred from the Kherson region to Russia.
Pavel Moshkovsky, an official from the prosecutor's office in the Kherson region, is investigating this transfer of prisoners as a violation of the laws and customs of war (Article 438 of the Ukrainian Criminal Code). While there are no specific suspects in the case yet, he believes the orders for the transfer came from the top leaders of the FSIN, the Russian penitentiary service. Skripka adds that around 50 victims have been identified in the case so far—either those who managed to return home or their relatives.
From Crimea, prisoners were transported to Russia via the Kerch Bridge. During the transfers, they were hardly fed, even though food rations were loaded onto the prison vans. Sergei Zatirko says they were given two loaves of bread for 17 people. "Lucky they gave us bread," he jokes. By that point, they had nearly no personal belongings left.
Alexander Sokolov and Mikhail Kuvshinov ended up in IK-2 in Ust-Labinsk in the Krasnodar krai. Comparing their prison experience in Ukraine and Russia, both state that the latter was far harsher. However, Russian inmates treated the Ukrainians with understanding, helping them contact family and human rights defenders, but this was more a stroke of luck.
Sergei Zatirko initially landed in a Krasnodar pre-trial detention centre, where detainees were attacked with electric shock devices. "I stated my full name in Ukrainian, and they retorted, 'Hey, have you forgotten where you are?' They prohibited speaking in Ukrainian," he recalls. He was later transferred to IK-26 in Volgograd. Upon arrival, a FSIN official immediately declared, "You are Russians now; you'll be issued passports. Kherson is Russia."
In Volgograd, Ukrainians were forced to learn the Russian national anthem and Russian songs. Sergei no longer remembers which ones specifically because he quickly ended up in the hospital in this colony. In this colony, he says, Ukrainians were isolated in a separate barrack and beaten if they approached a window to talk to anyone.
FSB agents would periodically visit, seeking information about the location of Ukrainian positions. "I have been imprisoned since 2018. Look at the map where I lived—I lived in a village," Zatirko laughs. They threatened them with lie detectors and pressured them to accept Russian passports, saying, "Take citizenship, and you'll get parole."
The way out is through a deportation centre. Ukrainians are accused of illegally crossing the border in prison vans
After the annexation of Crimea in 2014, Russian authorities formally revisited the sentences of Crimean detainees in court to align them with Russian laws. However, this was not even the case with the prisoners transported from Kherson. Typically, they are held for the duration assigned by a Ukrainian court and released once it concludes.
Roman Martynovsky, an expert from the Regional Human Rights Centre, recalls an instance where a prisoner was released during his transfer to Crimea. Yet, he was left without any official documents, only a release certificate, which now hinders his ability to leave.
"I gather there's quite a mess there," Martynovsky describes the overall situation.
In December 2022, when the first of the Kherson prisoners were due for release, they were simply let go from the colonies. However, human rights activists say these were isolated incidents. Now, those released are immediately placed in deportation centres under the pretext of illegal border crossing into Russia.
By late winter and early spring of 2023, the time had come for Alexander Sokolov, Mikhail Kuvshinov, and Sergei Zatirko. All three were given release certificates from Colony No. 7 in Hola Prystan, even though they served their sentences in different Russian colonies.
After being handed his certificate, Mikhail was immediately detained within the colony and handed over to the police, who took him to the Ust-Labinsk city court. Both Alexander and Sergei were formally released outside the colony gates, but they too were instantly arrested and taken to court: one in Ust-Labinsk and the other in Volgograd.
Both were found guilty of violating the rules for foreigners staying in Russia (Article 18.8 of the Code of Administrative Offences). According to the court, the Ukrainians had somehow illegally entered Russian territory without "documents confirming the right to stay or reside," and therefore should be deported. Both were placed in the Temporary Detention Centre for Foreign Nationals in Krasnodar.
Sergei Zatirko was placed in the detention by a Volgograd court simply based on a local Ministry of Internal Affairs' lawsuit. On the day of his release, he was issued a prohibition to stay in the Russian Federation.
"In court, they asked, 'Any complaints?' " Sergey recalls his conversation with the judge. "I said, 'Well, yes, why am I being detained?' 'You crossed the border illegally.' I replied, 'How did I cross illegally when... you brought me here at gunpoint...' Everything was already decided. They took my release certificate, which stated I was released from Kherson. I said, 'Do you have any logic? On March 14th, I'm released in Kherson, and on the same day, you're trying me in Volgograd—bloody two thousand kilometres away'."
Alexei Zarubin was released from Colony No. 14 in Krasnodar. He recalls that there, prisoners were "asked to sign a paper stating they consented to be transferred from Kherson—they're almost forced to sign it through intimidation; and another paper stating they have no complaints about their conditions."
Upon release, like everyone else, he was also detained. "A police officer approached me and said, 'Now we're going to the district department, and then to court.' I already knew what it was about, but out of curiosity, I asked, 'What's happening?' 'Well, we need to draft a protocol that you crossed the border illegally if you were imprisoned...' He looked at me and said, 'It eats at me, these protocols and not understanding how you crossed the border illegally. But I'm just a small fry; I do what I'm told.' "
The scheme of placing former prisoners in deportation centres wasn't devised immediately, but now it's almost always in effect.
However, a Russian volunteer mentions a new practice: prisoners from the Krasnodar region, whose sentences are nearing completion, are being transferred to Crimean Correctional Colony No. 2. There, they are retried under Russian laws (sometimes resulting in a reduced sentence) and released. They are not deported or placed in temporary detention. Typically, they either return to Ukraine via Belgorod or go to their families in occupied territories.
This route was known earlier, the volunteer notes, but in early August, the Ukrainian Ministry of Reintegration officially announced the operation of this humanitarian corridor, and now more people are keen to use it.
Anna Skripka and former prisoner Evgeny Muraev know of another exception: in the Rostov region, prisoners from the No. 20 medical institution for tuberculosis patients are still released without further obstacles—his acquaintances immediately went to Ukraine. By his estimates, about 150 Ukrainians from Kherson colonies were brought to this institution.
He was in this medical unit until the end of April, but then he was sent for a month to the same Volgograd Colony No. 26, where Zatirko was. From there, he was released and also sent to the Temporary Detention Centre for Foreign Nationals.
In the deportation centre, one can end up staying for a long time, especially if there are issues with documents. In Sergei Zatirko's case, for instance, the court clarified that the waiting period for deportation in the centre should not exceed 180 days. However, former prisoners say that in practice, it can be longer: it's simply extended for another six months by a similar court decision.
In the end, he spent there three months in the facility in the Volgograd region, while Kuvshinov and Sokolov spent two months in the Krasnodar region.
Detention centres. Former convicts can be held for months
In the Temporary Detention Centre for Foreign Nationals, individuals can be held for months.
The passport is a crucial document that offers former convicts hope of leaving the centre sooner. Those fortunate have their Ukrainian passports stored in the colony among documents transferred to Russia. Others might receive their passports from relatives in Ukraine. Without these documents, the situation becomes significantly more challenging, with some stuck in Russian detention centres for extended periods, especially given the lack of diplomatic relations between Russia and Ukraine.
In these centres, specialized medical care, including treatment for HIV, tuberculosis, and cancer, is typically not provided. Detainees can apply for Russian citizenship, and some, out of desperation, opt for this route. Human rights activists have noted cases where ex-prisoners, having acquired Russian citizenship, were indeed able to leave and travel to Ukraine.
A working group has been established in Ukraine to facilitate the postage of identity verification documents to Russia for those wishing to return home. These are referred to as "white passports." Under normal circumstances, applications would be made through embassies or consulates, but diplomatic relations between Russia and Ukraine have been severed.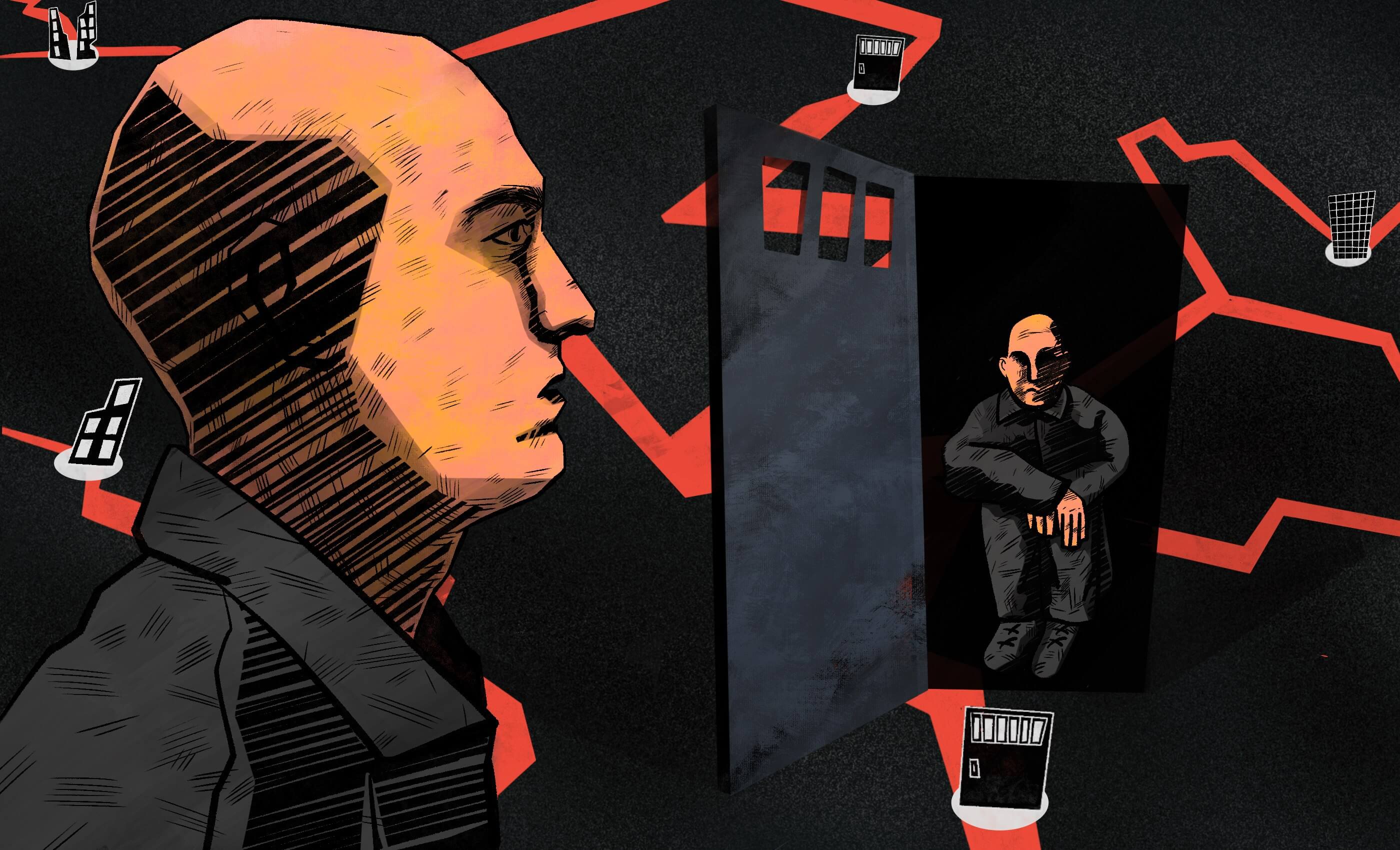 Conditions in the detention centres vary. Sergei Zatirko describes the Volgograd centre as particularly harsh, where Ukrainians are kept separately, under surveillance, and are offered limited outdoor time. Moreover, there were attempts to recruit them for war, on the Russian side. In contrast, Mikhail Kuvshinov recalls that conditions in the Krasnodar centre were initially more lenient, with allowances for parcels and unrestricted phone access, though conditions have since deteriorated.
The process of repatriation is described by a Russian volunteer aiding Ukrainian prisoners as chaotic and erratic. The detainees themselves have played a significant role in expediting their release, often persuading representatives of the migration service by showcasing successful repatriation examples.
Tbilisi. Awaiting the "white passport"
Most former inmates are transported to Georgia's border, with a few sent through Latvia. While Russian border guards are often reluctant to release Ukrainians, Georgian counterparts have been more accommodating. However, issues arise when the Ukrainians' passports have expired or when Latvia's border guards deny entry.
Aidana Fedosik's organization has assisted about 100 inmates deported from Kherson and released in Russia. About 70 were deported to Georgia, while others returned to Ukraine via the Baltic countries or Belgorod.
In Georgia, Ukrainians face further challenges. They arrive with internal passports, preventing them from leaving the country. They must await "white passports" from Ukraine, a process that can take months.
Alexander Sokolov and Mikhail Kuvshinov arrived in Tbilisi in May. After crossing the border, volunteers from UnMode awaited them. They had to wait over a month for their documents. Kuvshinov received his "white passport" but has no rush to use it since his home in the Kherson region was flooded after the Kakhovka dam collapse. He hasn't been able to contact his family for months.
In the house rented out for former convicts, alcohol was strictly prohibited. Some residents were evicted due to violations. In June, seven Ukrainians lived in a makeshift tent by the river after being expelled for drinking. They later received their "white passports," and human rights activists bought them tickets to Ukraine.
Crimea again. Inmates building their own prisons
A significant number of inmates transported from the Kherson region remain in Russian prisons. While human rights activists speculated that Russia might have moved them for potential prisoner exchanges, no such exchanges have been reported.
During the summer, information surfaced that some inmates were once again transferred to Crimea, specifically to Colony No. 2 near Kerch and somewhere near Chonhar. Ukrainian human rights activist Anna Skripka confirms this.
"Our lawyers can't work there. They can't enter, or they'll be sanctioned by Ukraine," says a Russian volunteer. She theorizes that inmates nearing the end of their sentences were moved because the detention centers were overwhelmed.
As a result, Ukrainian inmates were retried by Russian courts, mirroring actions in Crimea in 2014. Those with reduced sentences post-retrial were released without deportation. "Then we heard they weren't just moving those with short sentences. The first group transferred to the Kerch colony was brutally beaten; their arms and legs were broken," the volunteer adds.
The Russian volunteer showed a document mentioning a pre-trial detention center in the Kherson region. She learned from a released inmate that some were moved to a penal colony in Chonhar to renovate a former border service building into a detention center. Unconfirmed reports suggest over 200 individuals are now held there. Ukrainian human rights activists fear that this new detention center, partly built by inmates from the Kherson region, might house war prisoners and civilians abducted by Russian forces.
Editor: Egor Skovoroda